Simone Crimella
Product Service System Designer
Intesa San Paolo Bank
UX & UI design for the largest Italian bank
The bank
Intesa Sanpaolo is an Italian banking group resulting from the merger of Banca Intesa and Sanpaolo IMI based in Torre Intesa Sanpaolo, Turin, Italy. In 2014 it was the largest banking group in Italy by market capitalization, and second by total assets.[7][8] The bank has also experienced growth in the international market, focused in Central-Eastern Europe, the Middle East and North Africa.[9]
Today it provides services to 13 million customers and manages a US690 billion worth of assets [10] .
I joined Intesa Sanpaolo Bank as a design consultant while working at Accenture. My first assignment was to finalize a line of specific banking products for small-medium enterprises (SME).
During my first days I was given a set of documents curated by Fjord in order speed up the onboarding process.
In 2014 Accenture Interactive acquired Fjord, a design and innovation consultancy that reimagines and redefines people's relationships with the digital and physical worlds.
By combining a human-centered approach with robust methodology, Fjords consultants produced a series of maps that helped describing complex systems in a simple and elegant way.
The process Fjord was structured as follows: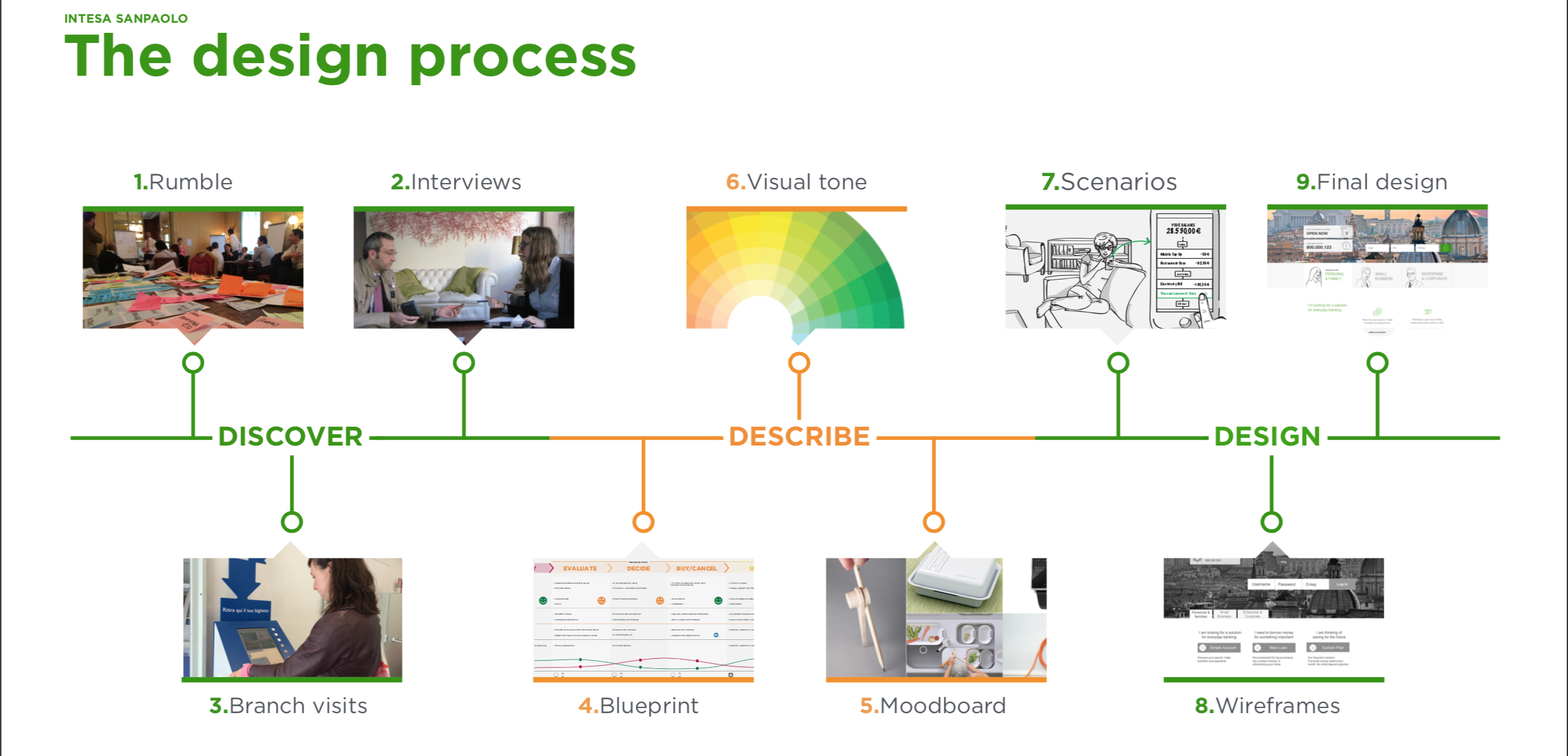 Scenarios
A series of strategic interviews, workshops and branch visits were performed to come up with an executable product delivery plan.

After that, a series of scenarios were produced in order to identify future opportunities to be addressed in the years to come.
Following a series of materials produced with Intesa San Paolo employees and consultants.







Customer Journeys
These scenarios, once validated, became ideological product roadmaps for the teams to build on and come up with new designs and UX flows.
Each scenario was evaluated and translated in a service blueprint that allowed the team to identify further experience pain points before beginning to code and design.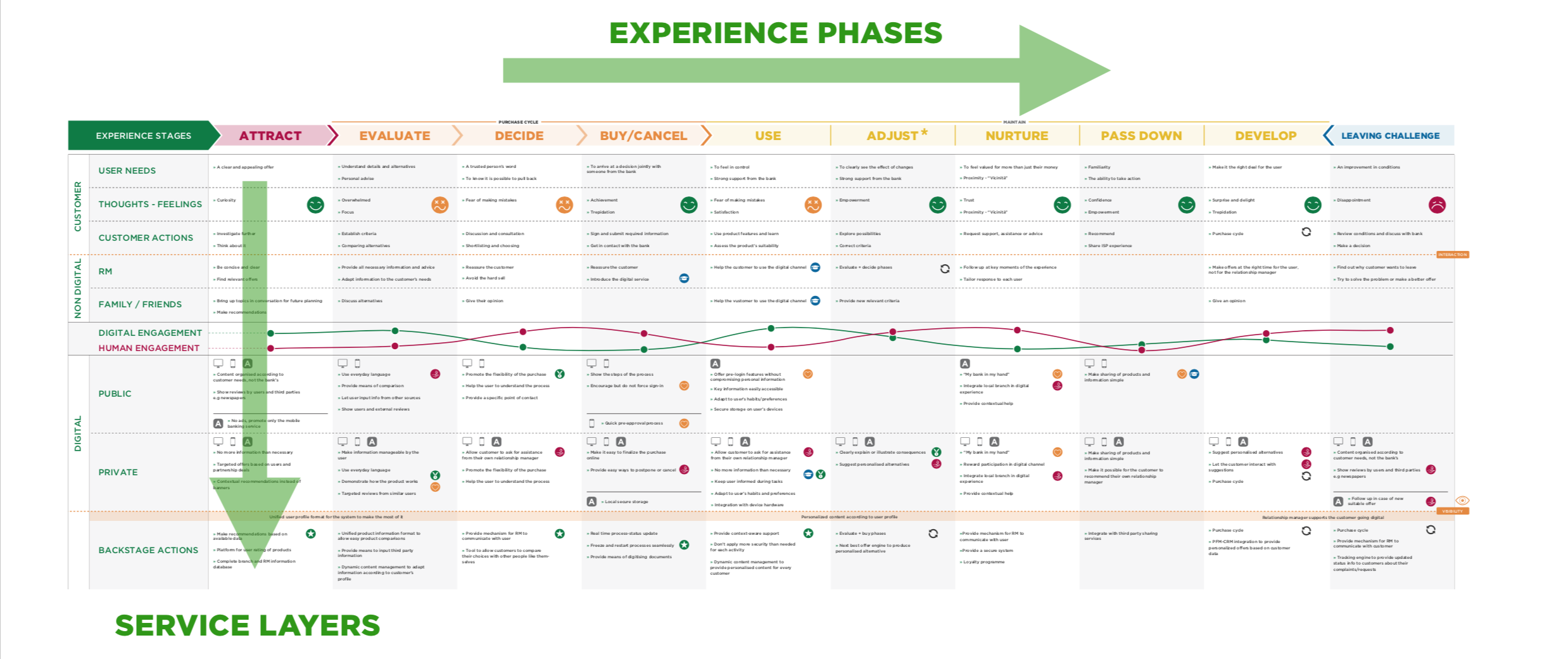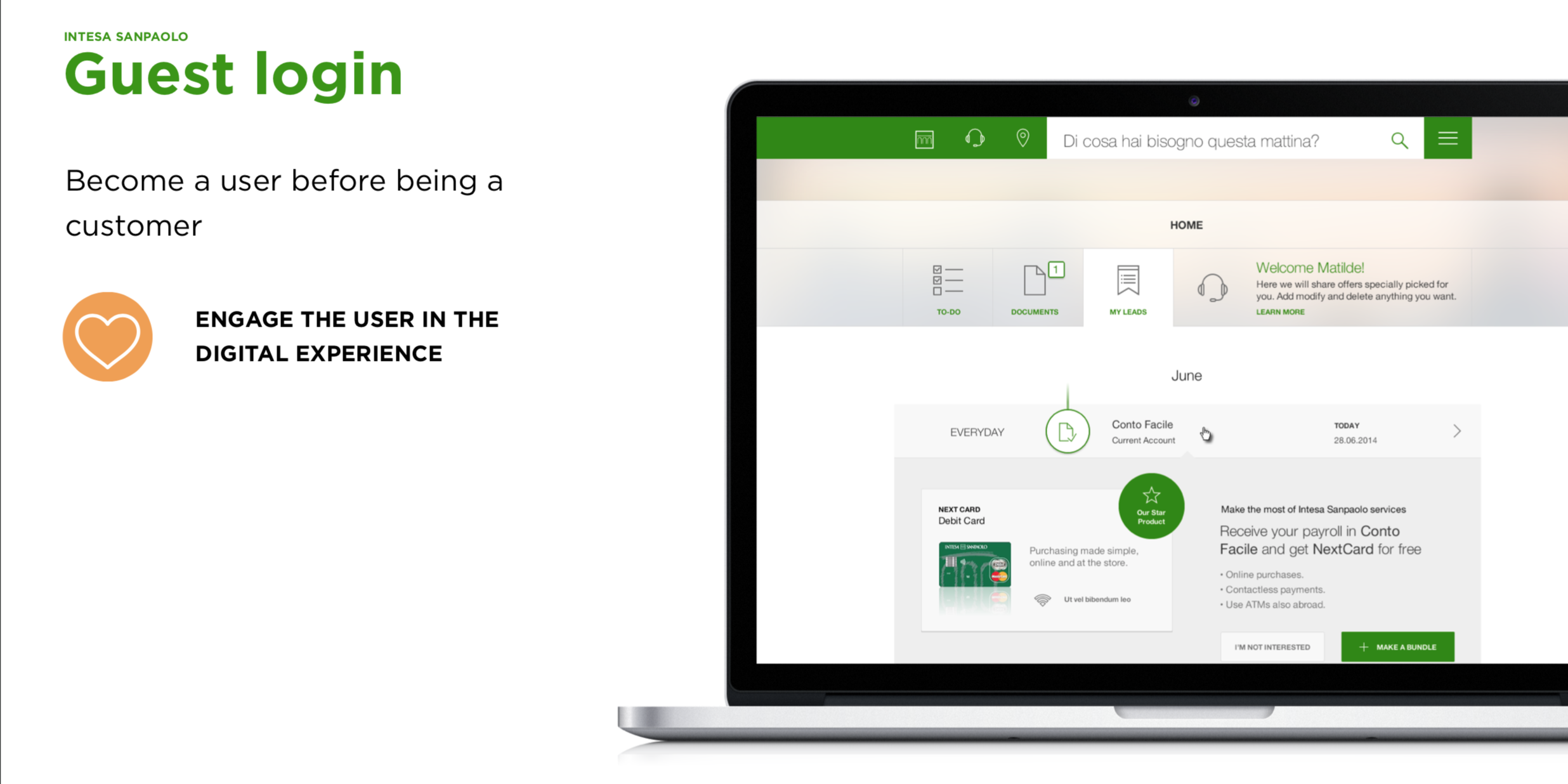 The Concept
Service Blueprints allowed the ideation of concepts for the different phases of the customer journey. These concepts served as a first asset in order to start developing ideas close to codable digital interfaces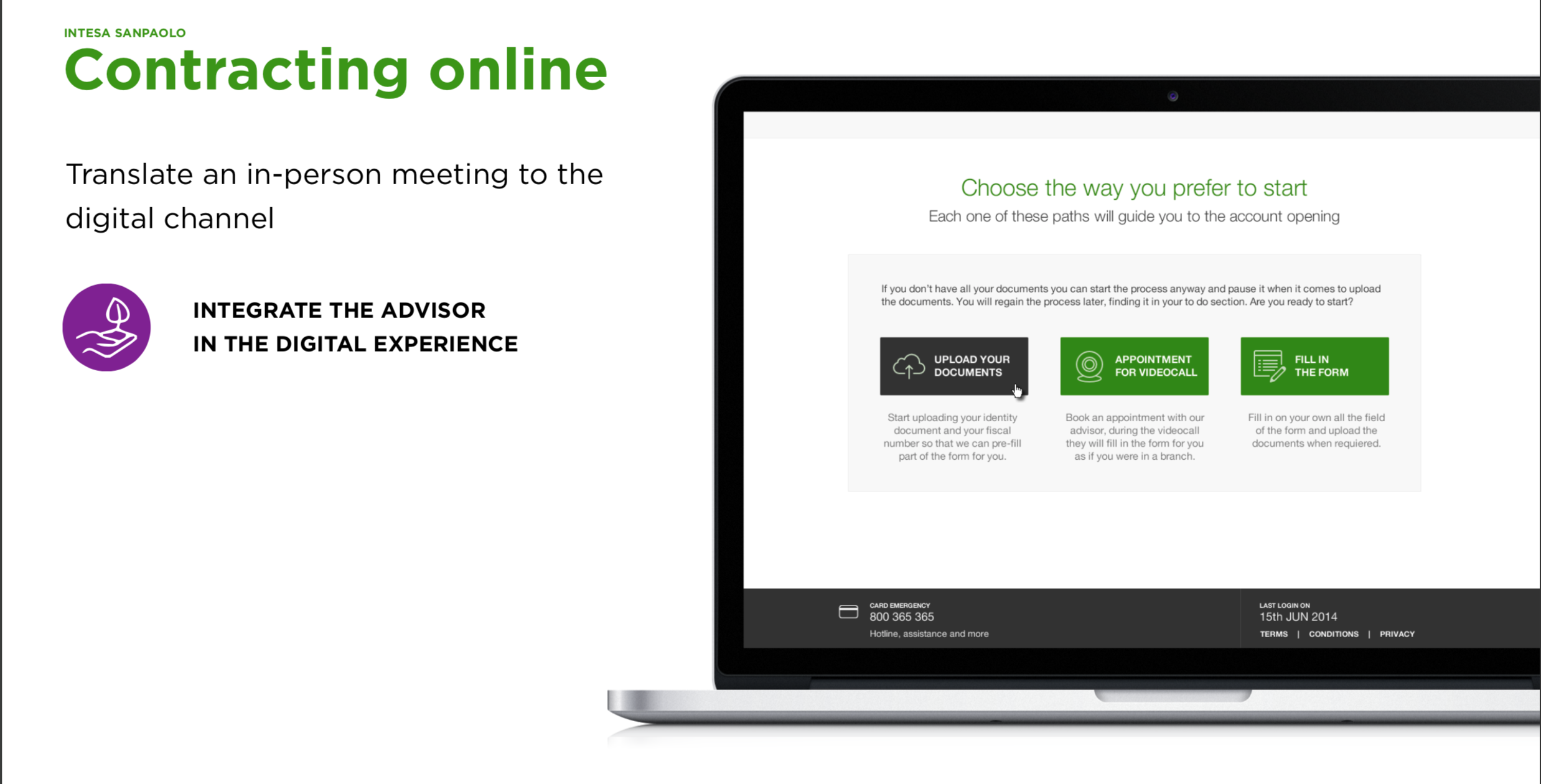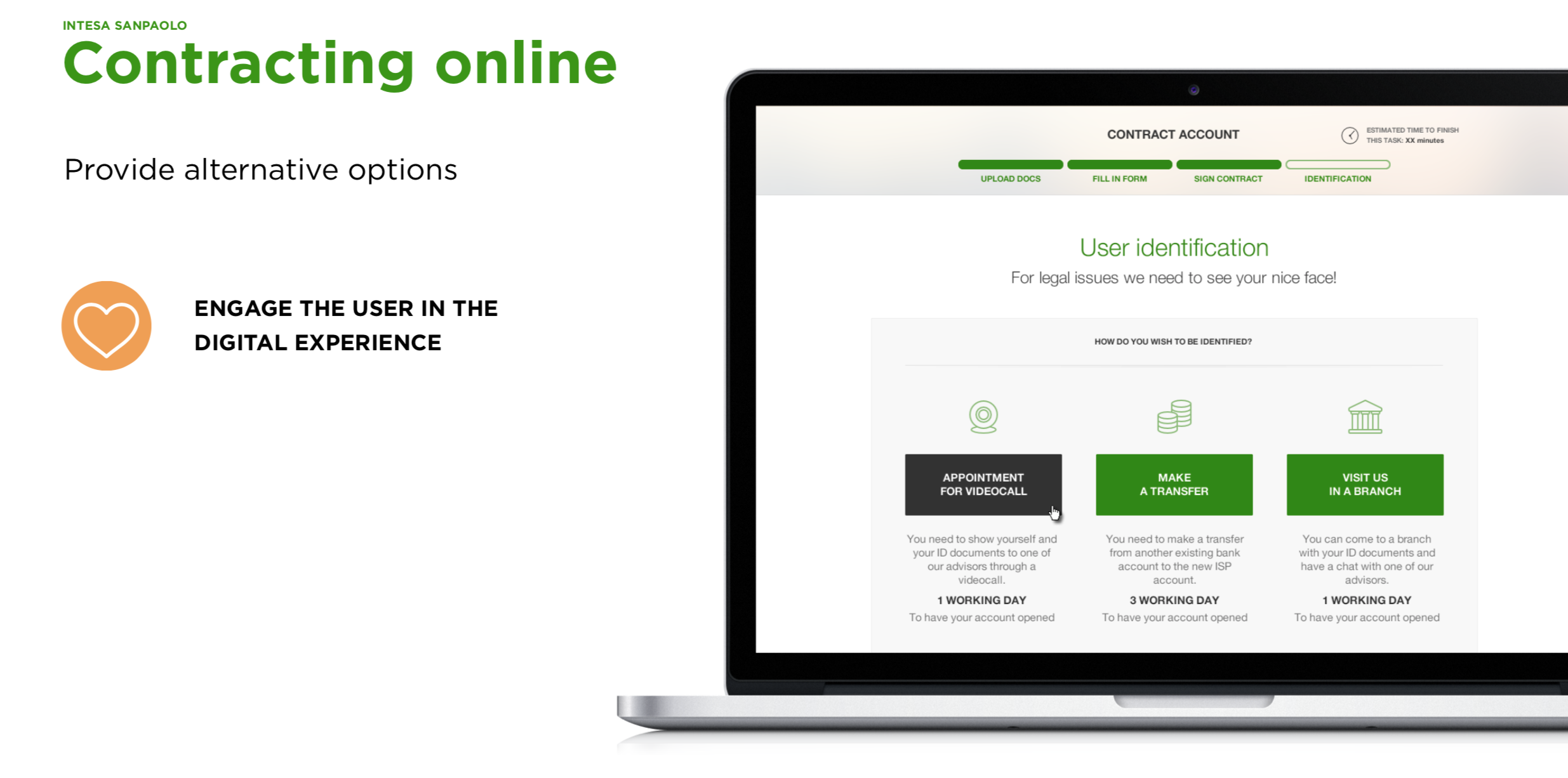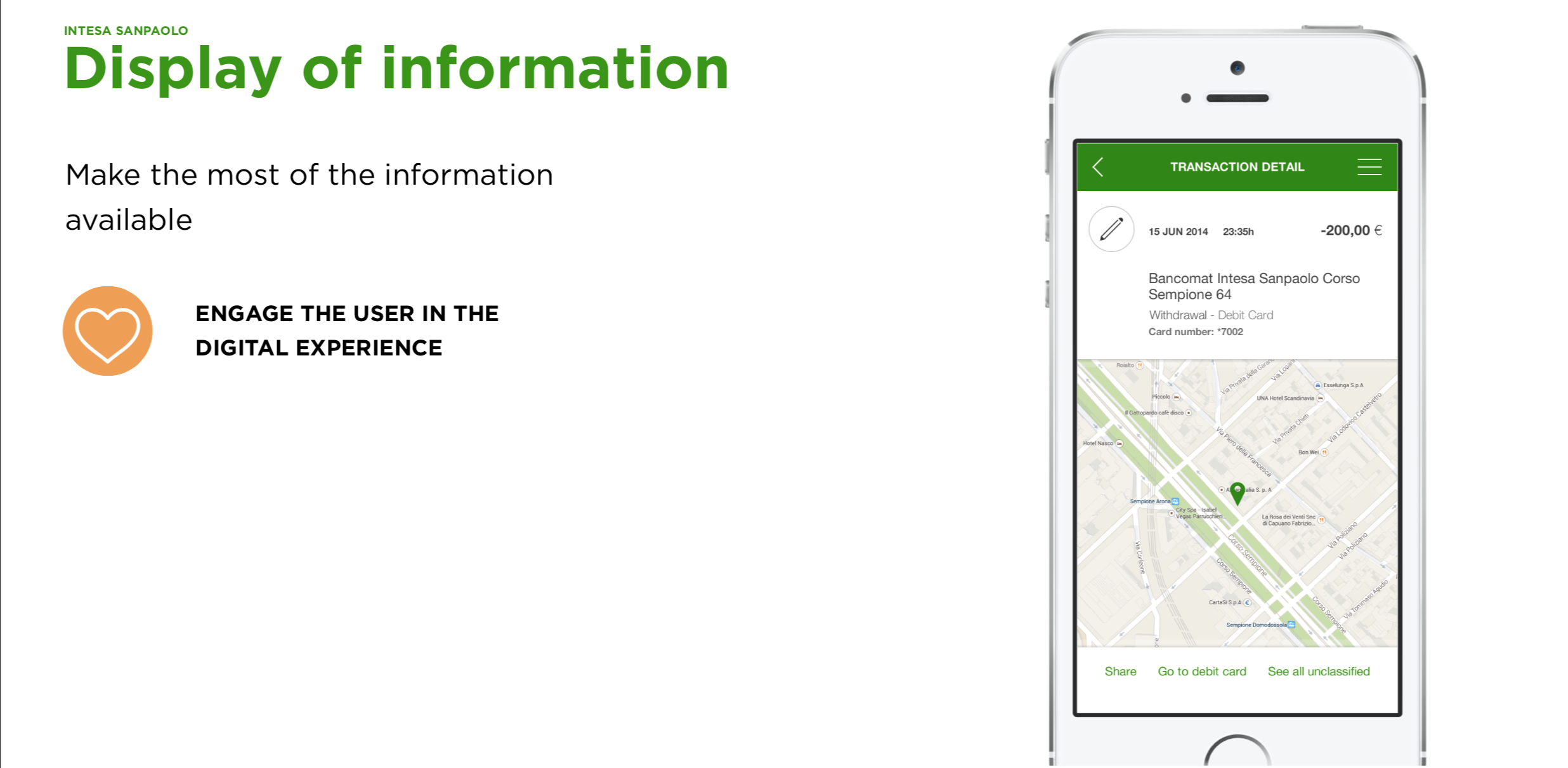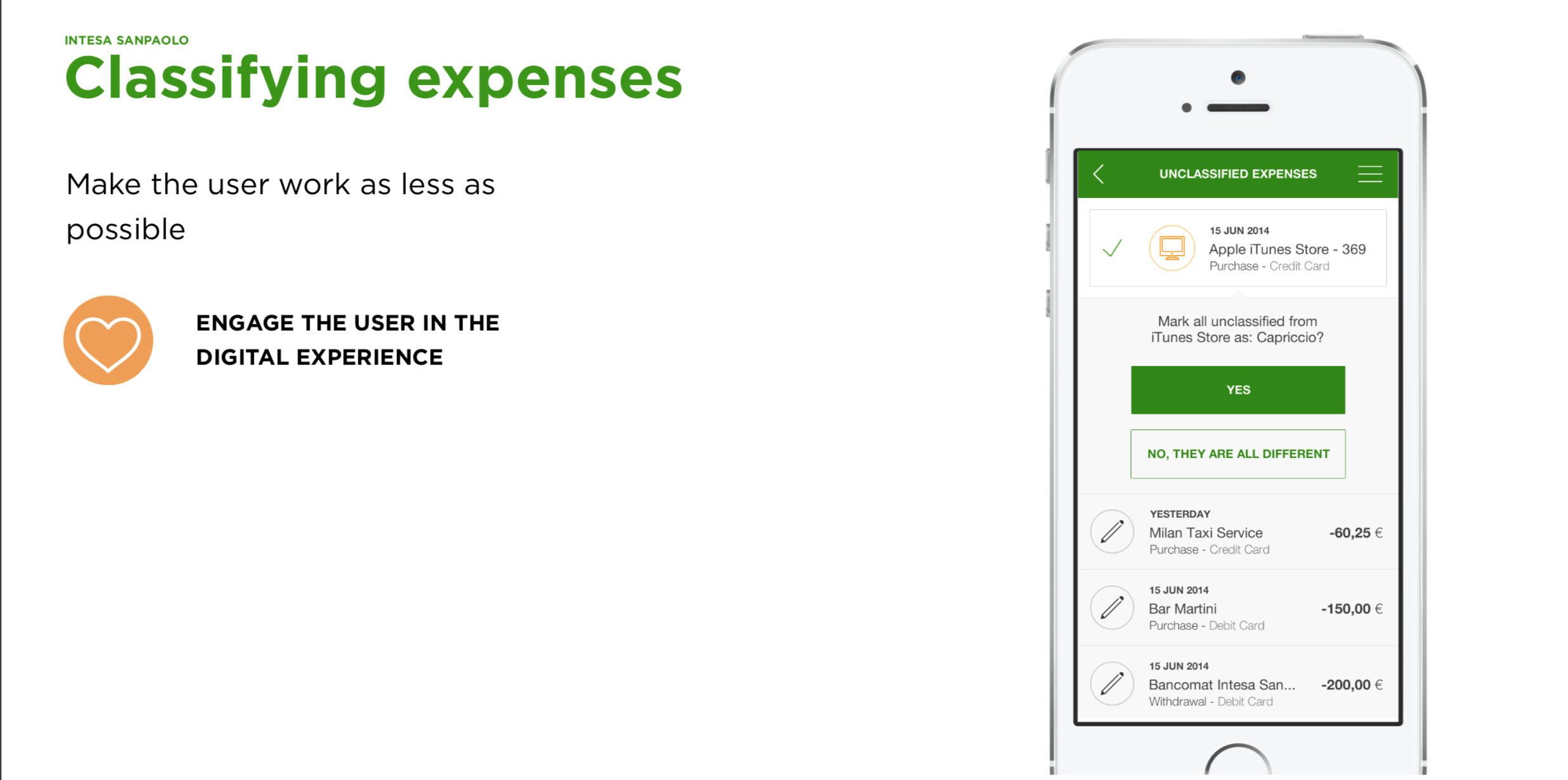 My contribution to the project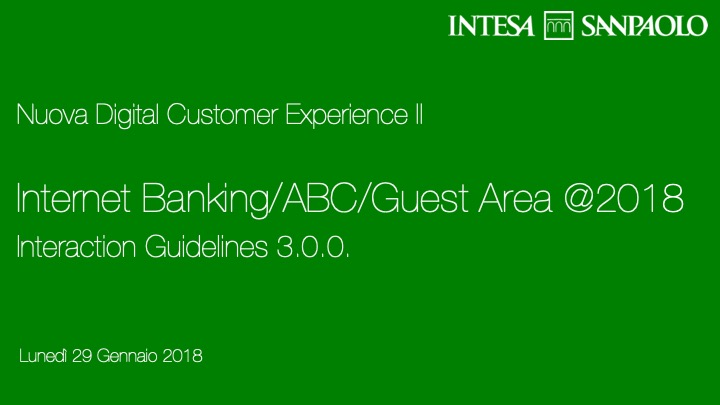 My first approach to the ISP project was the maintenance of a sharable document containing all the Front-End Interaction Guidelines.
Accenture Multimedia Agency created the document in order to keep the quality of each individual component under control and ensure that the work to be done would be managed in an organized way.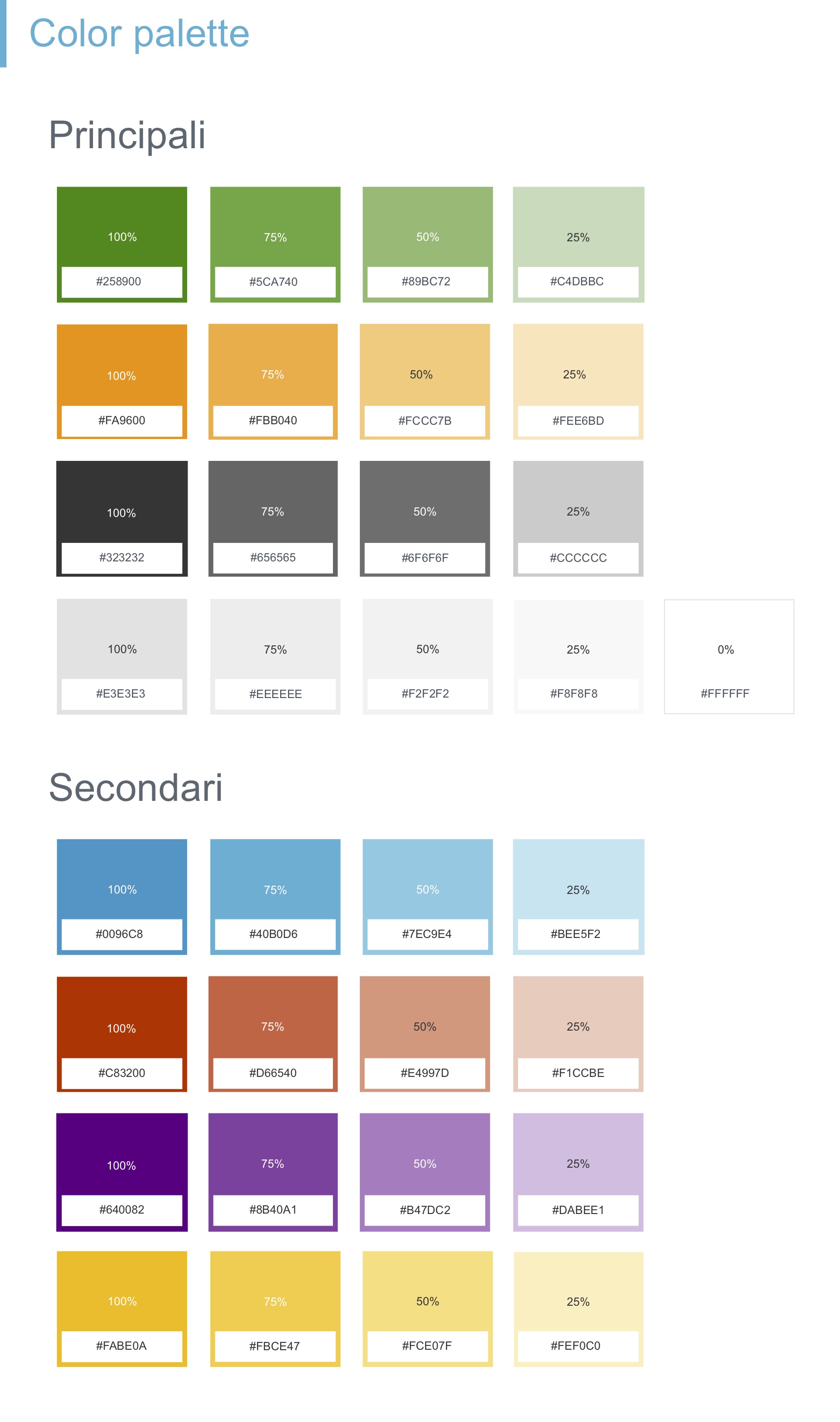 Alongside the creation of the Interaction Guideline resources, we also ensured that the Visual Guidelines would follow exactly the same process, therefore a Visual Booklet was designed in order to contain all the mutable assets such as icons, fonts, icons, grid layouts, colors, illustrations, graphic resources and more.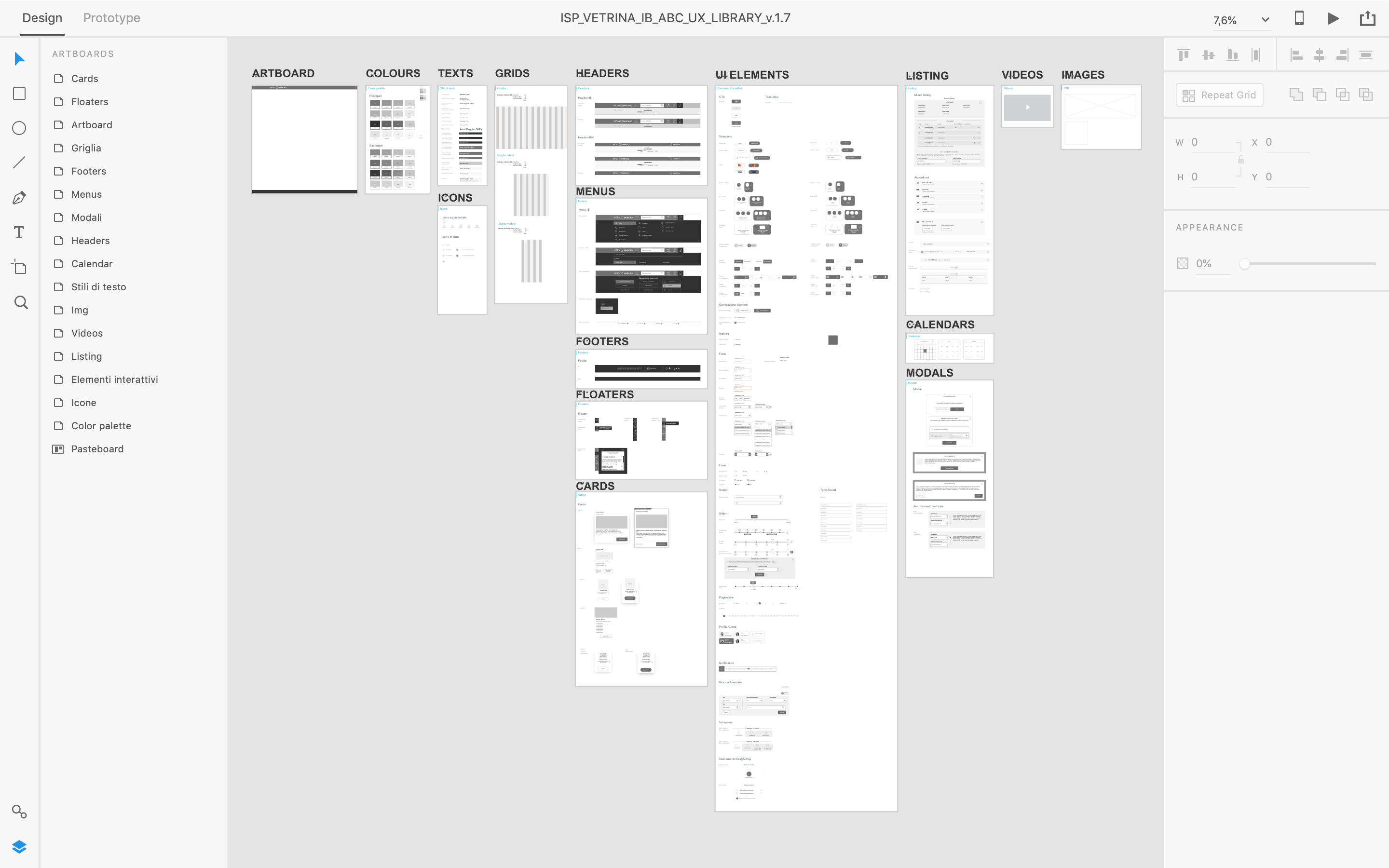 These Guidelines were turned into functional Adobe XD and Sketch files in order to be able to use them at will. This process saw me involved in mapping, designing, labeling and updating these work files.

Once agreed on the UI & Interaction Guidelines we started designing wireframes.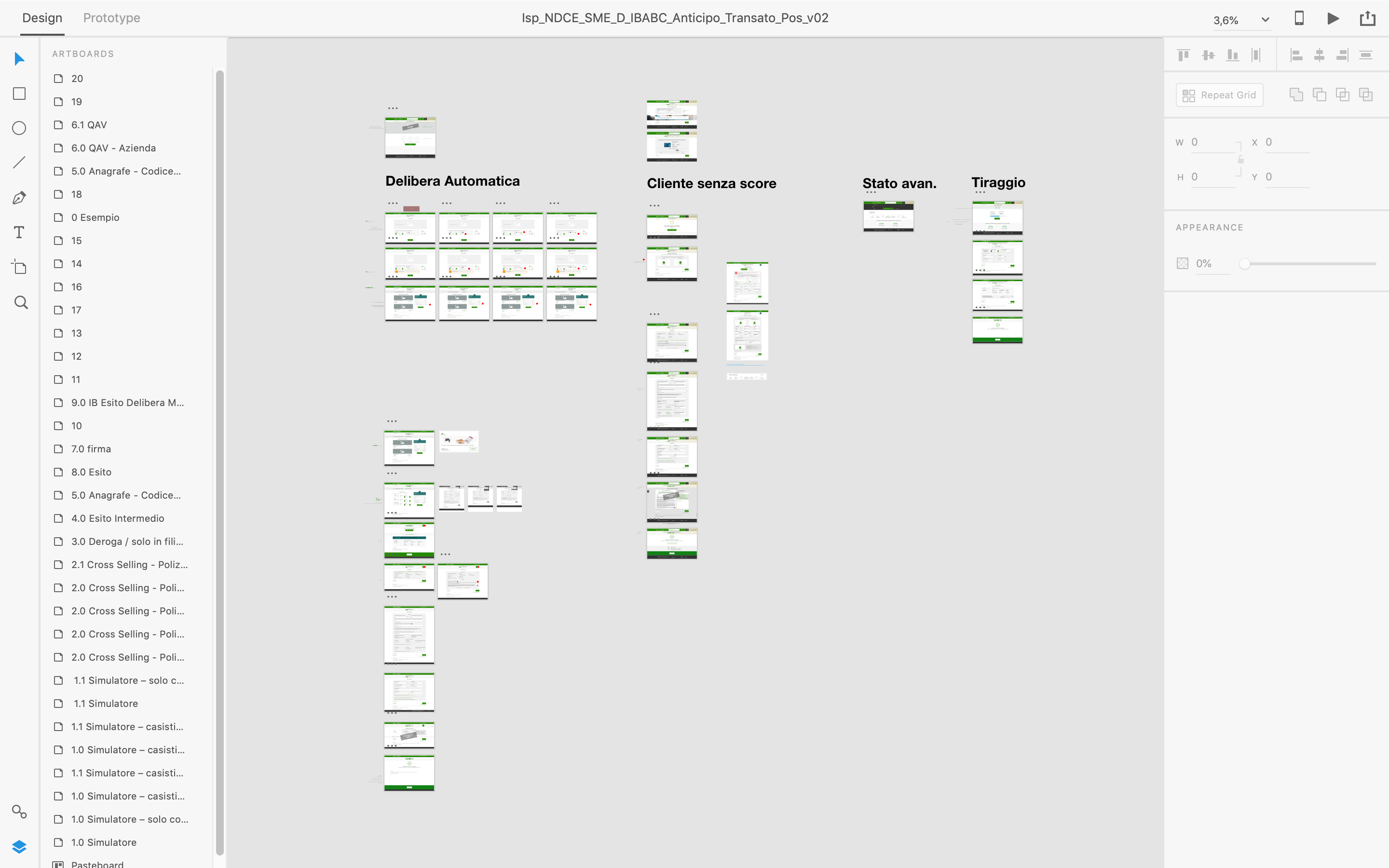 These files allowed us to design experiences for unique products and services.