Simone Crimella
Product Service System Designer
Service Analysis & Redesign
Support Skynet Technology in identifying process and products evolution roadmaps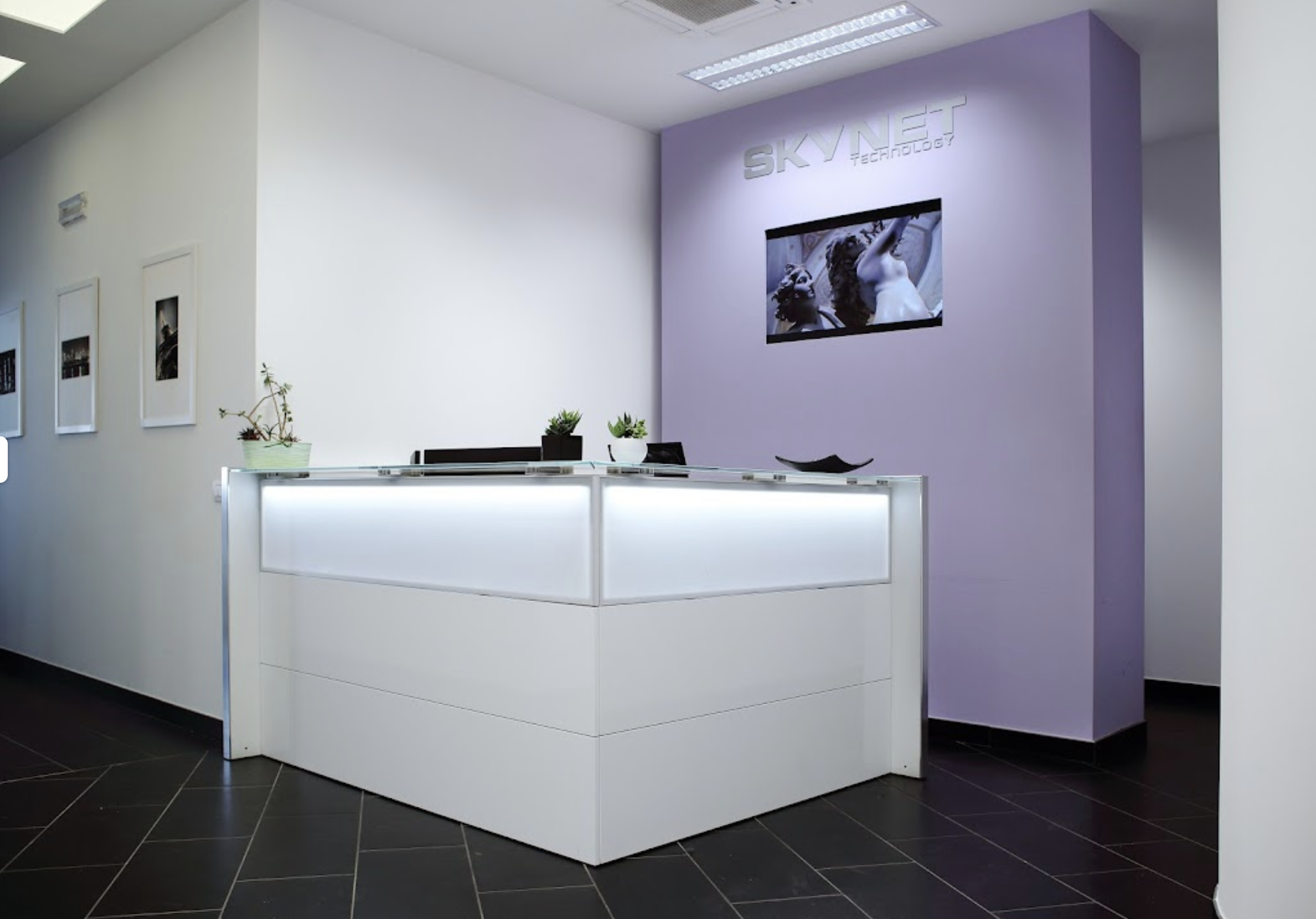 The Company
Skynet Technology specializes in support services for Retail companies in the Fashion & Luxury world with stores, warehouses and branch offices at an international level.
The company was born in 2003 from the founders' experience, gathered in a reference company of the Fashion world.
This specific competence has been made immediately available to the most important firms of this sector, allowing Skynet Technology to quickly become leader in the retail and fashion technology and customer service.
Today, the most important groups of the luxury world are Skynet clients. The market recognizes Skynet's capability of providing Premium service levels in complex and articulated contexts. This is possible due to the extensive knowledge and focus on this sector of industry.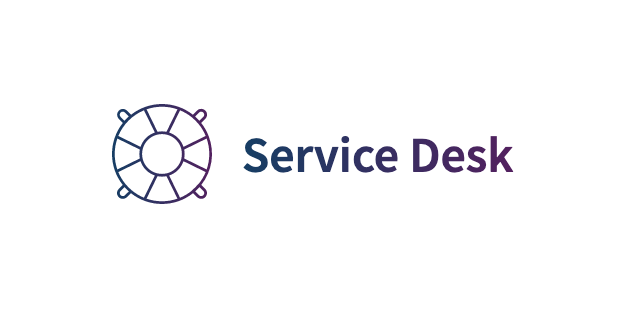 The service desk is Skynet's central structure, representing the single point of contact (SPOC) for every user and also owns the basic knowledge base to coordinate the activities of the other structures and third parties.
A particular focus is based on Skynet personnel selection. All employees are specialized technicians, not call center operators. In order to guarantee high quality levels, Skynet implement every action necessary to minimize the turnover of our personnel.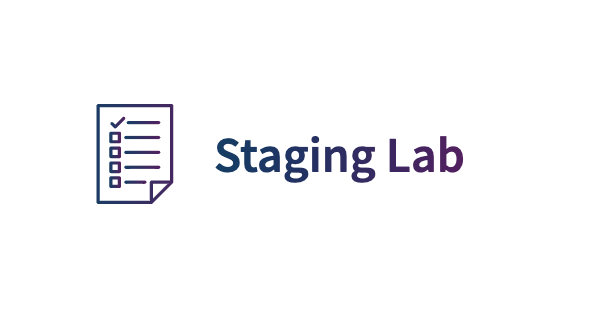 Skynet offers two structures: the main Staging laboratory through which we support all the needs within the European Union and an external office located at the premises in UAE (which allows it to guarantee, also for that geographical area, the same service levels without risking delays due to customs).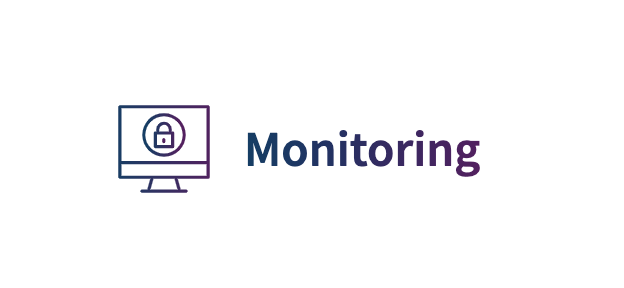 Expert systems analysts work on monitoring consoles H24, 365 days a year. With proprietary tools or those made available by our clients, Skynet provides monitoring services on systems, applications and specific retail contexts.
Skynet offers a main office in Montevarchi, a Staging laboratory, a monitoring room, a logistics stockroom, international partnerships, 9 languages and extended office hours H24/365.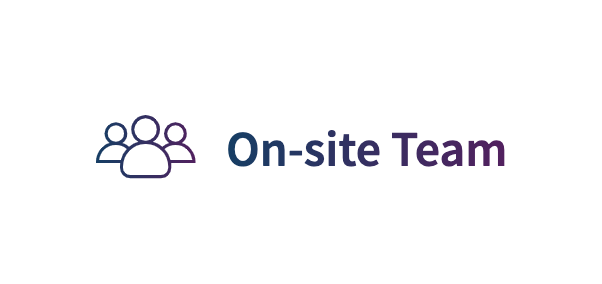 Skynet uses a network of partners that allows us to cover the whole of Europe and UAE; while for special requests we have put together a team of Retail experts capable of managing specific situations.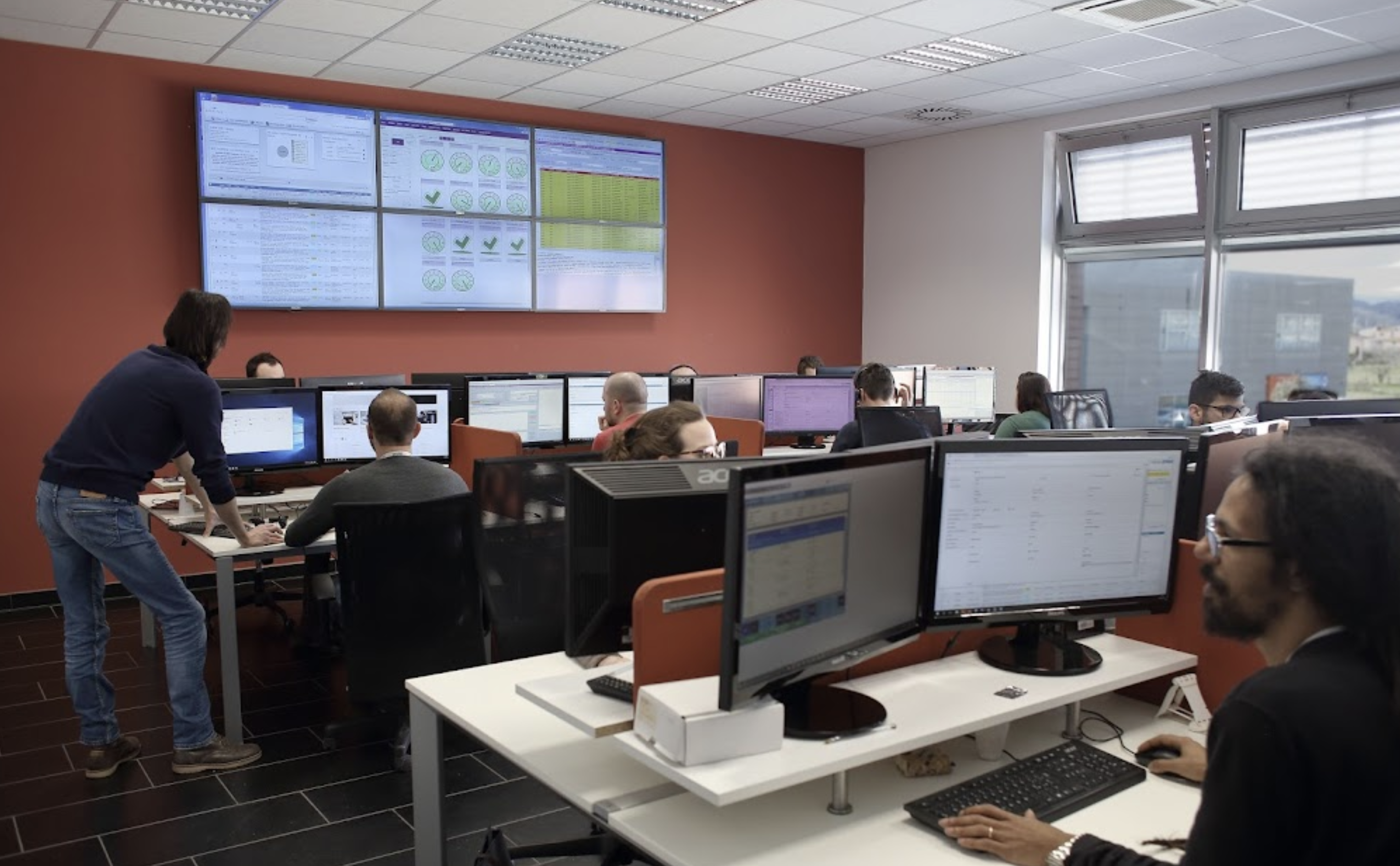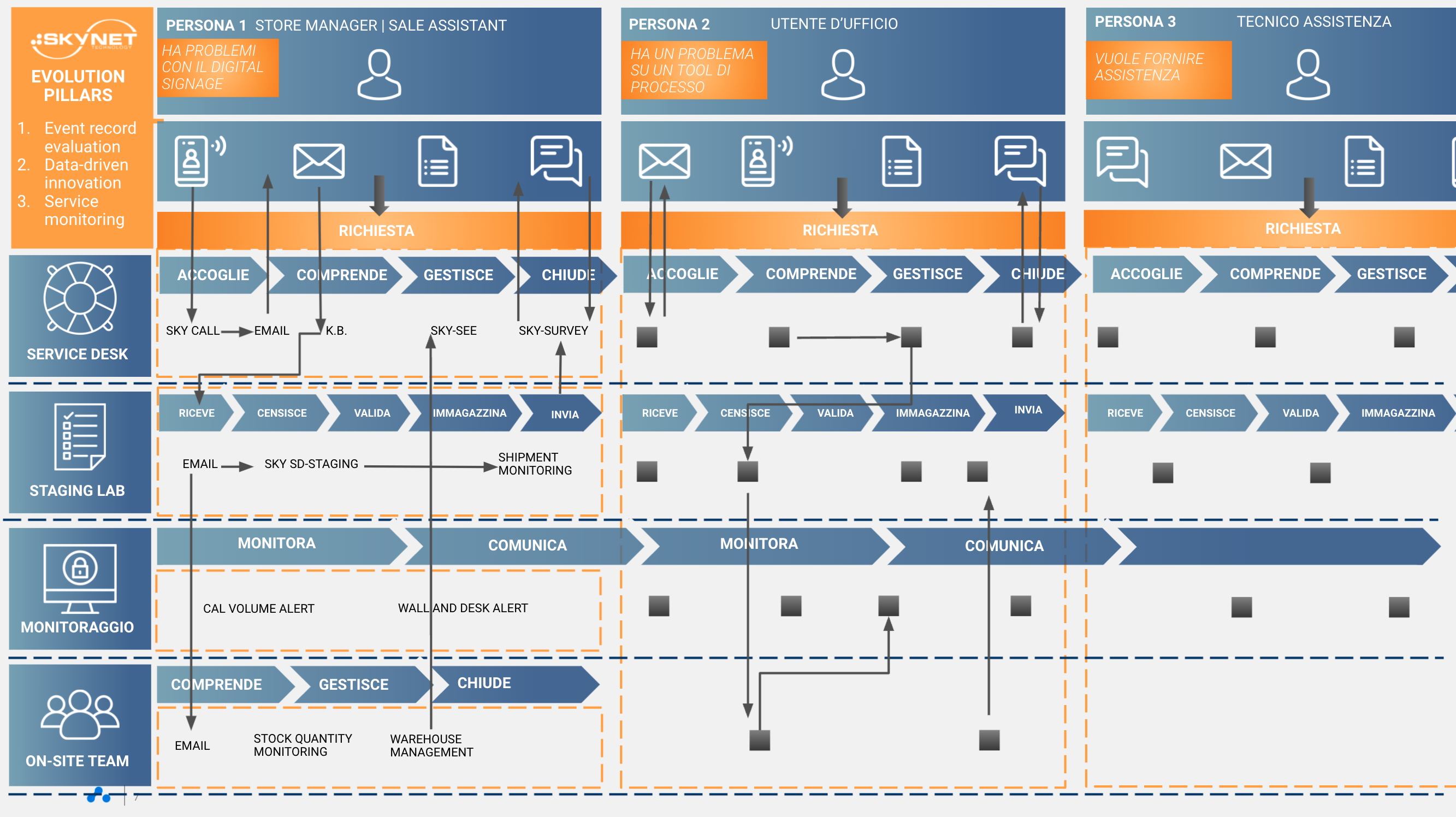 Front office & back-office process optimization
As main project owner I was given the task to structure a set of activities using a set of tools deriving from Service Design. I aimed at identifying opportunities for improving the service by including and interviewing different types of stakeholders, spanning company employees and final users. My main goal was to find where process blocks were, how to improve technology and provide insights to the management on where to invest in R&D and innovation activities.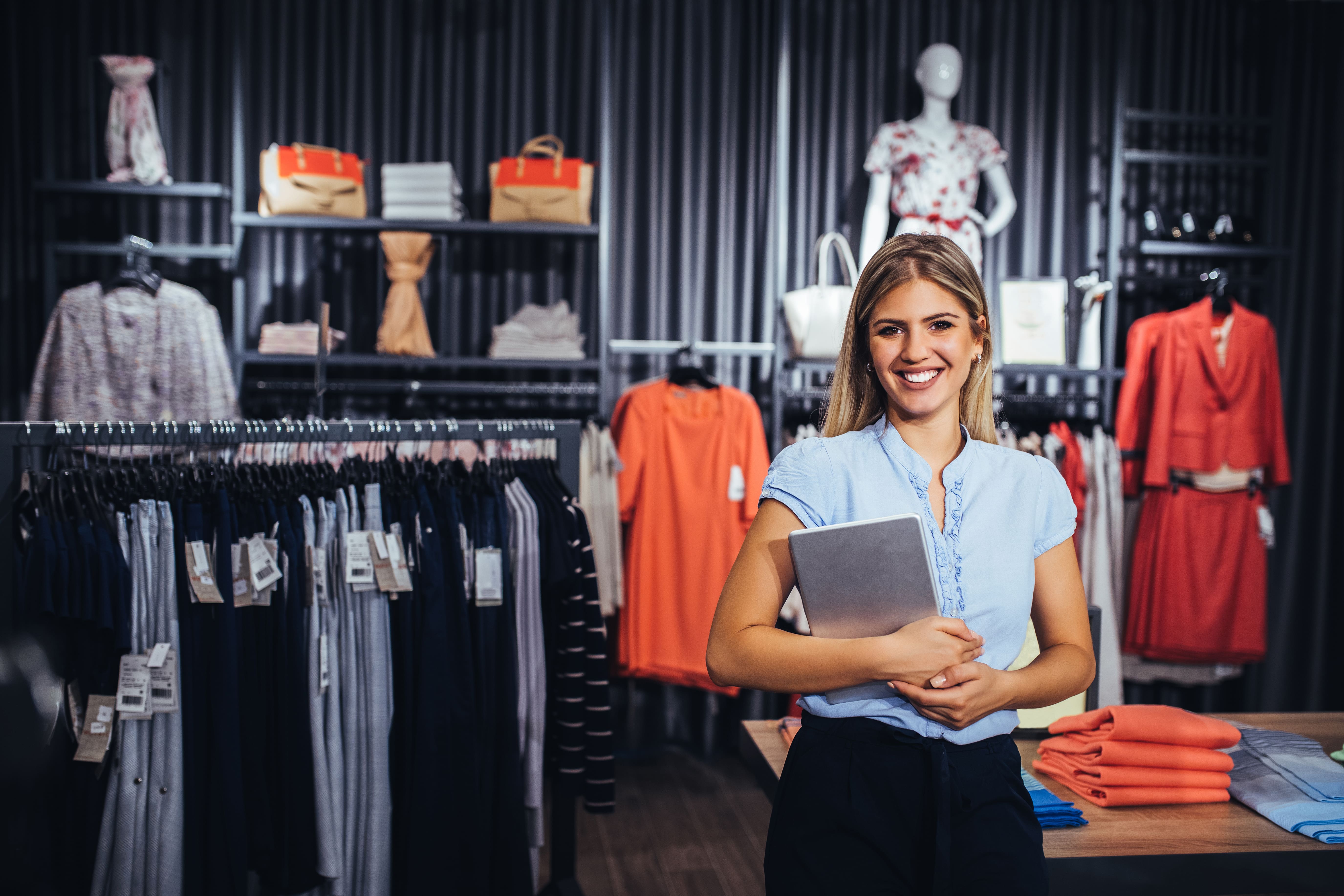 Future proof Customer Experience
As UX and Service Design professional my main focus is to understand how the current customer experience is delivered across the different touchpoints and identify ways to improve the status quo. My activity allowed customers to reduce the time spent on the phone with Skynet's Service Design and provided them with a mobile Customer Platform containing all the necessary information to solve the most common store problems independently.
My contribution to Skynet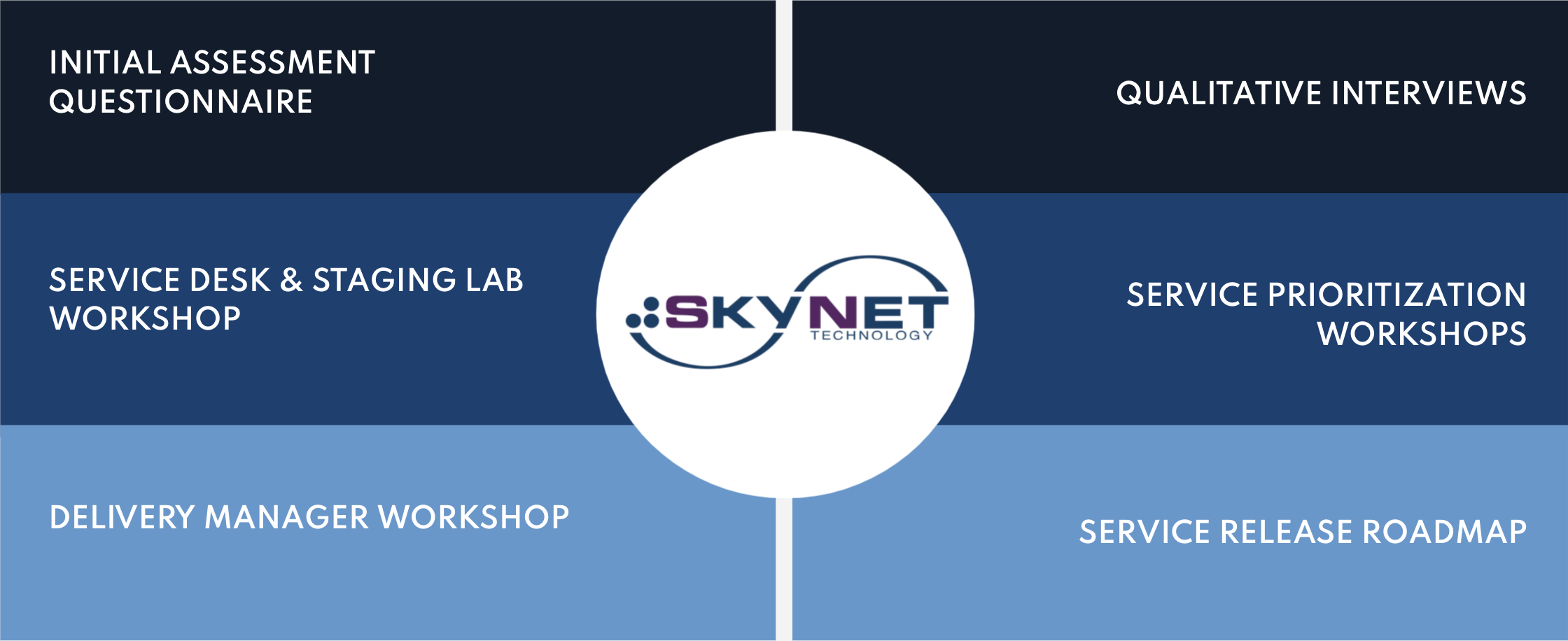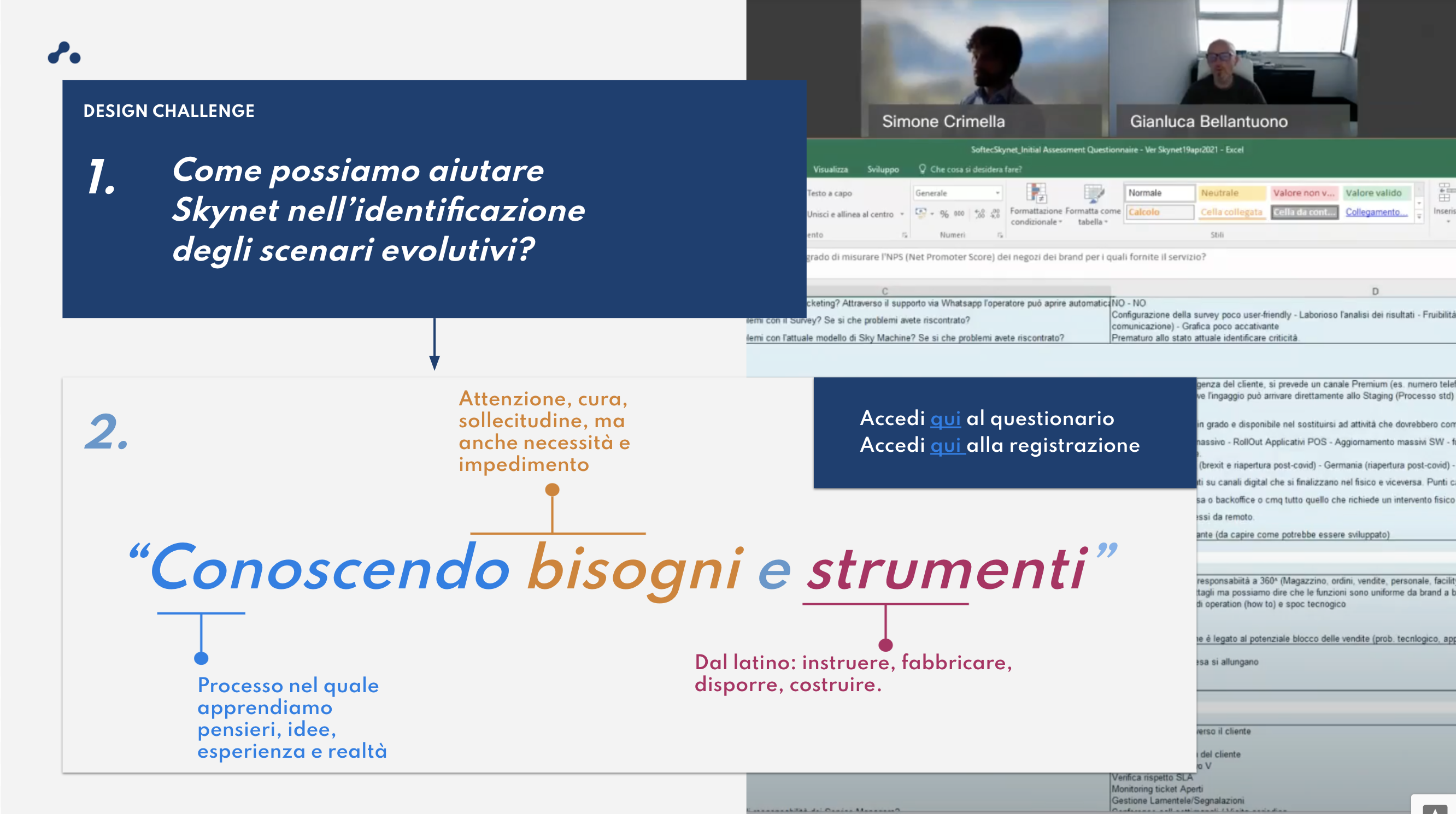 Initial Assessment Questionnaire
The first step consisted in a questionnaire aimed at identifying major pain points in tools, processes, infrastructures and collect ideas about the current state of the customer's experience.

You can visualize a copy to the Initial Assessment Questionnaire here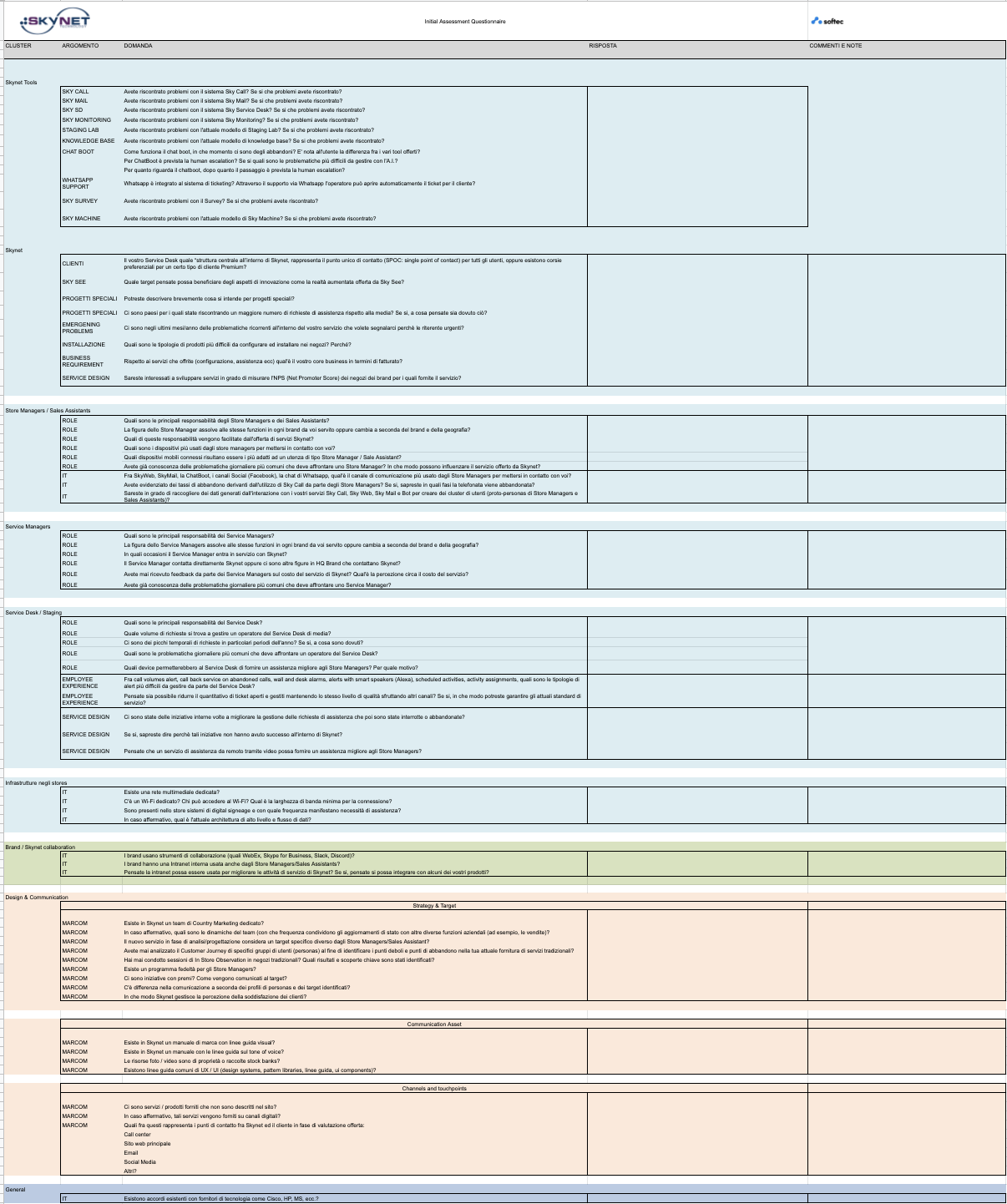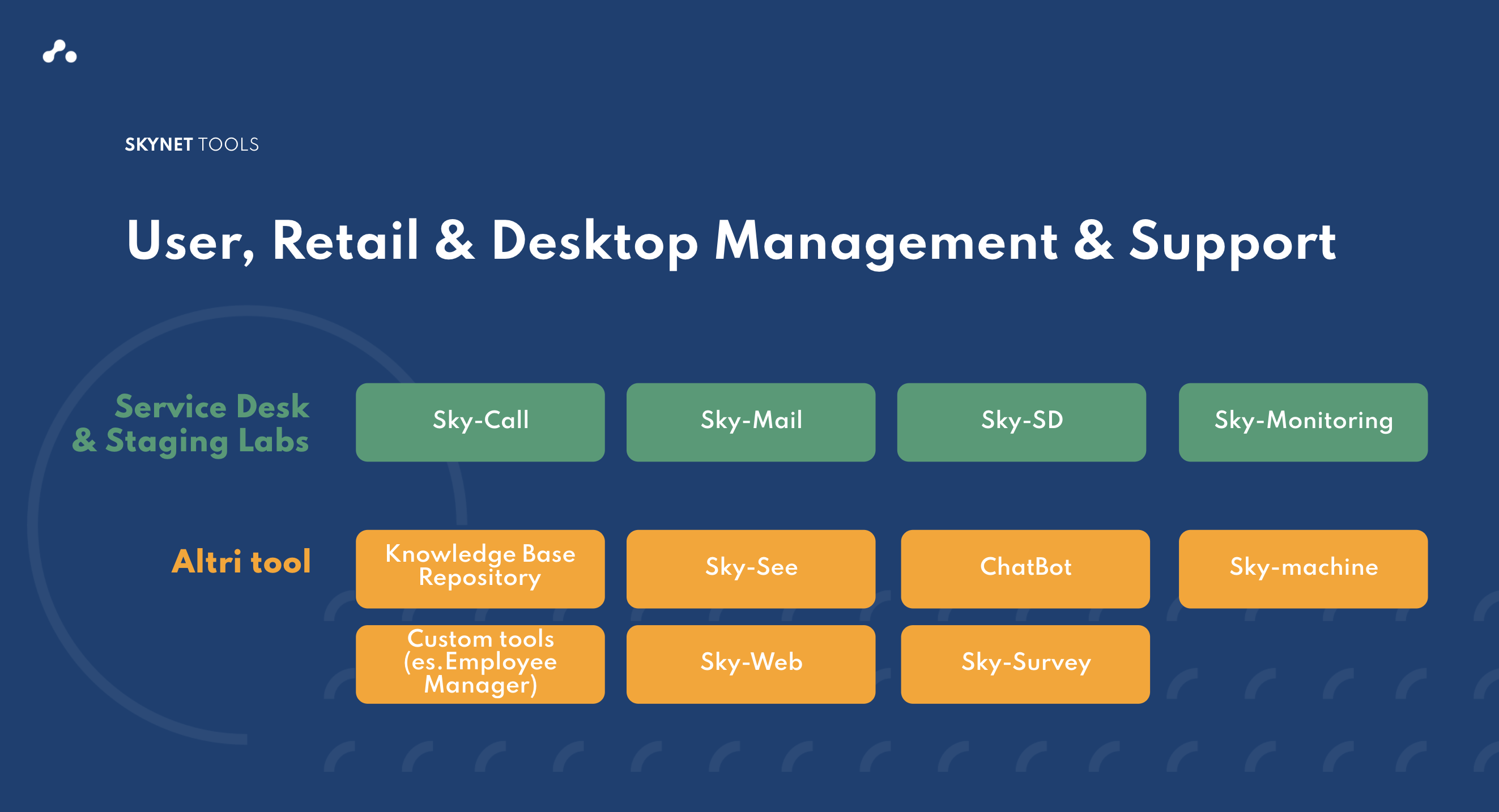 Content and Functional Inventory
Following the initial assessment questionnaire I was given access to the company tools in order to assess functional and ux processes that don't currently work as expected.
I particularly focused on Skynet Service Desk ticket management software: Sky SD.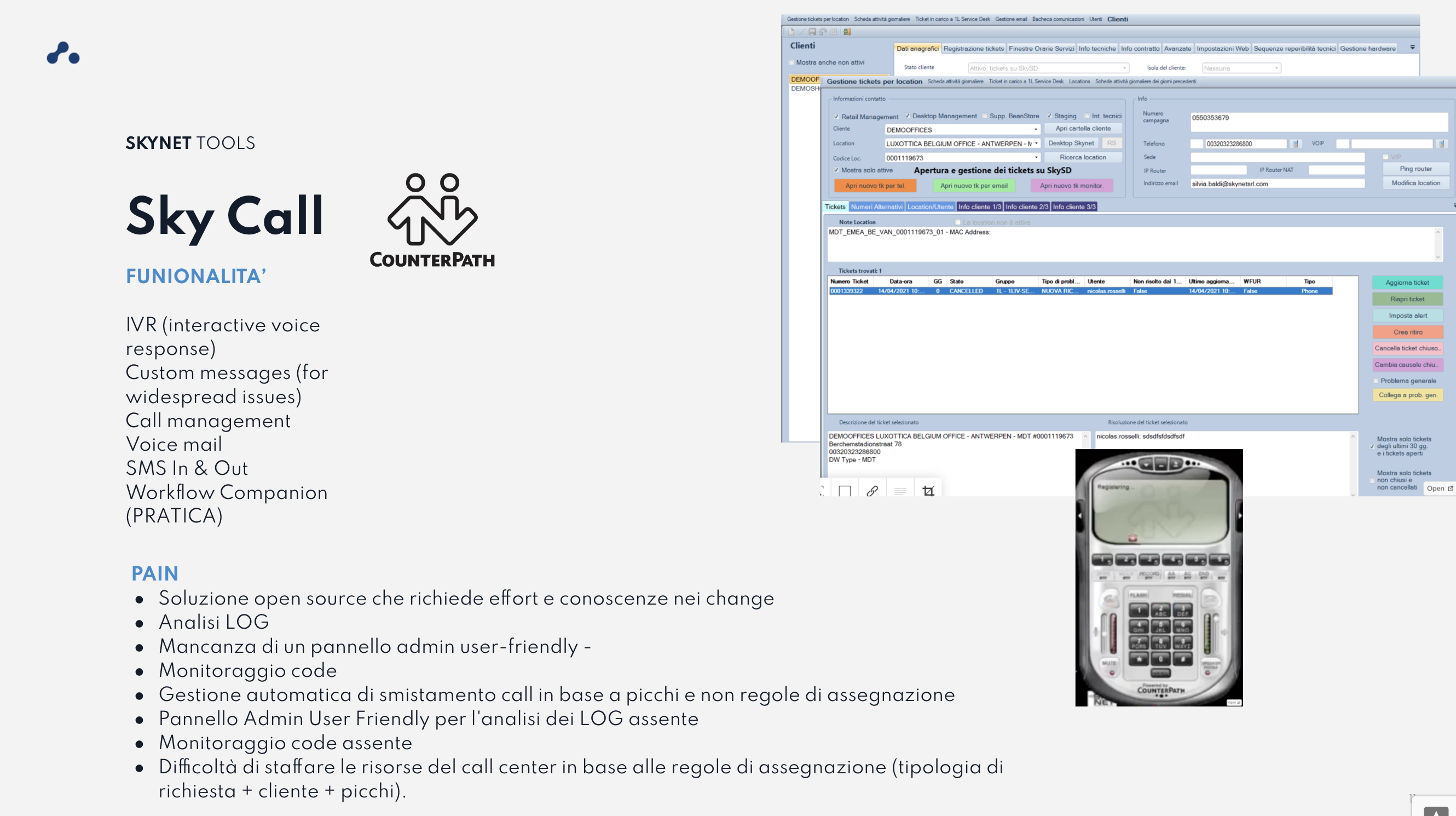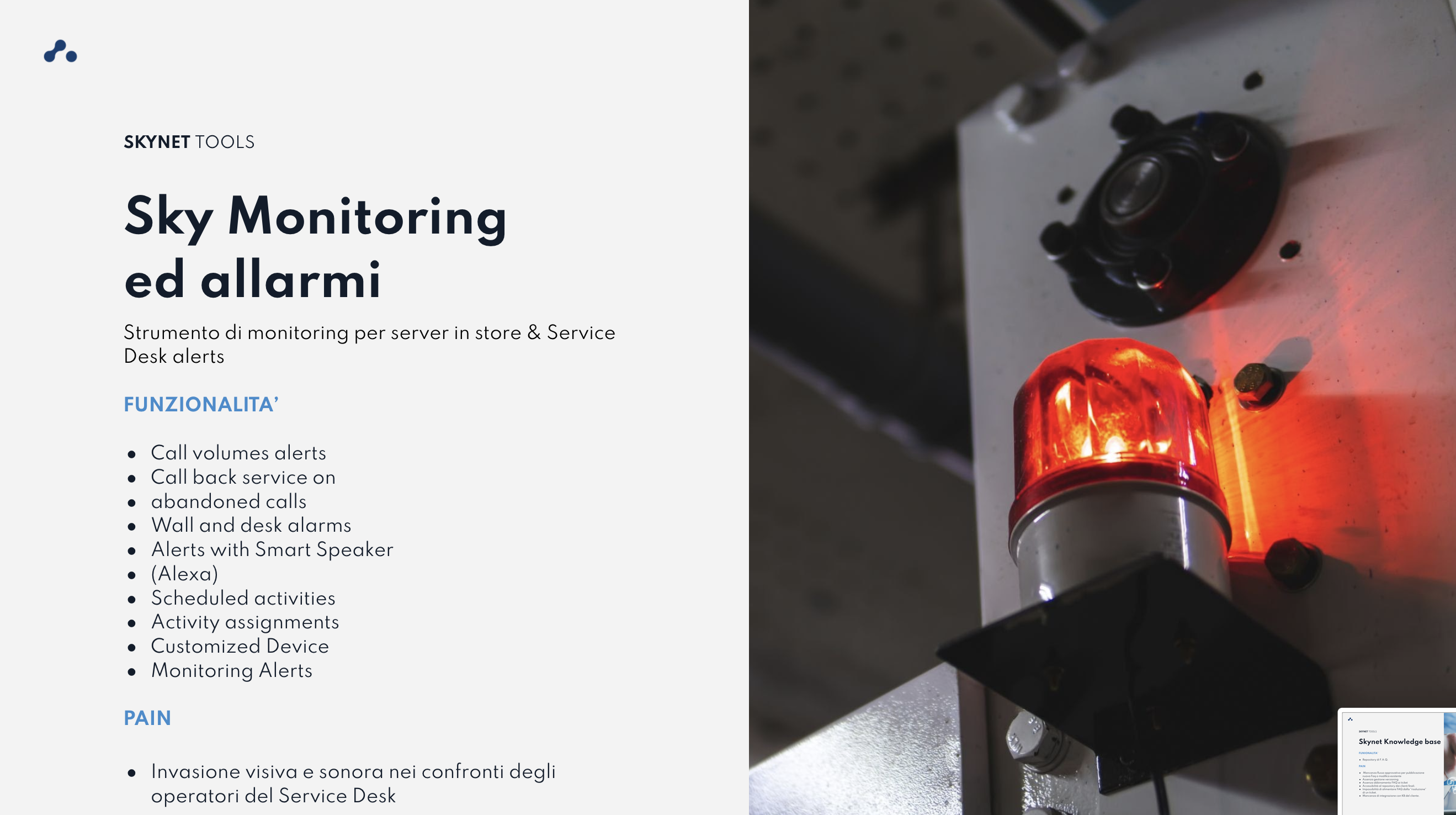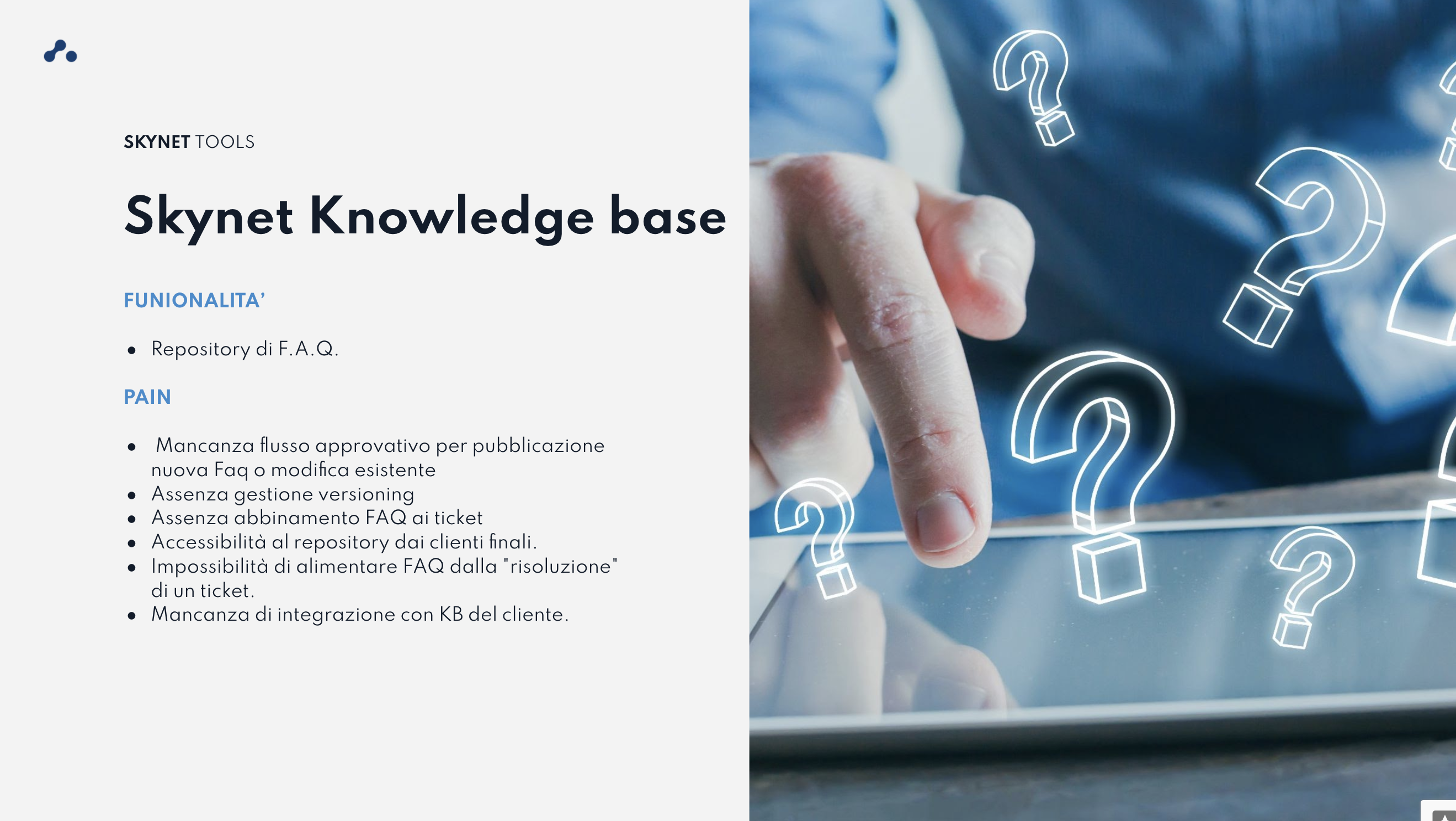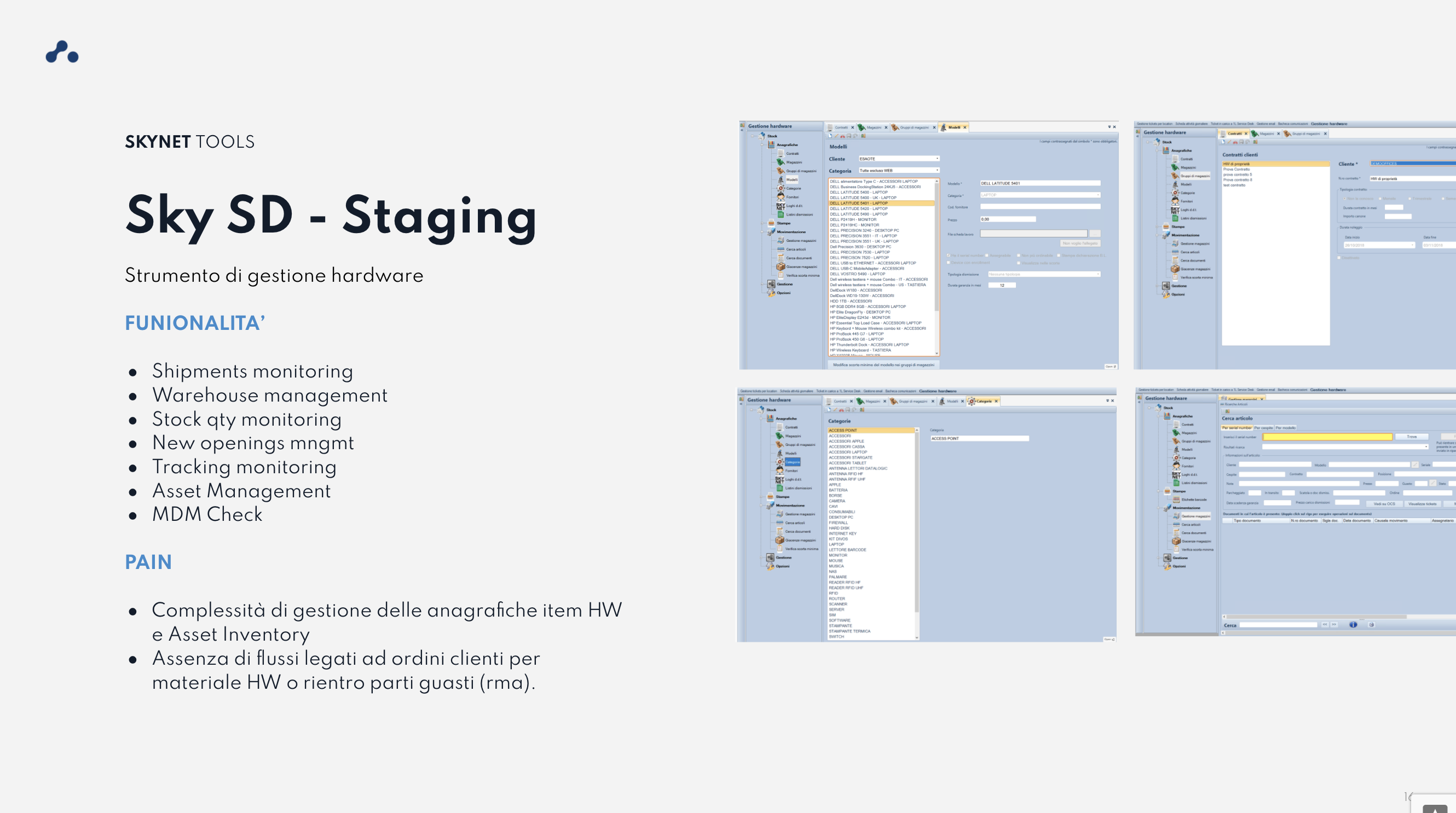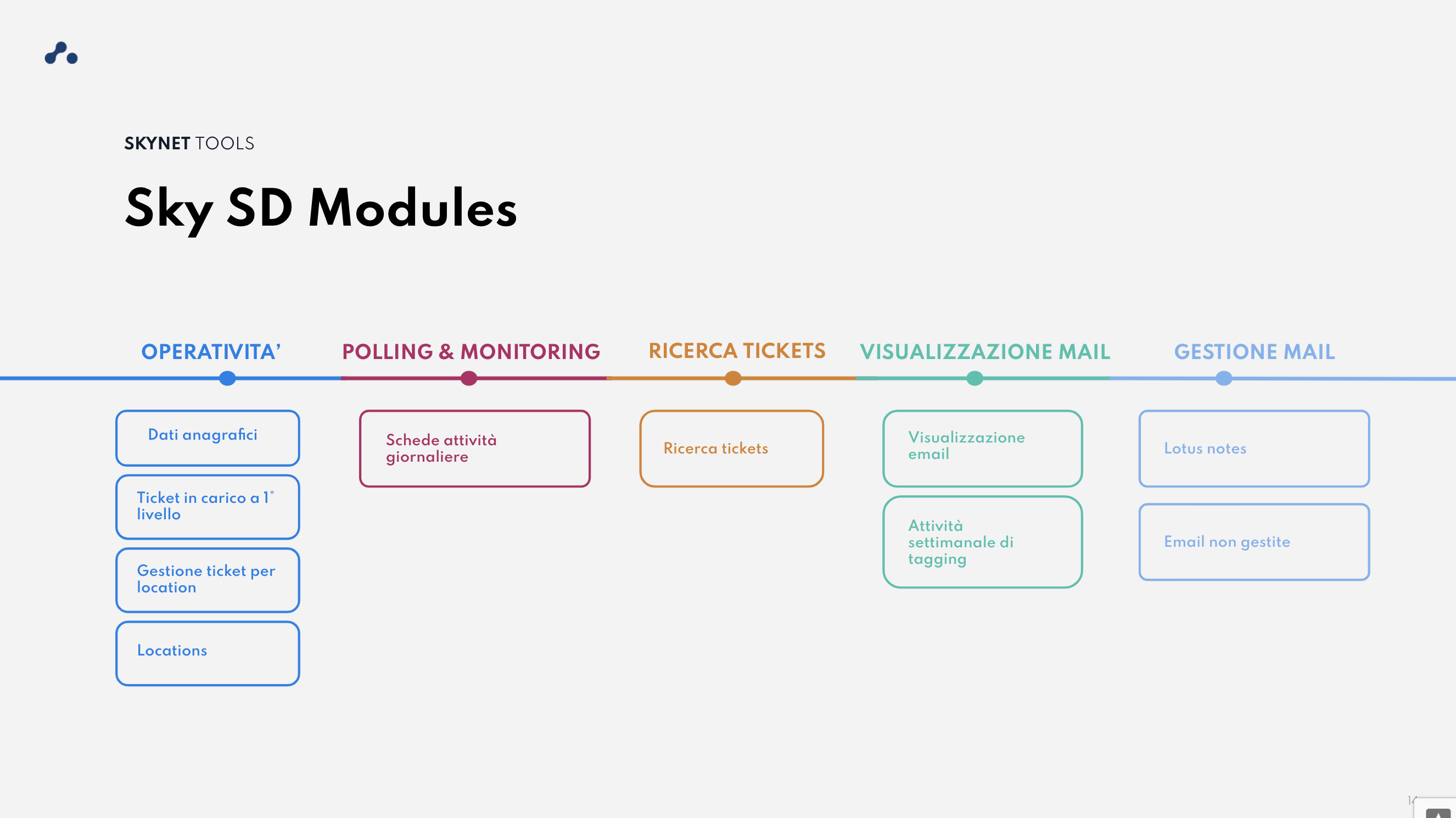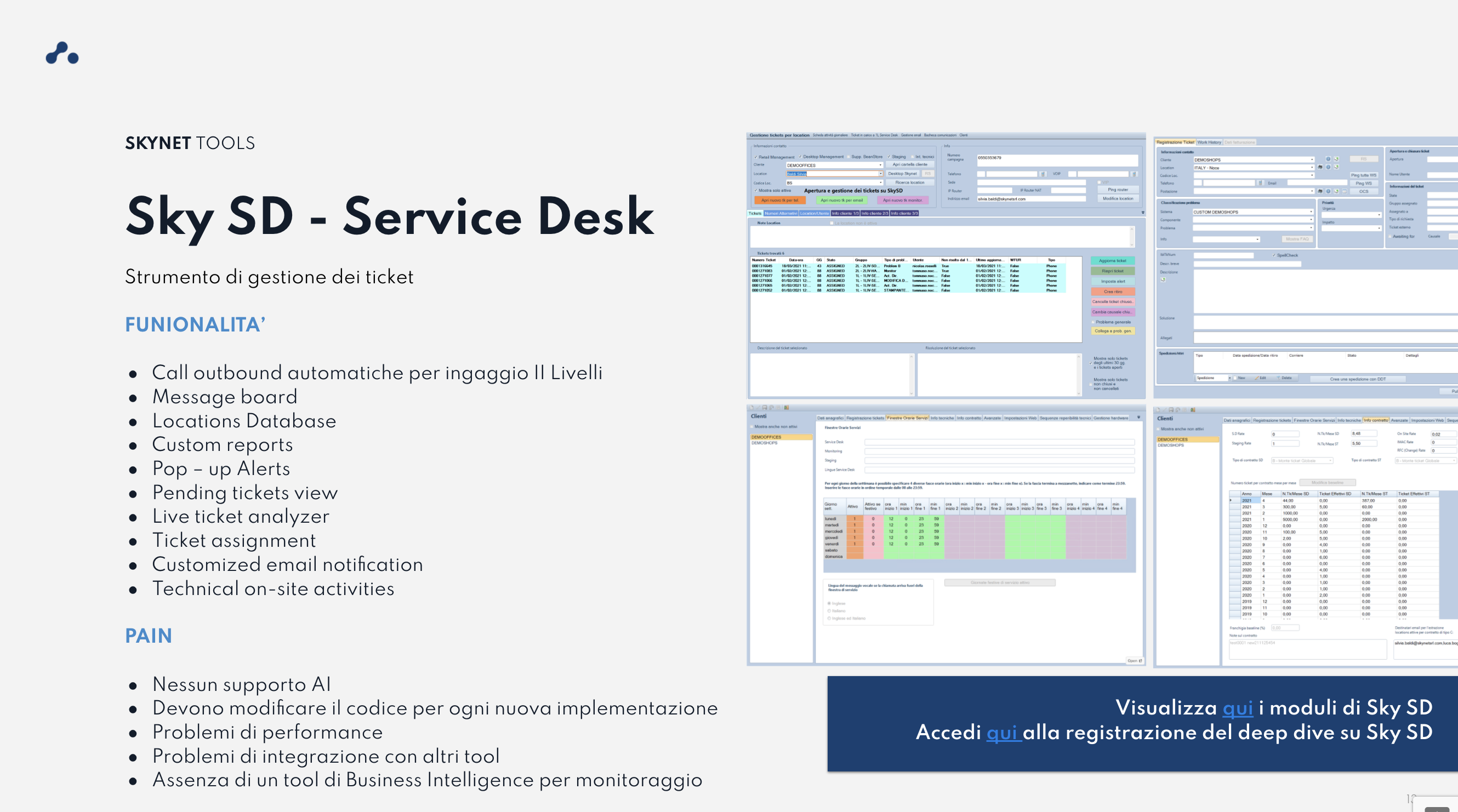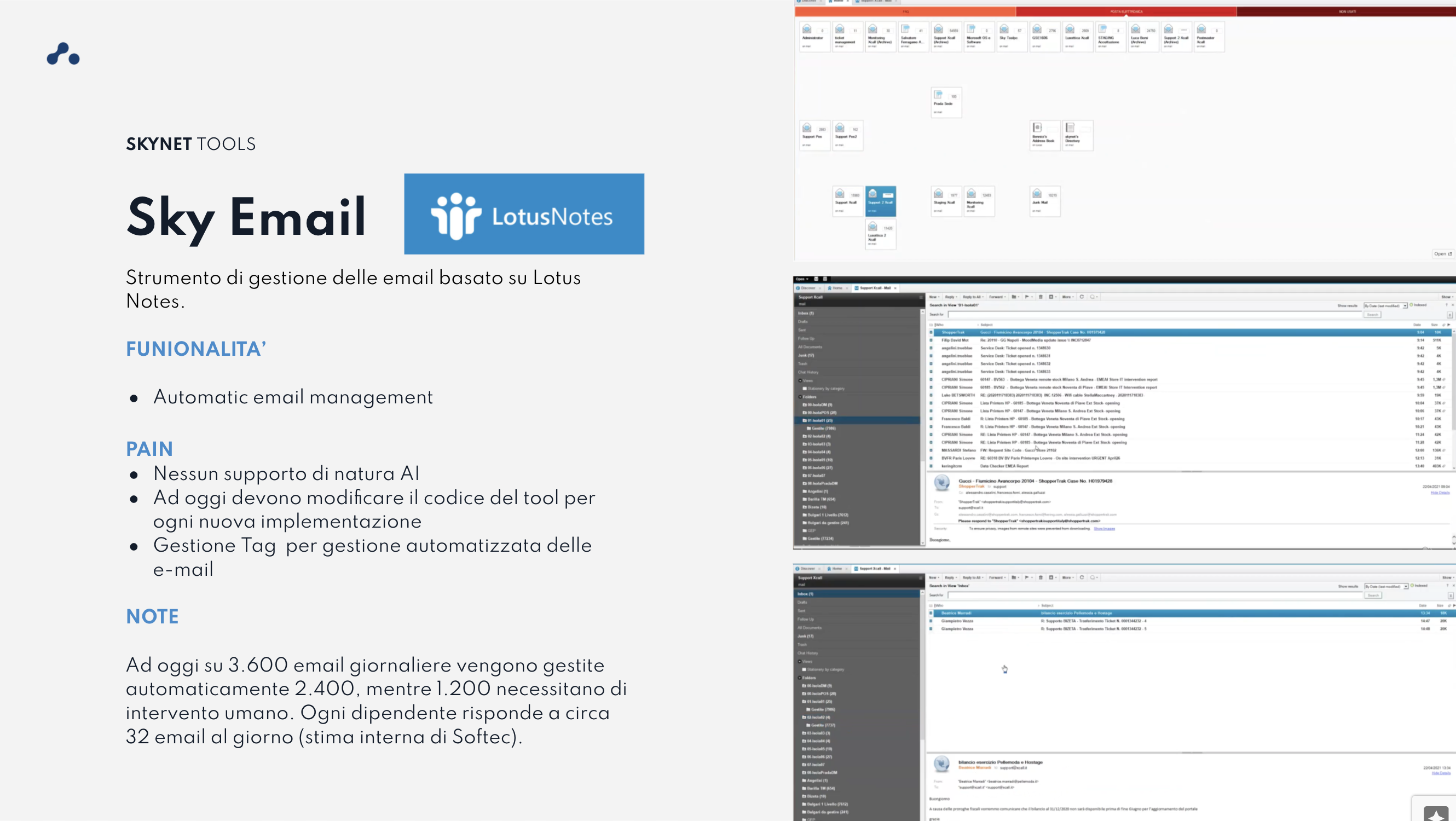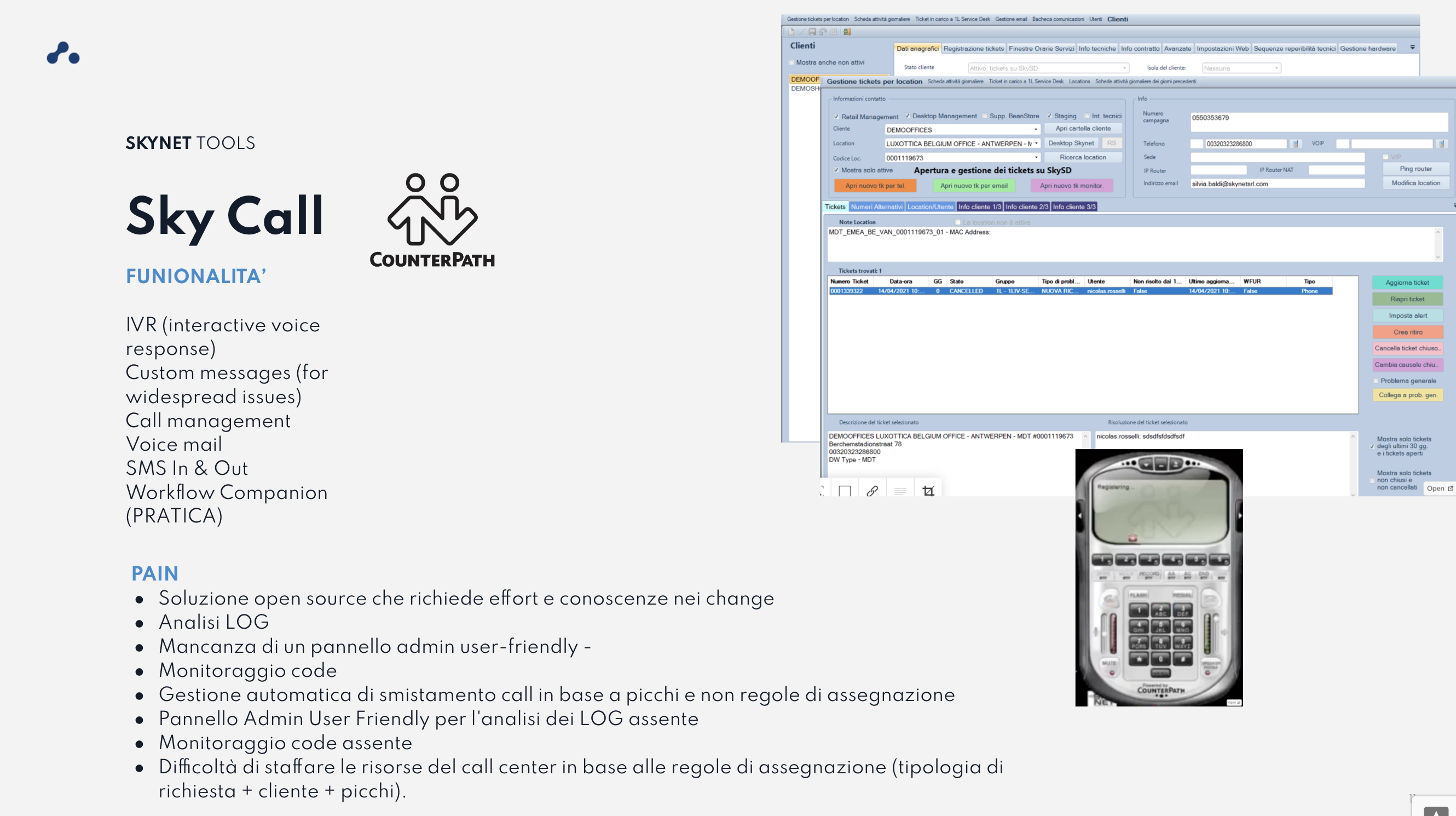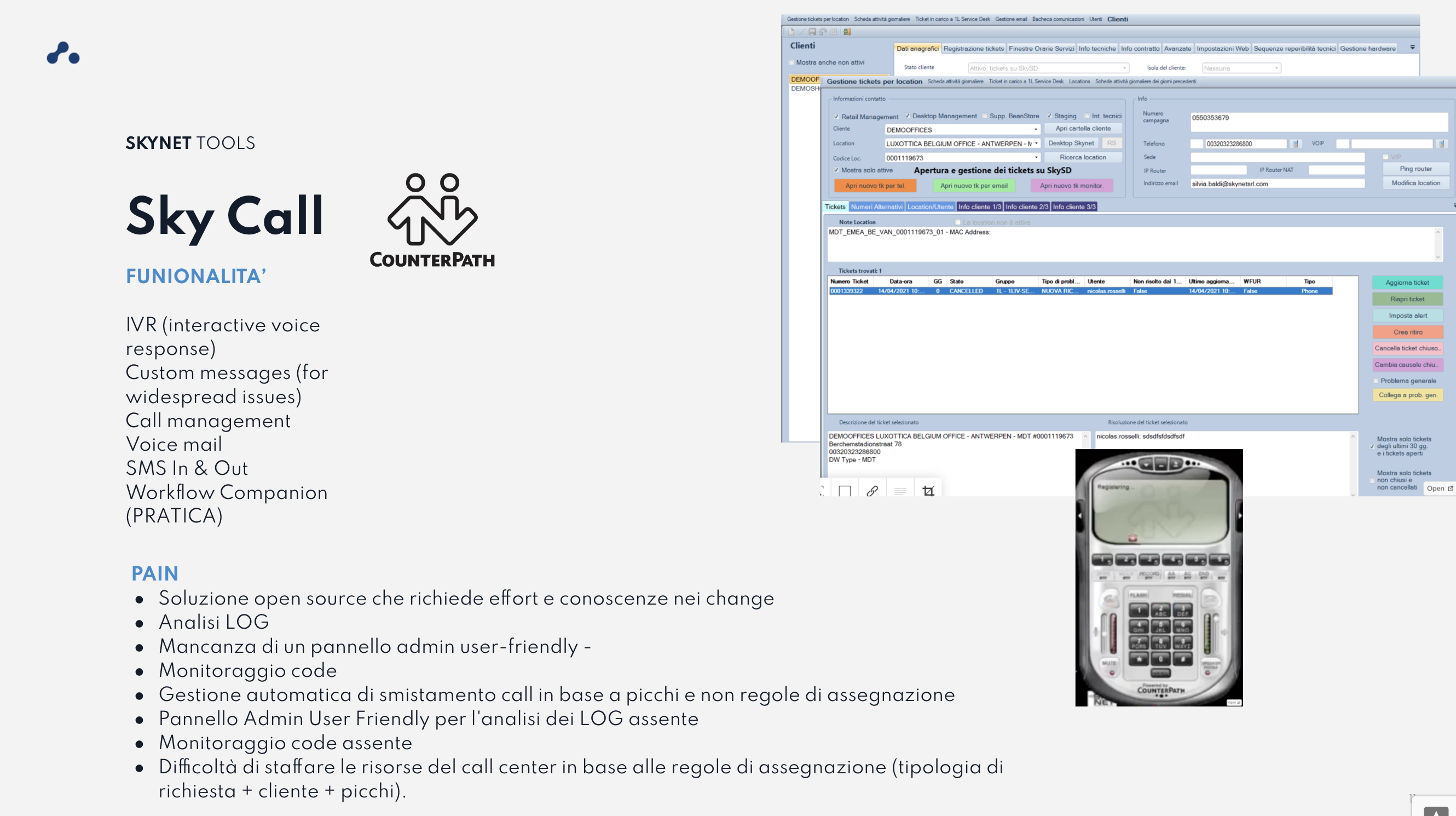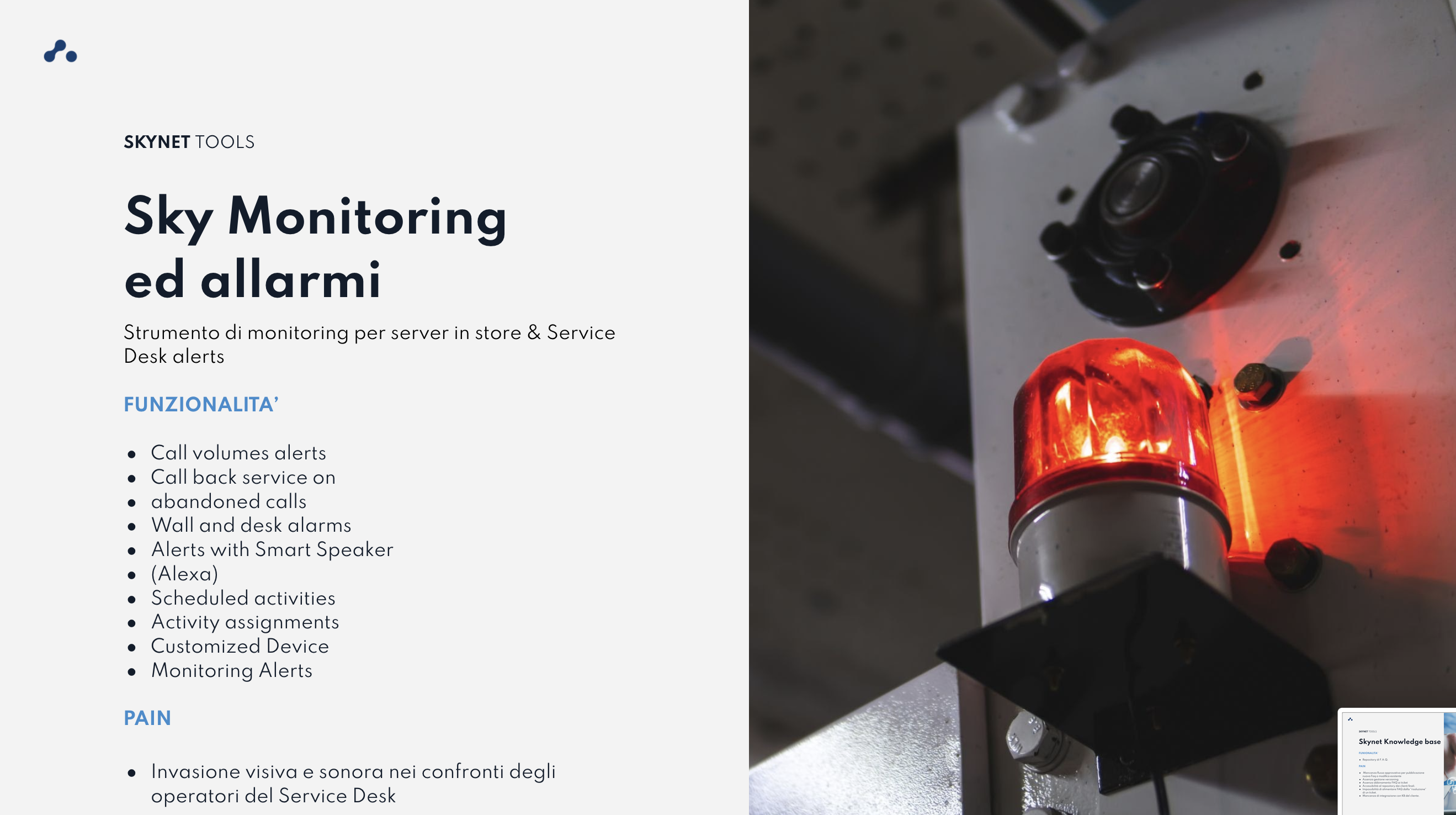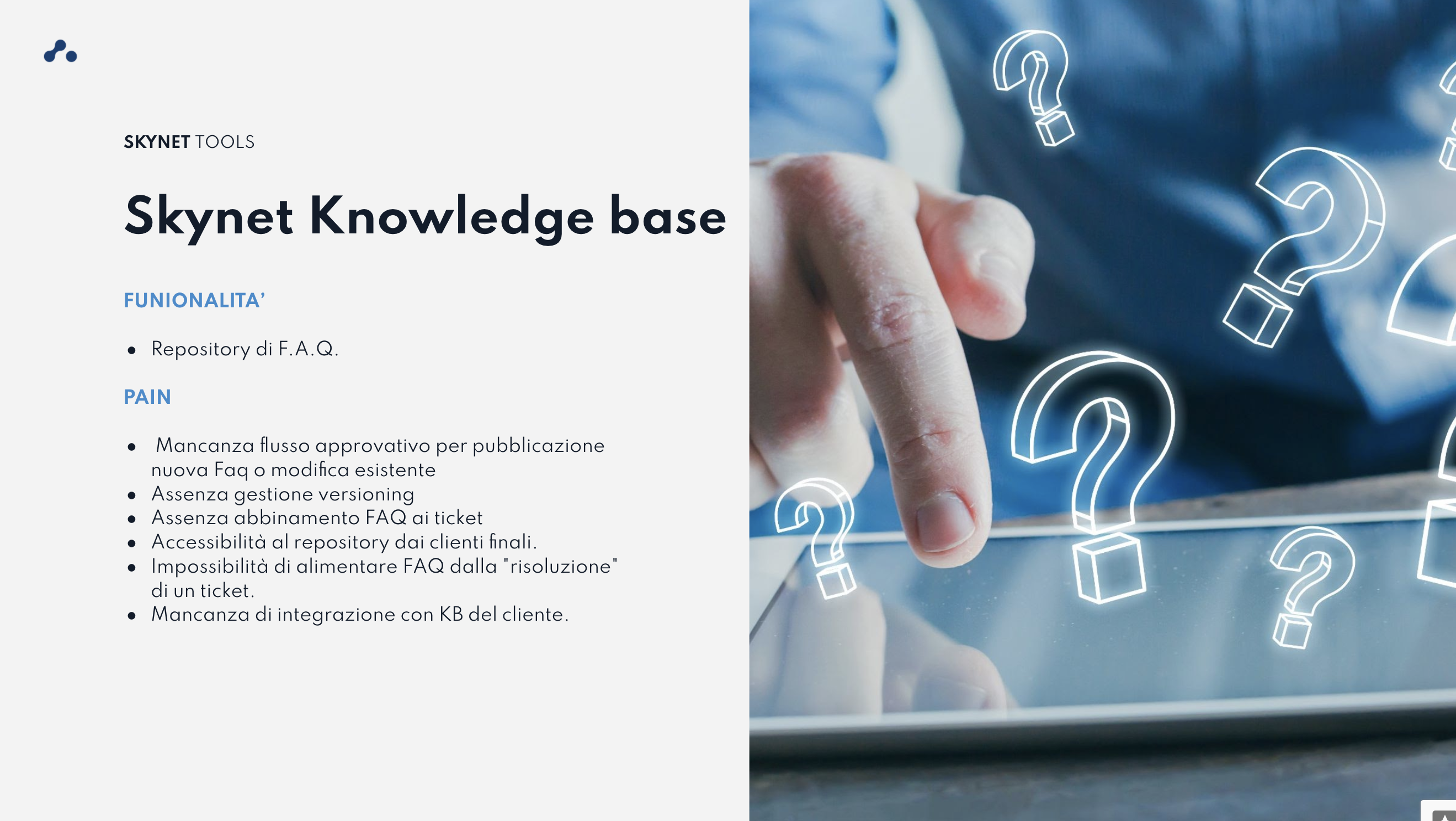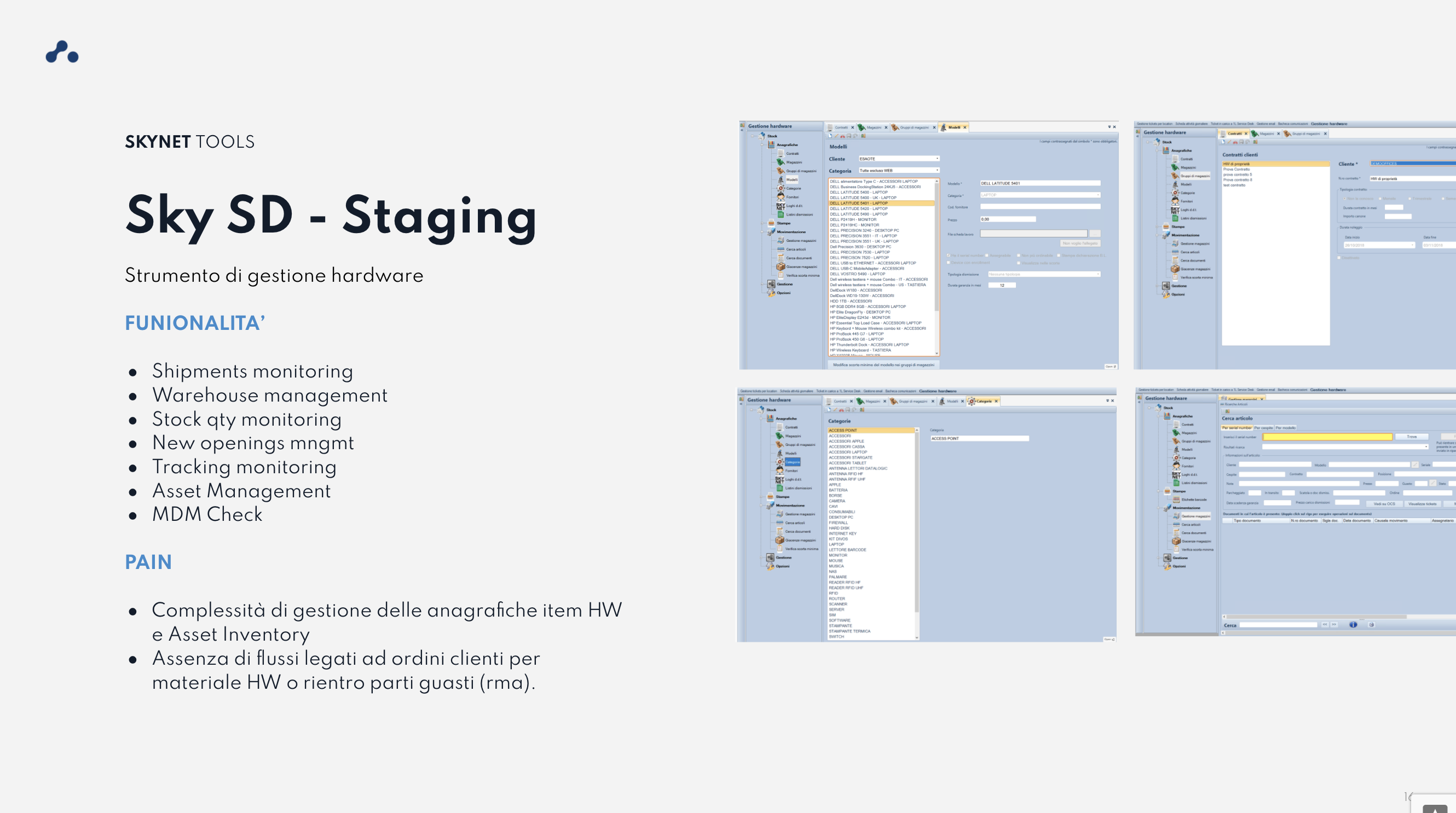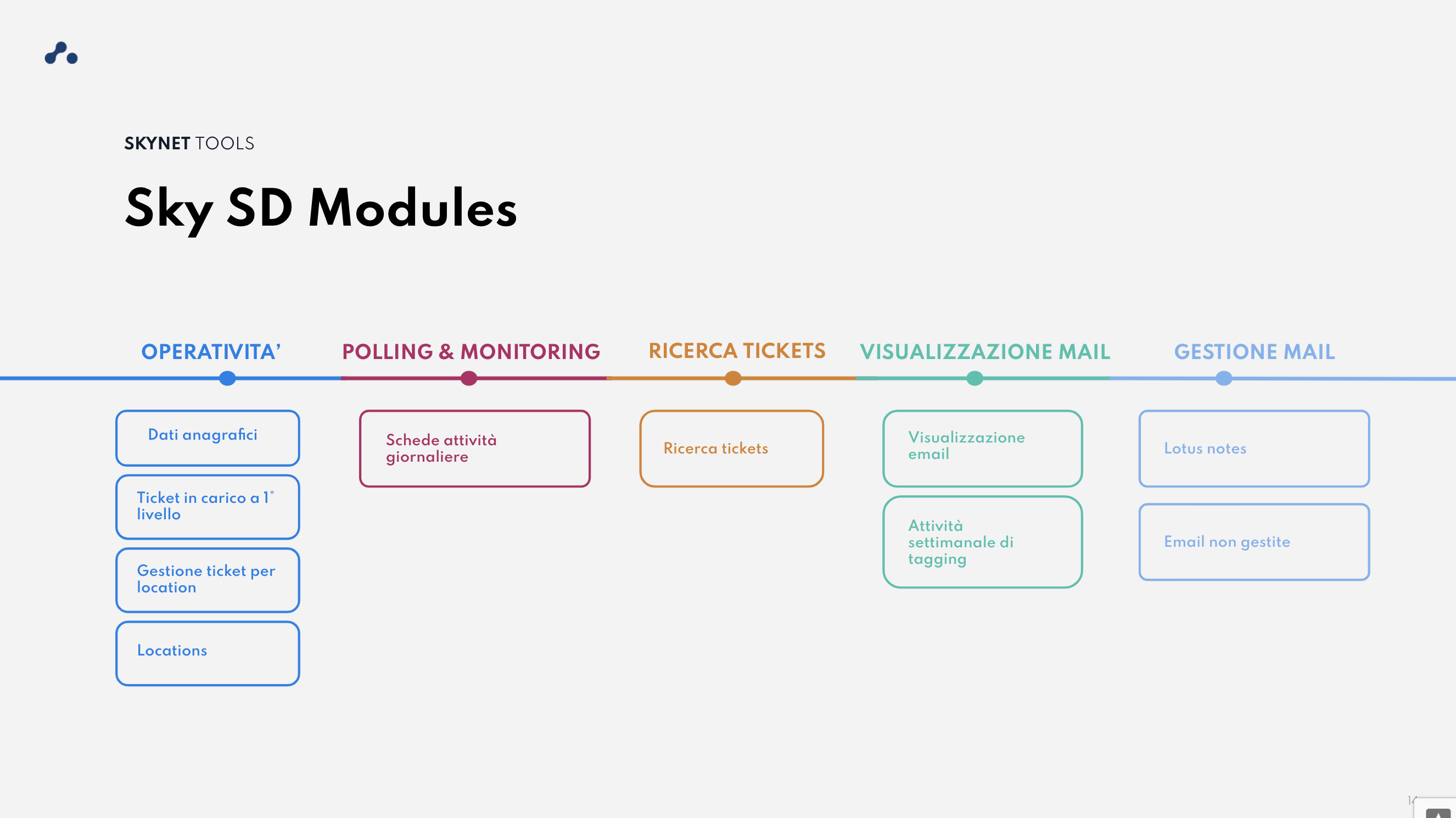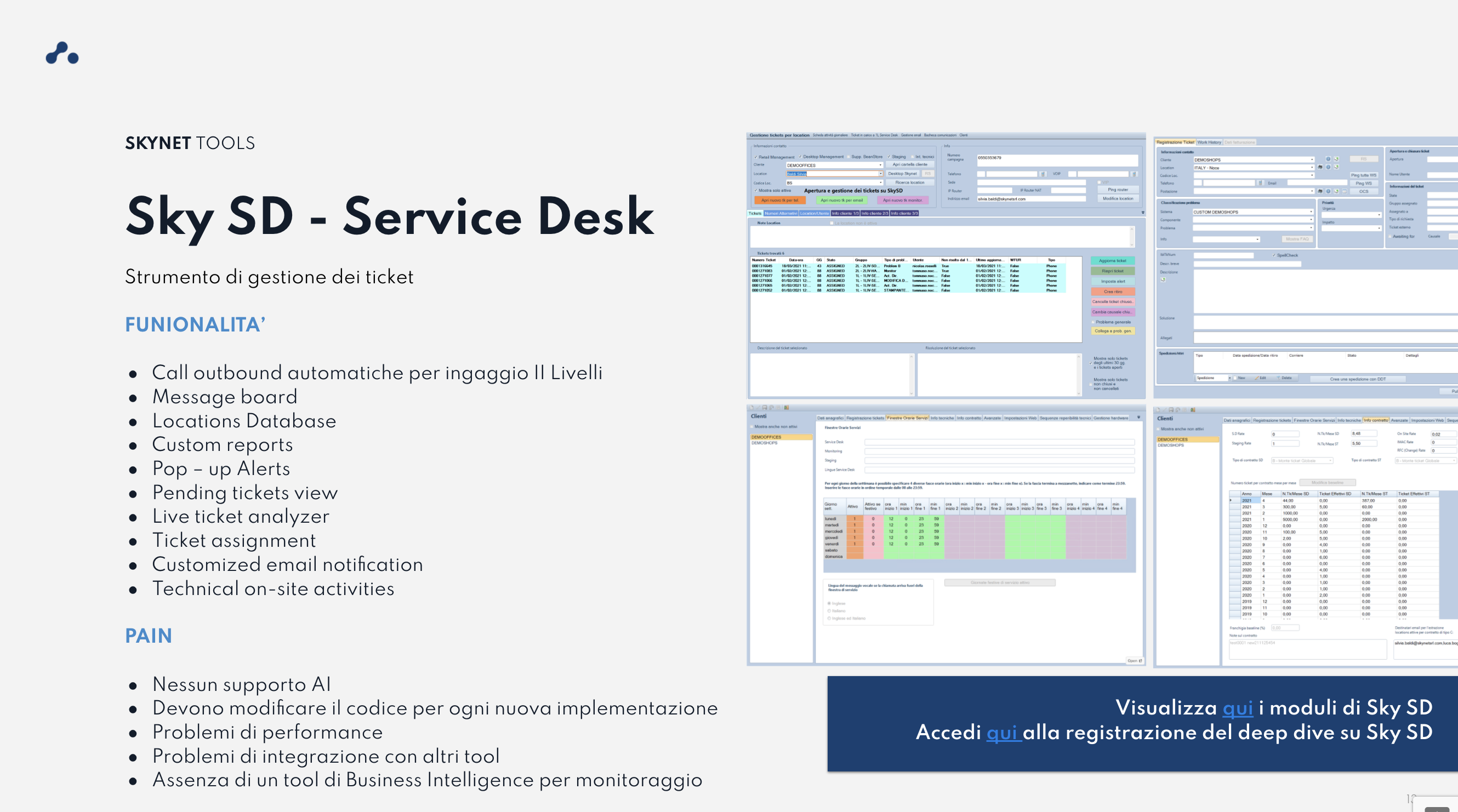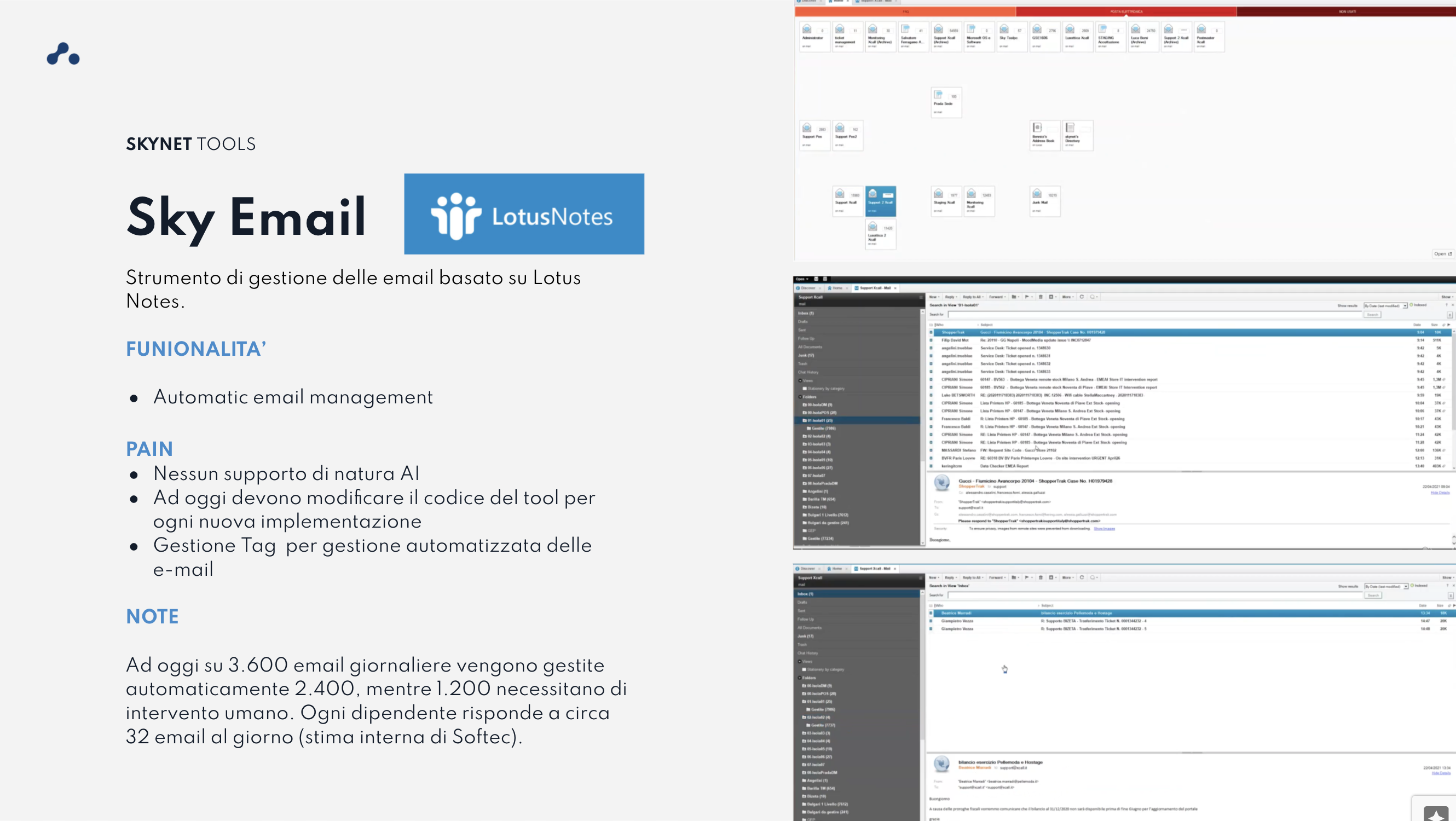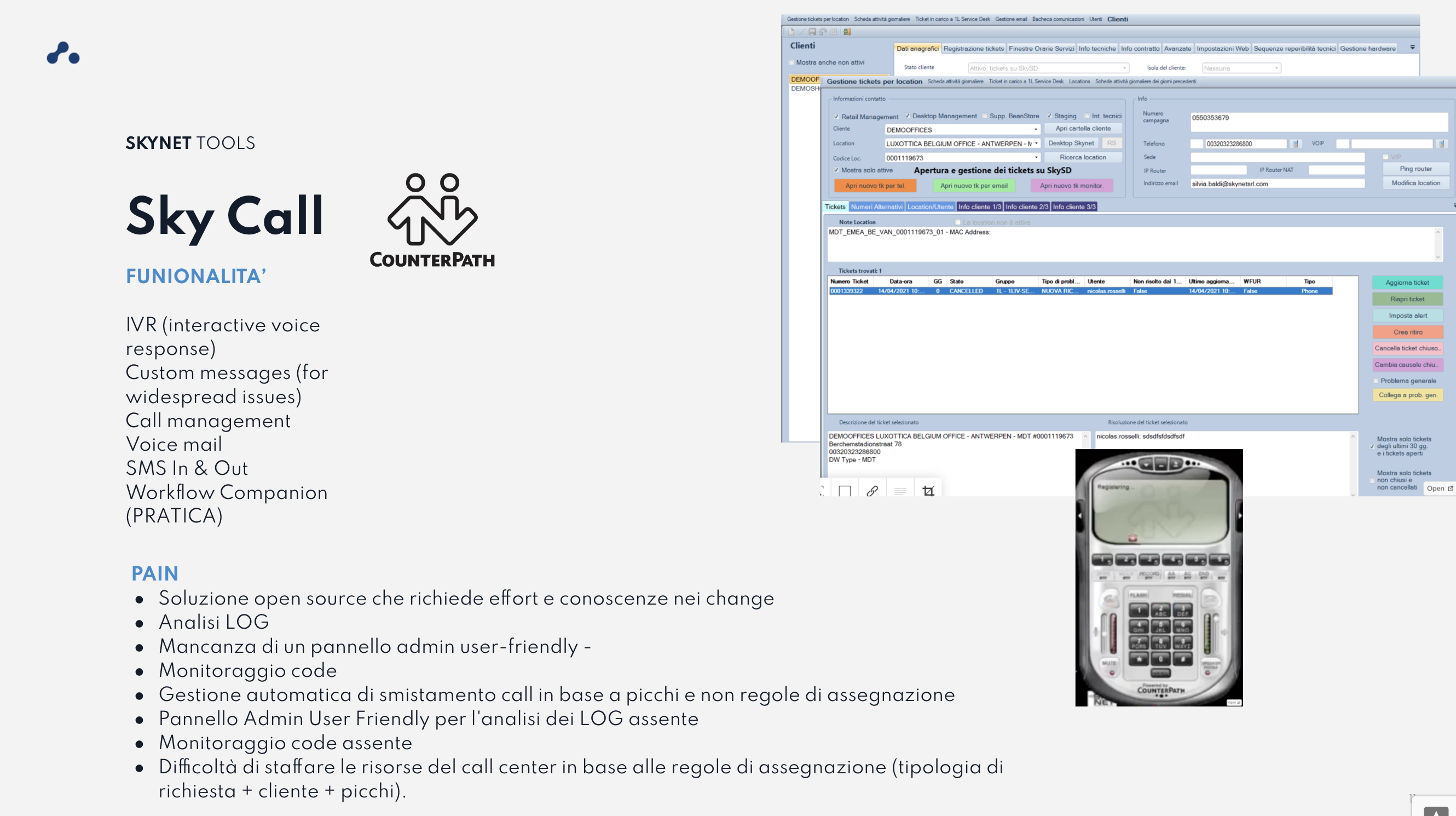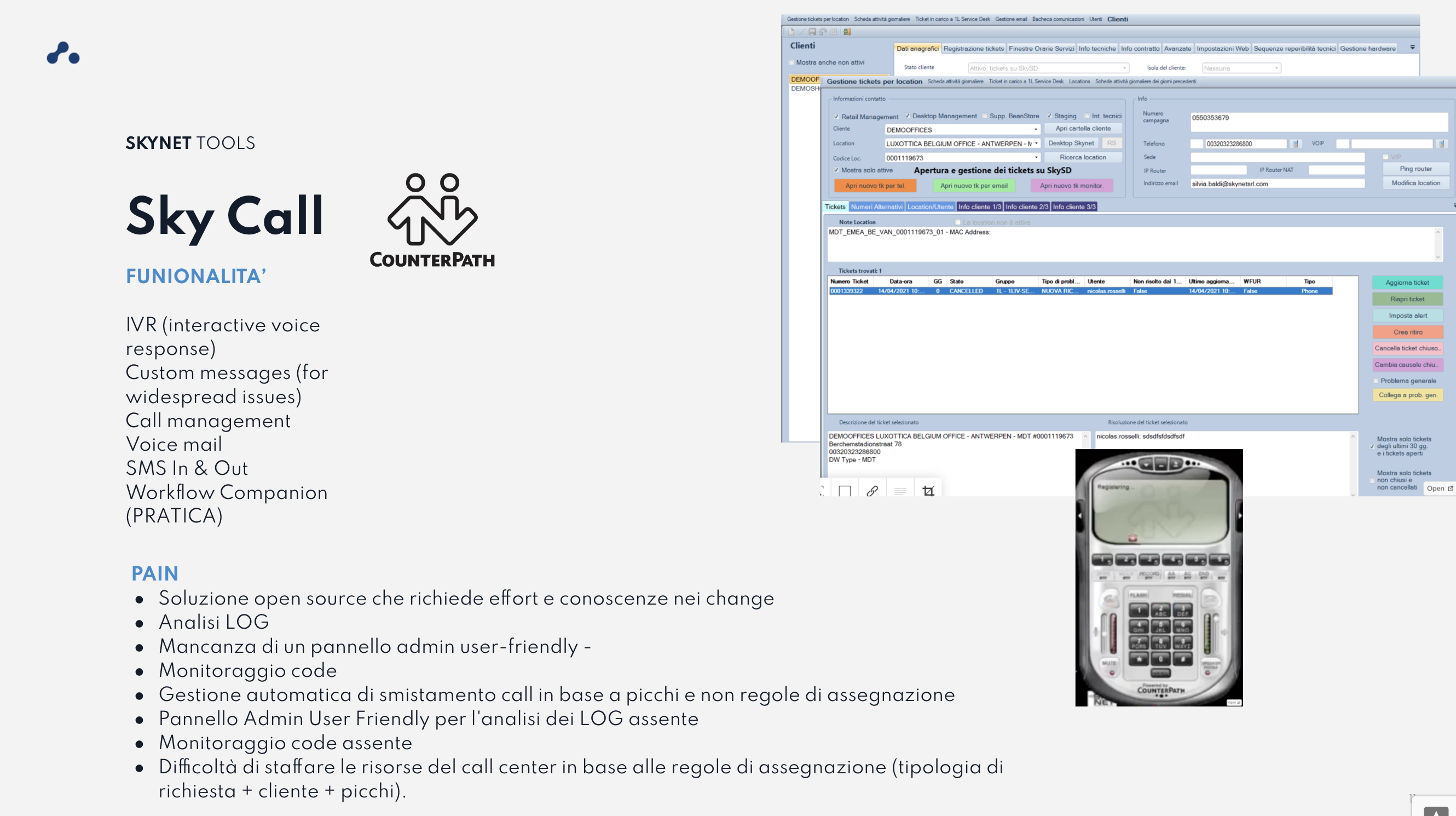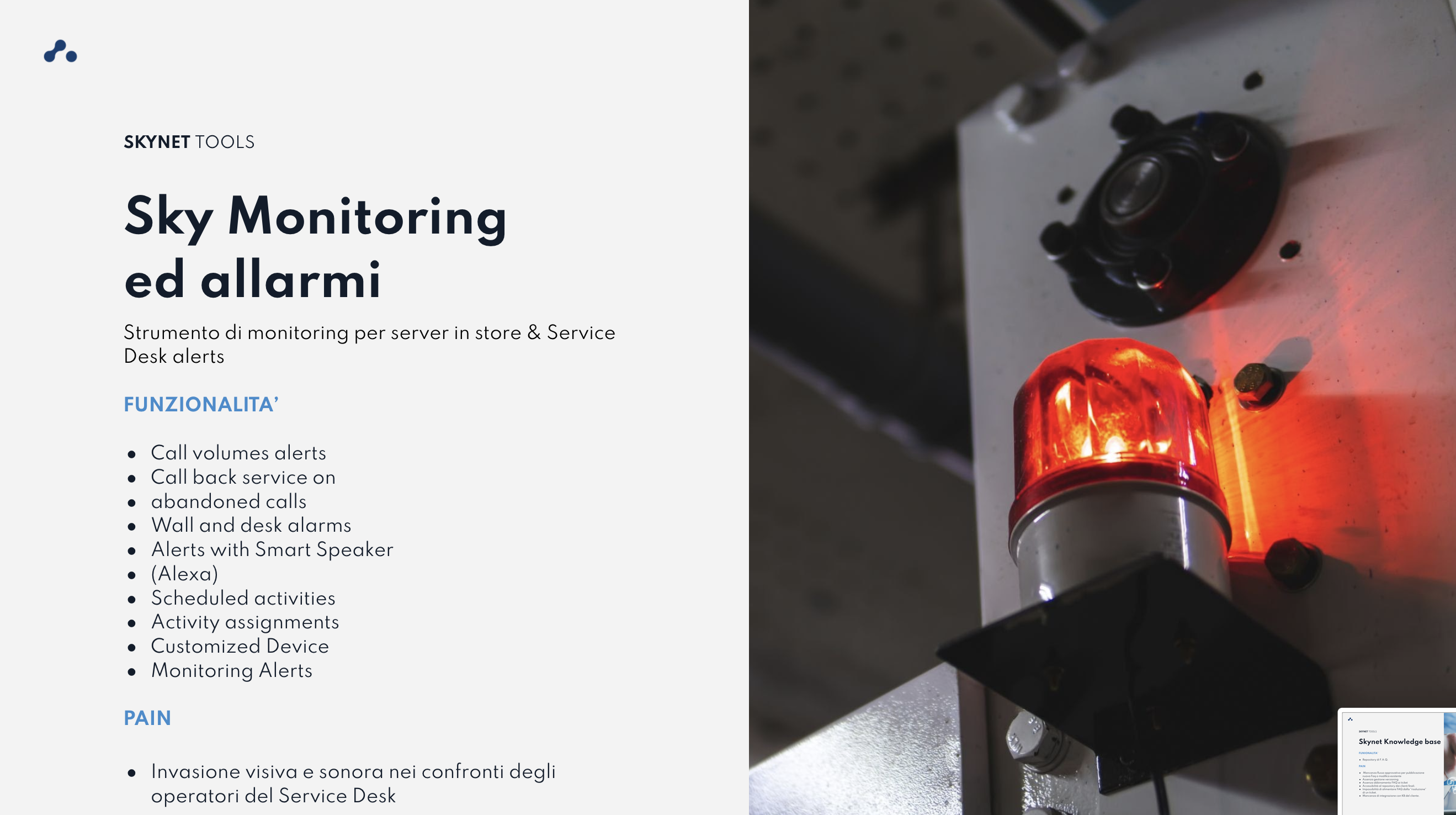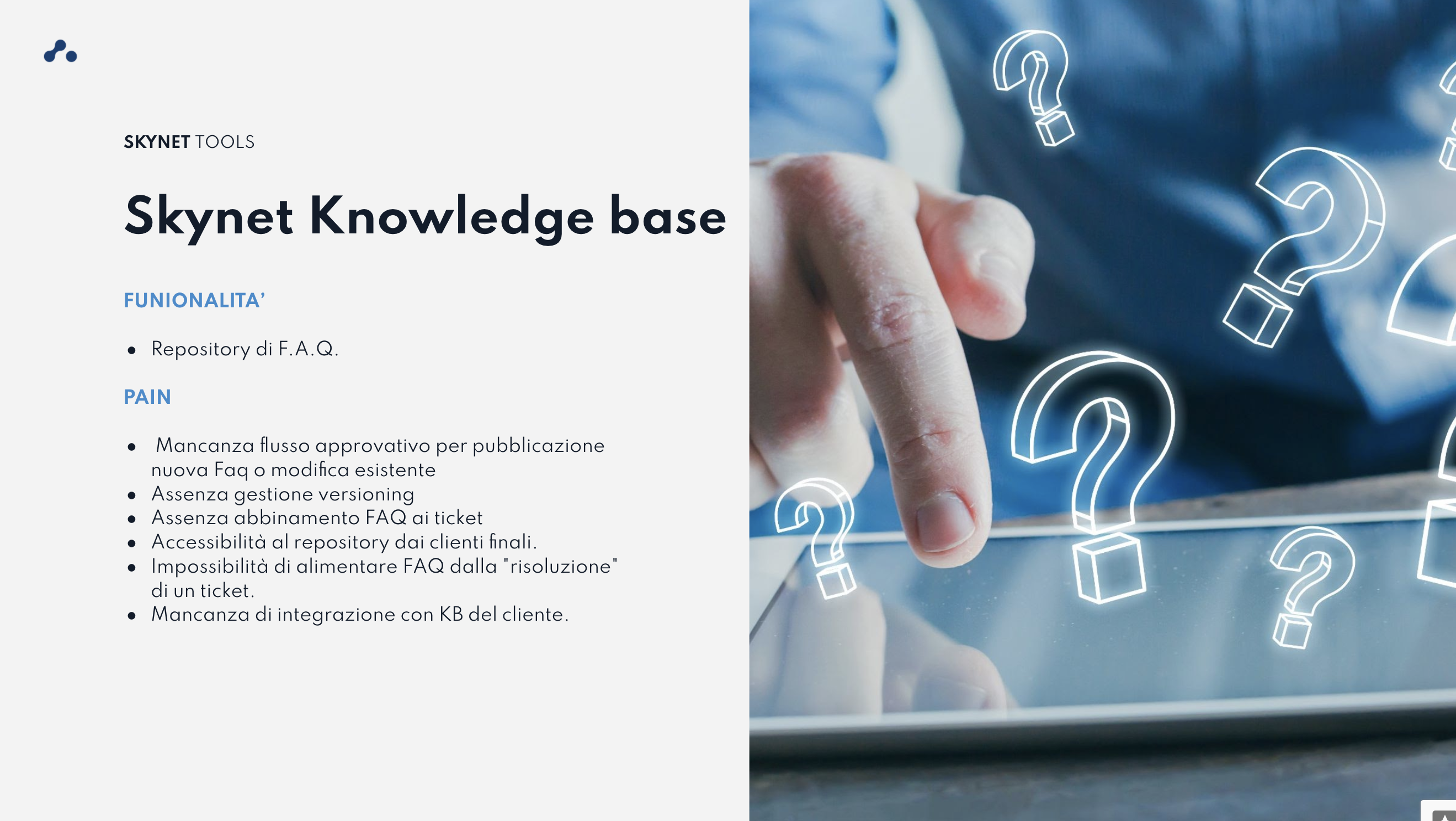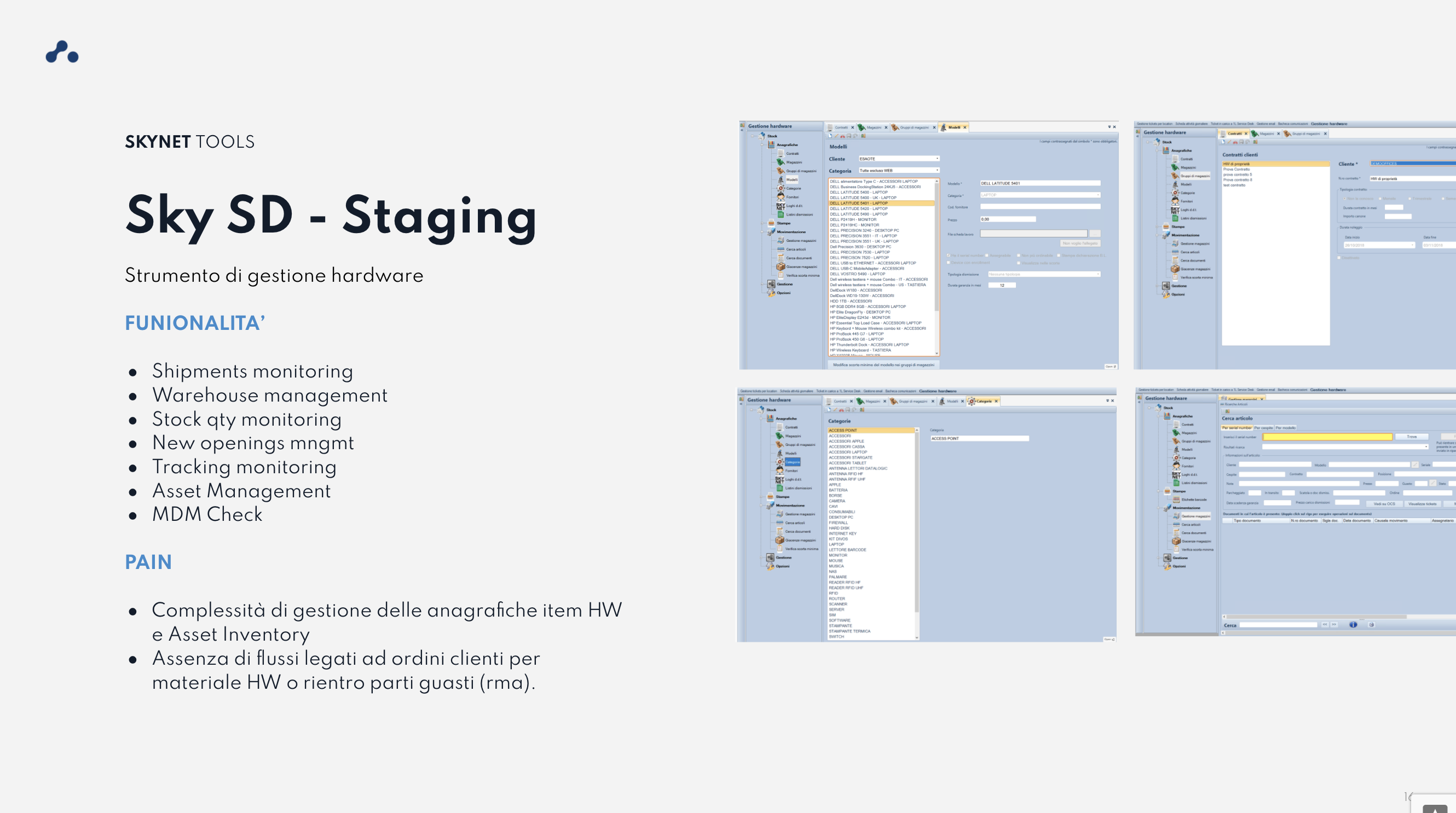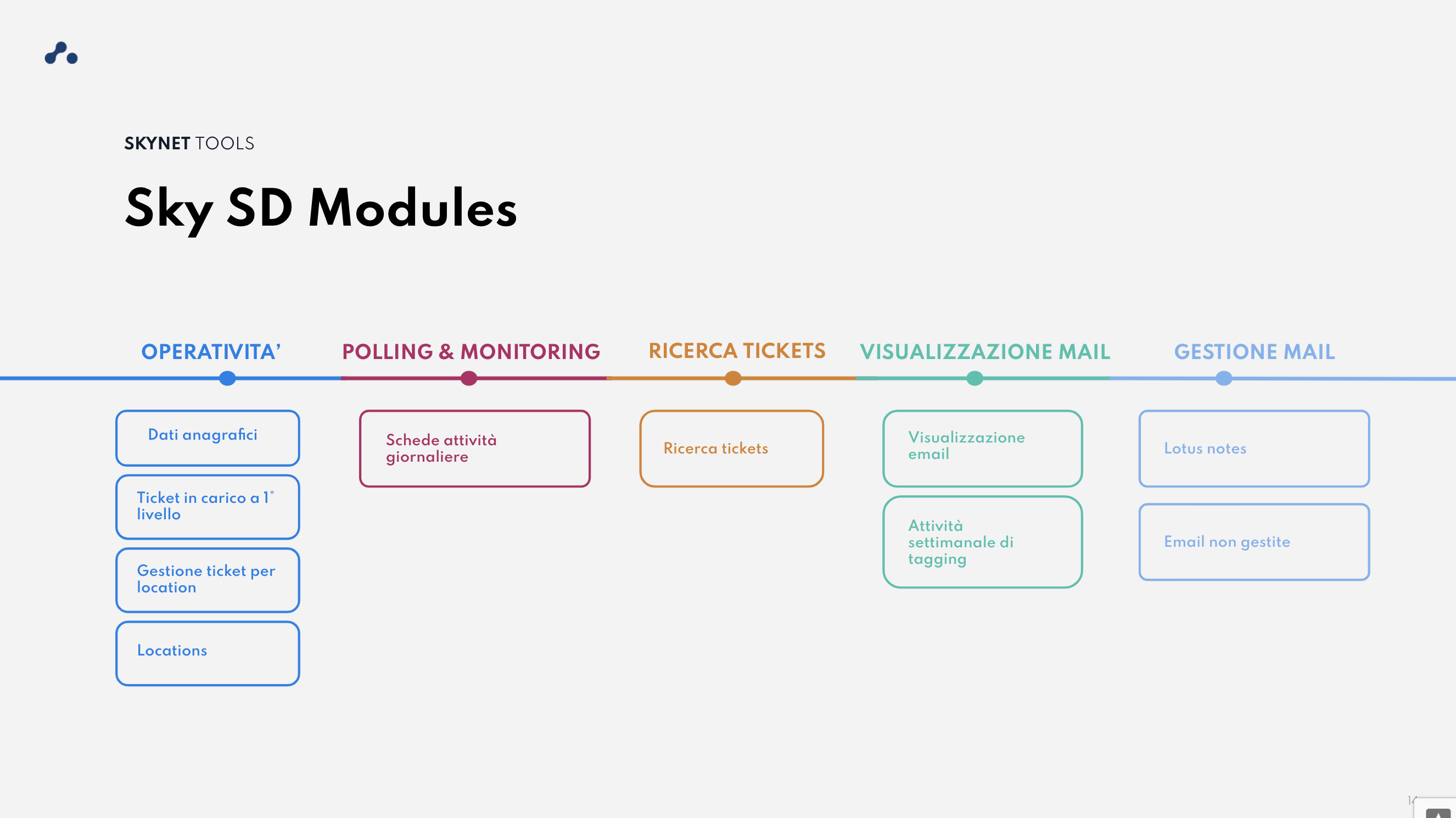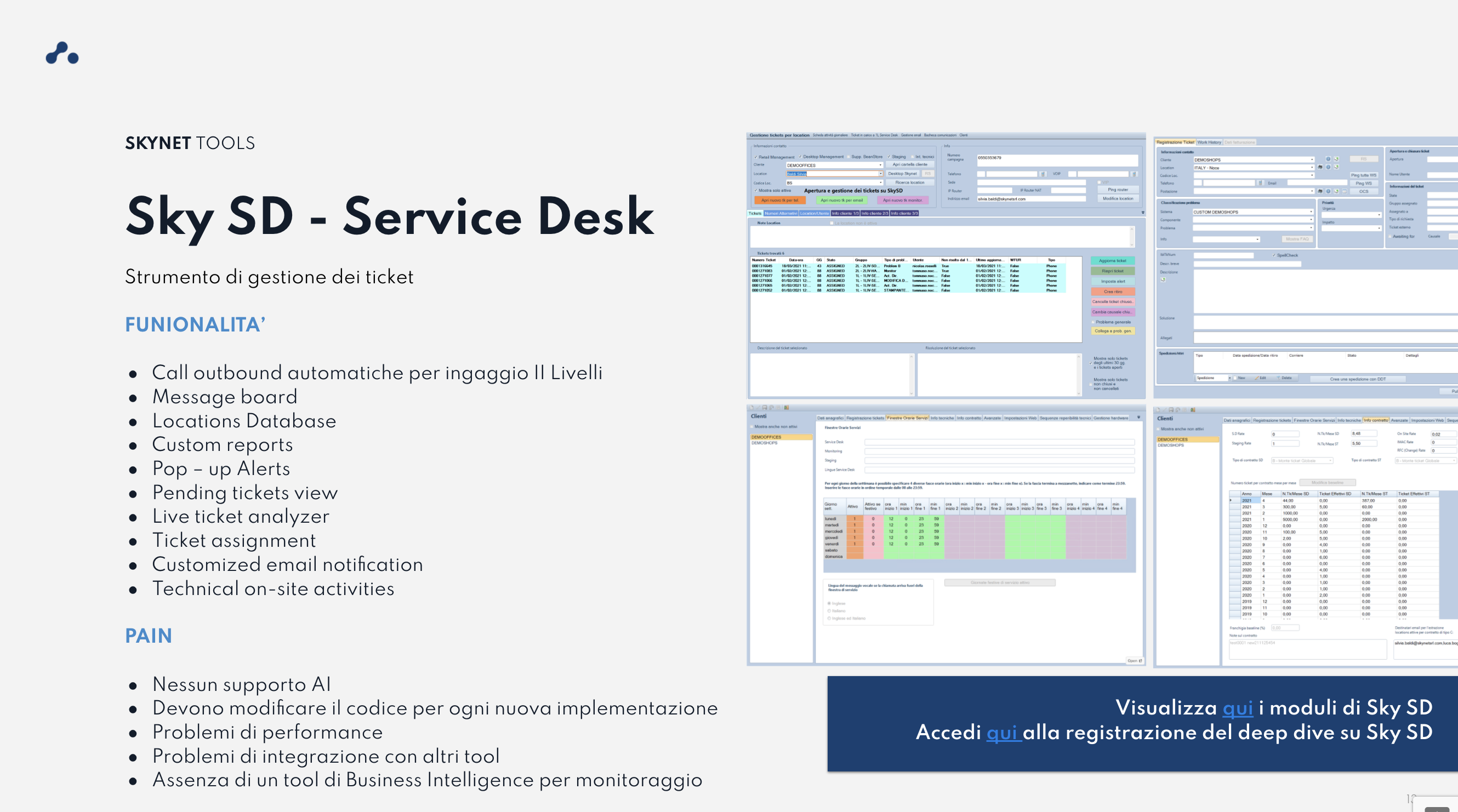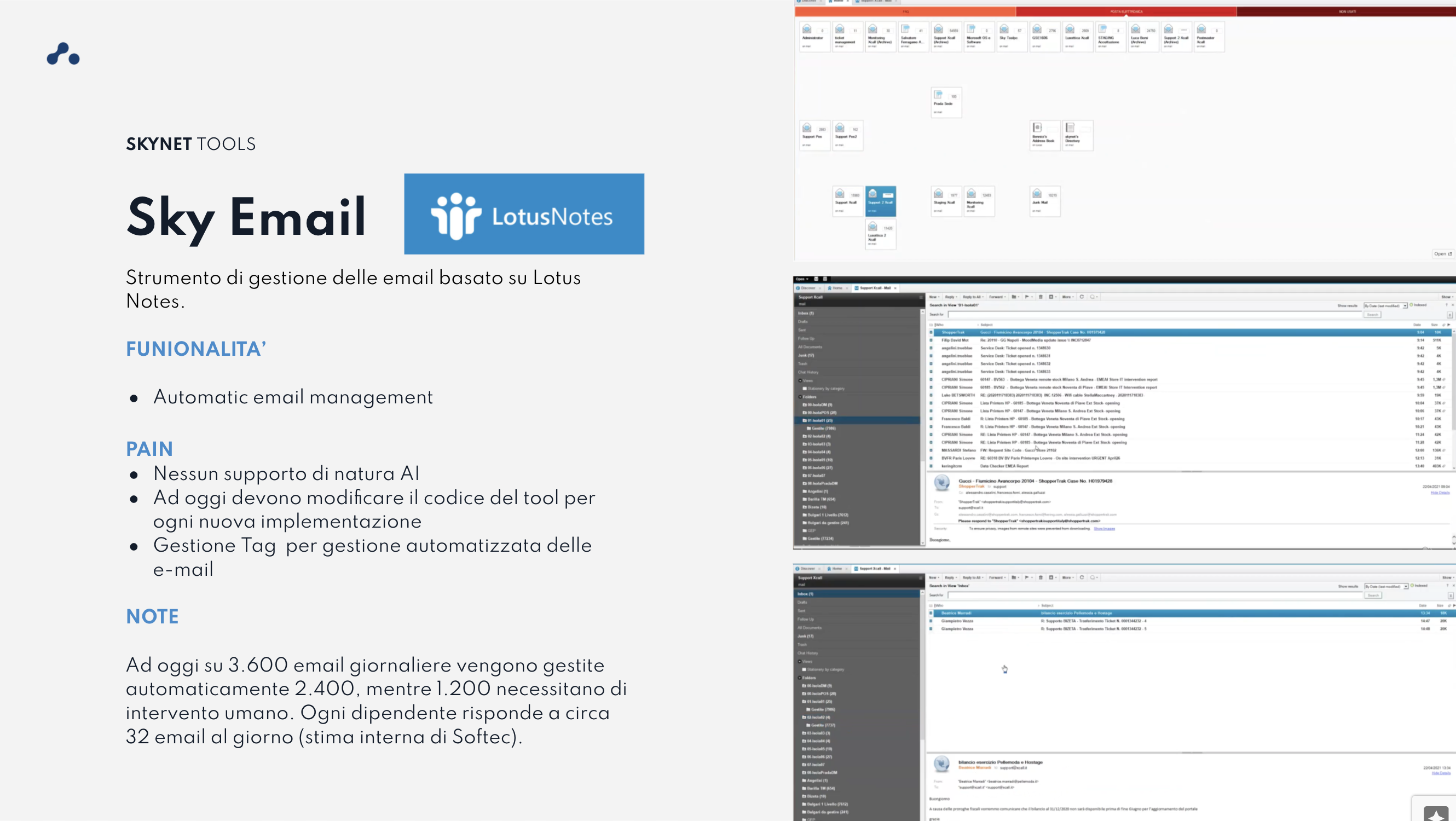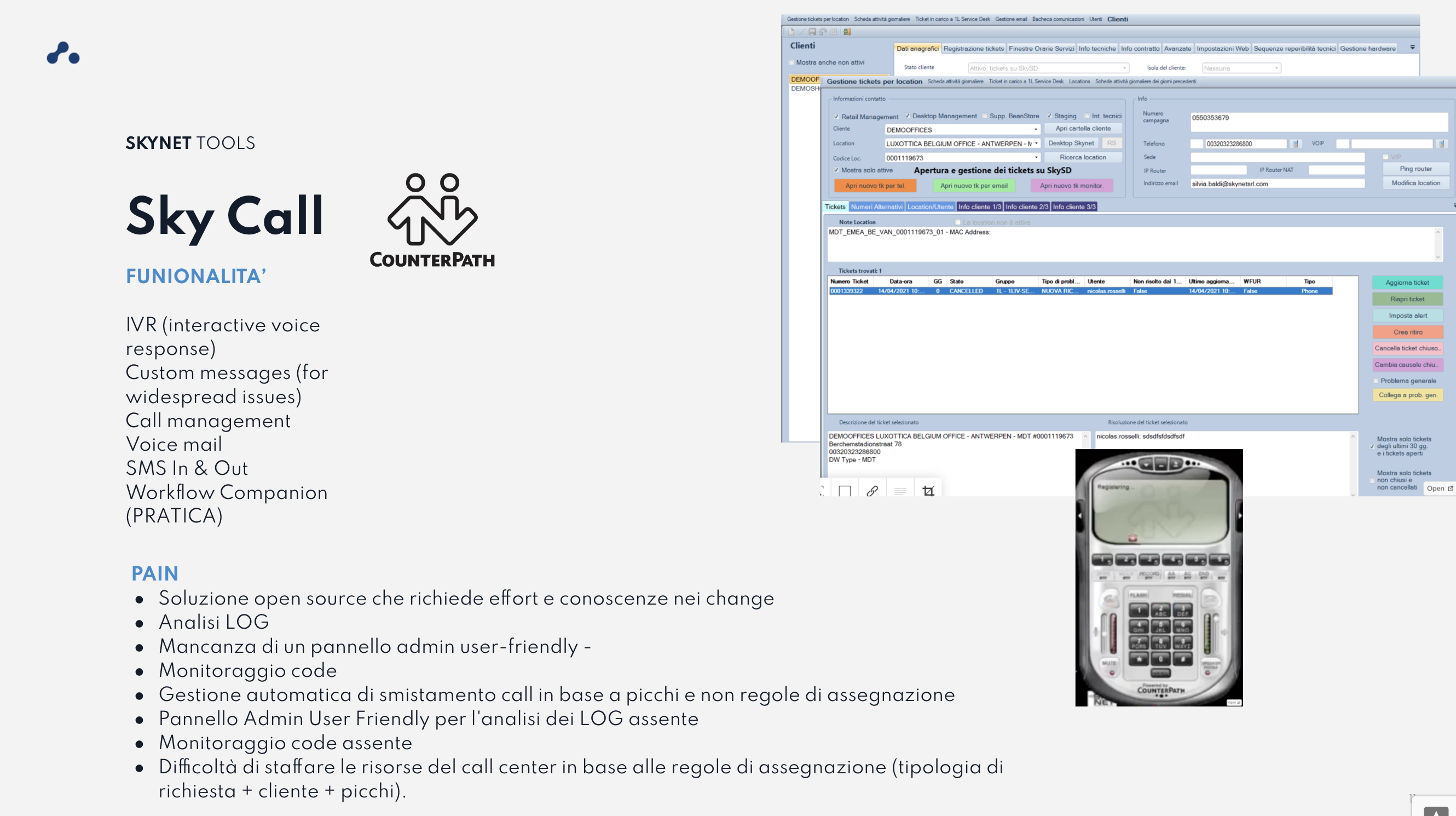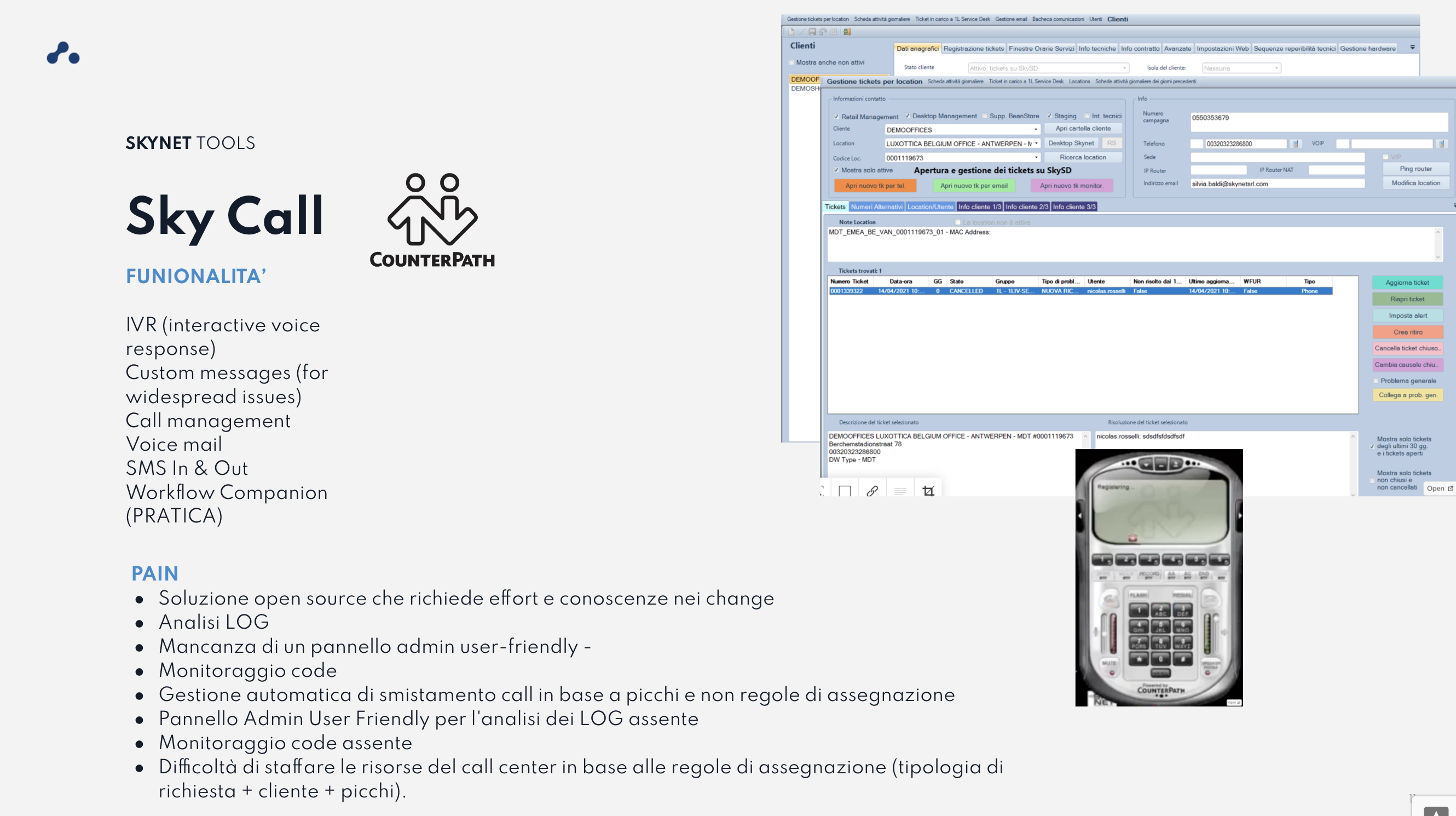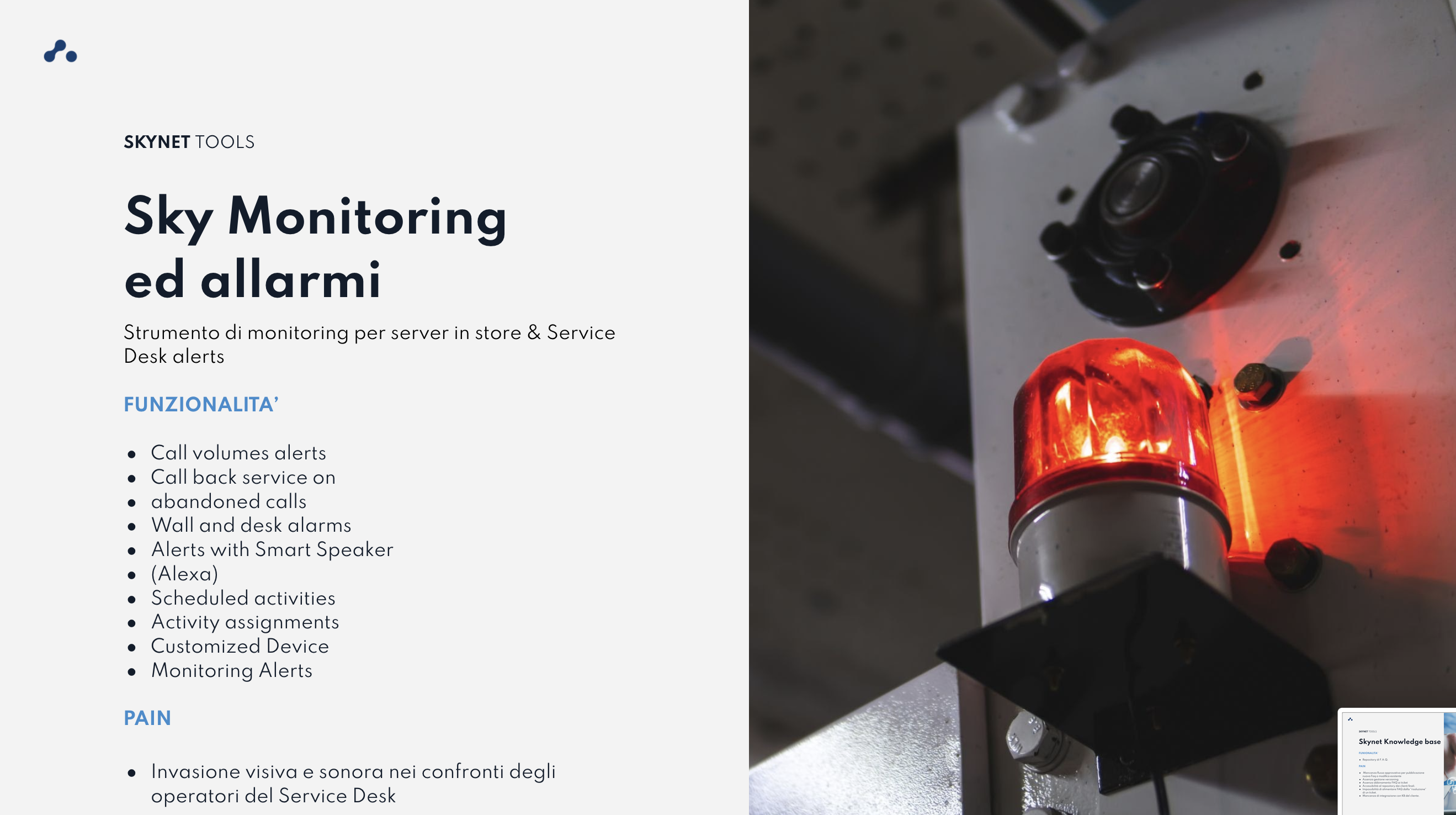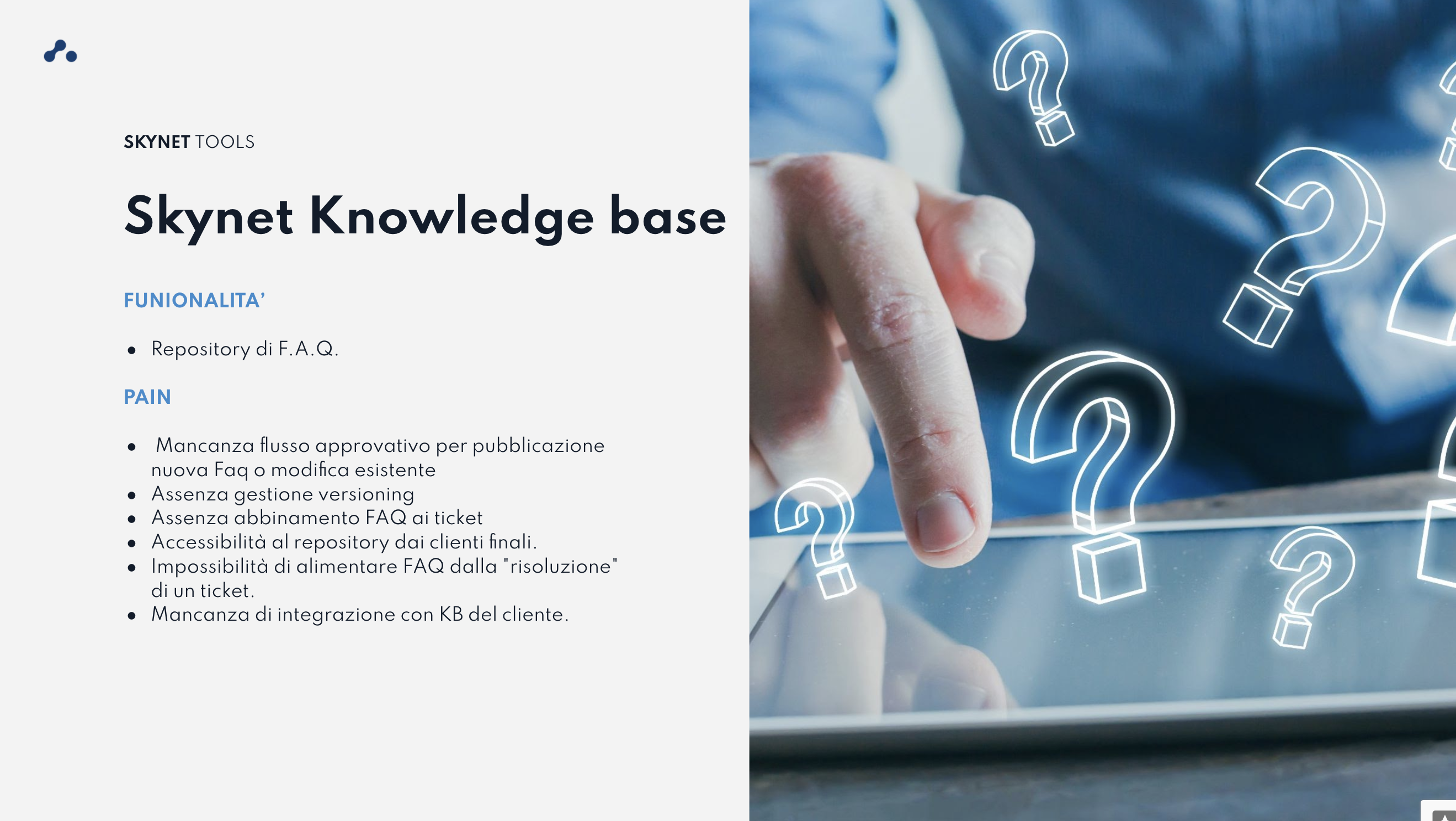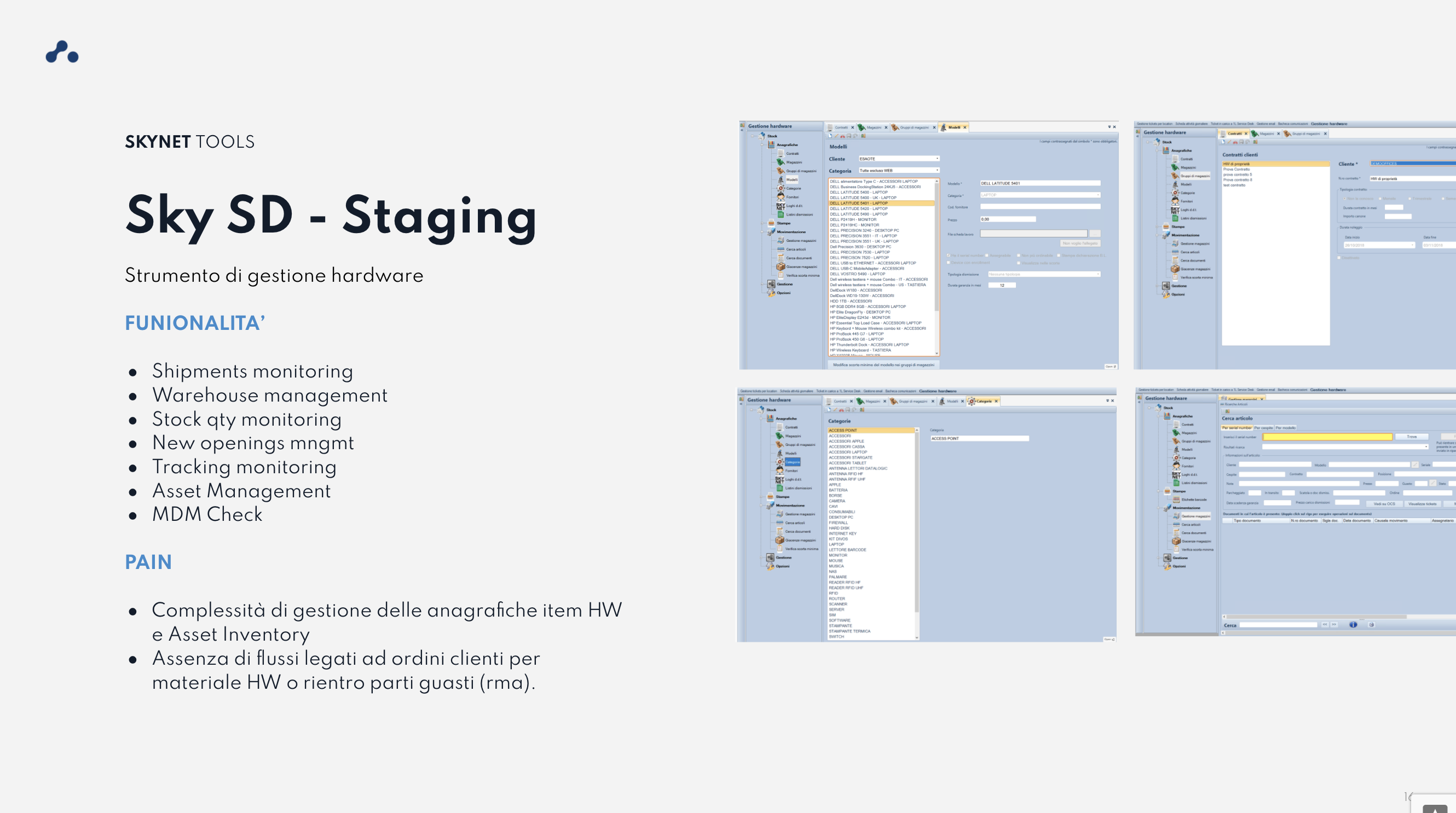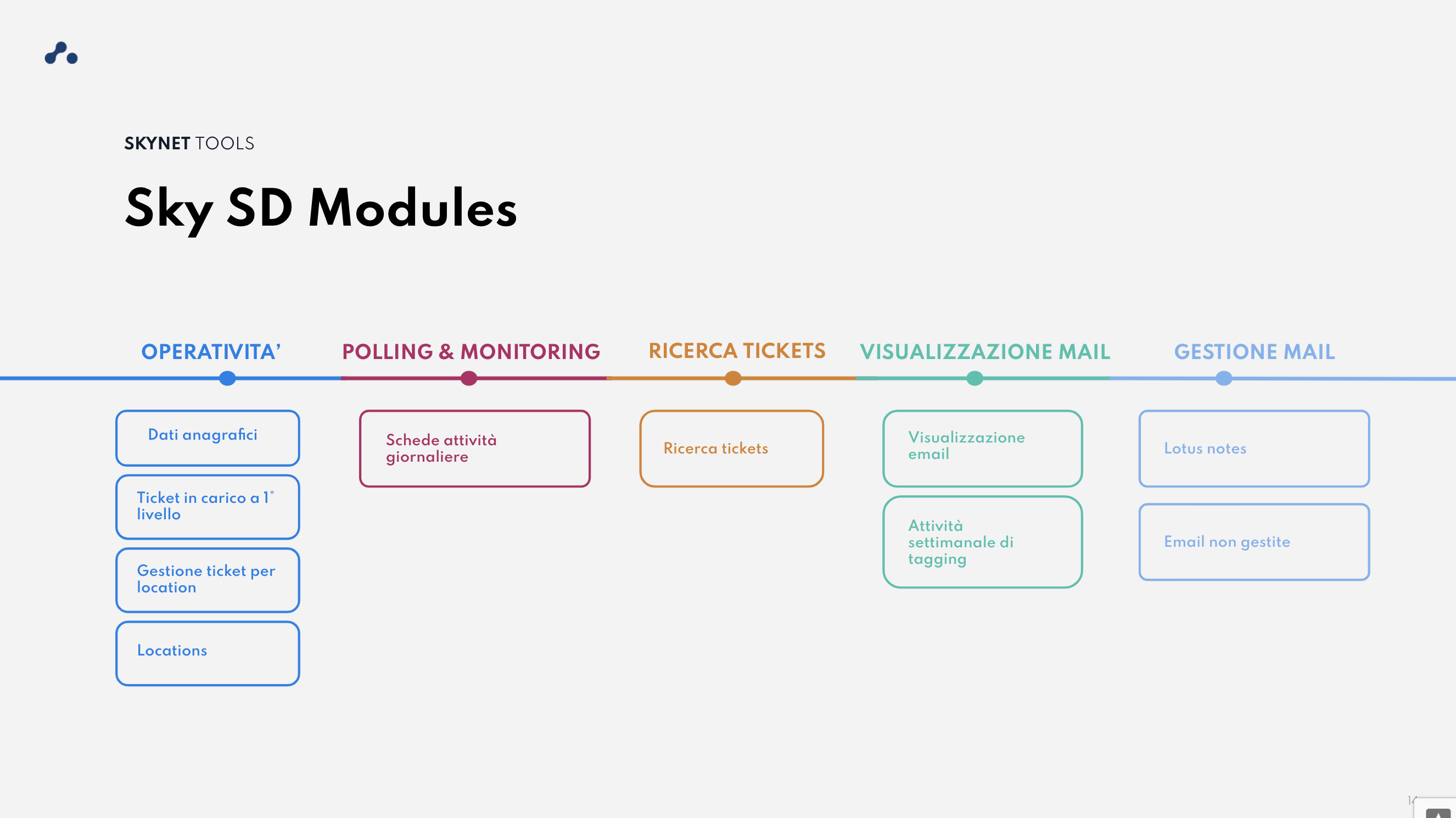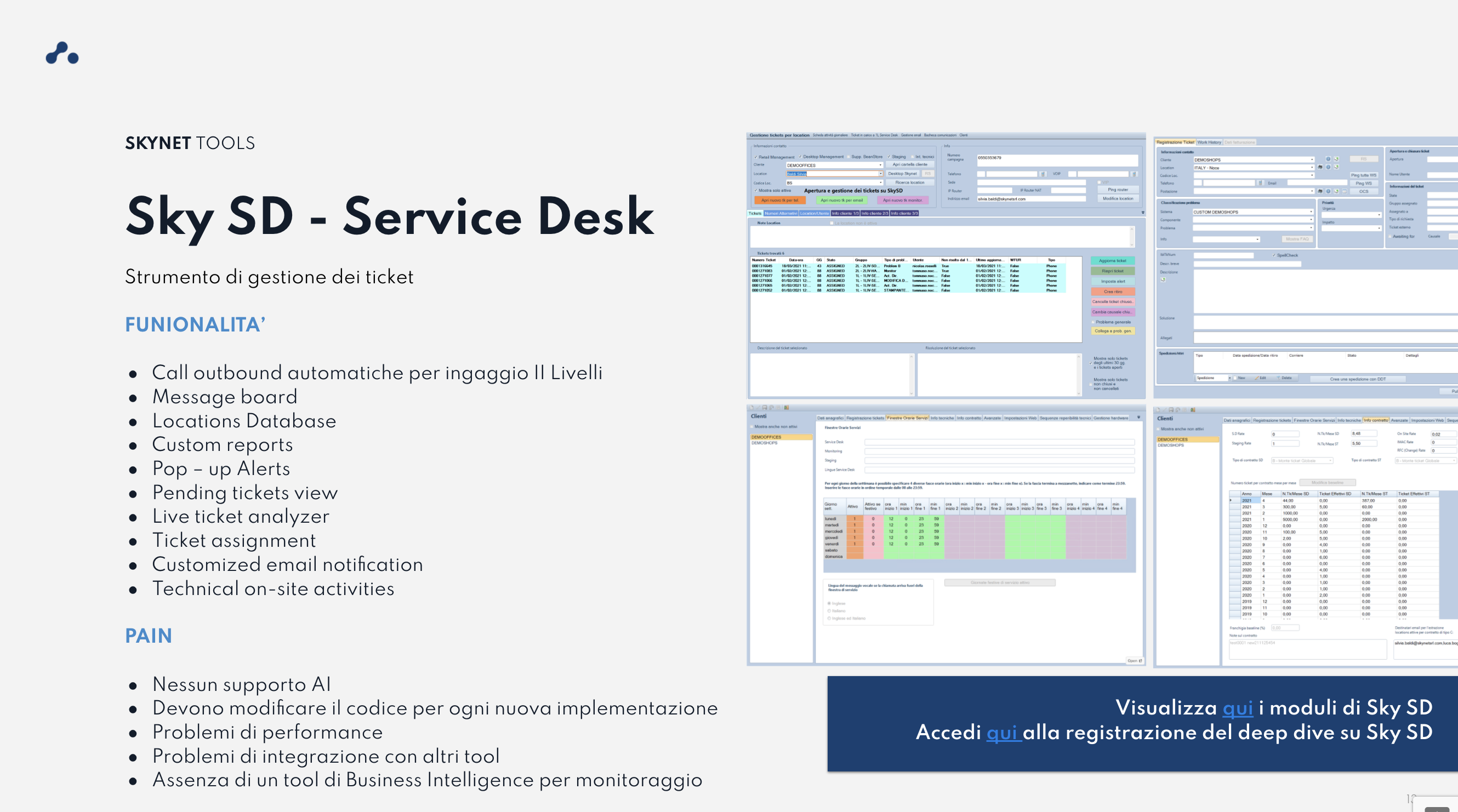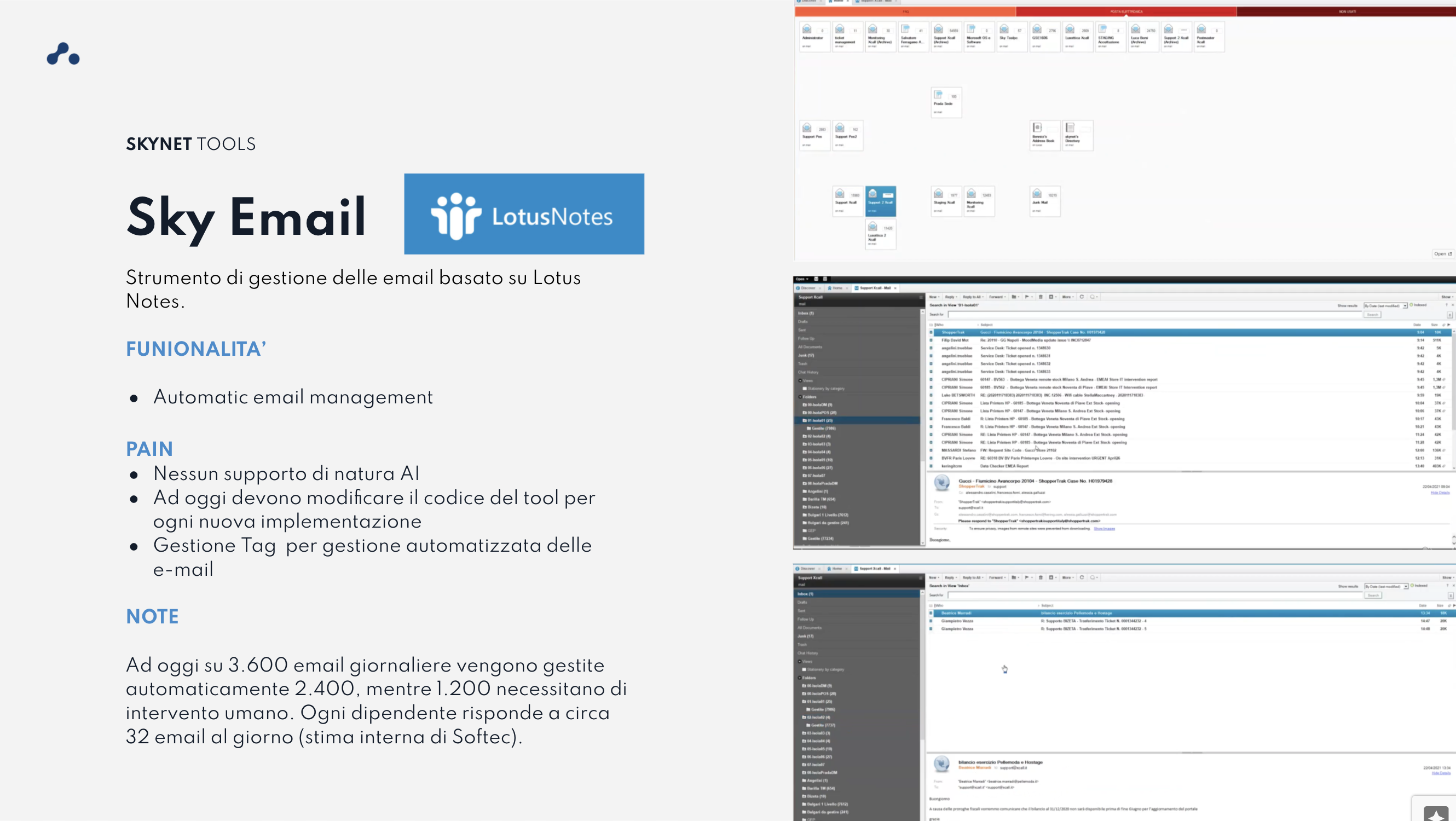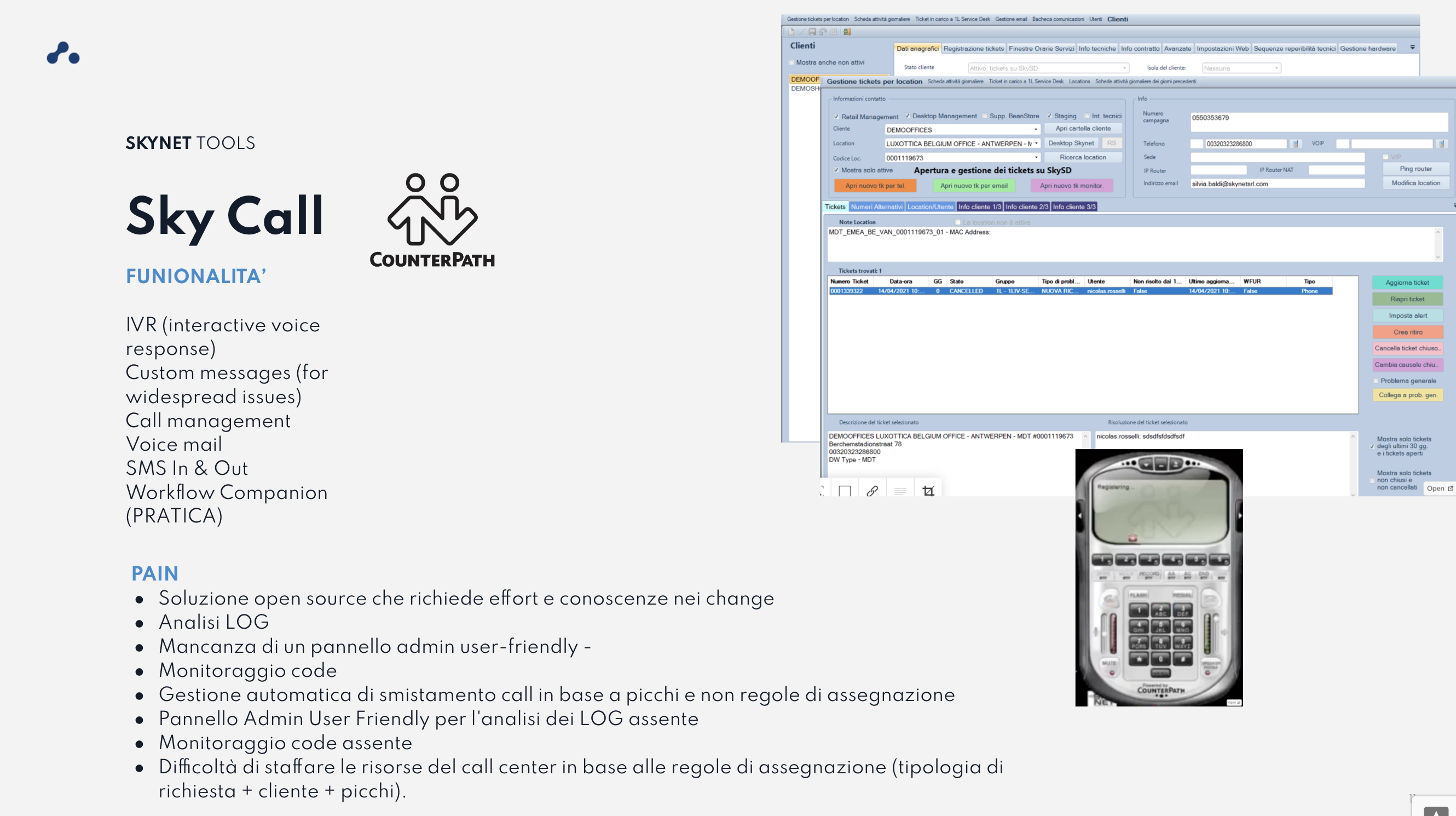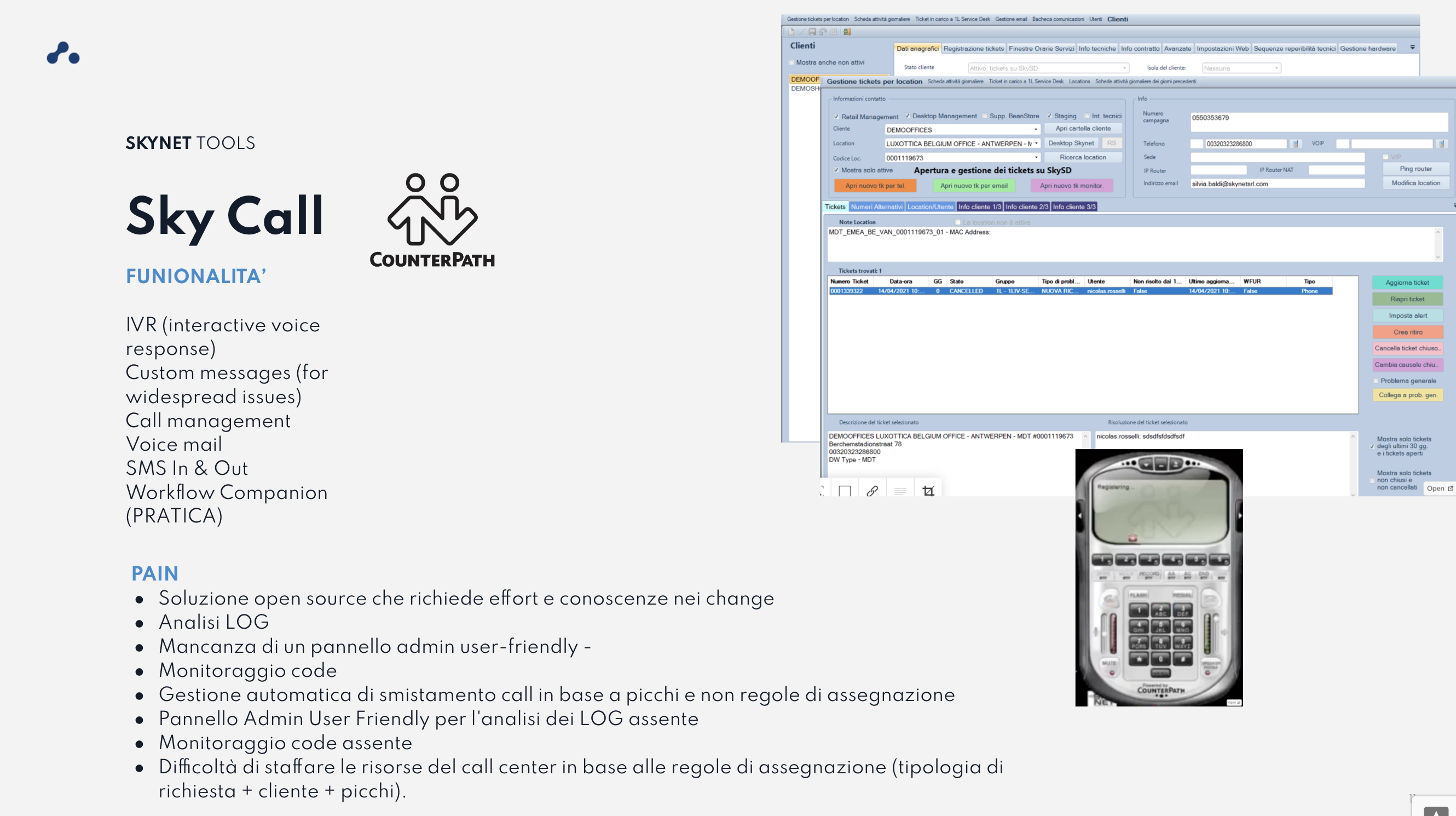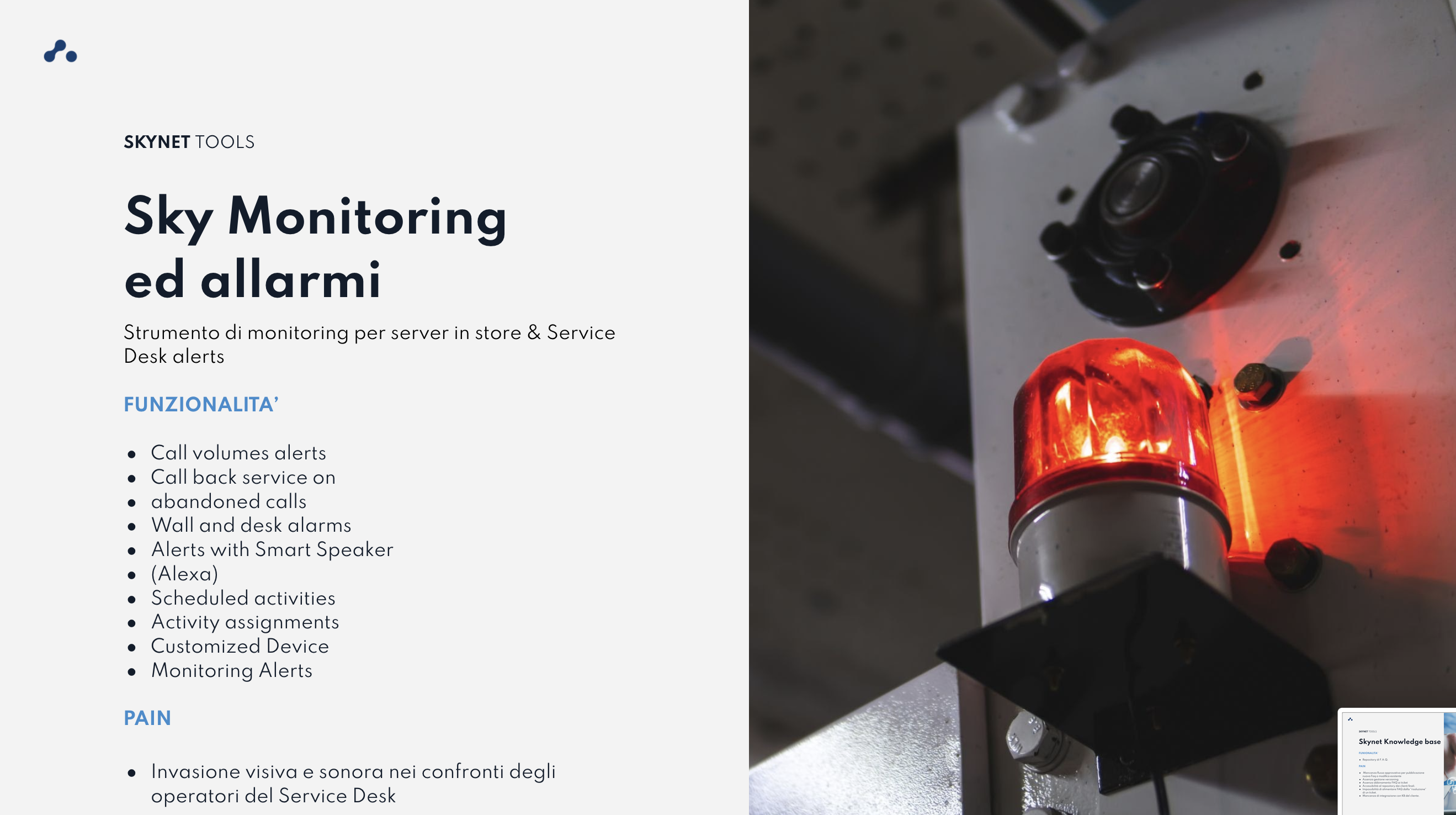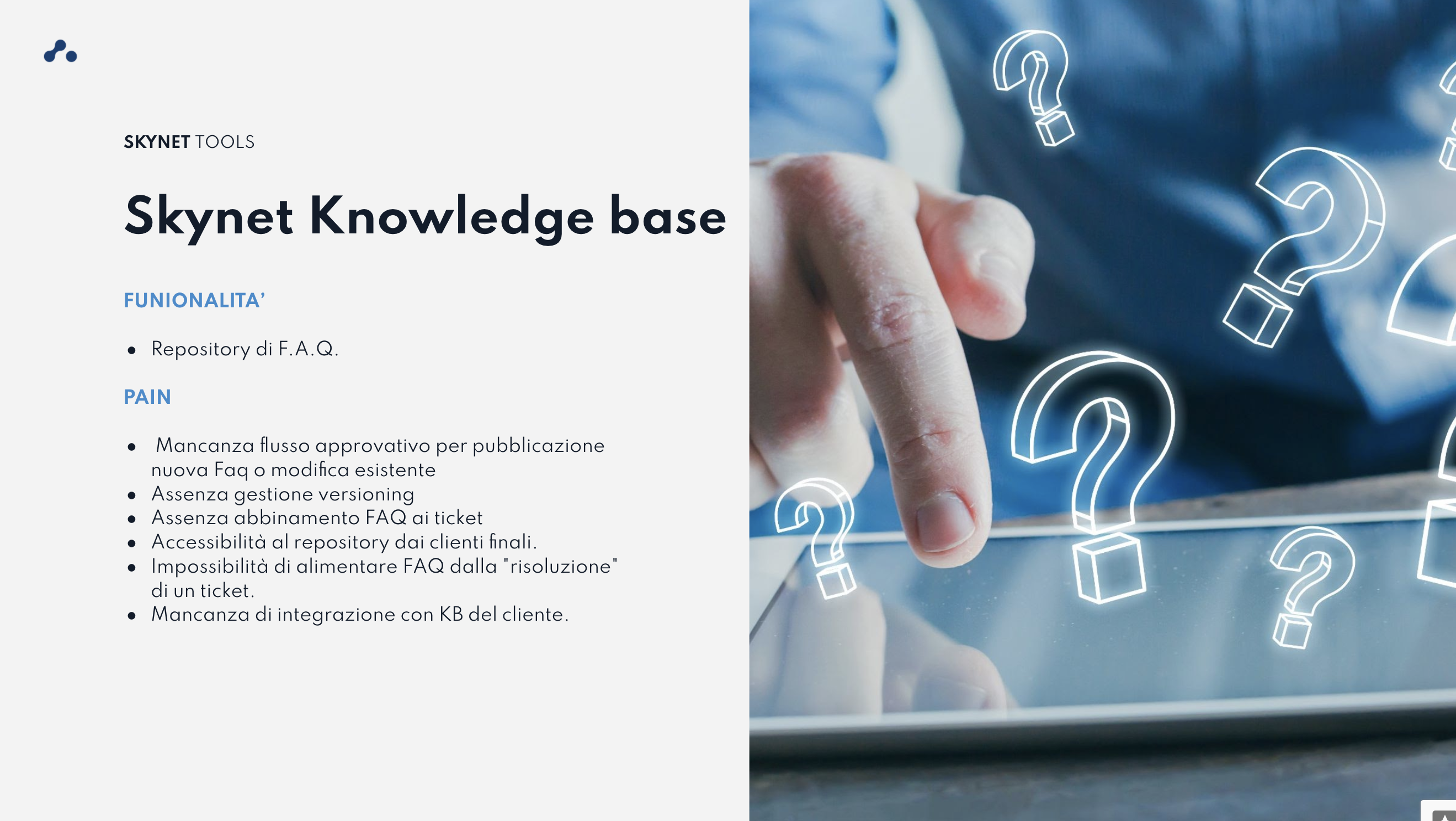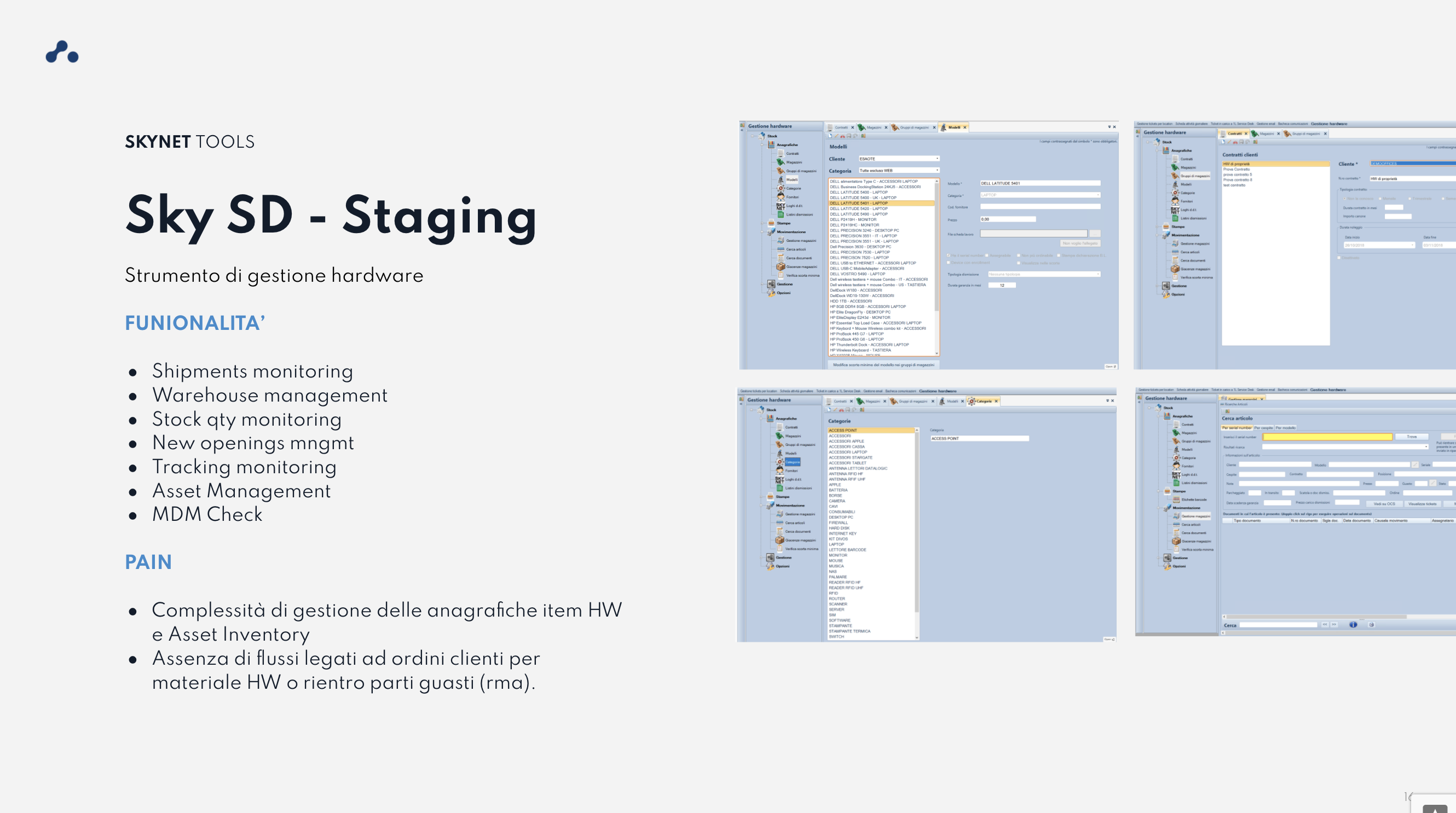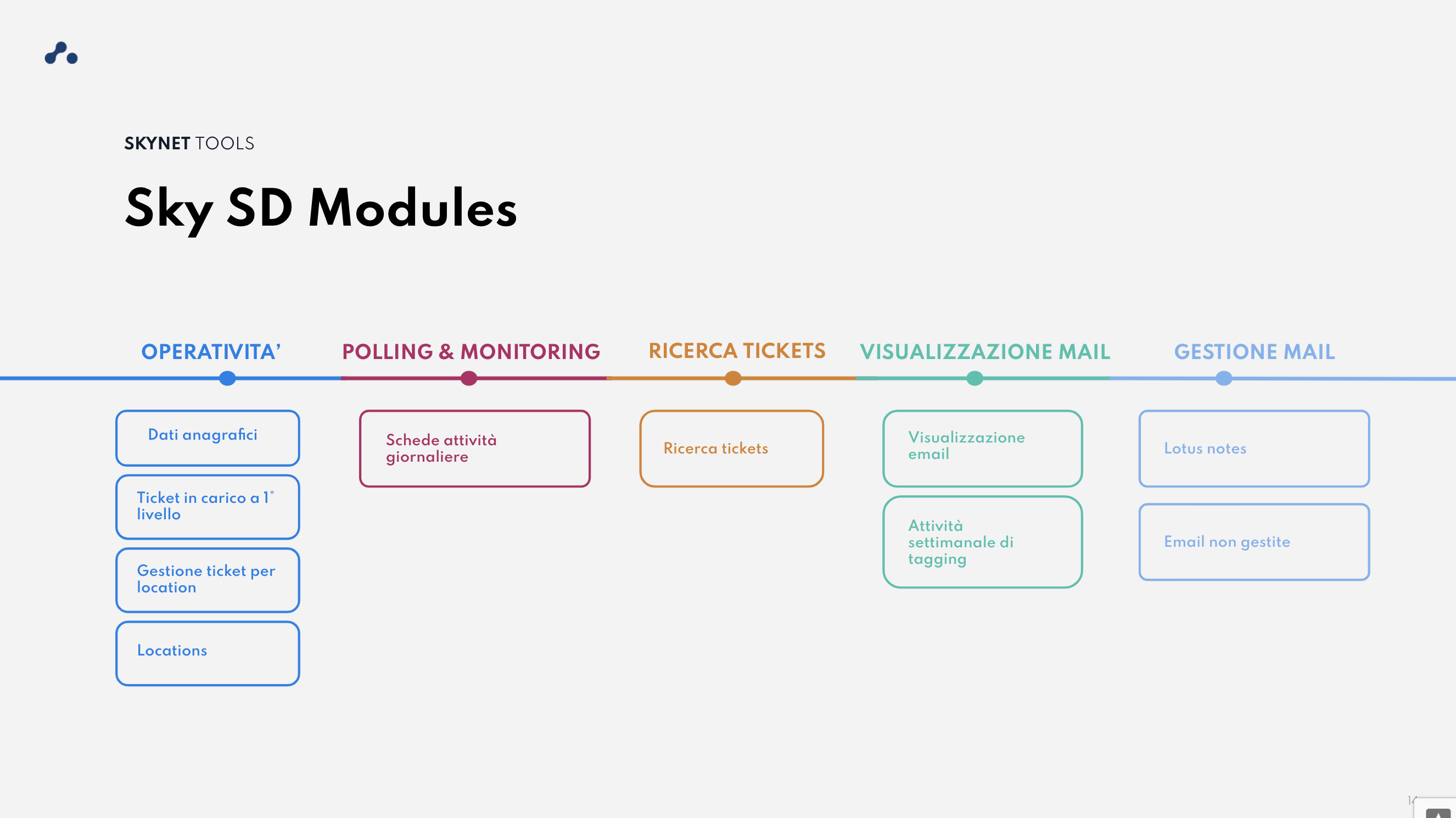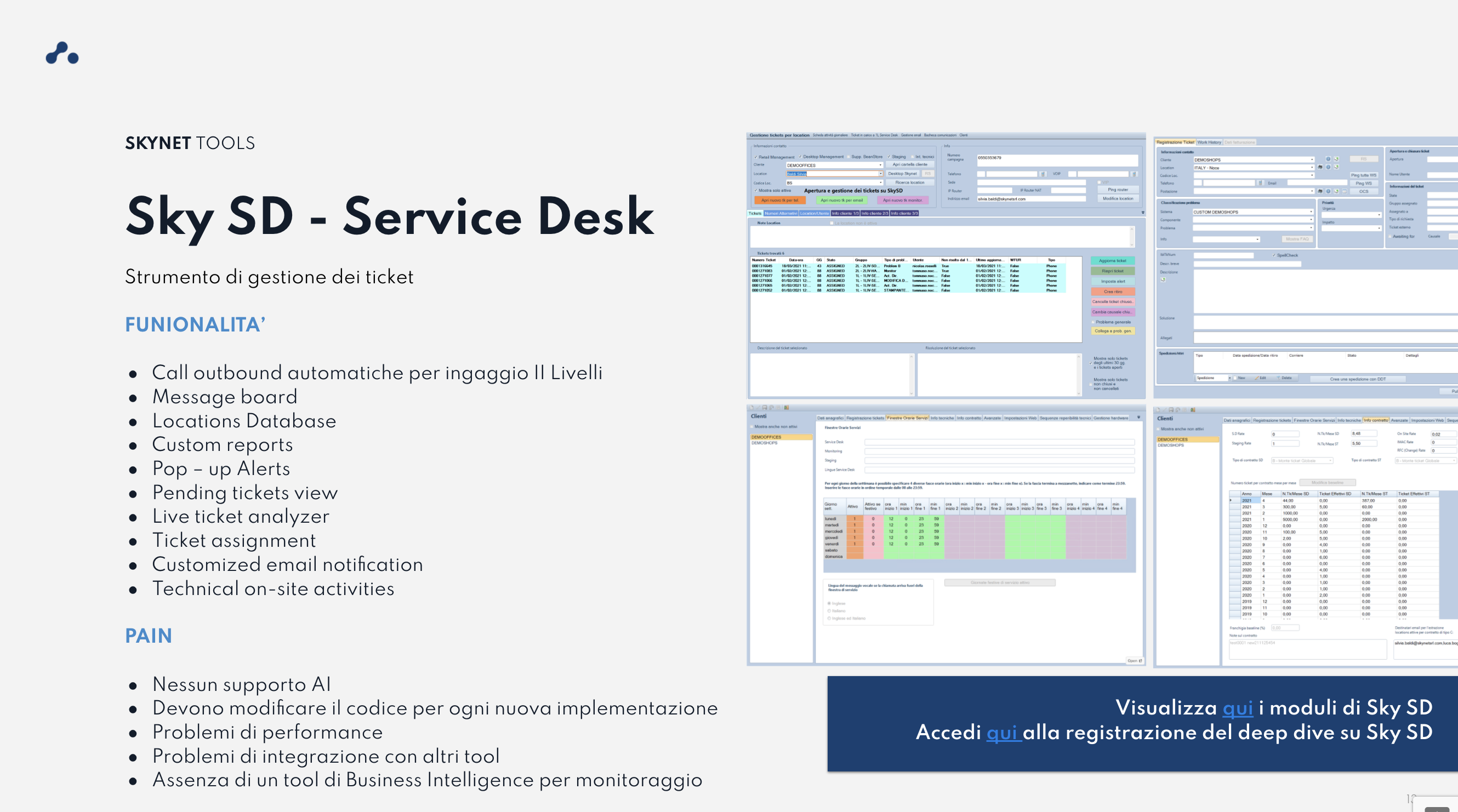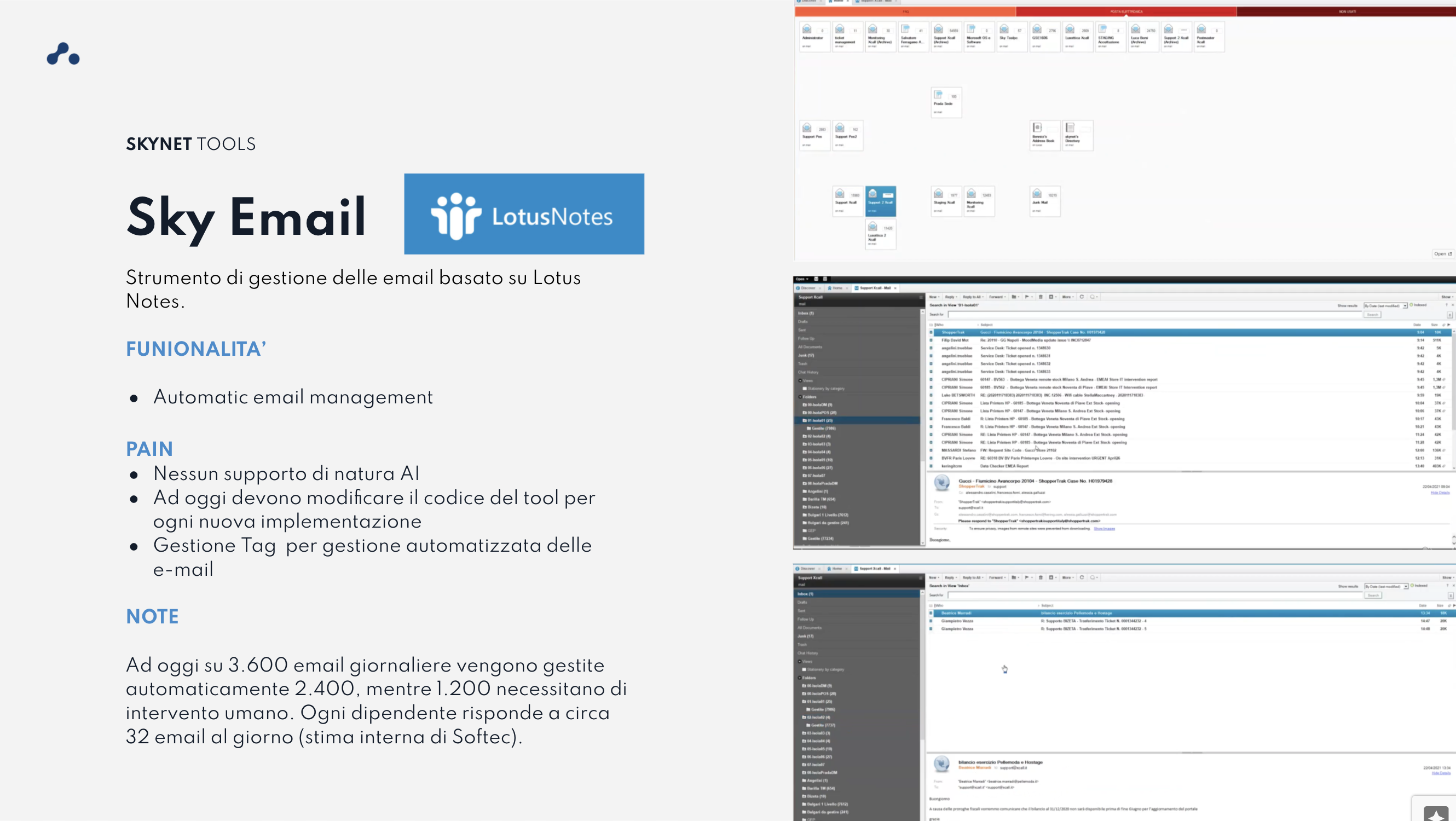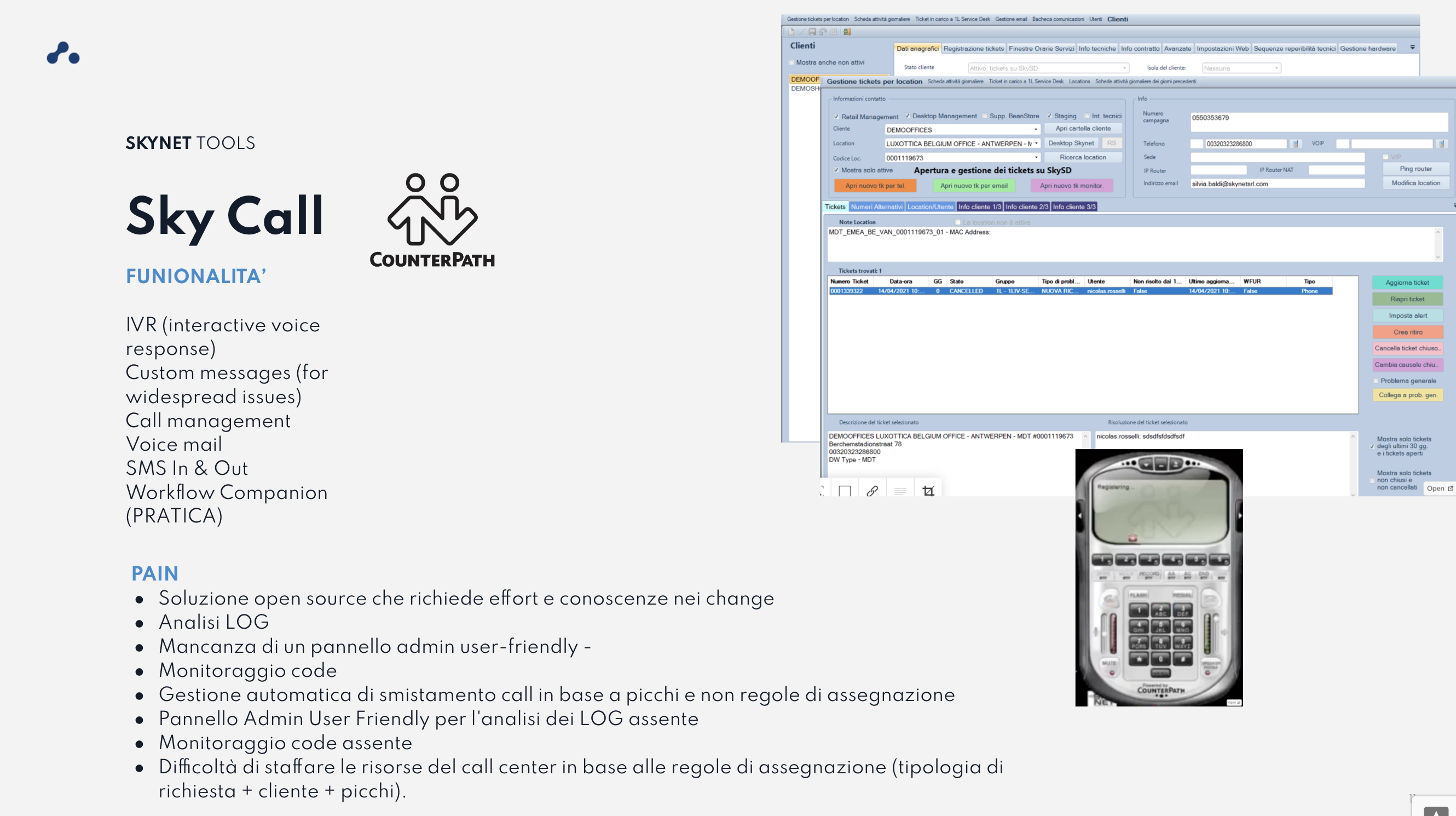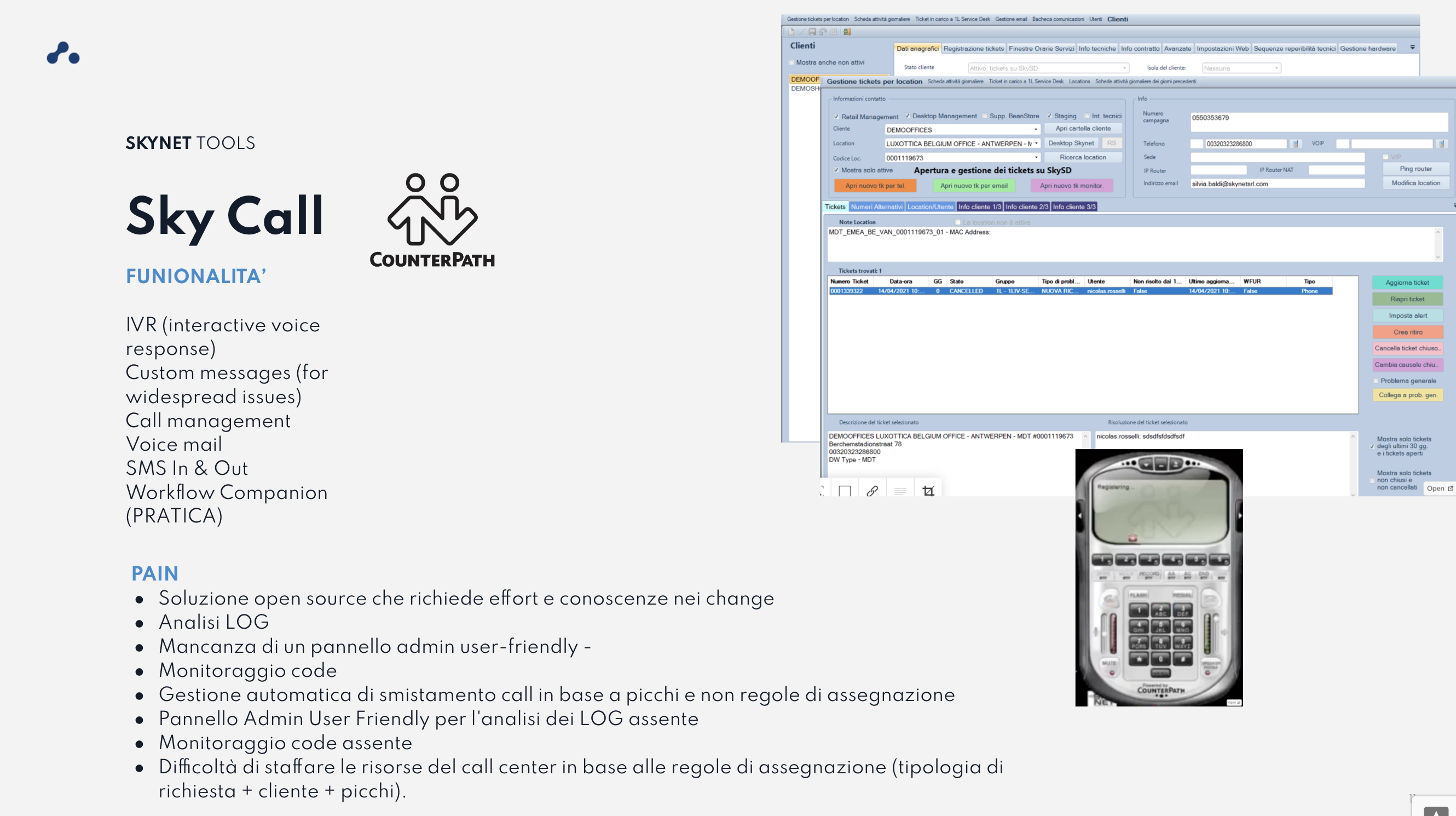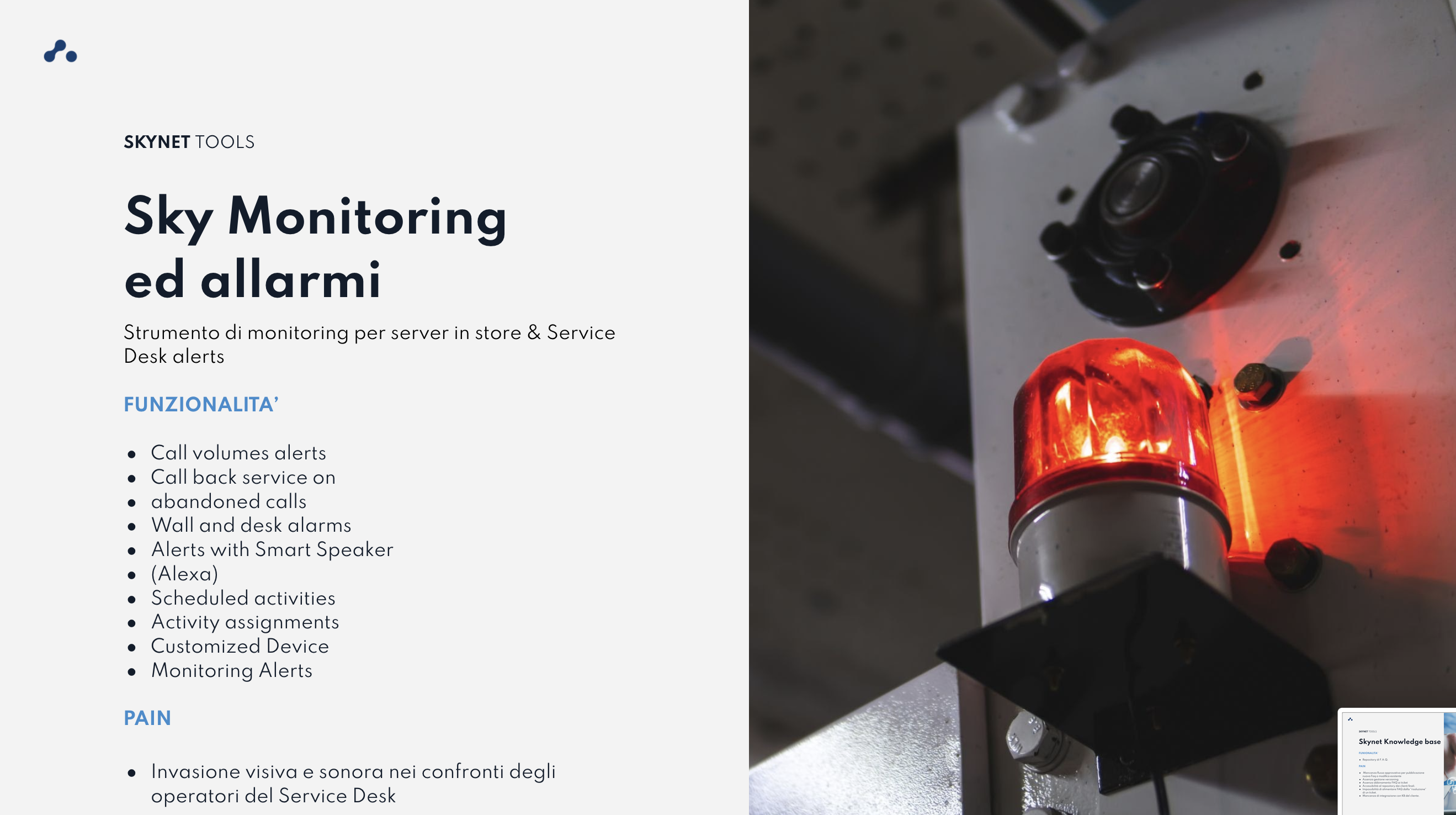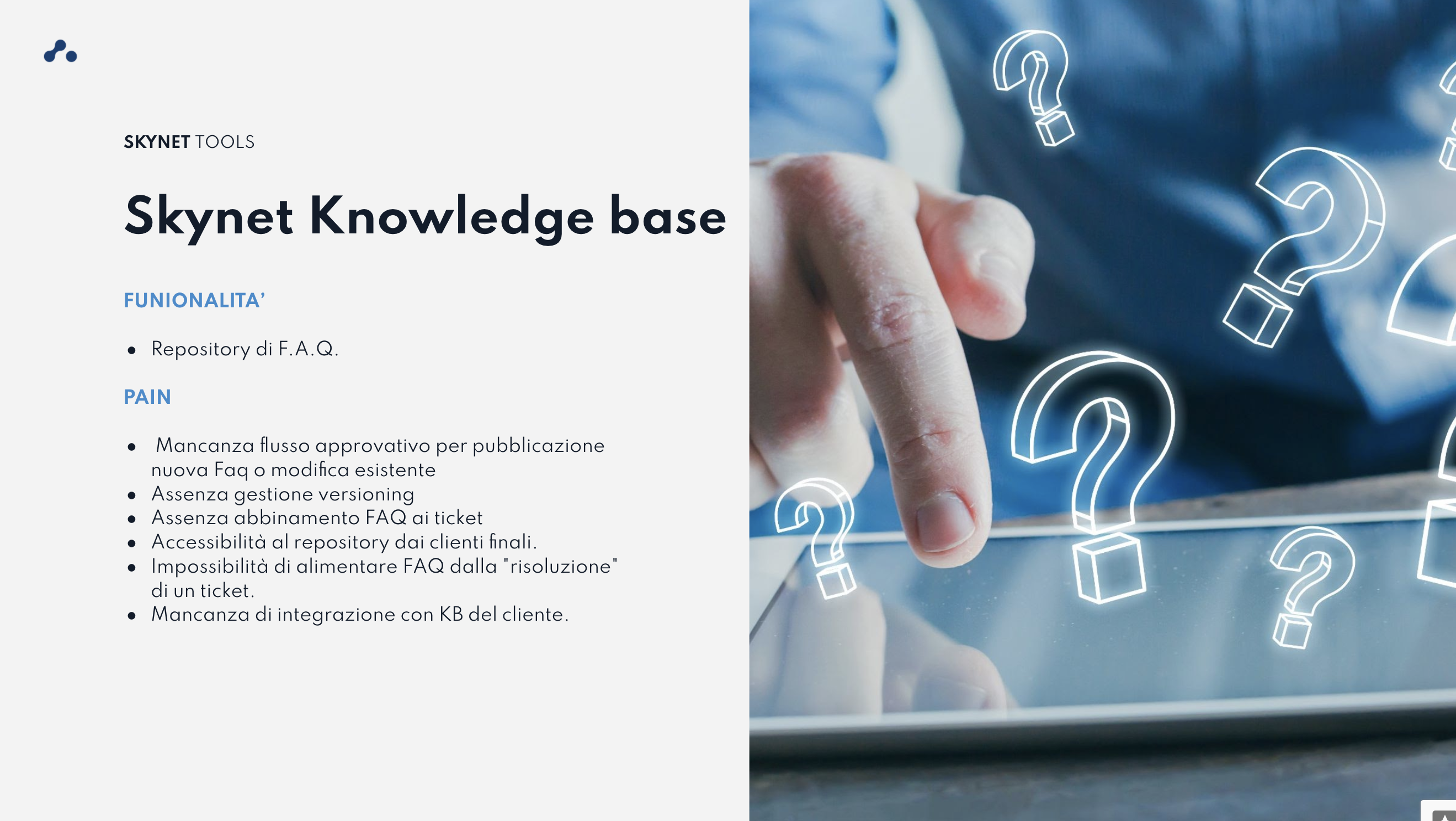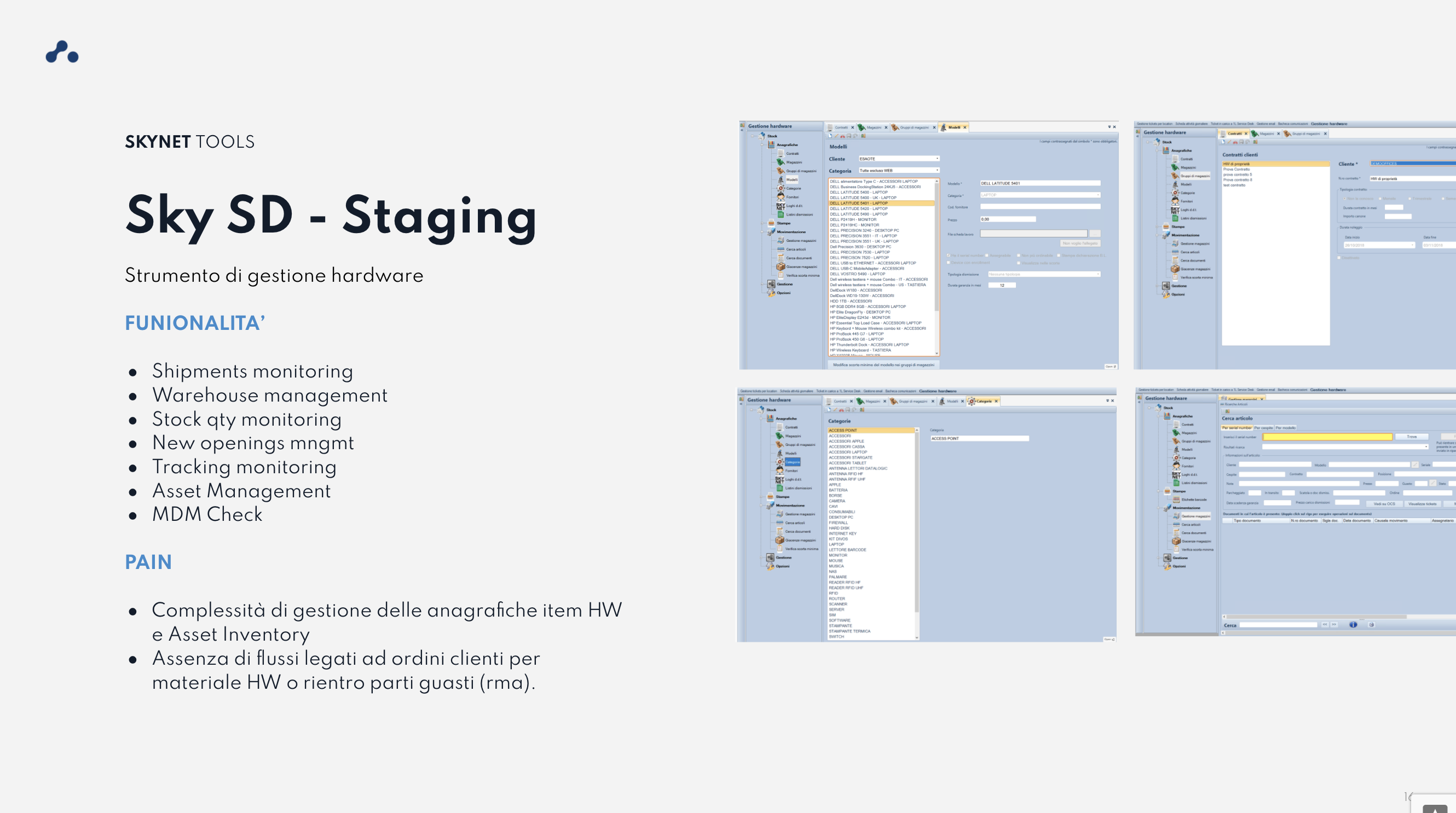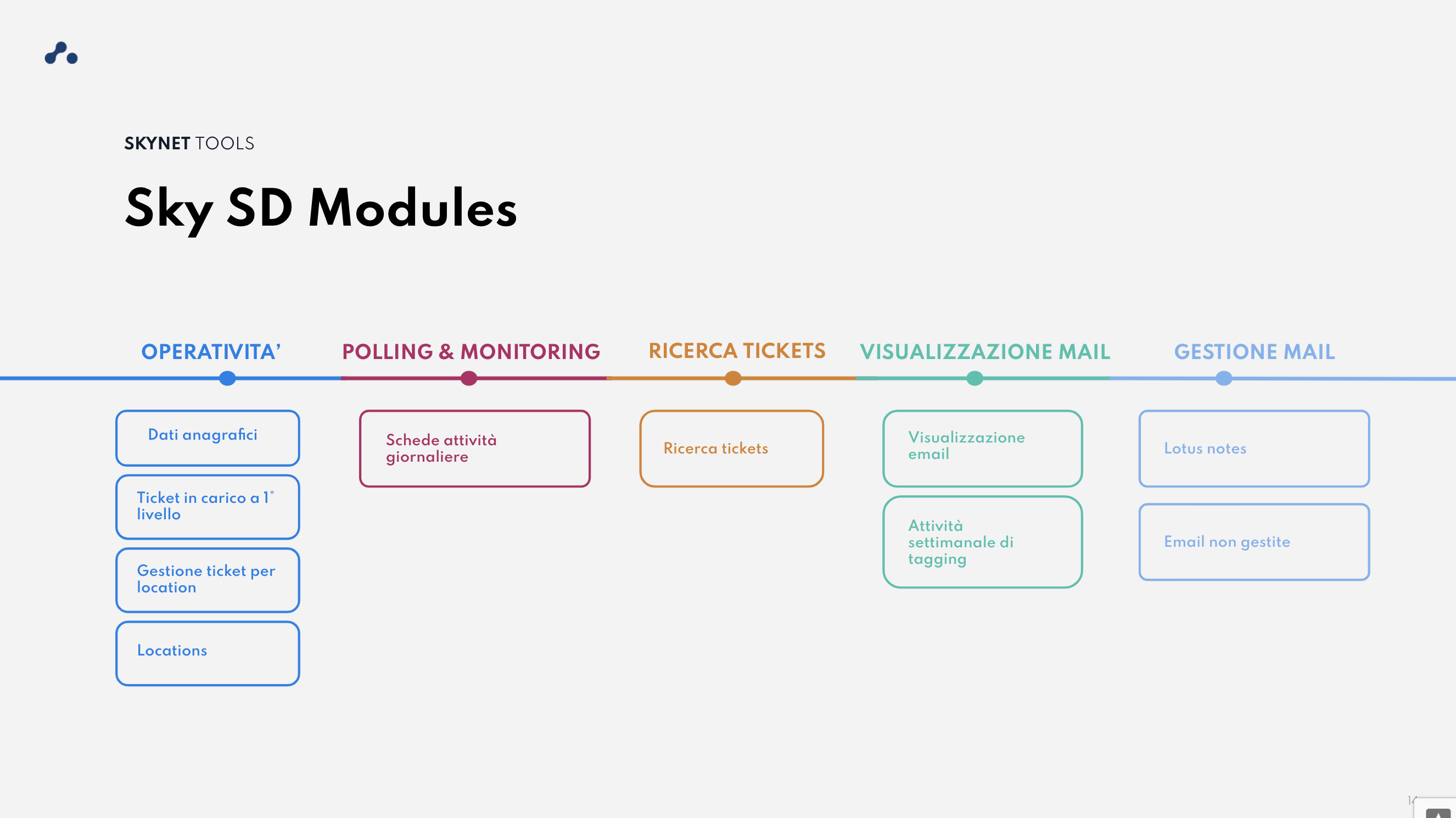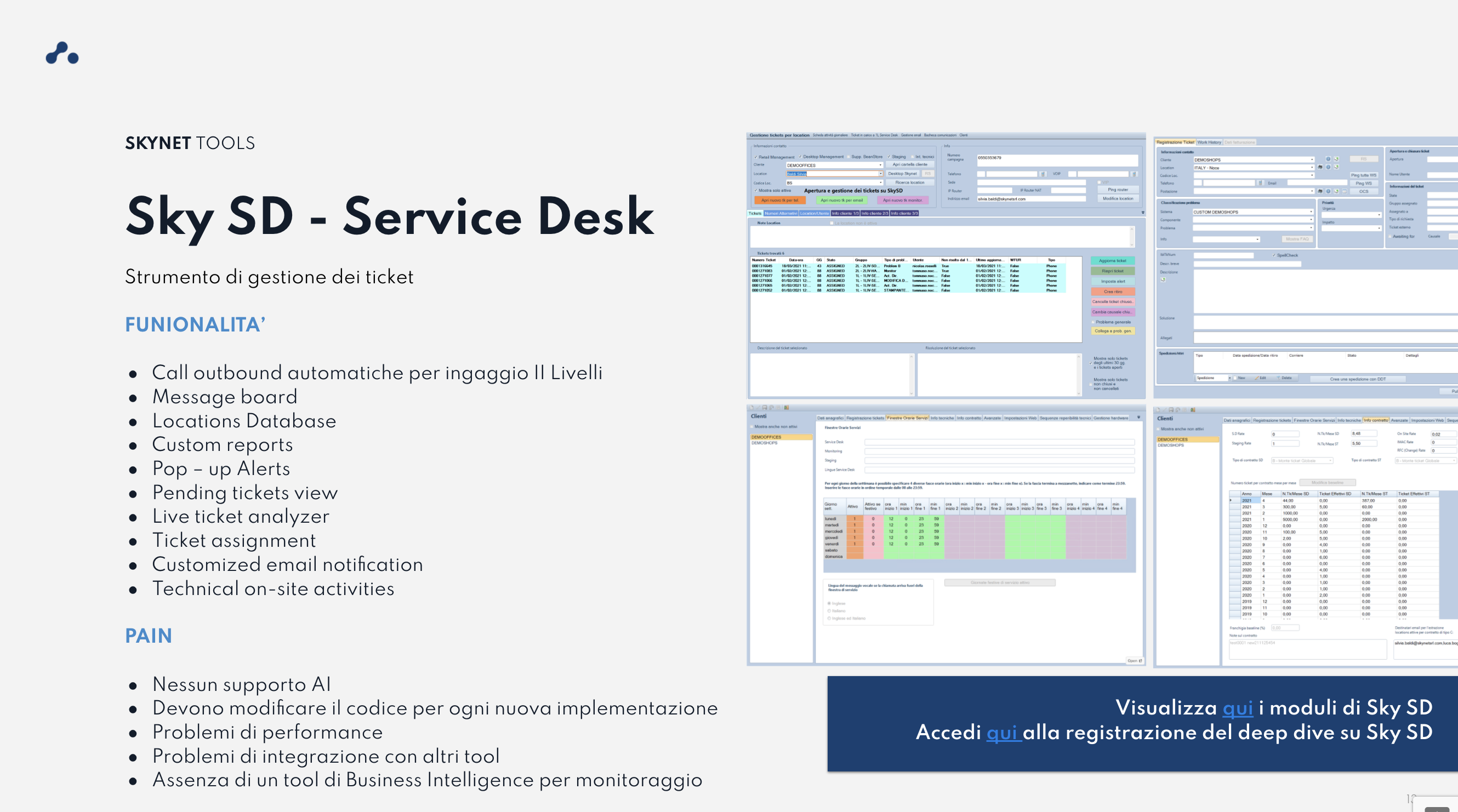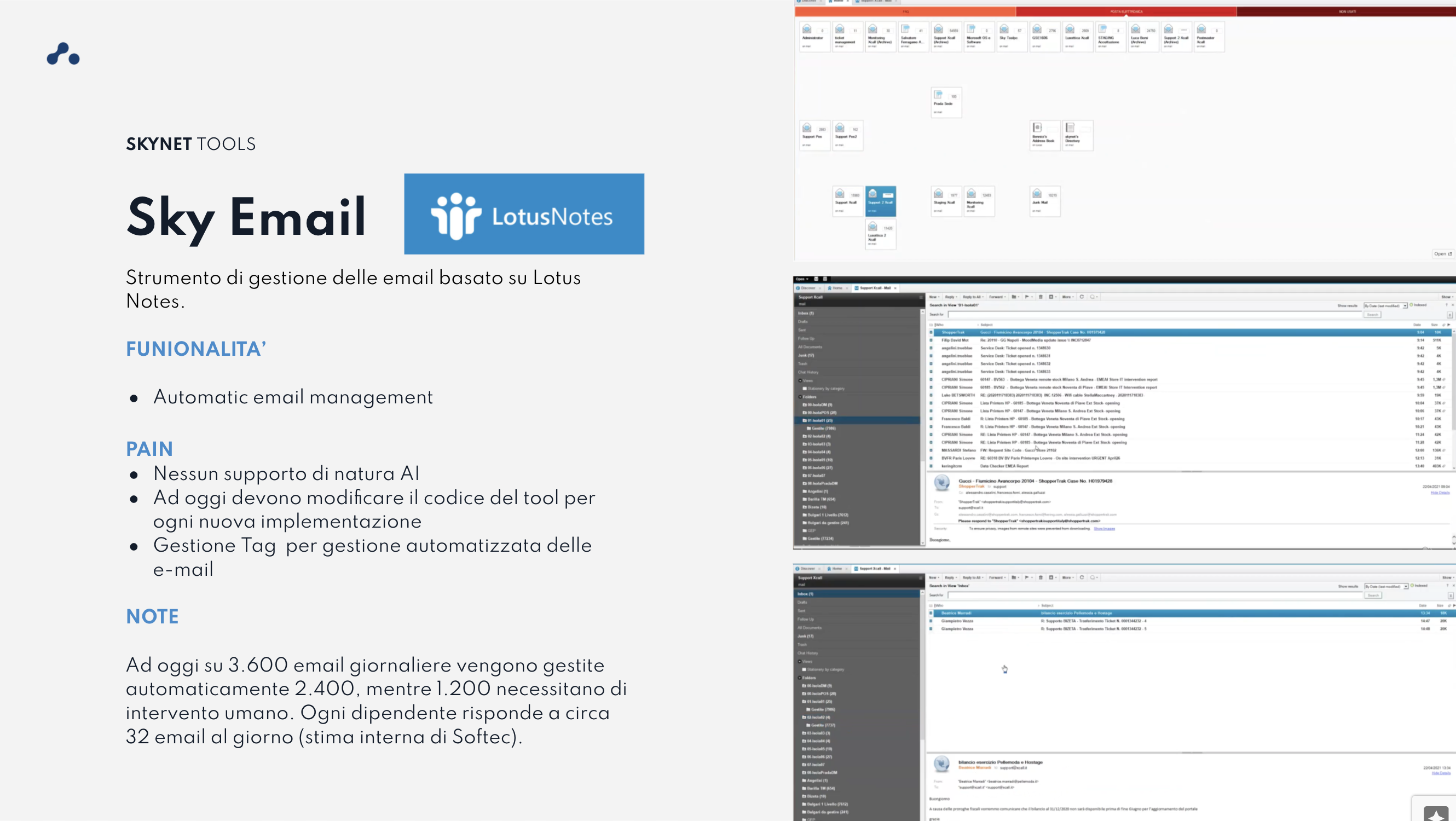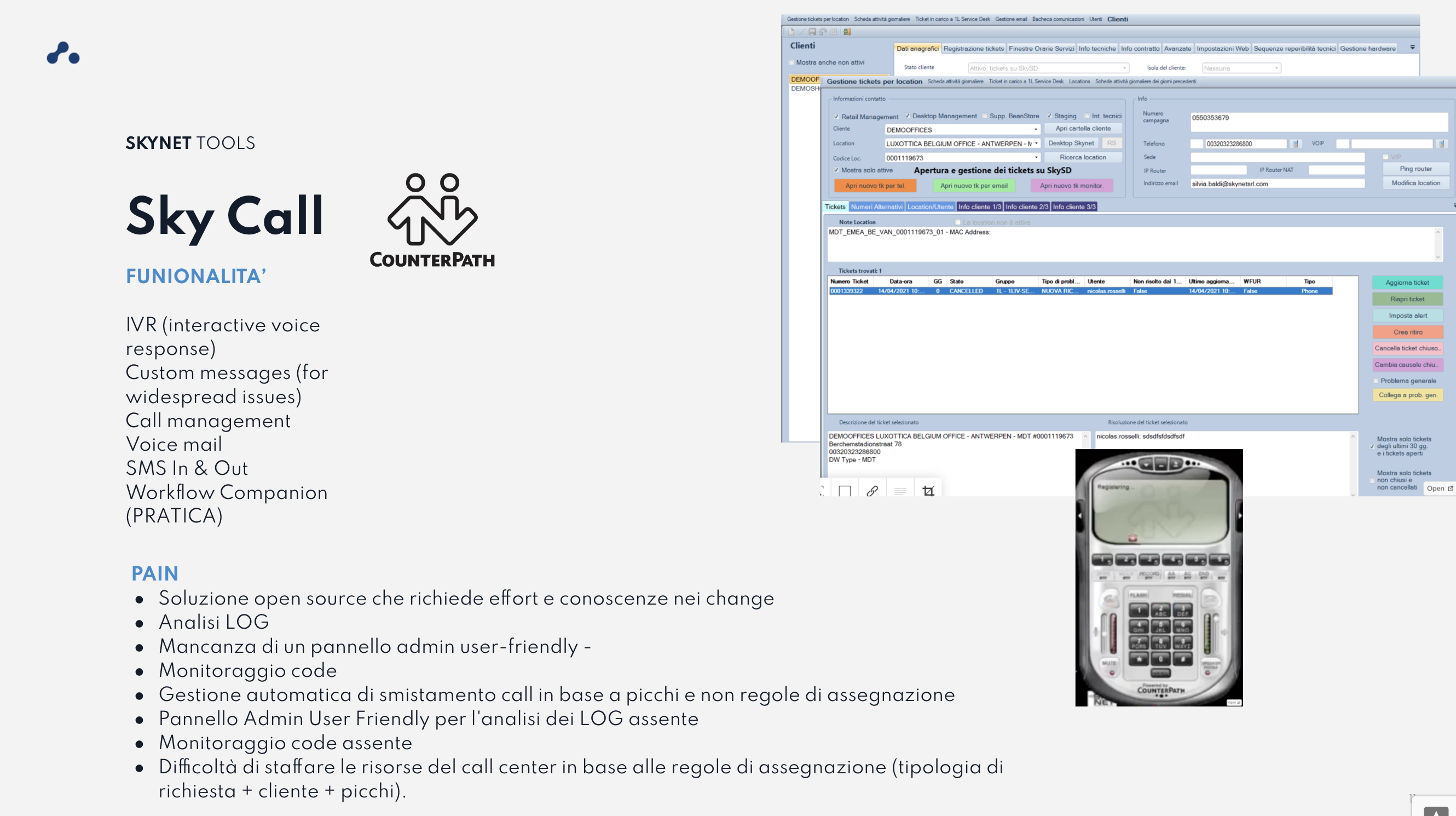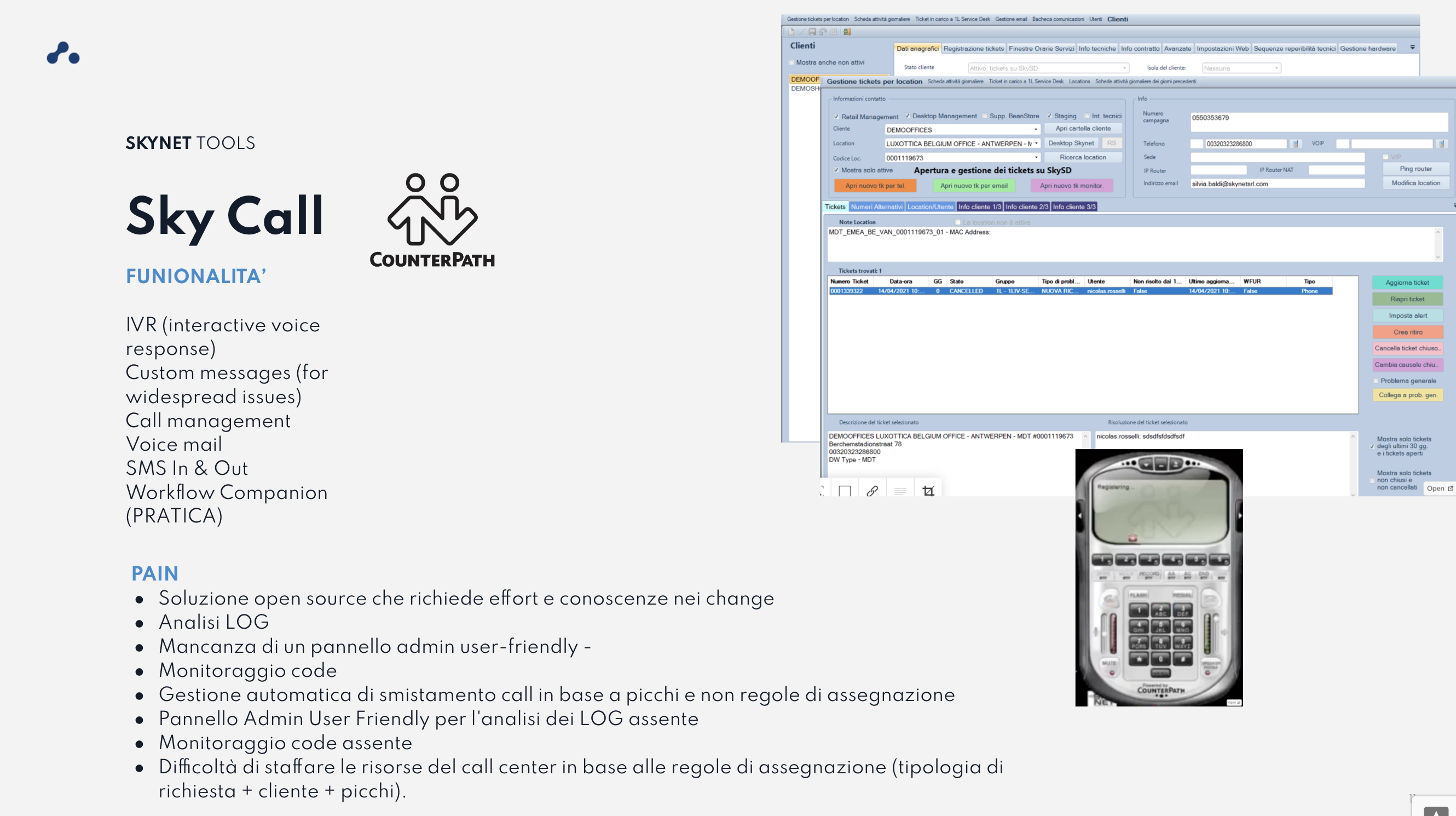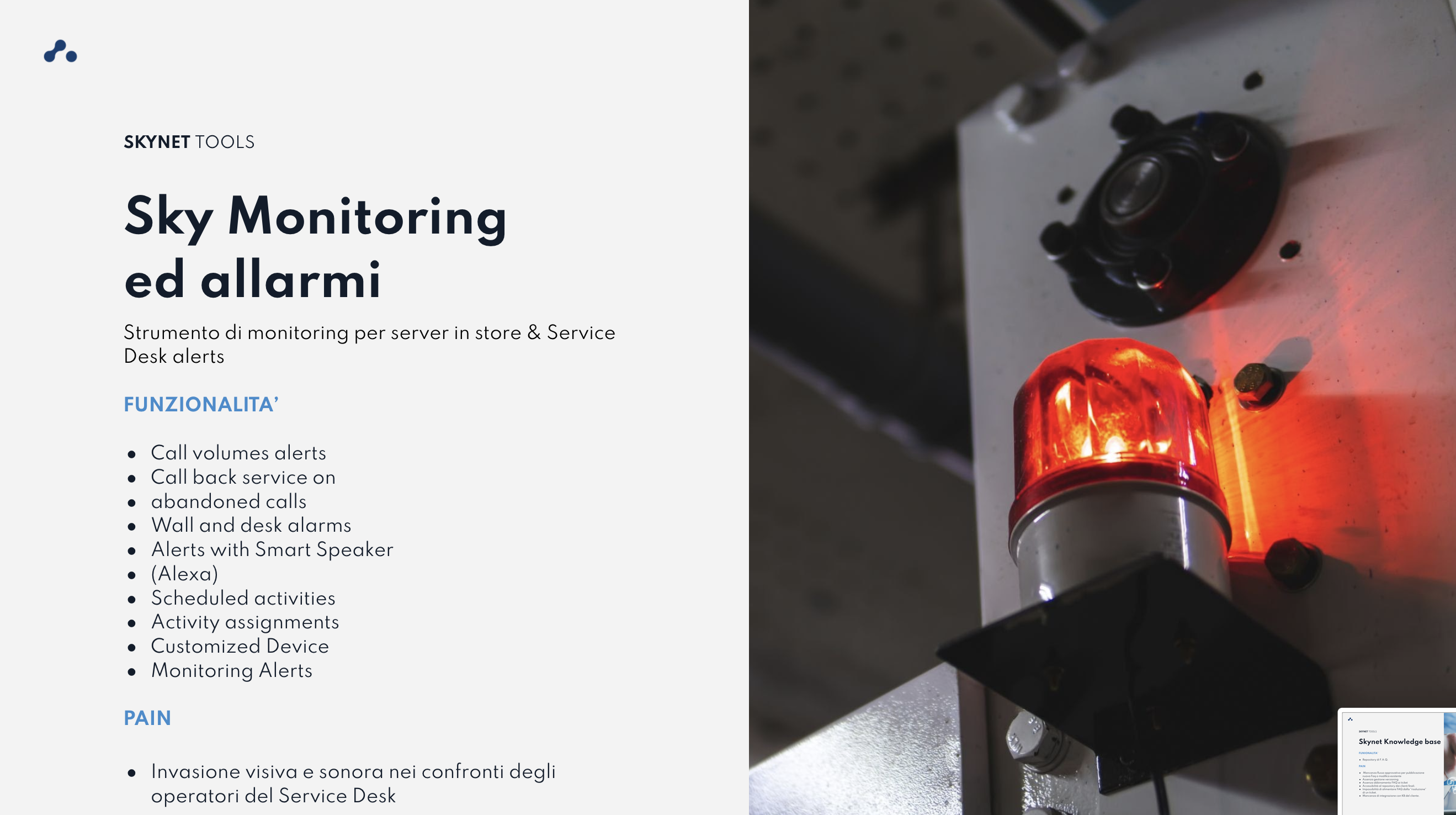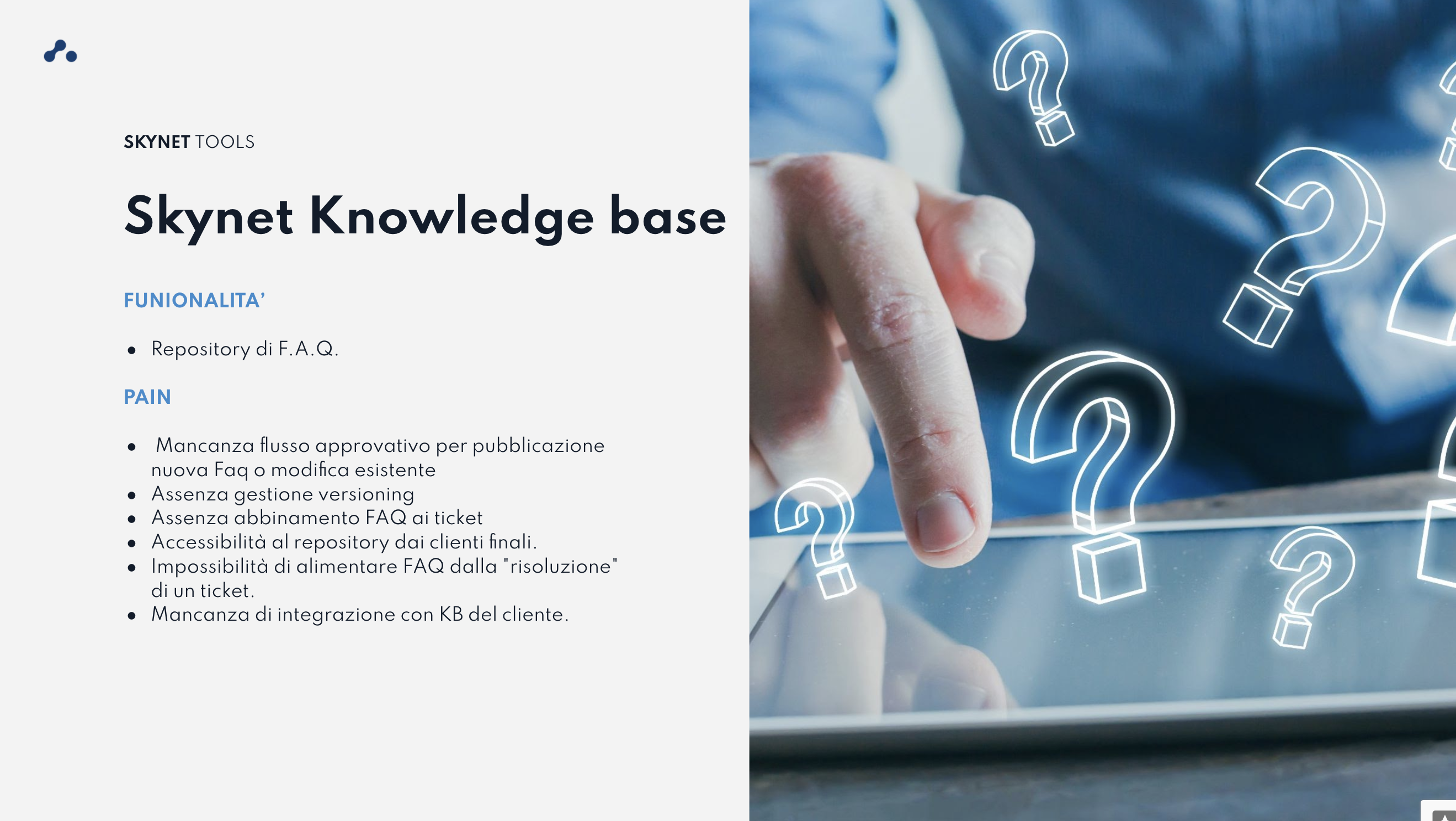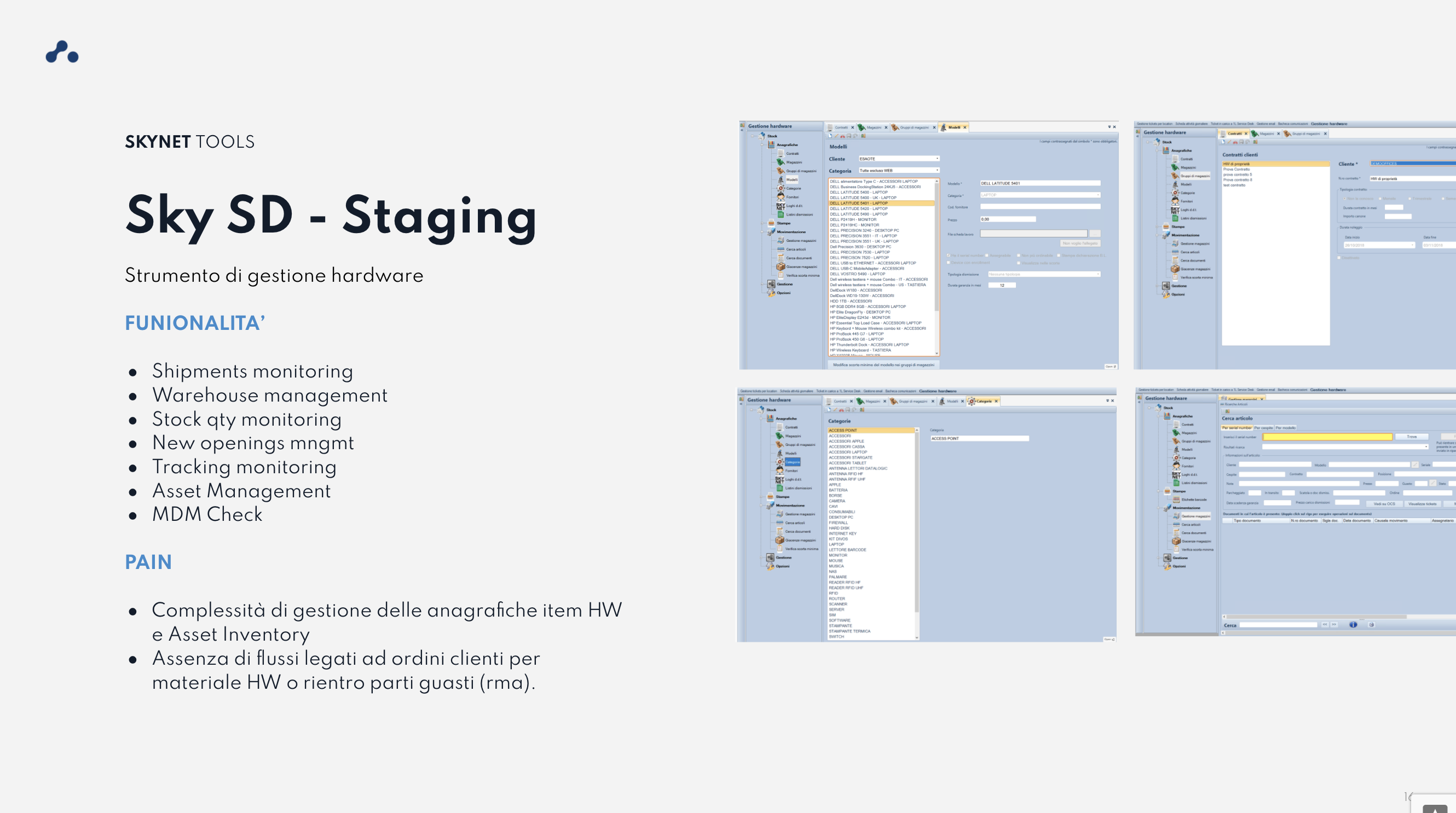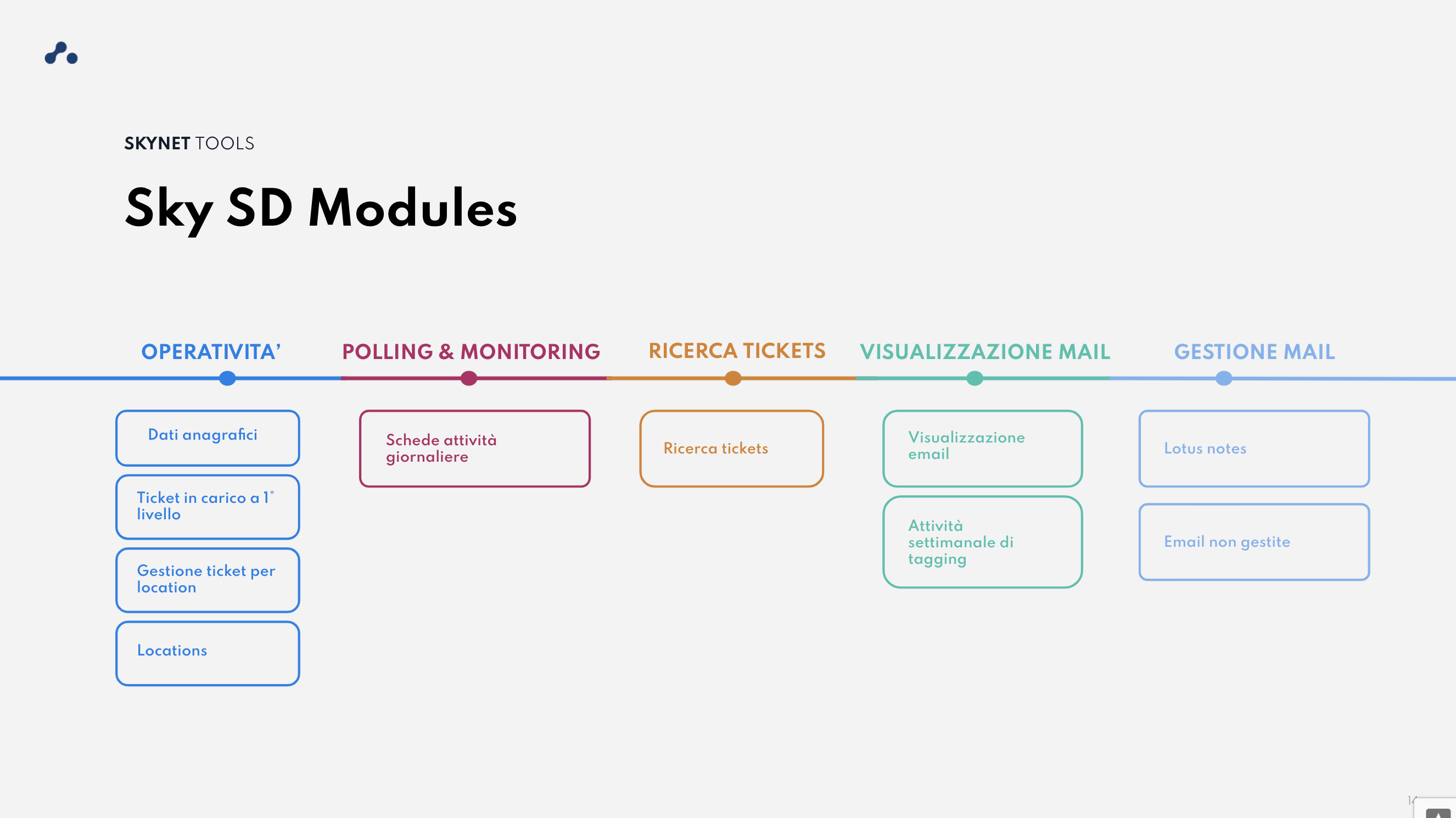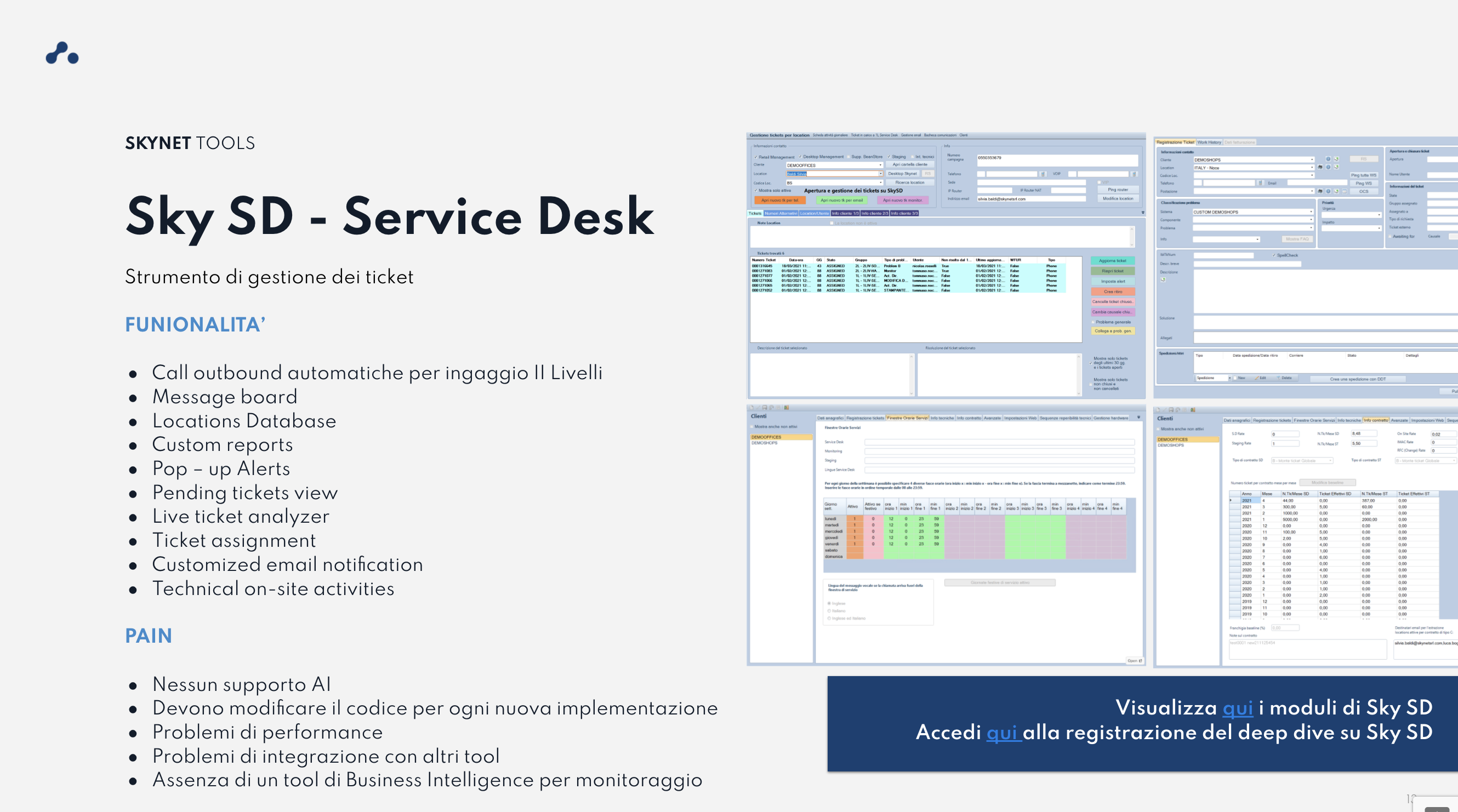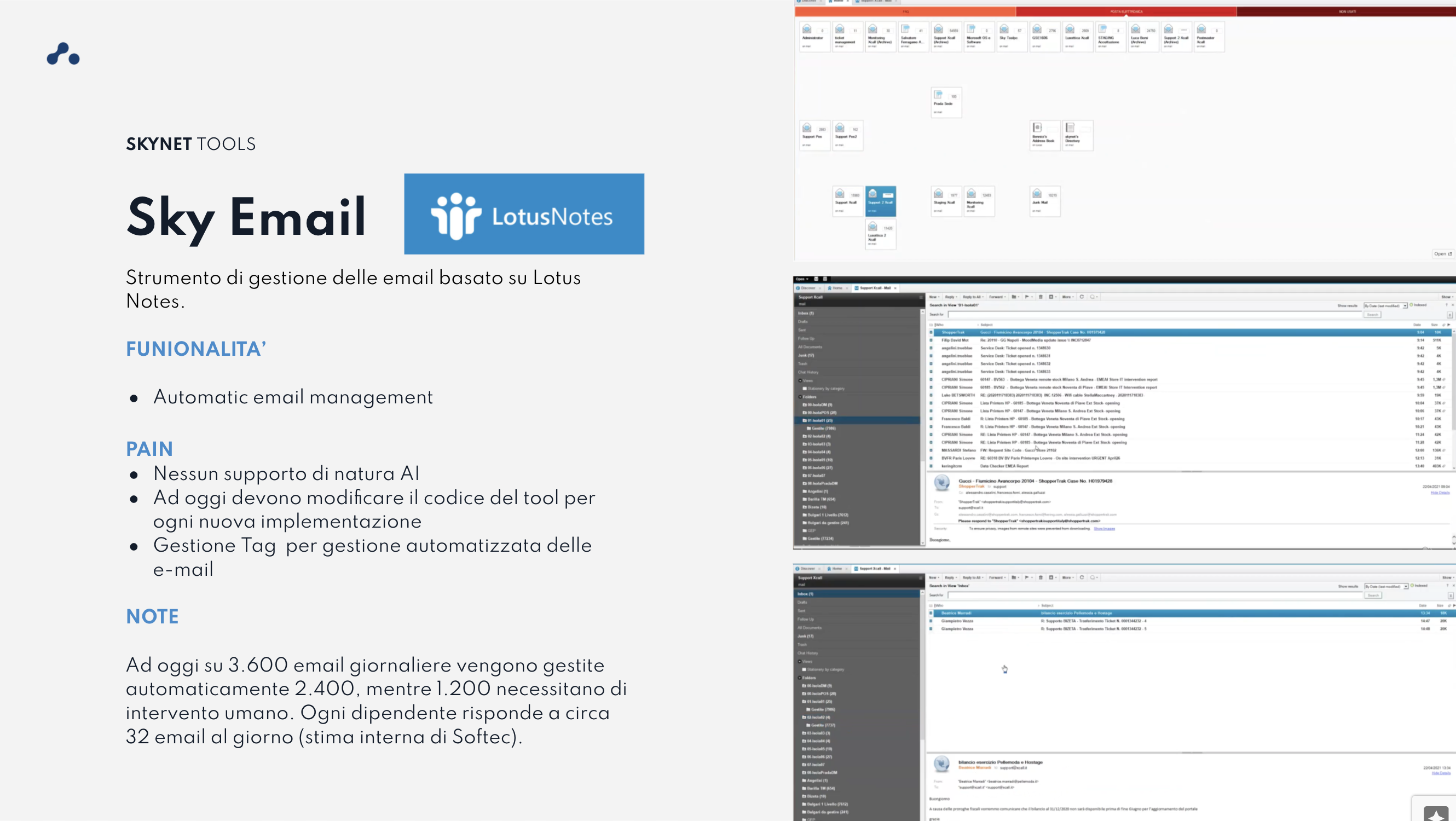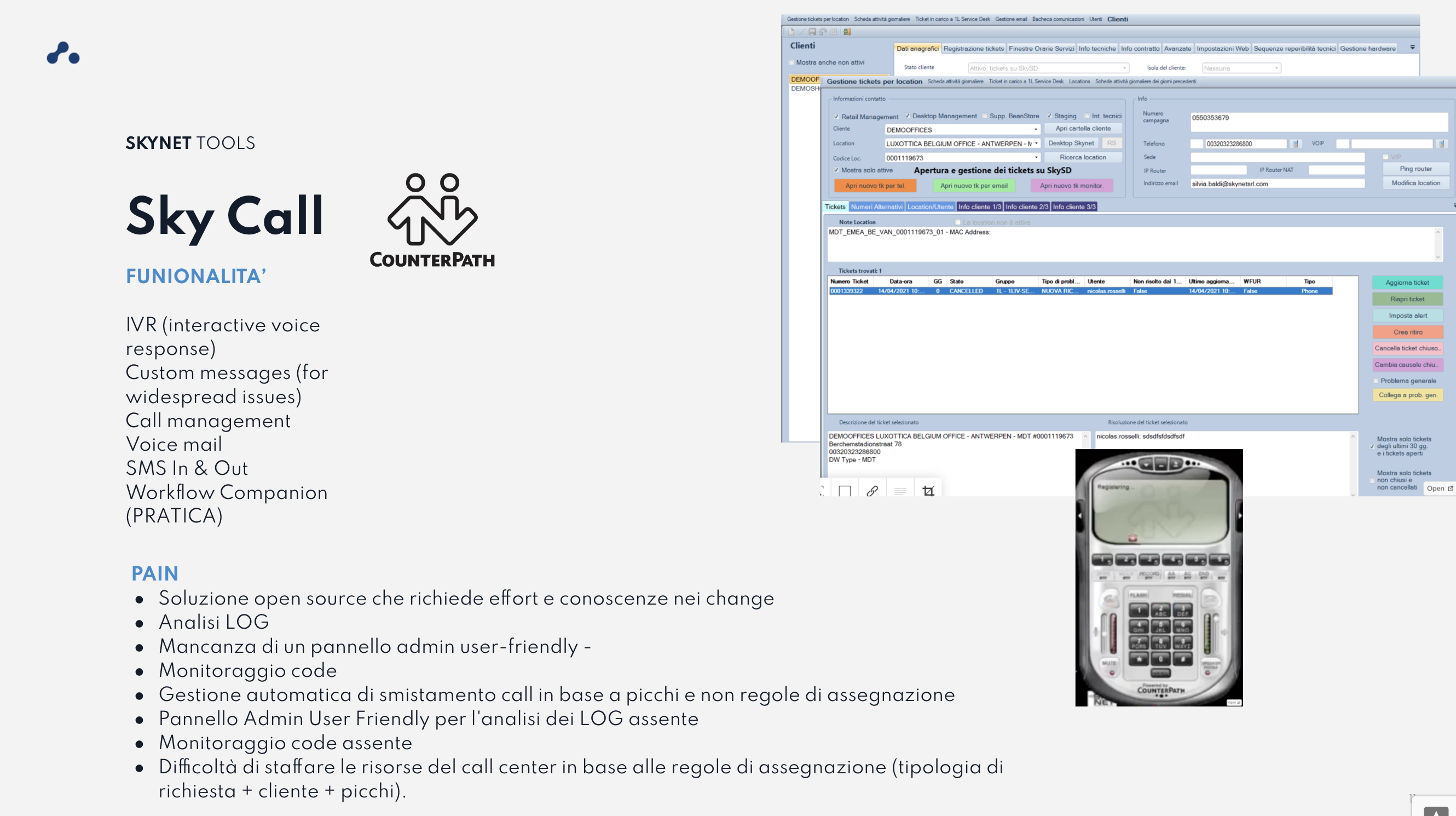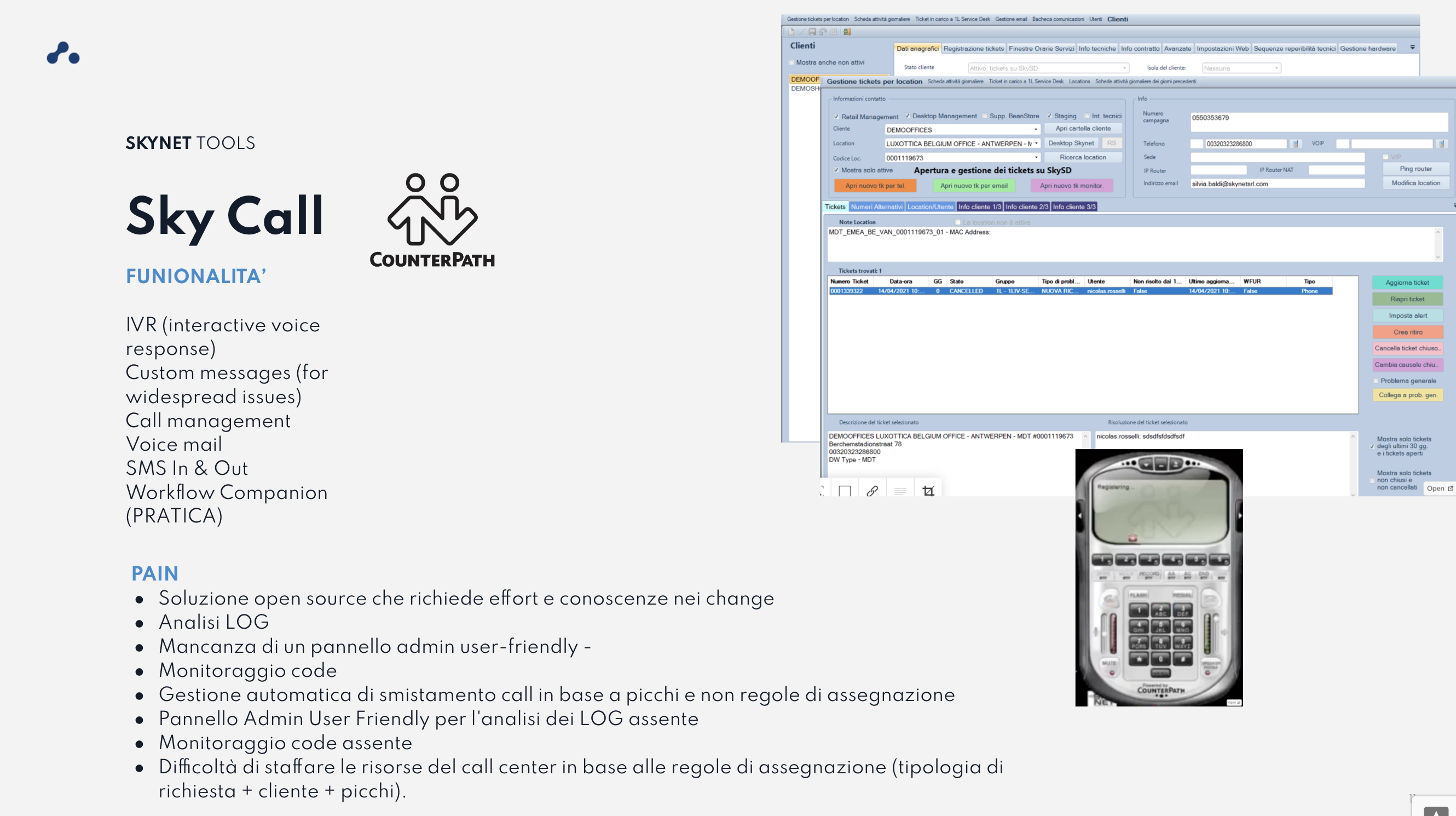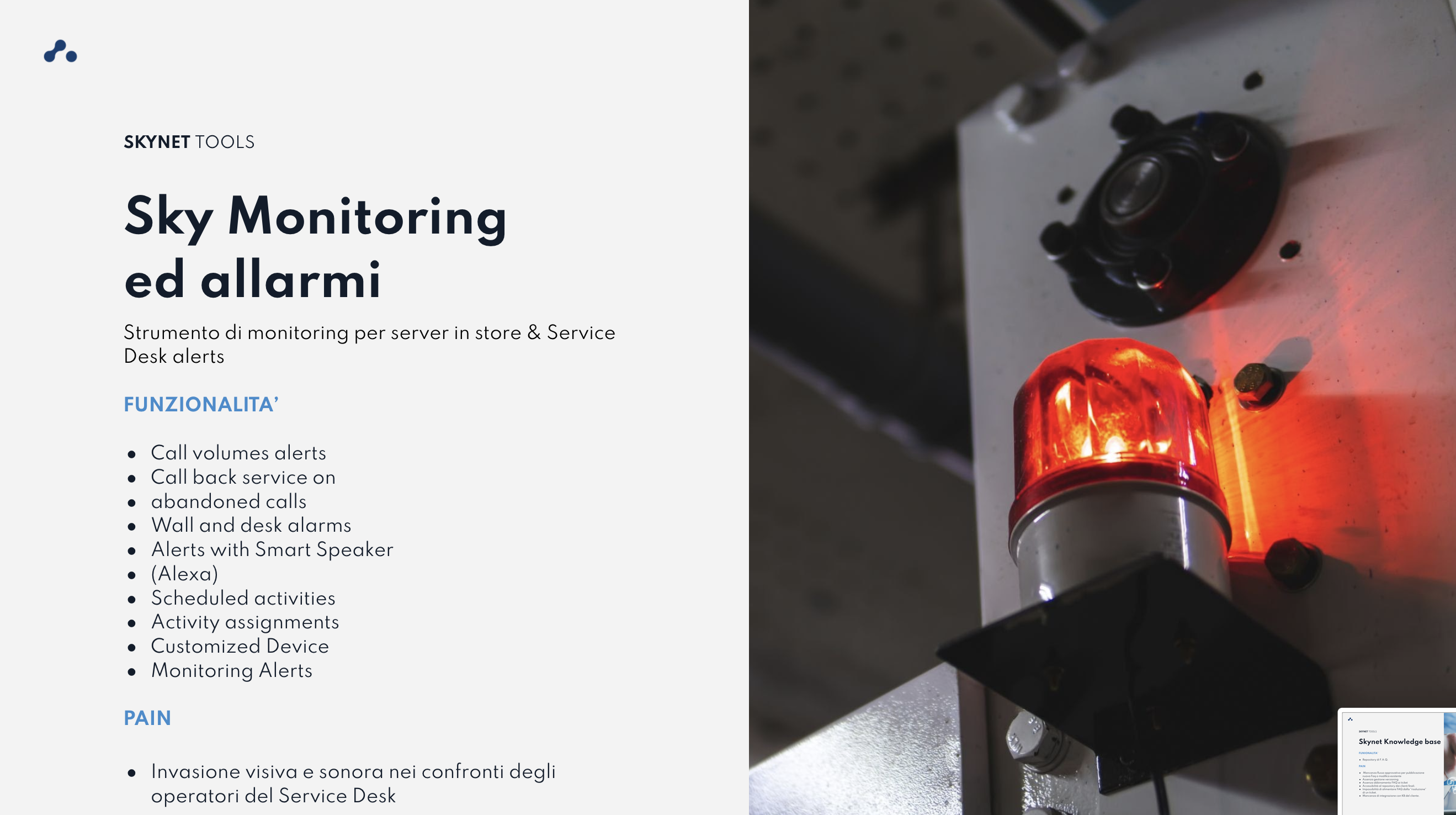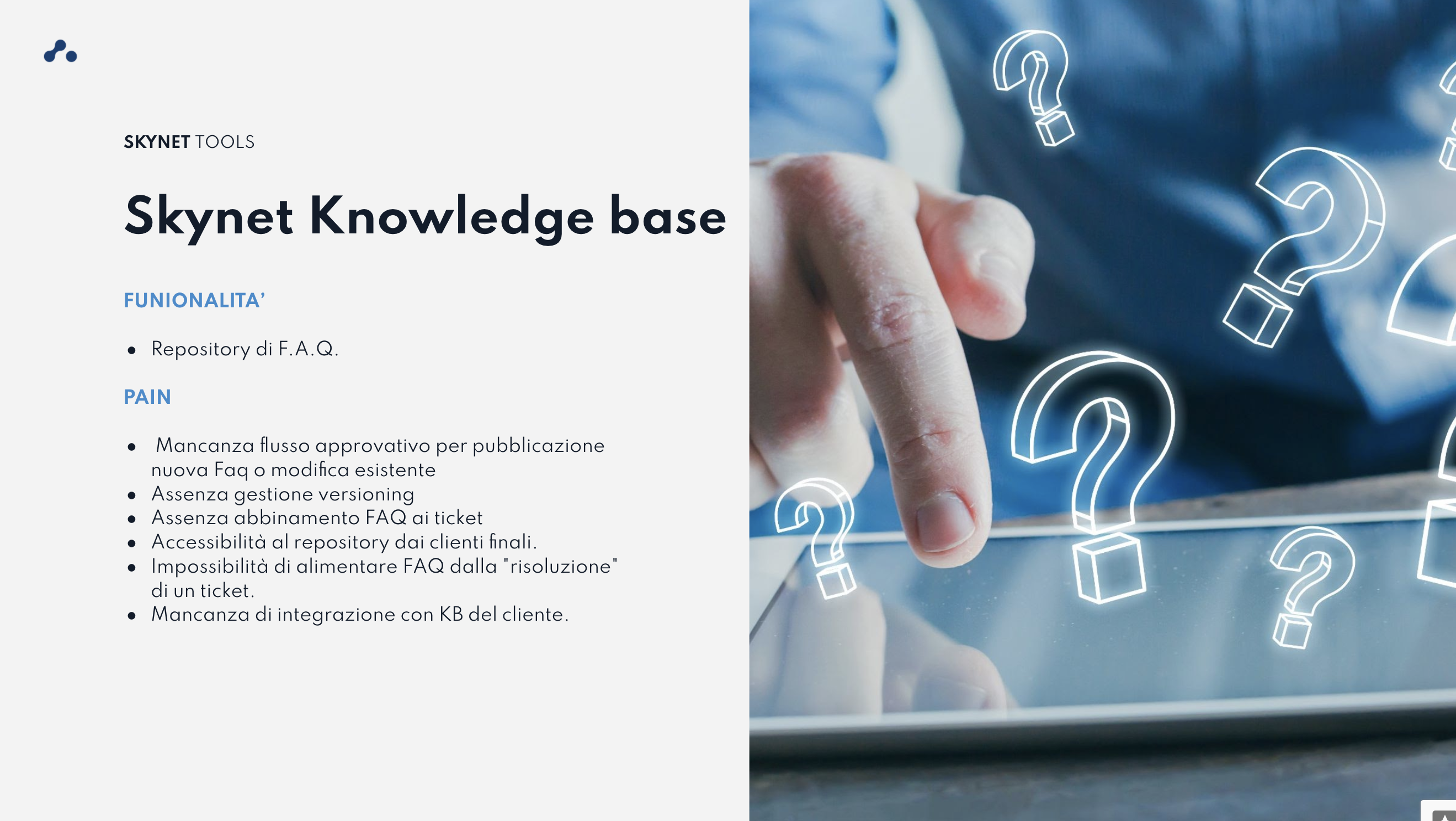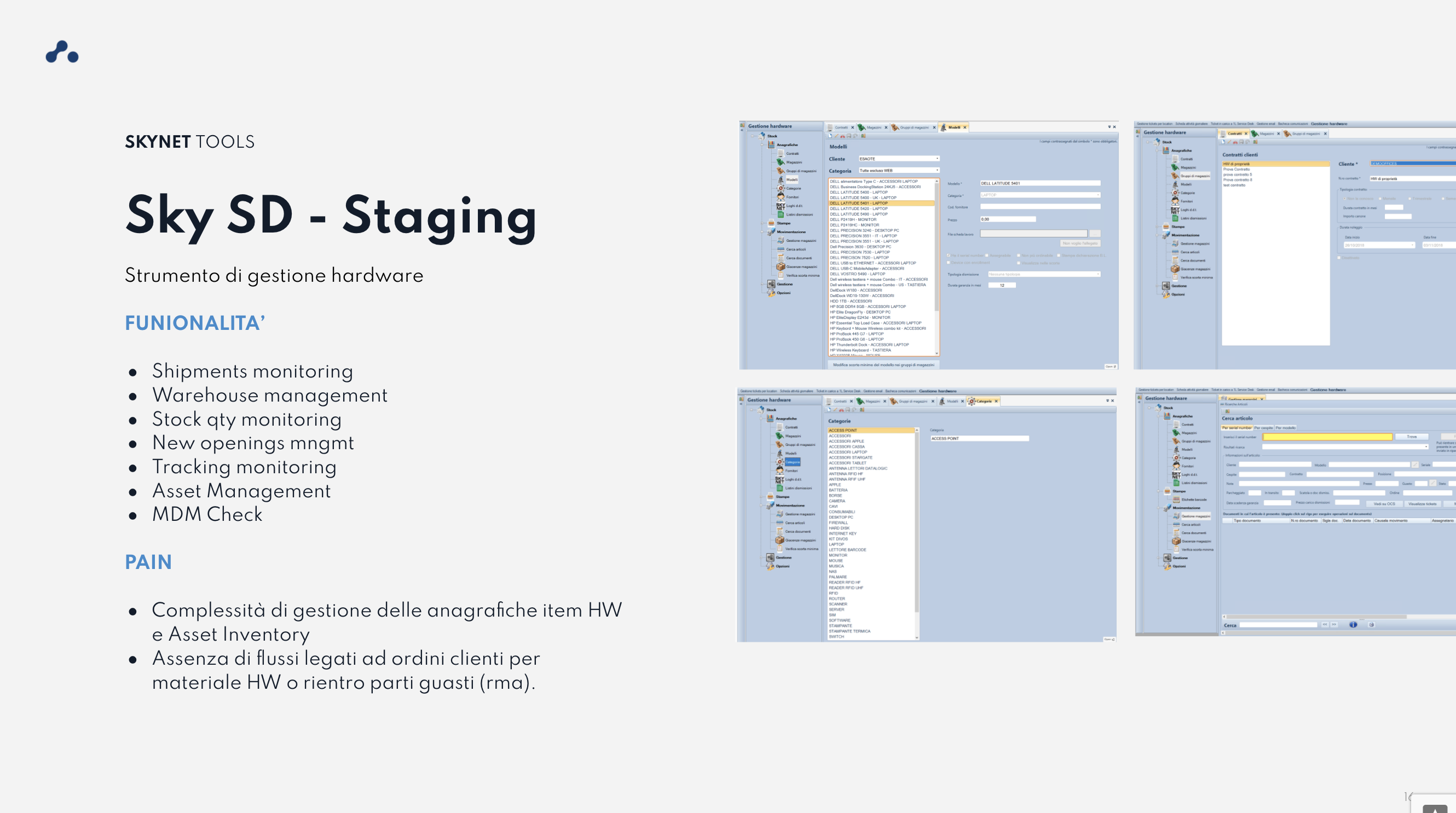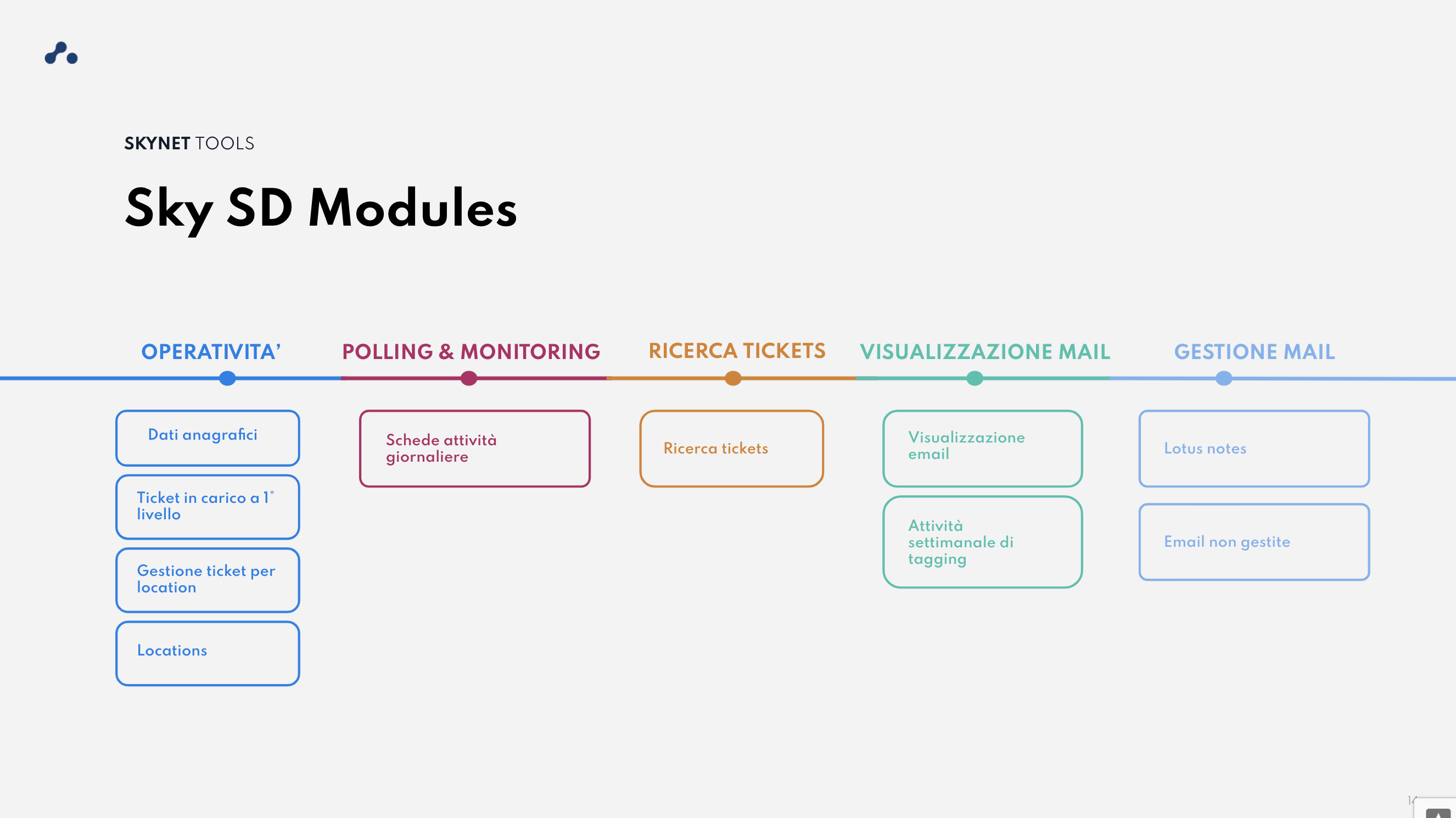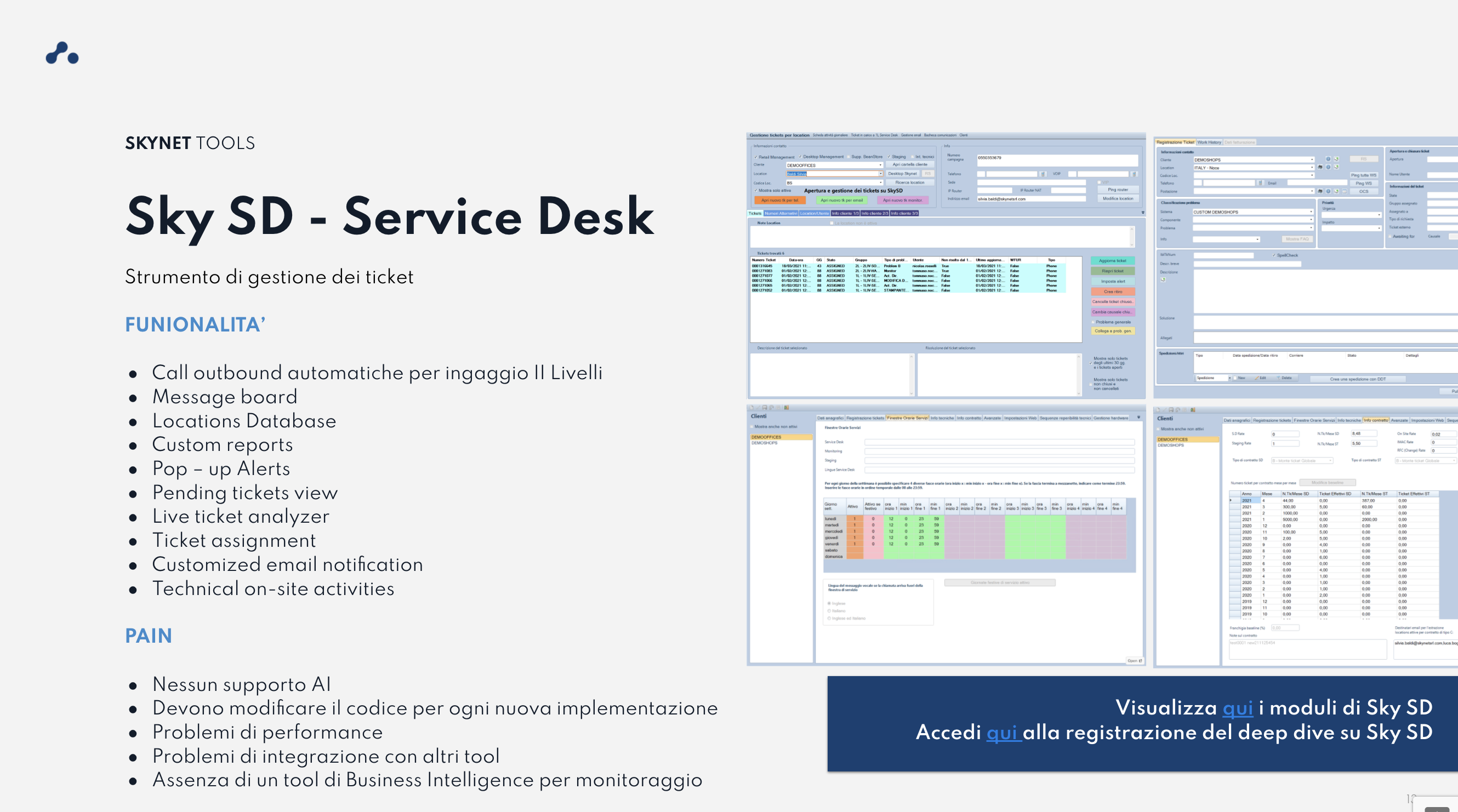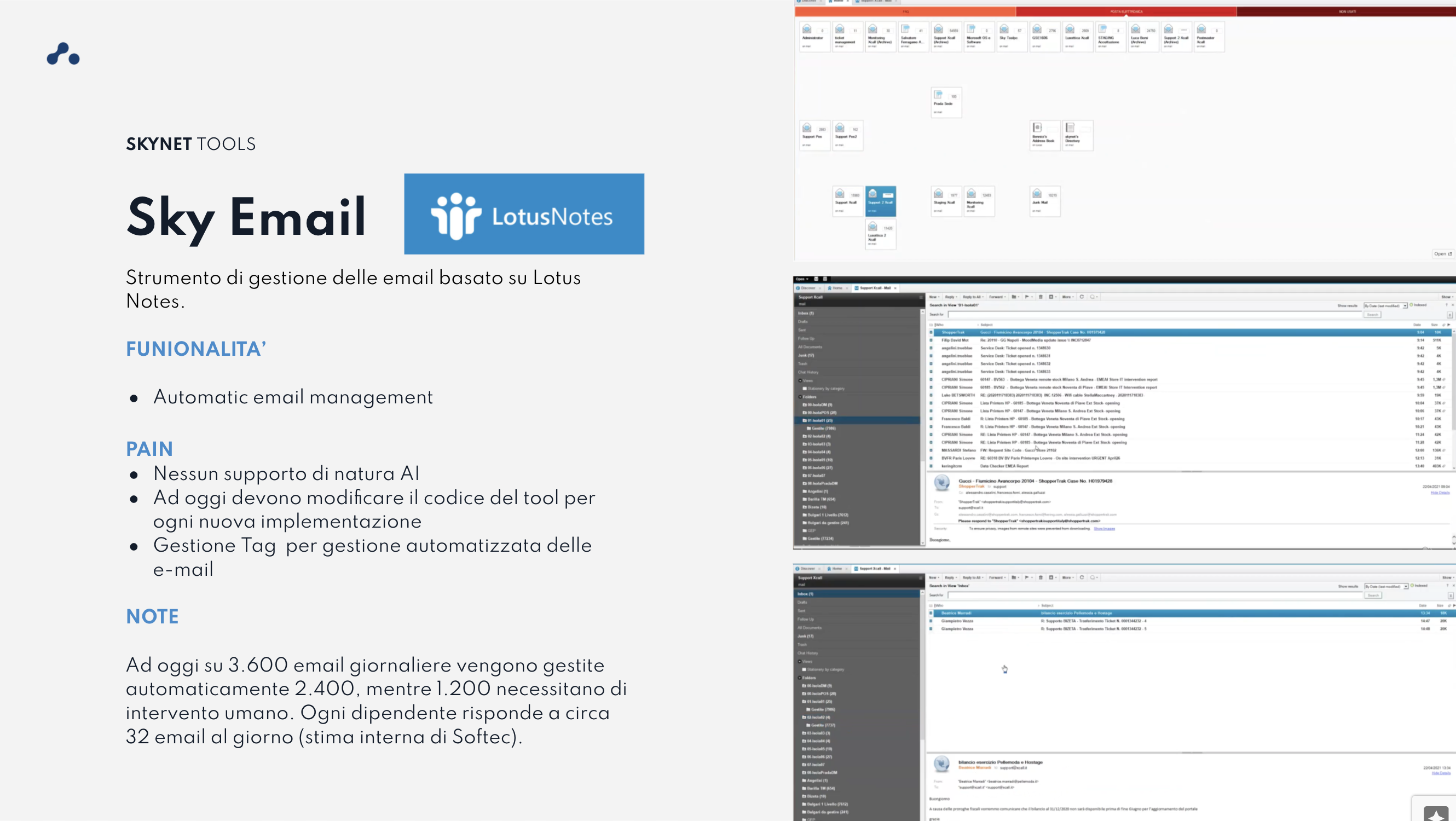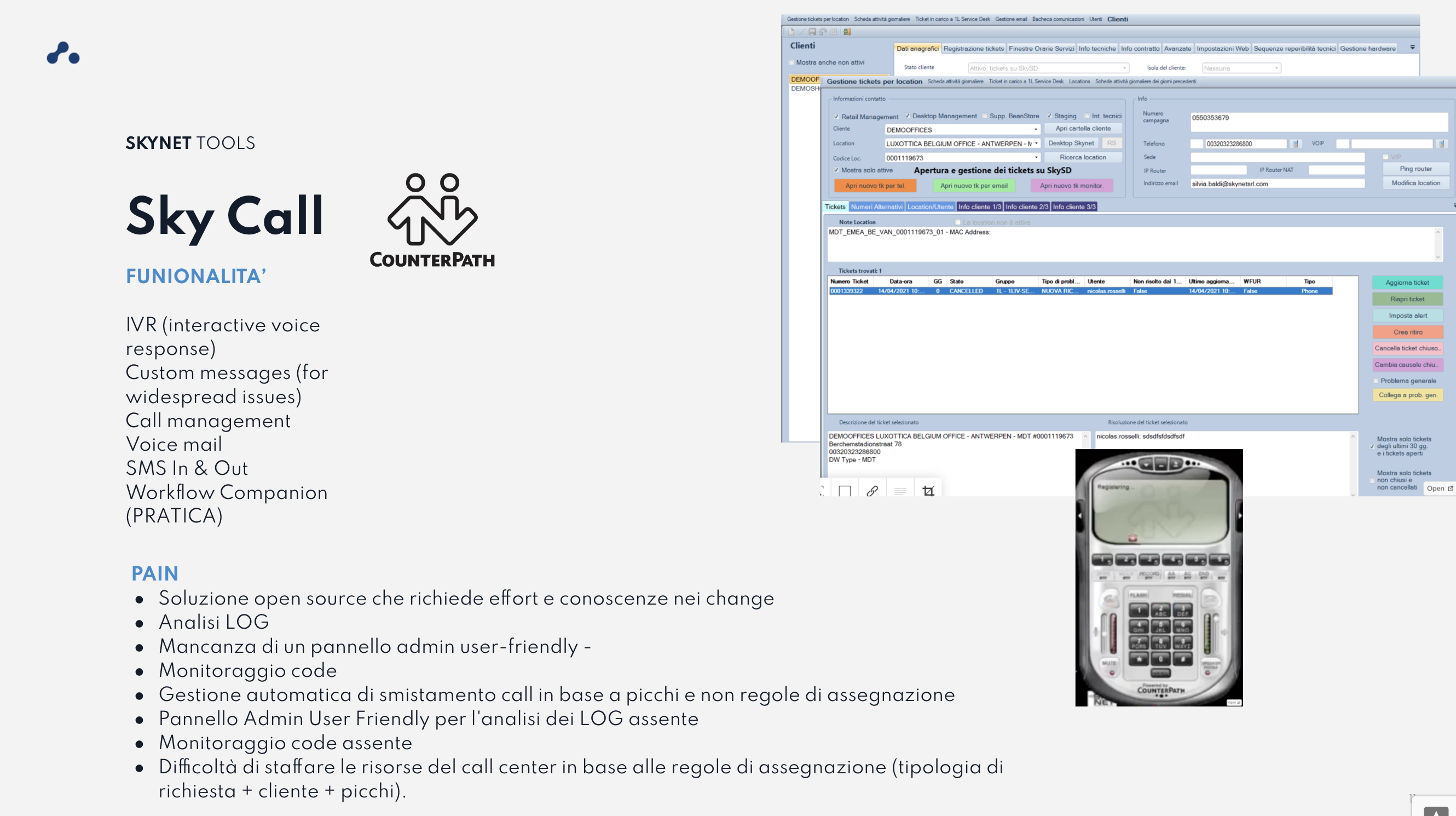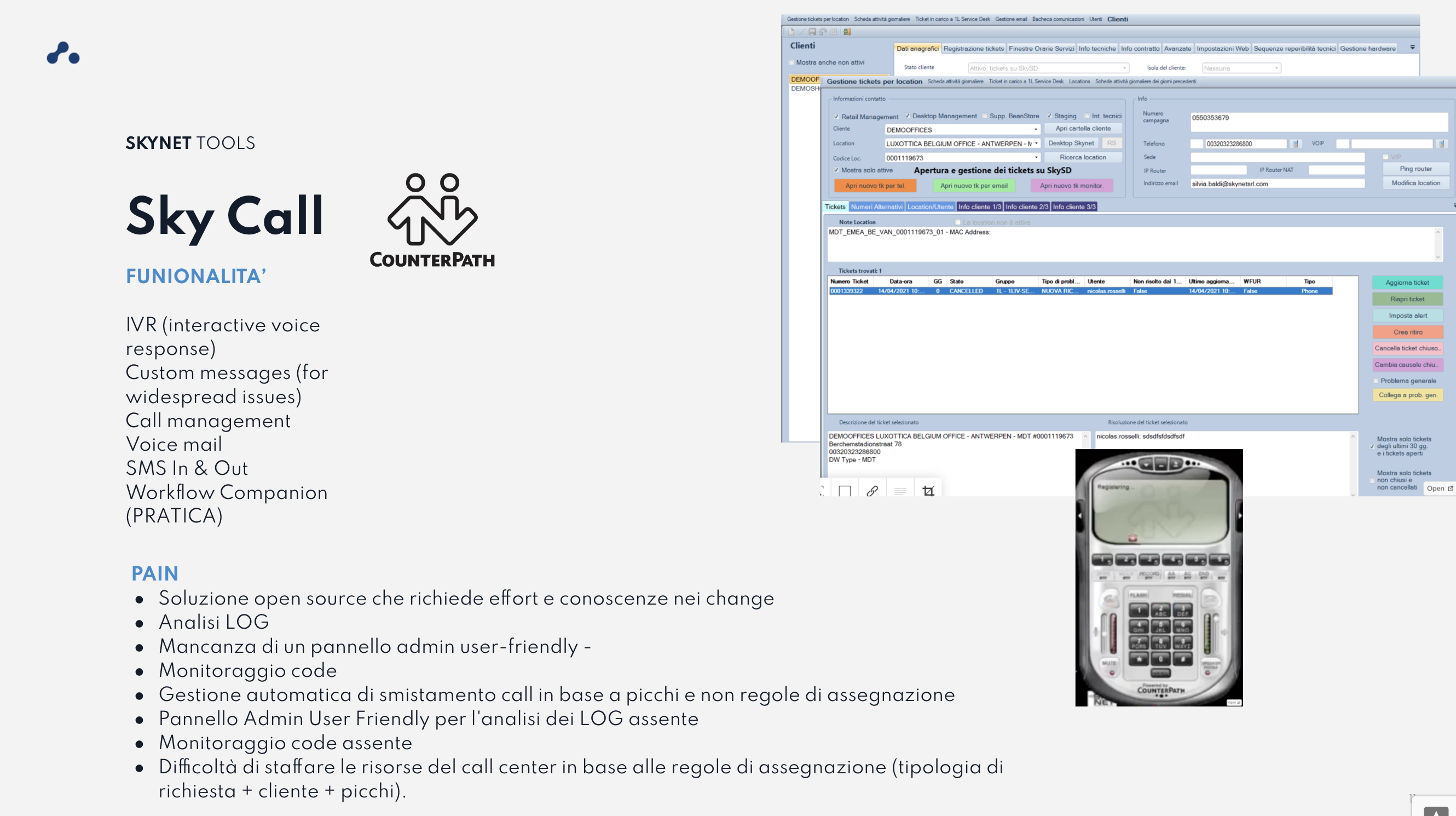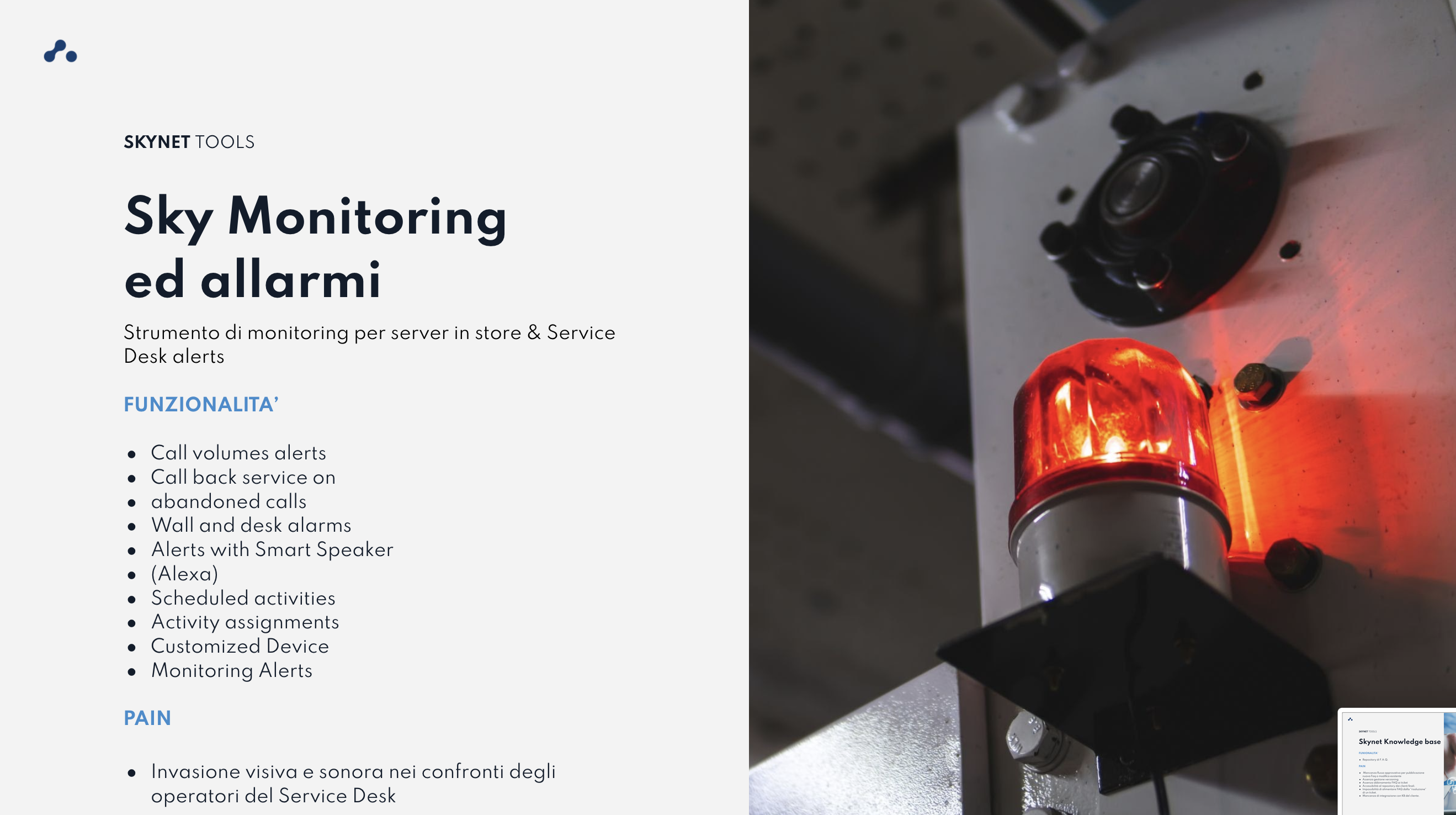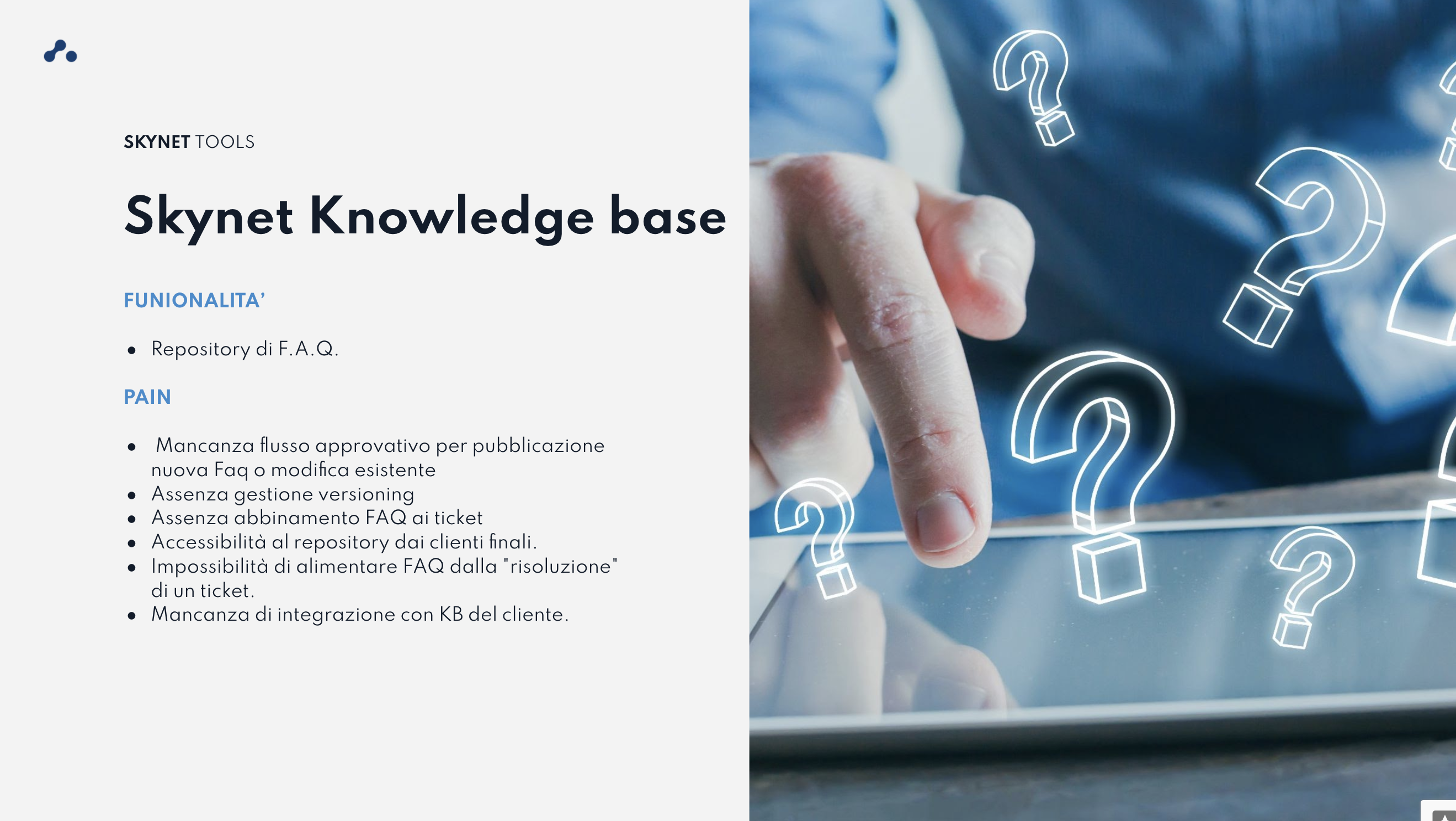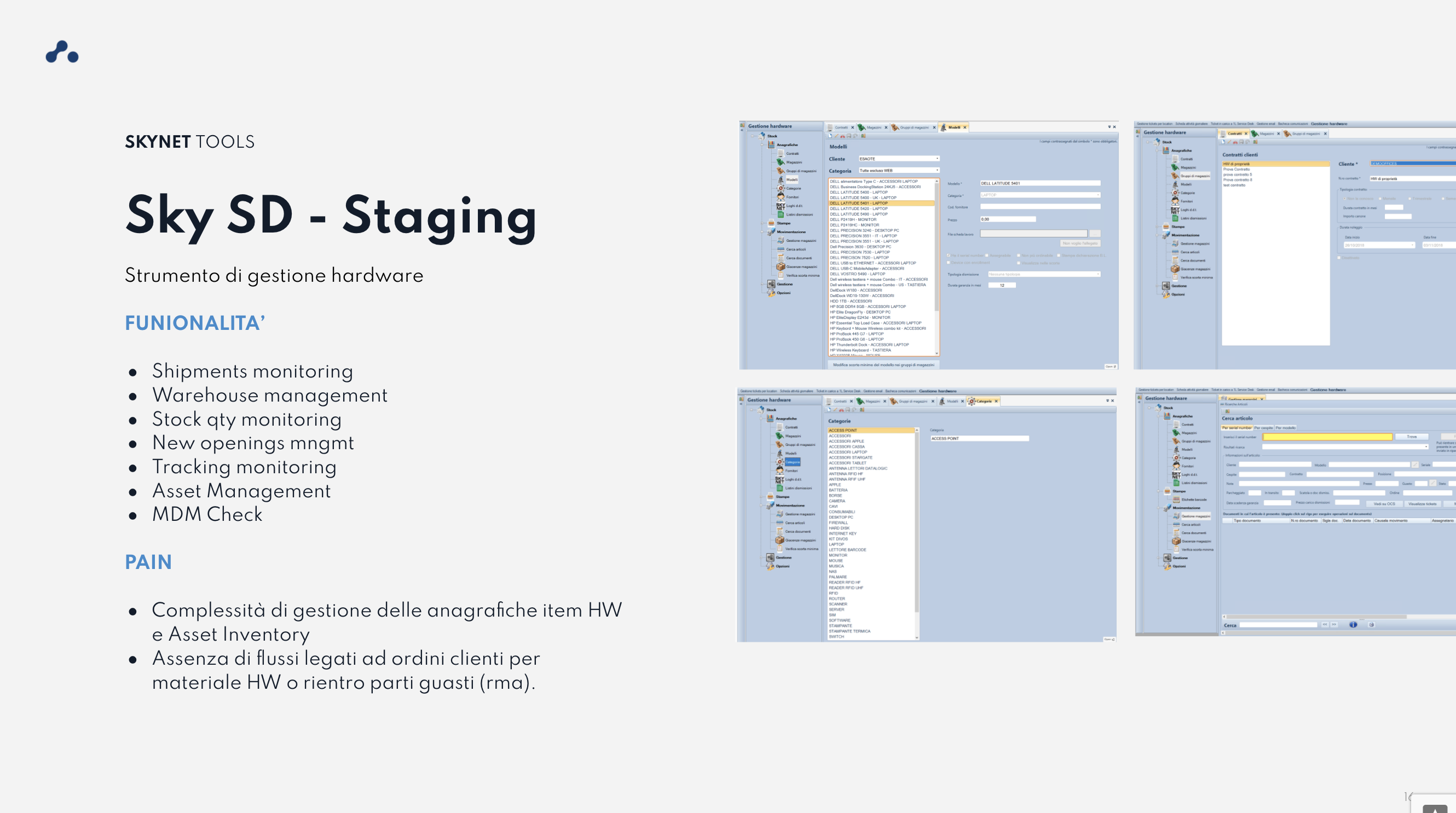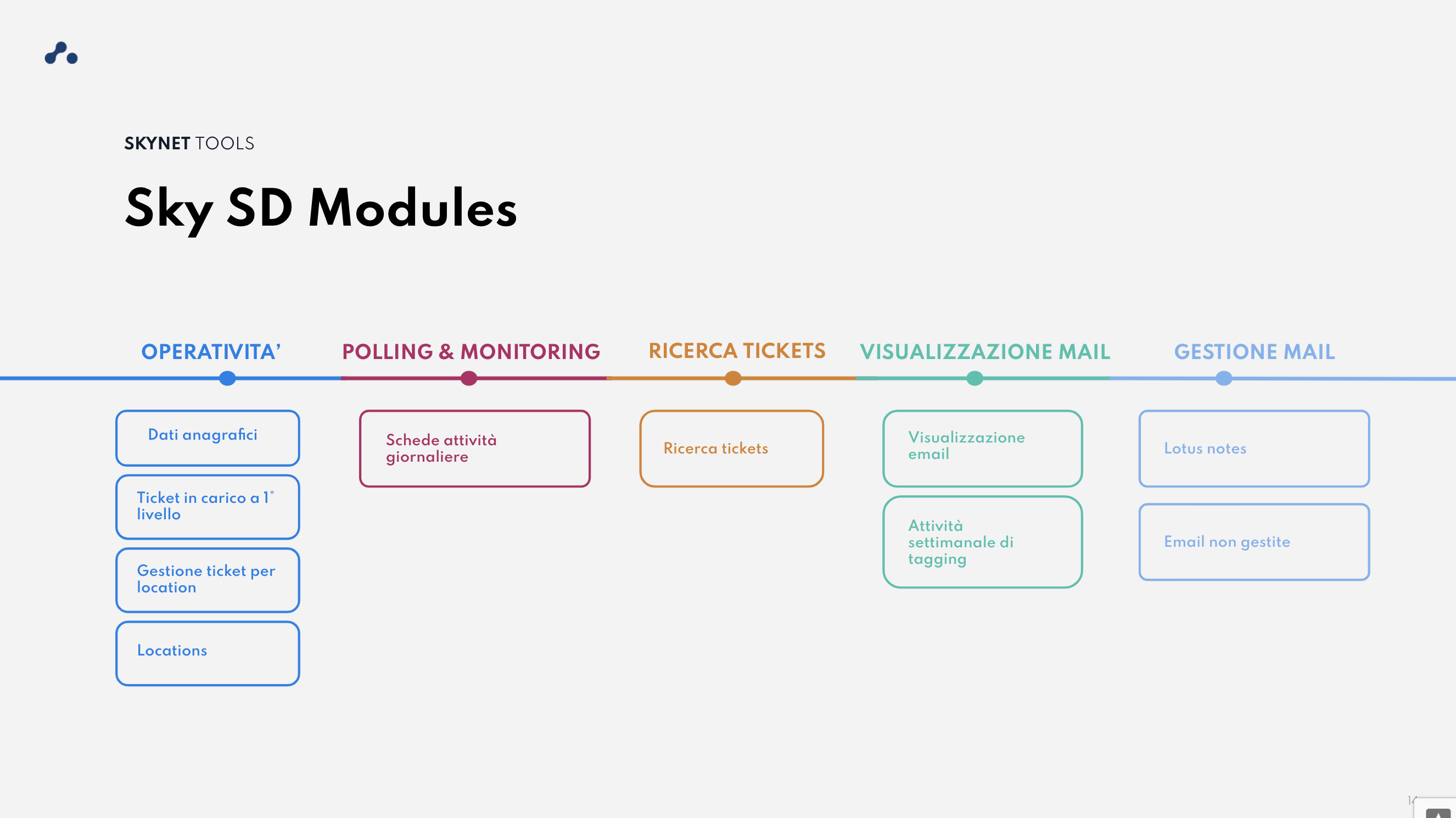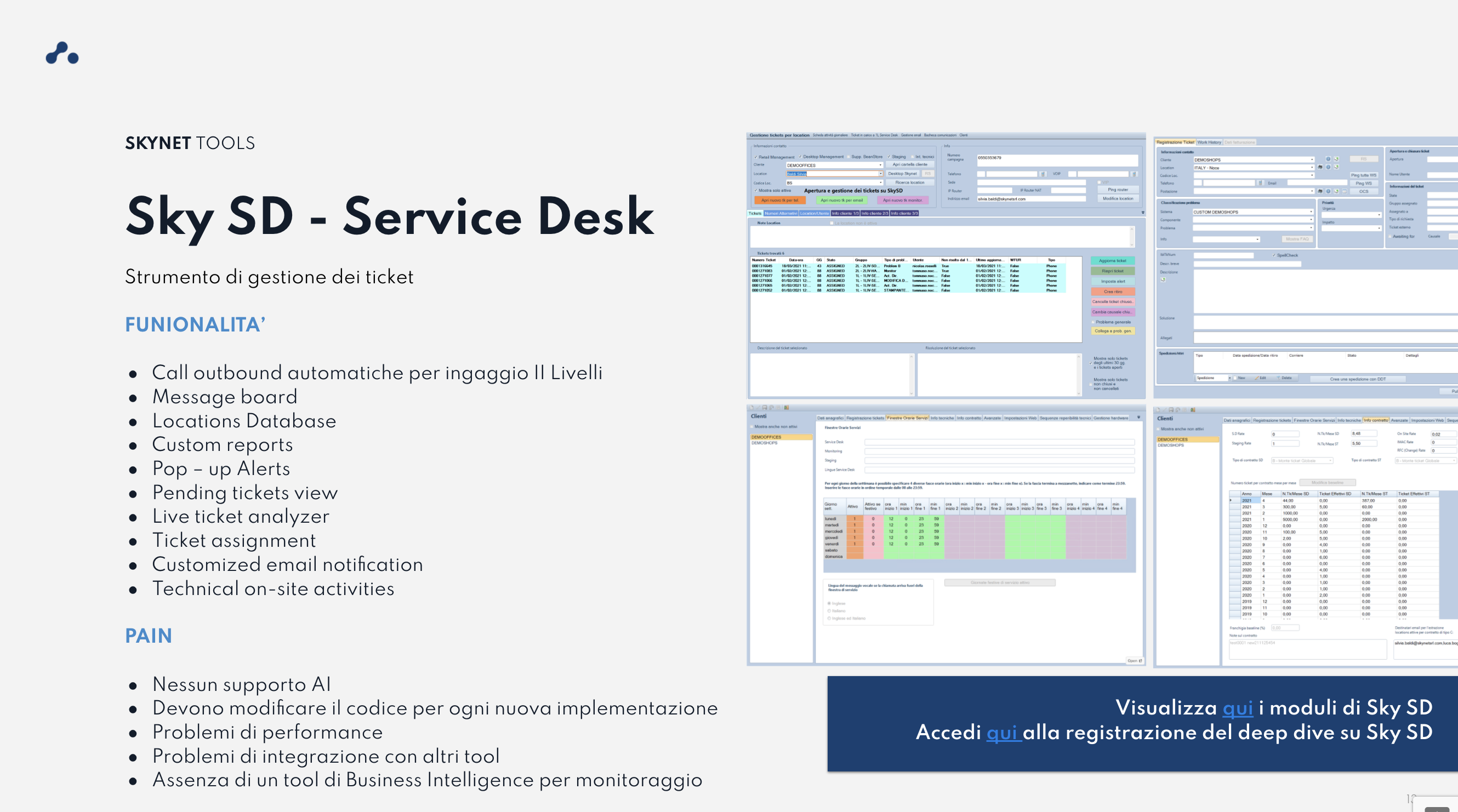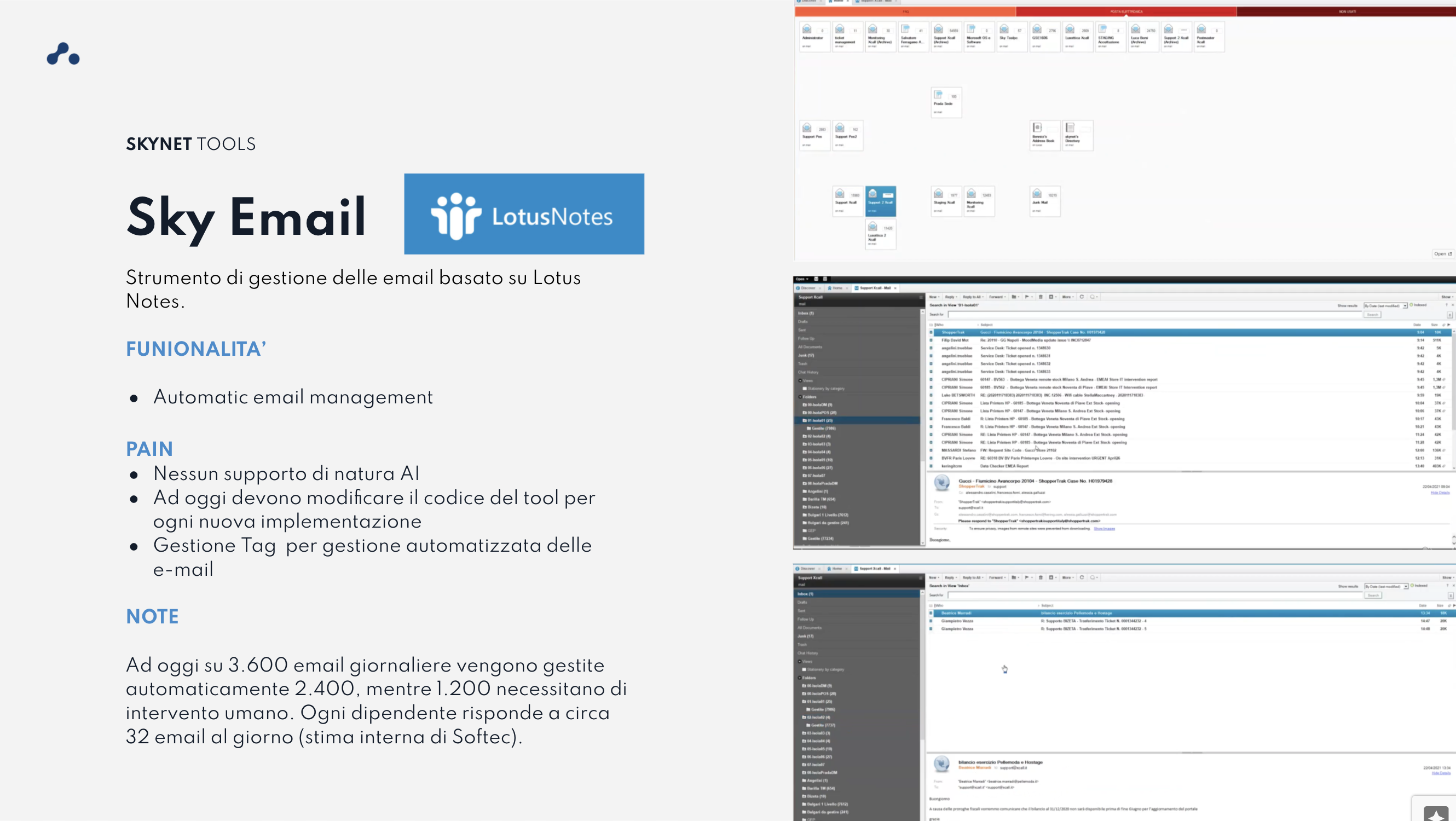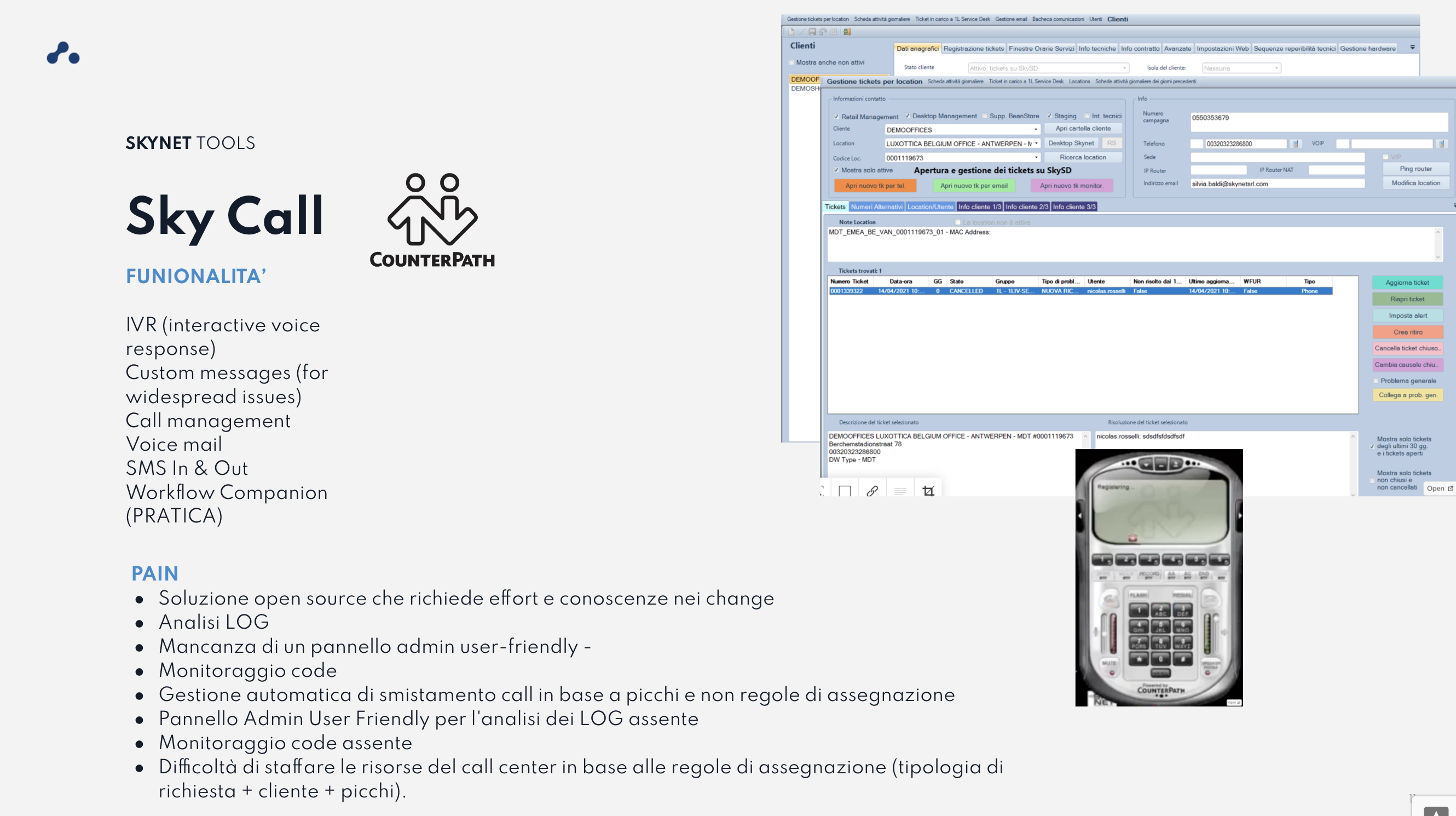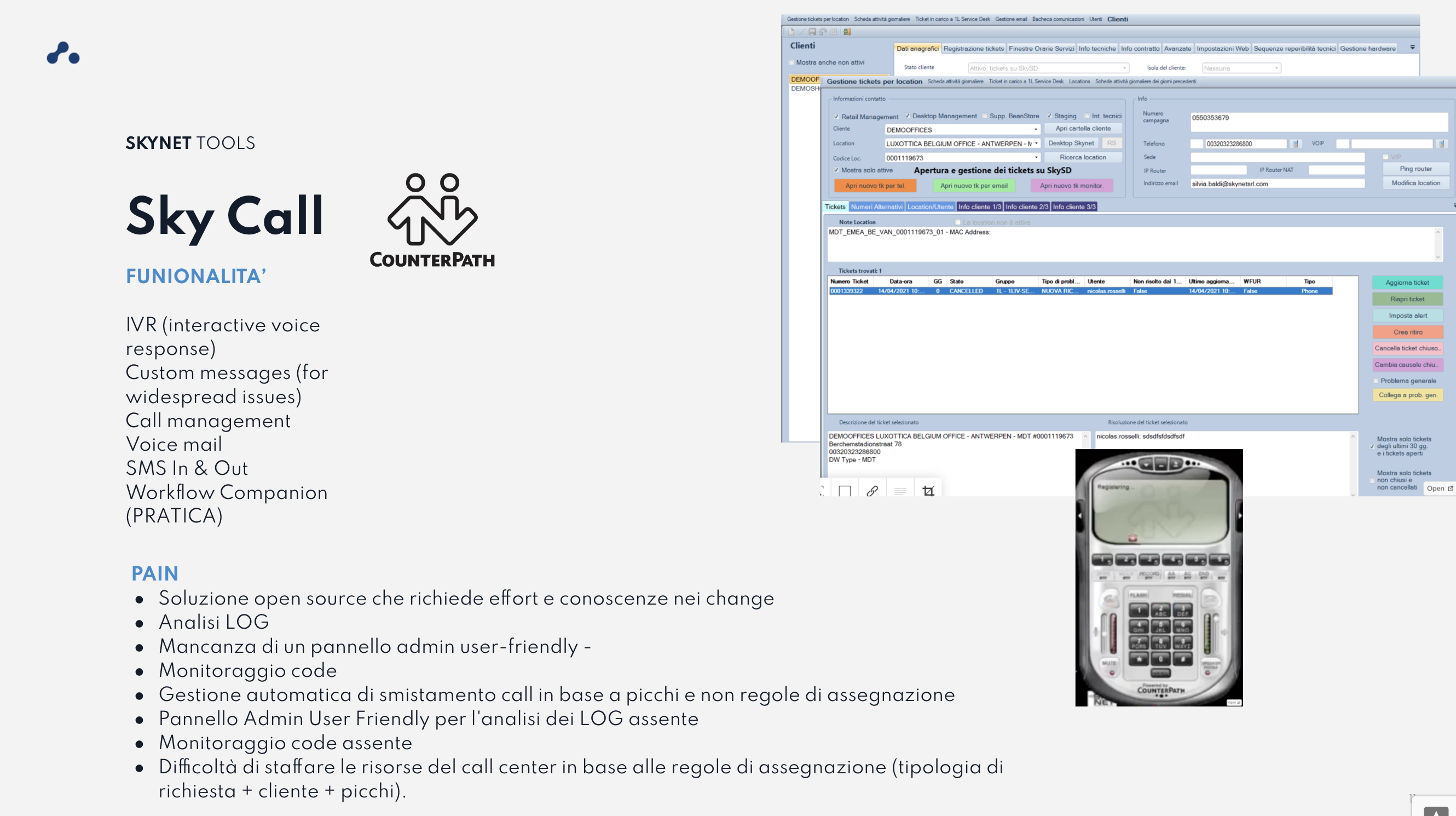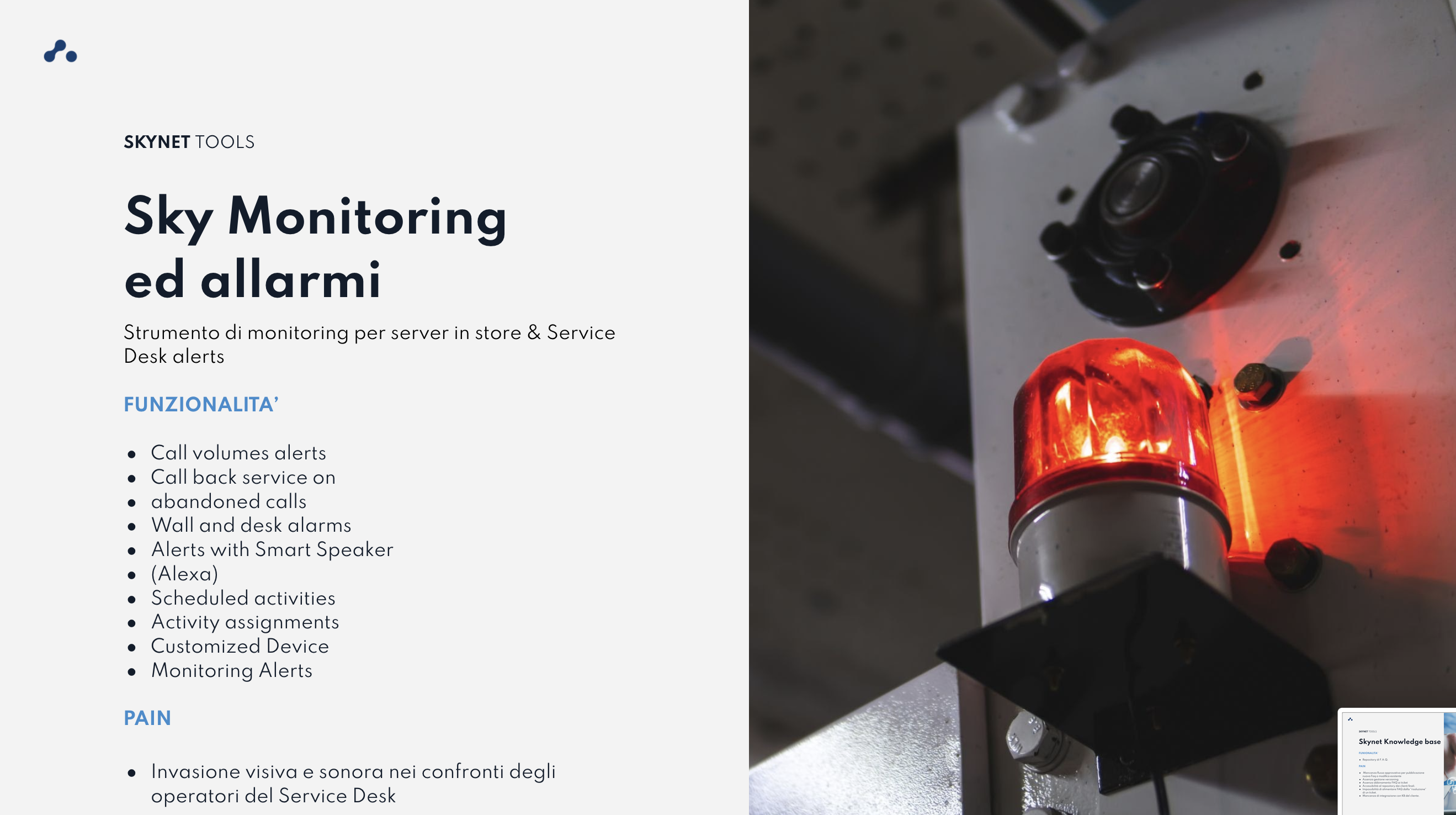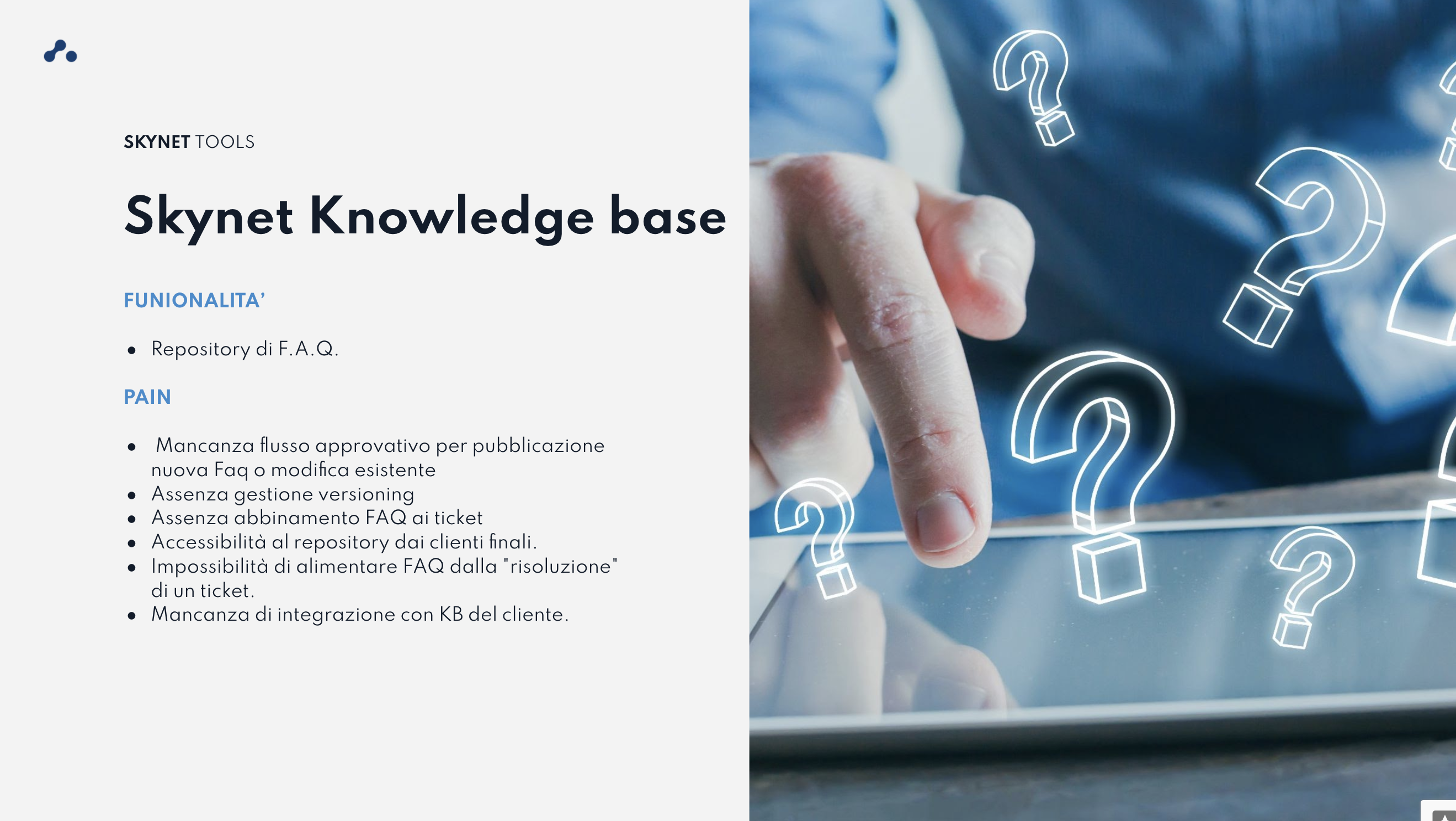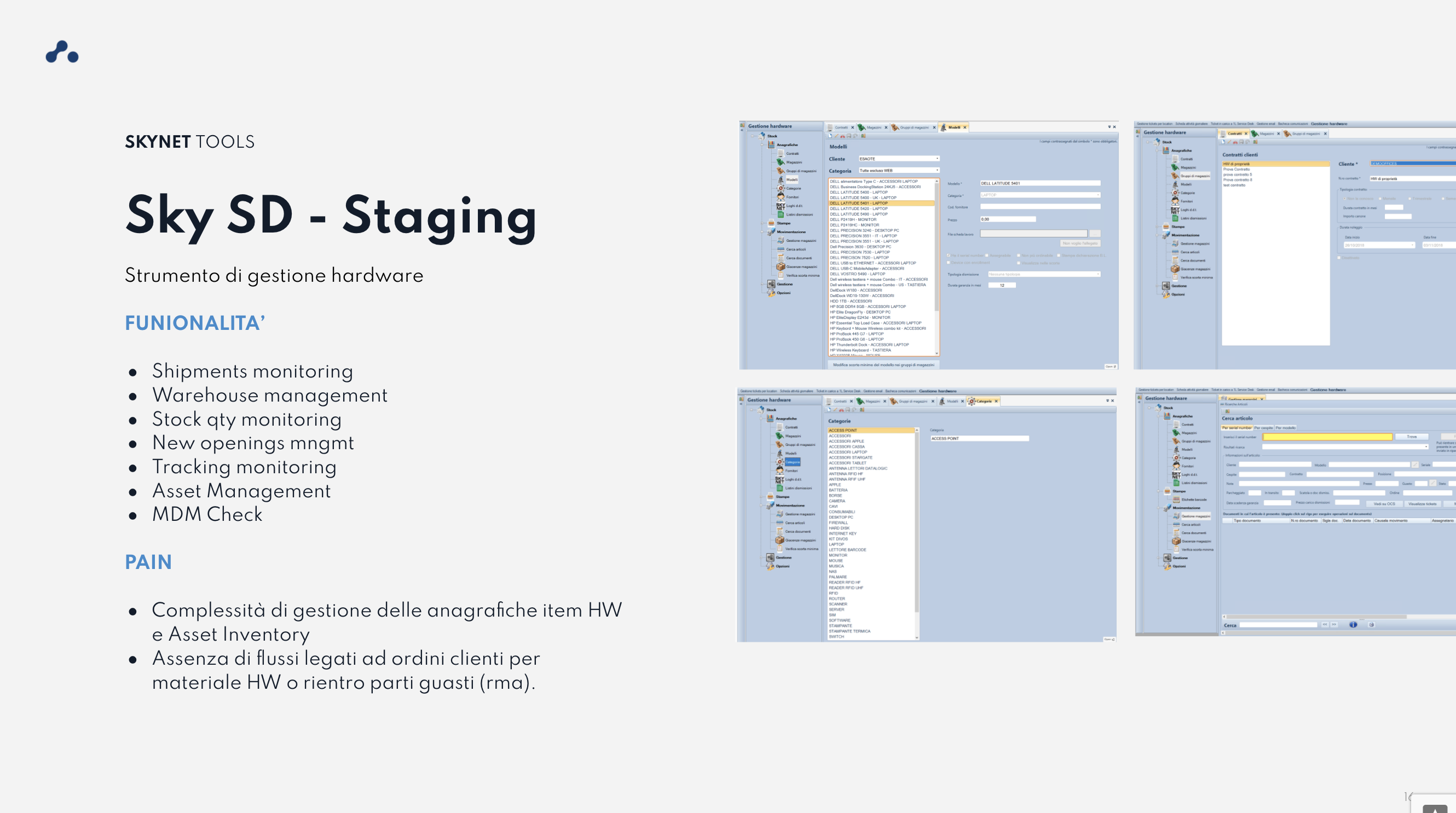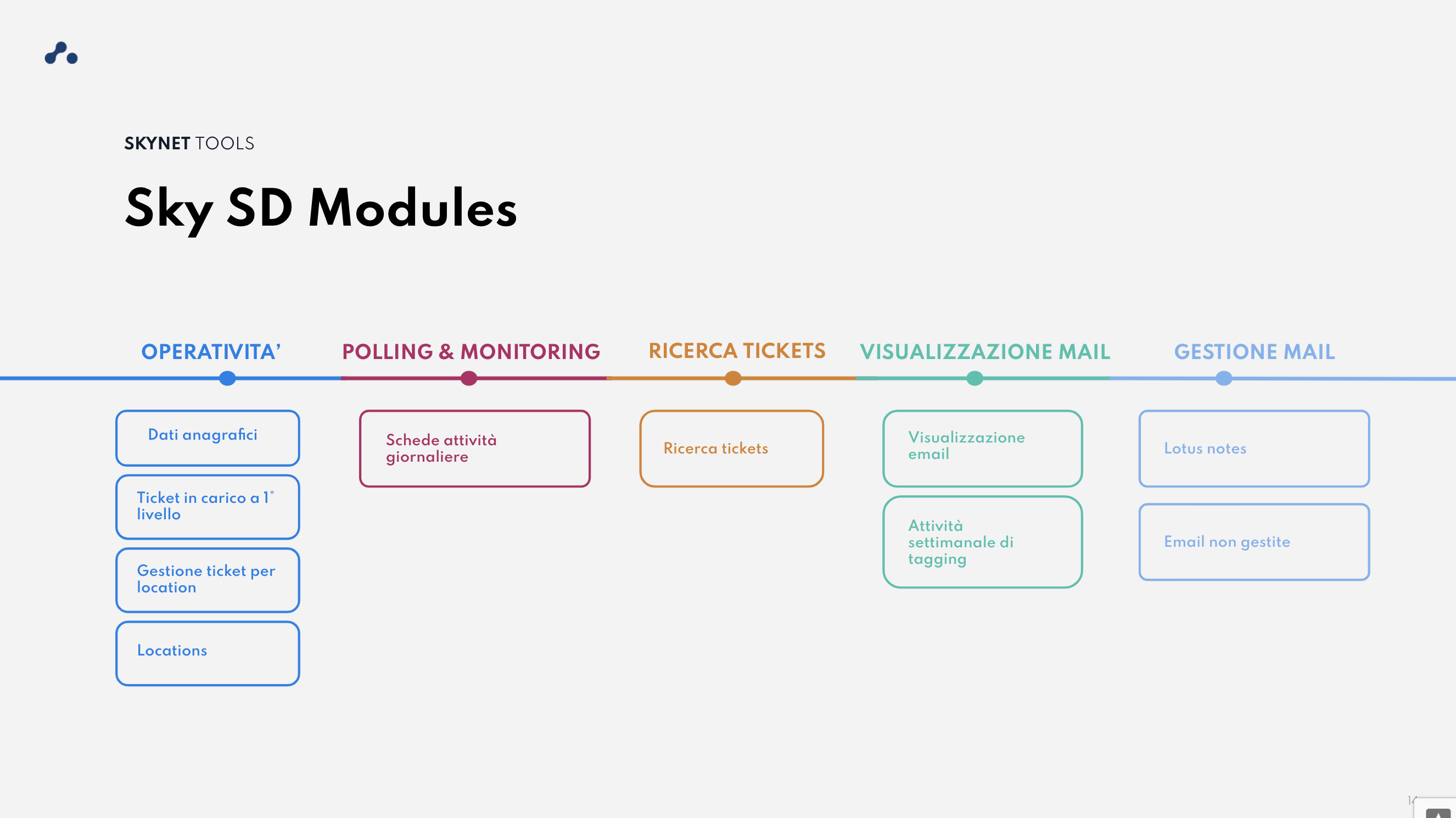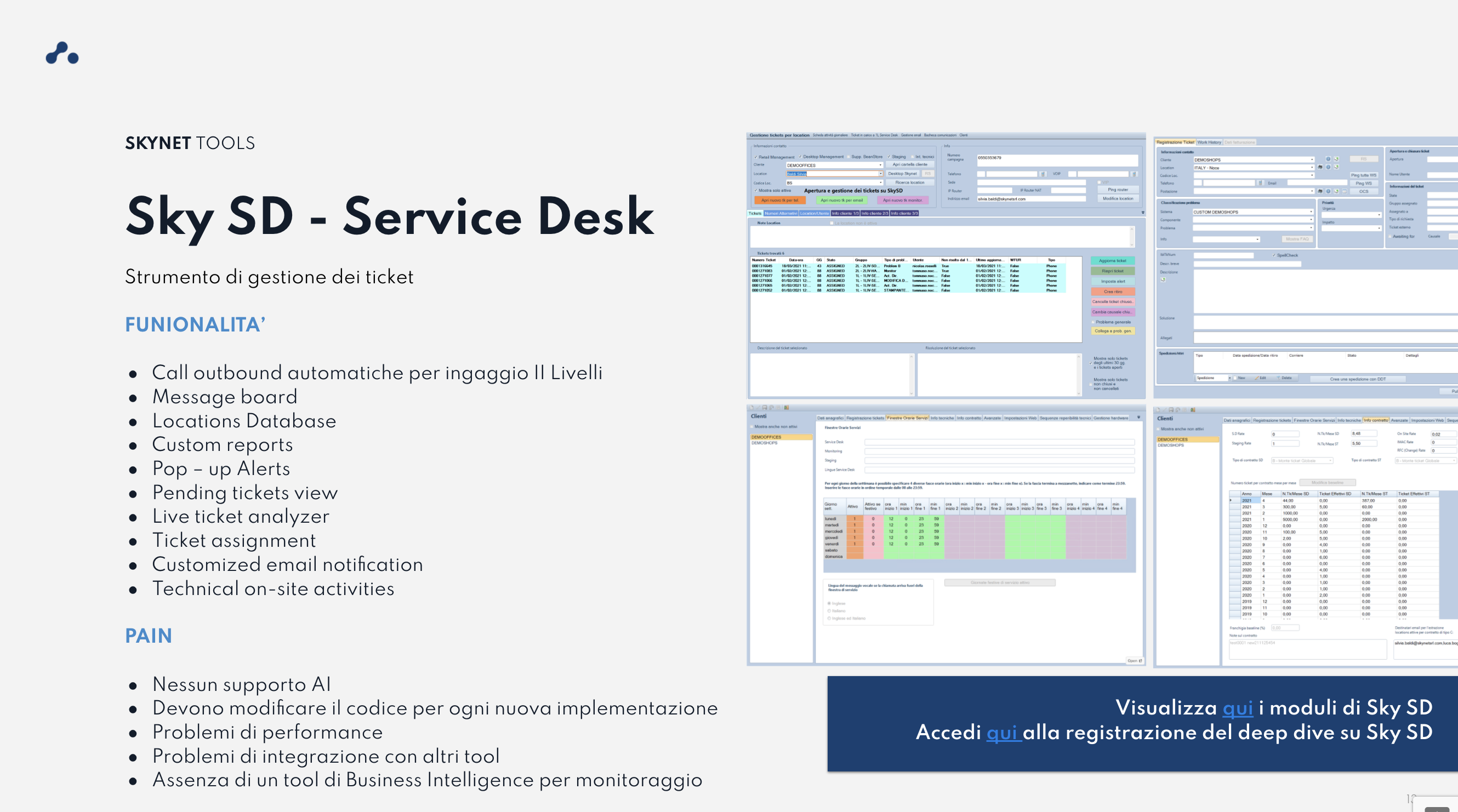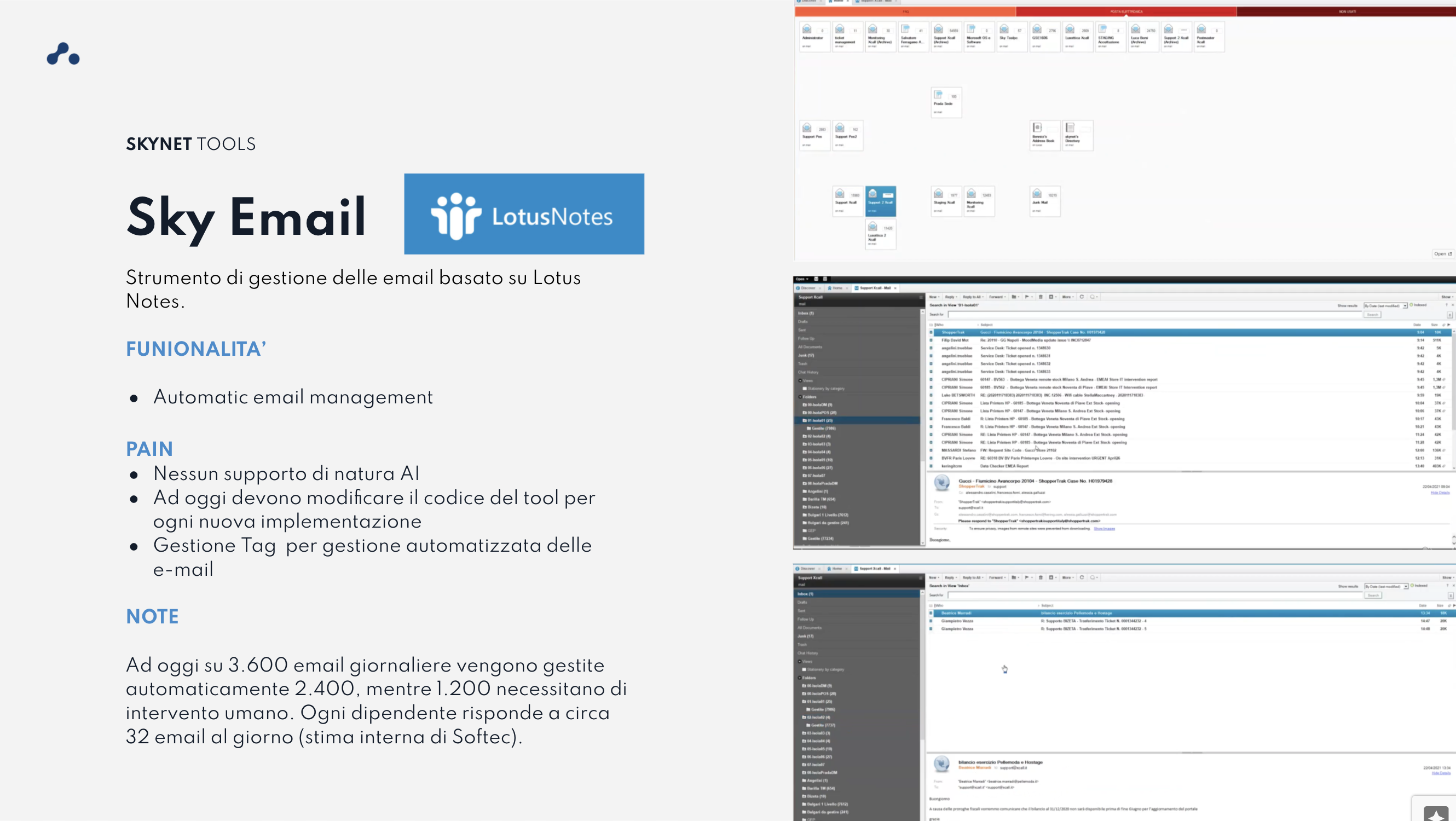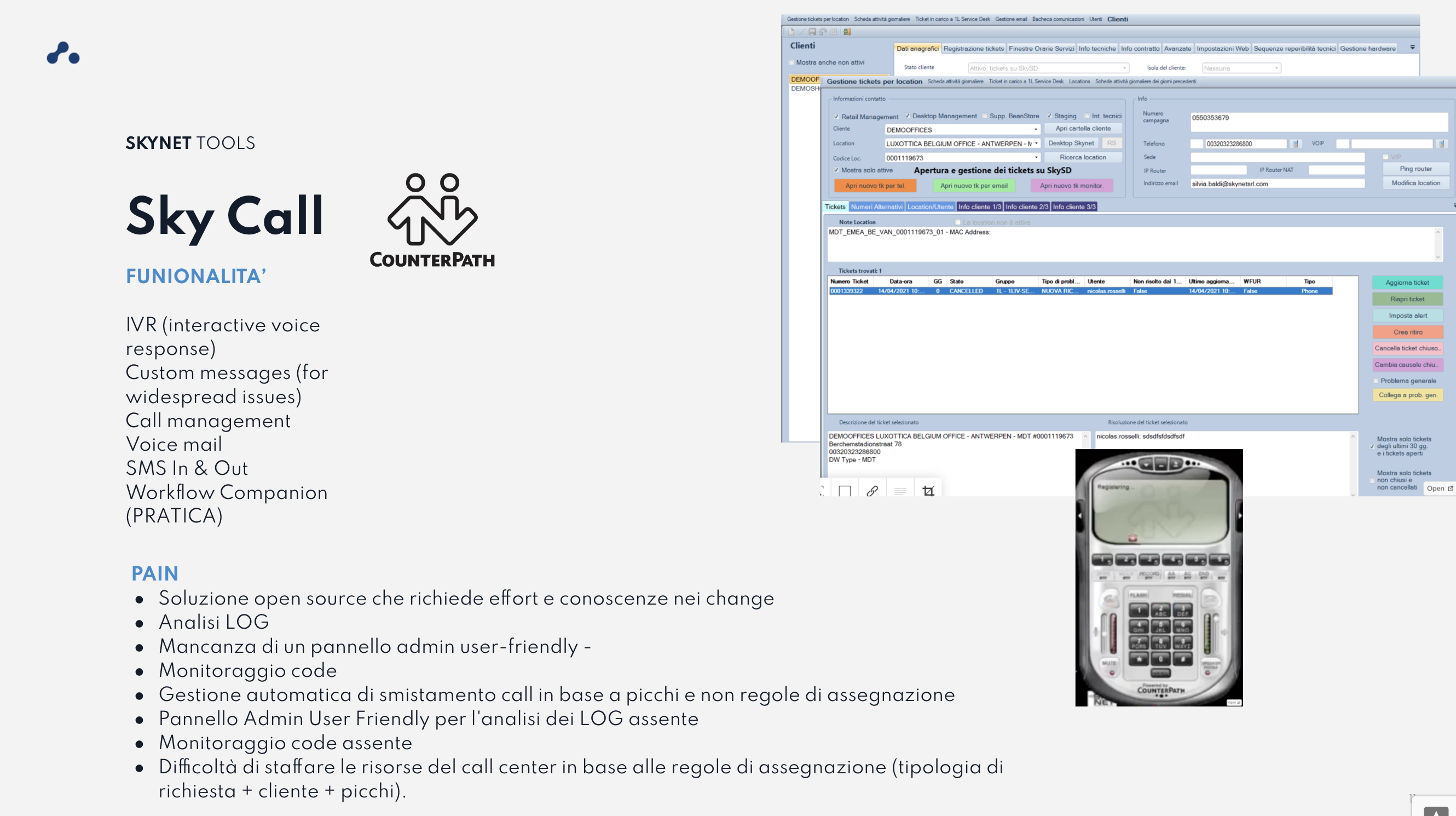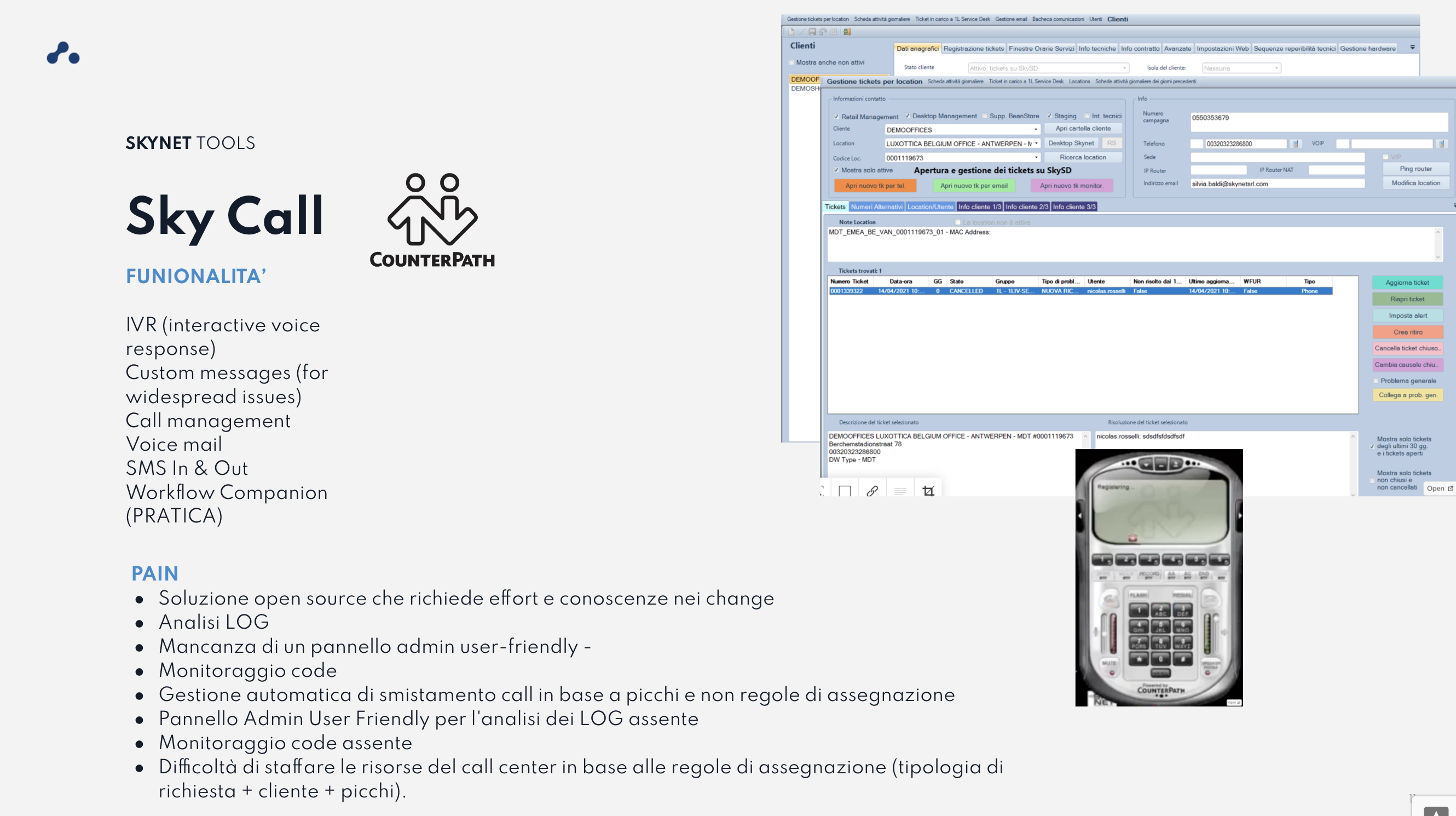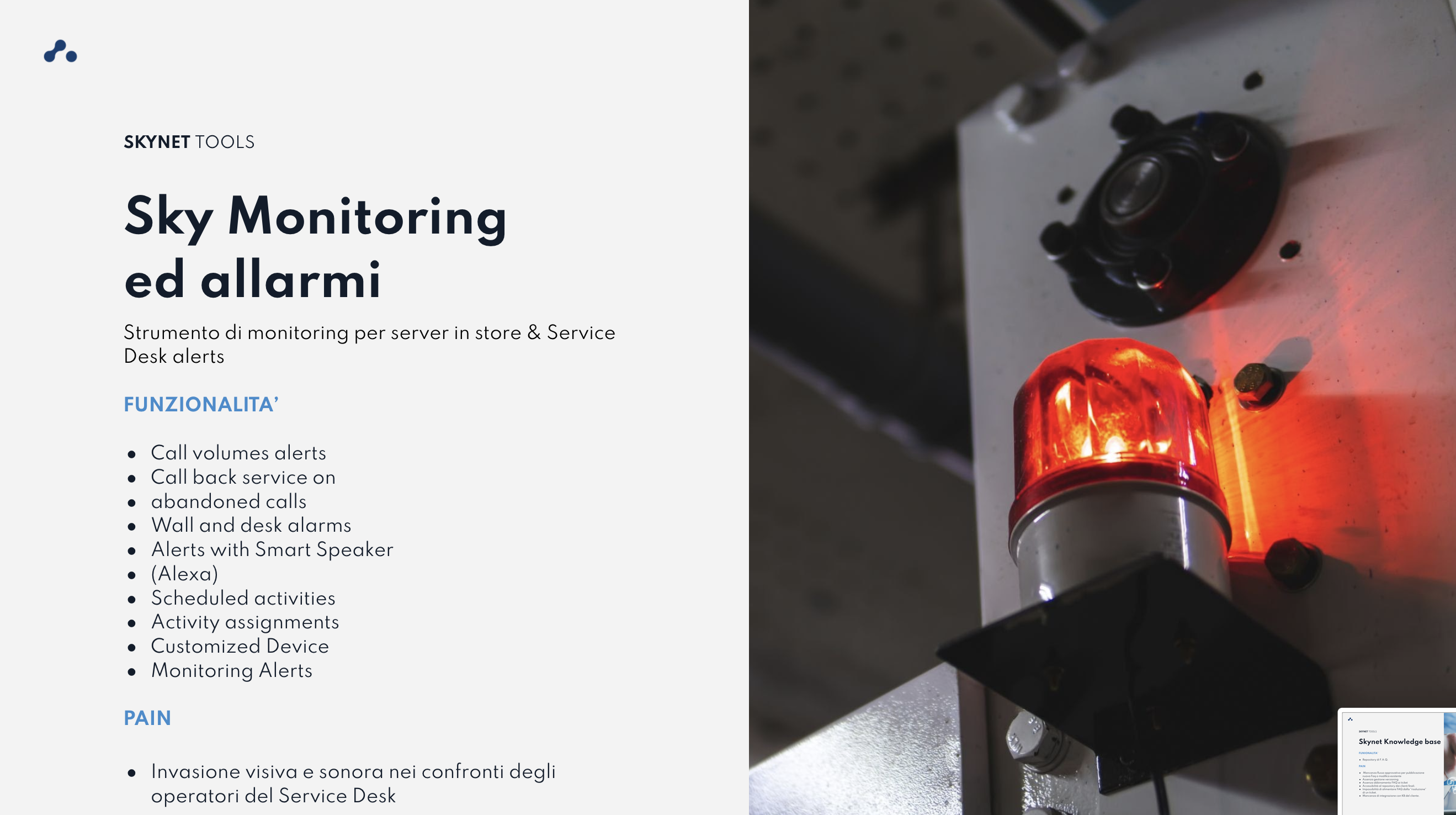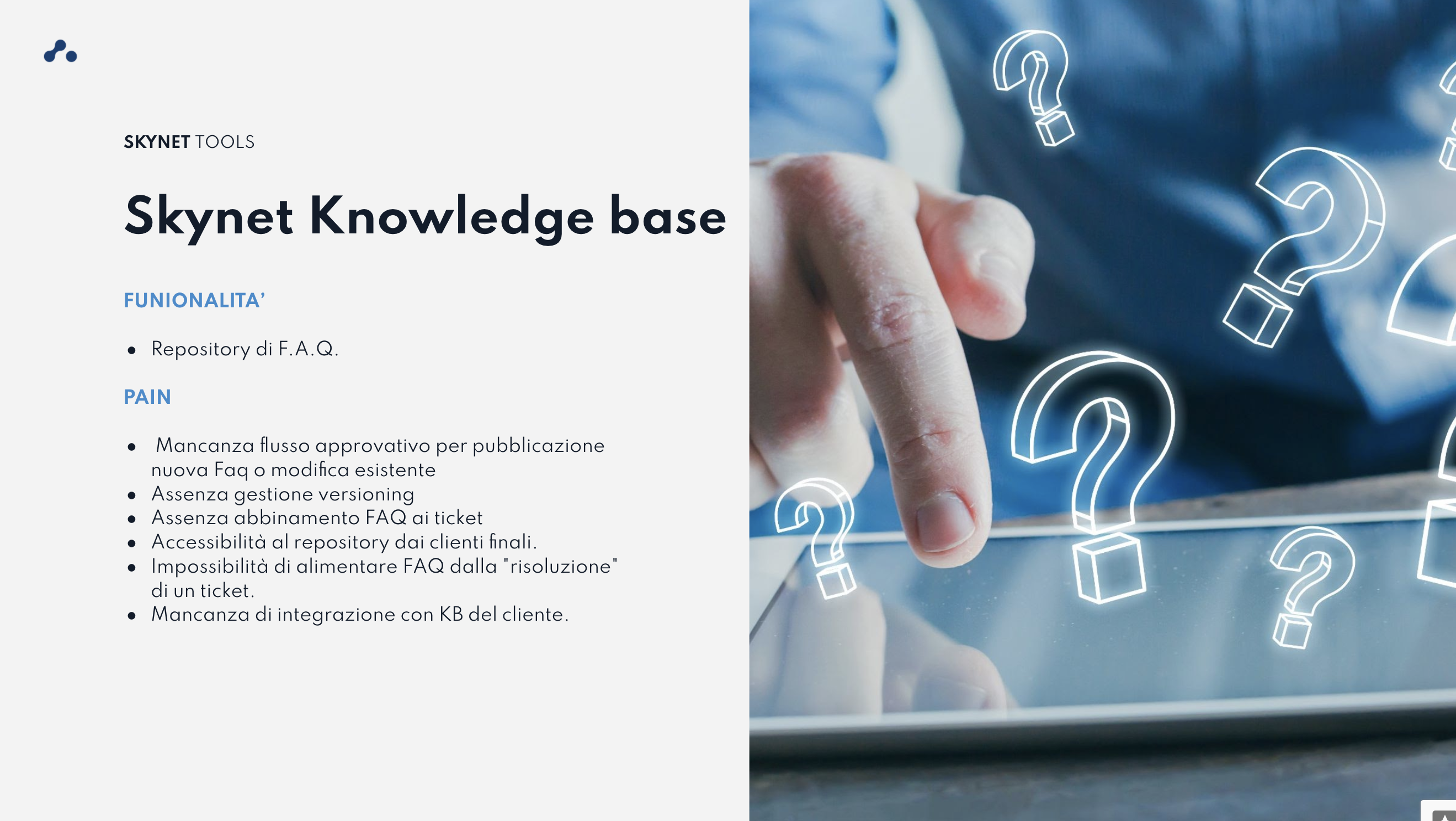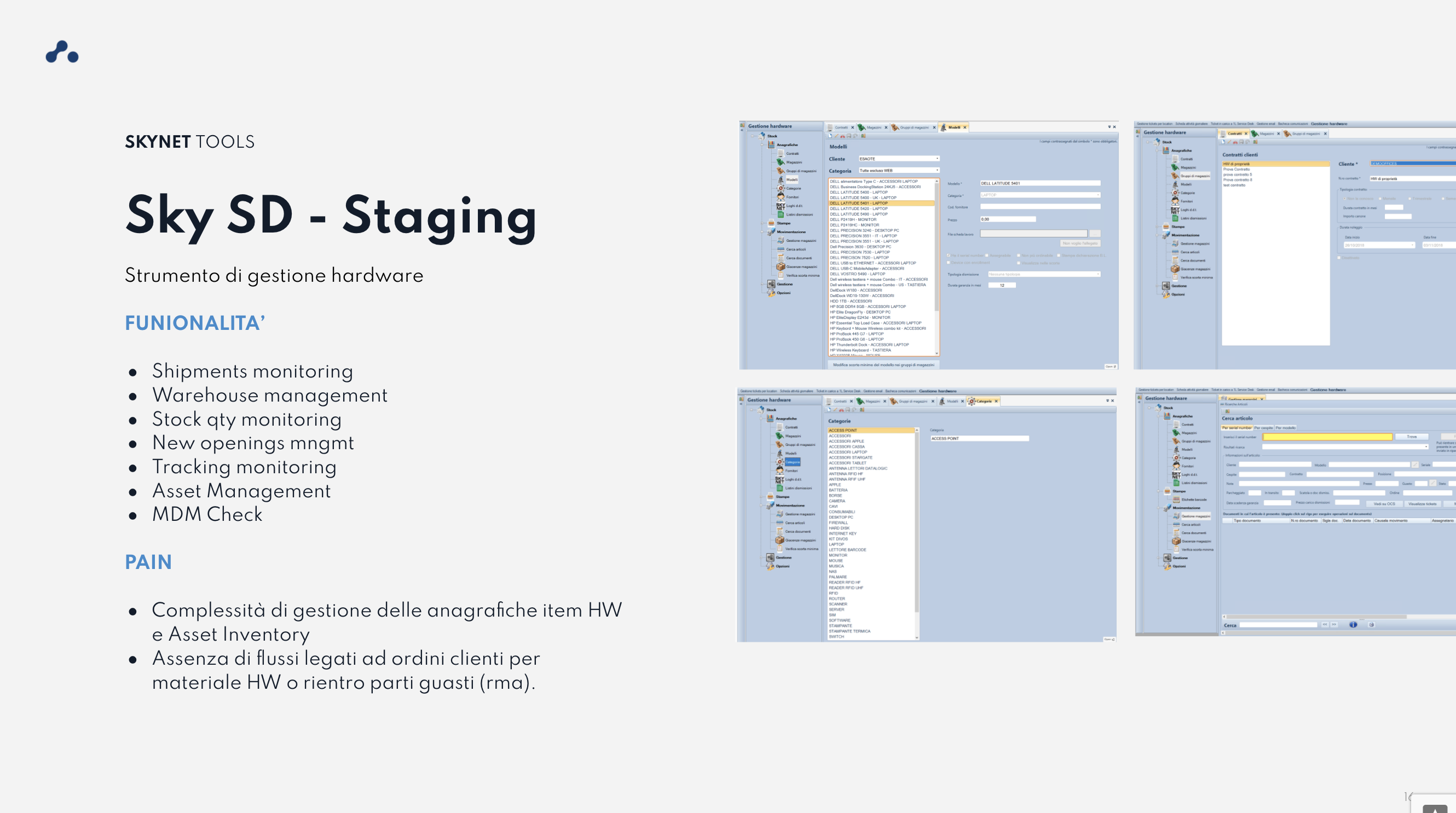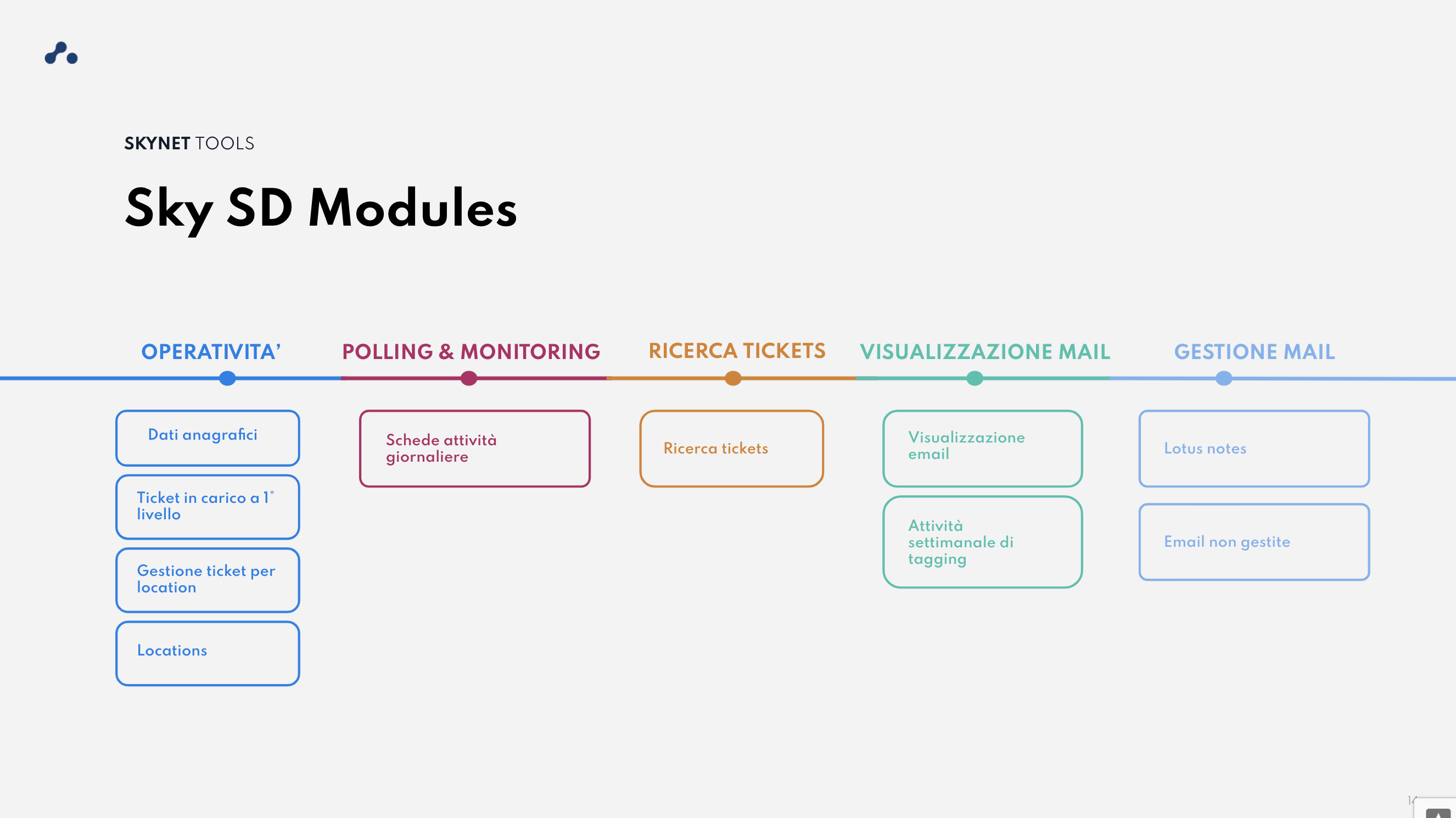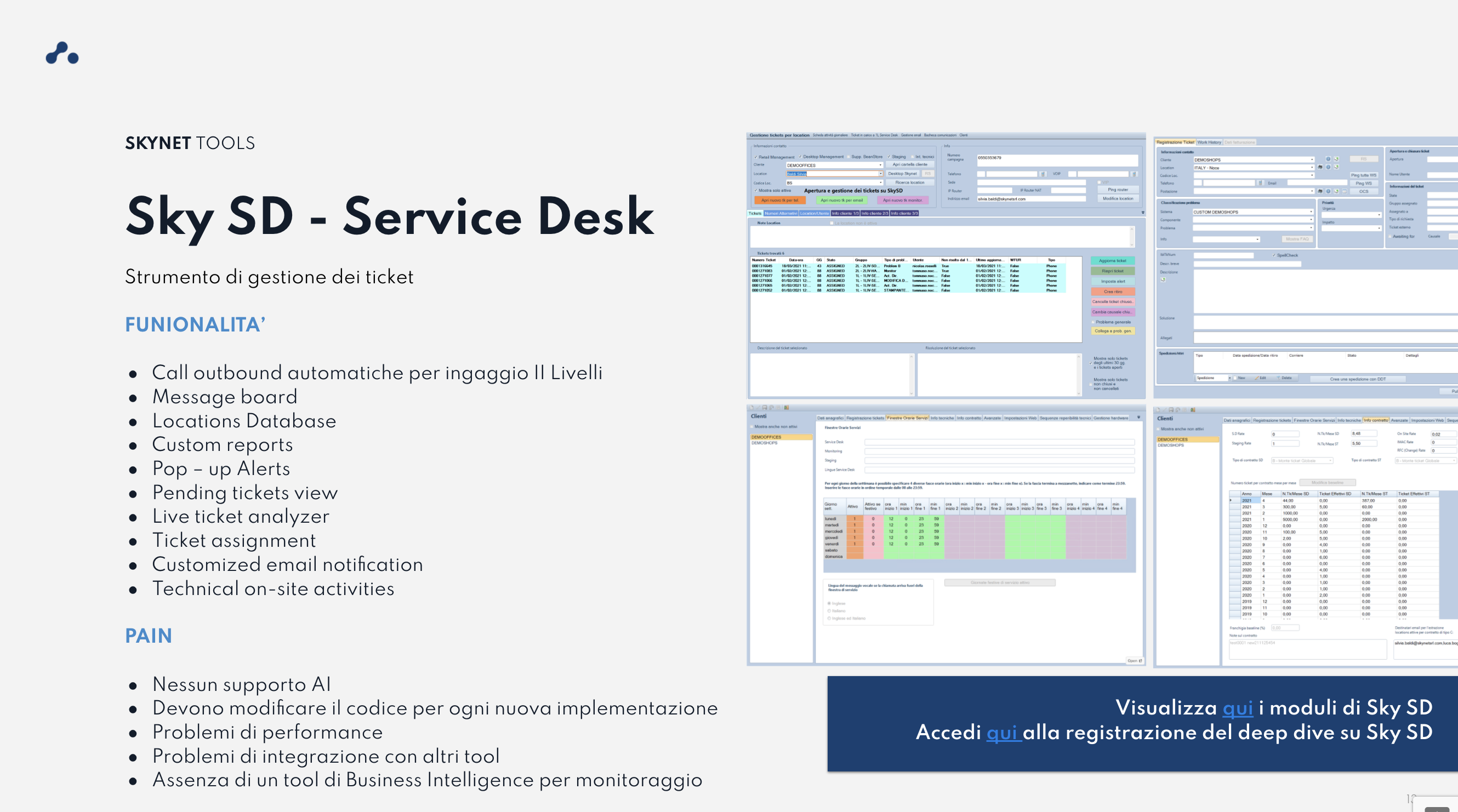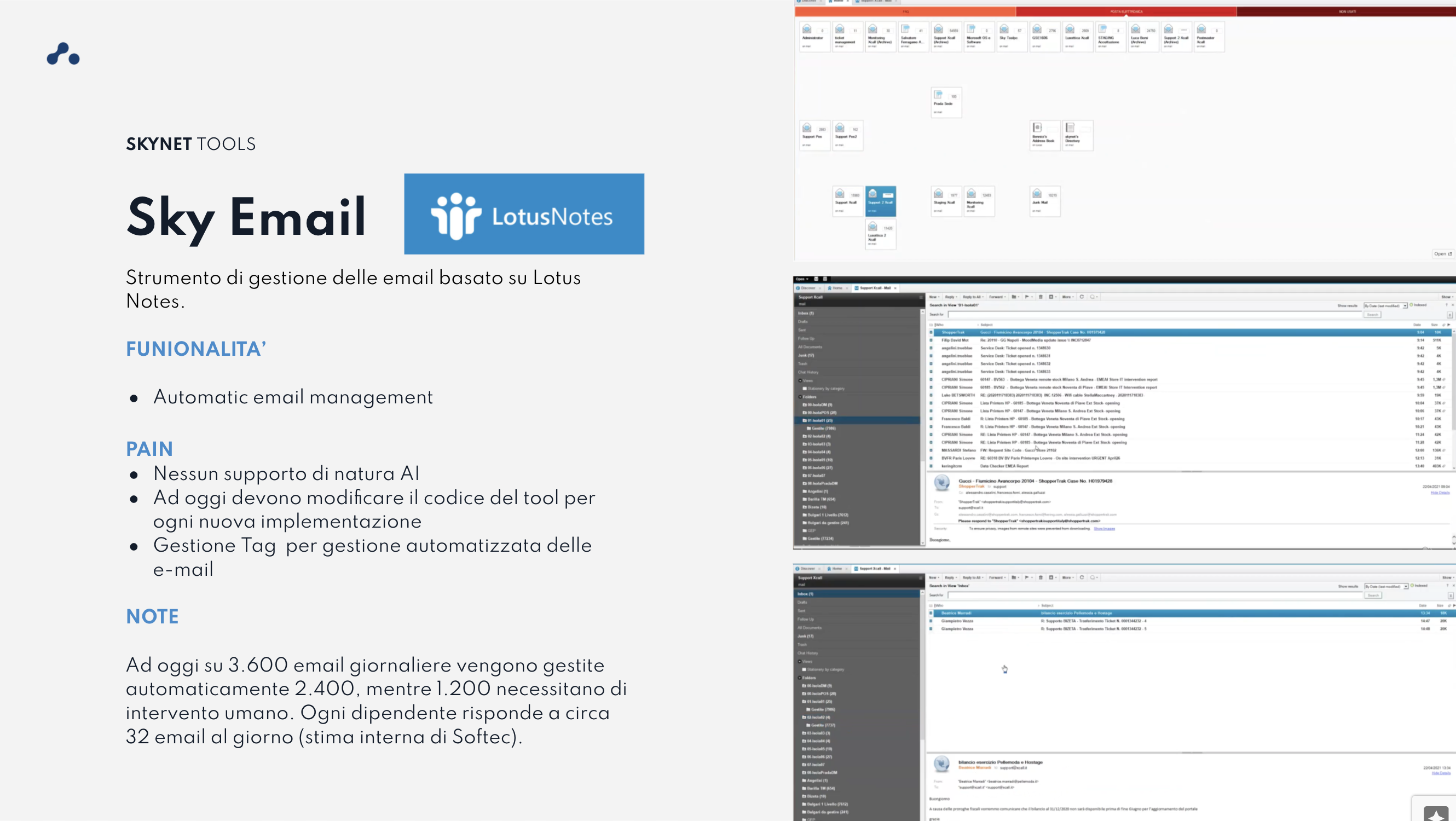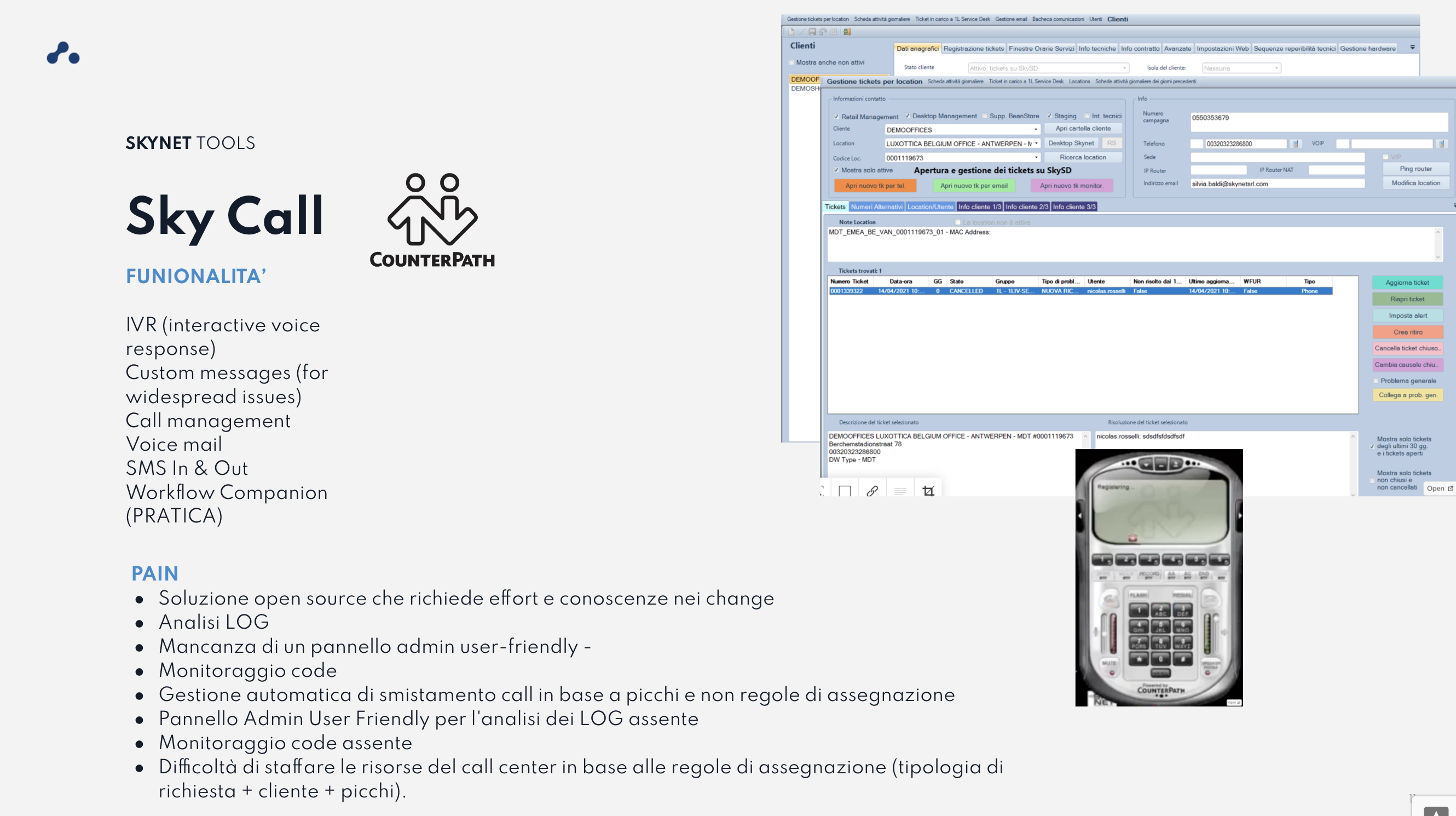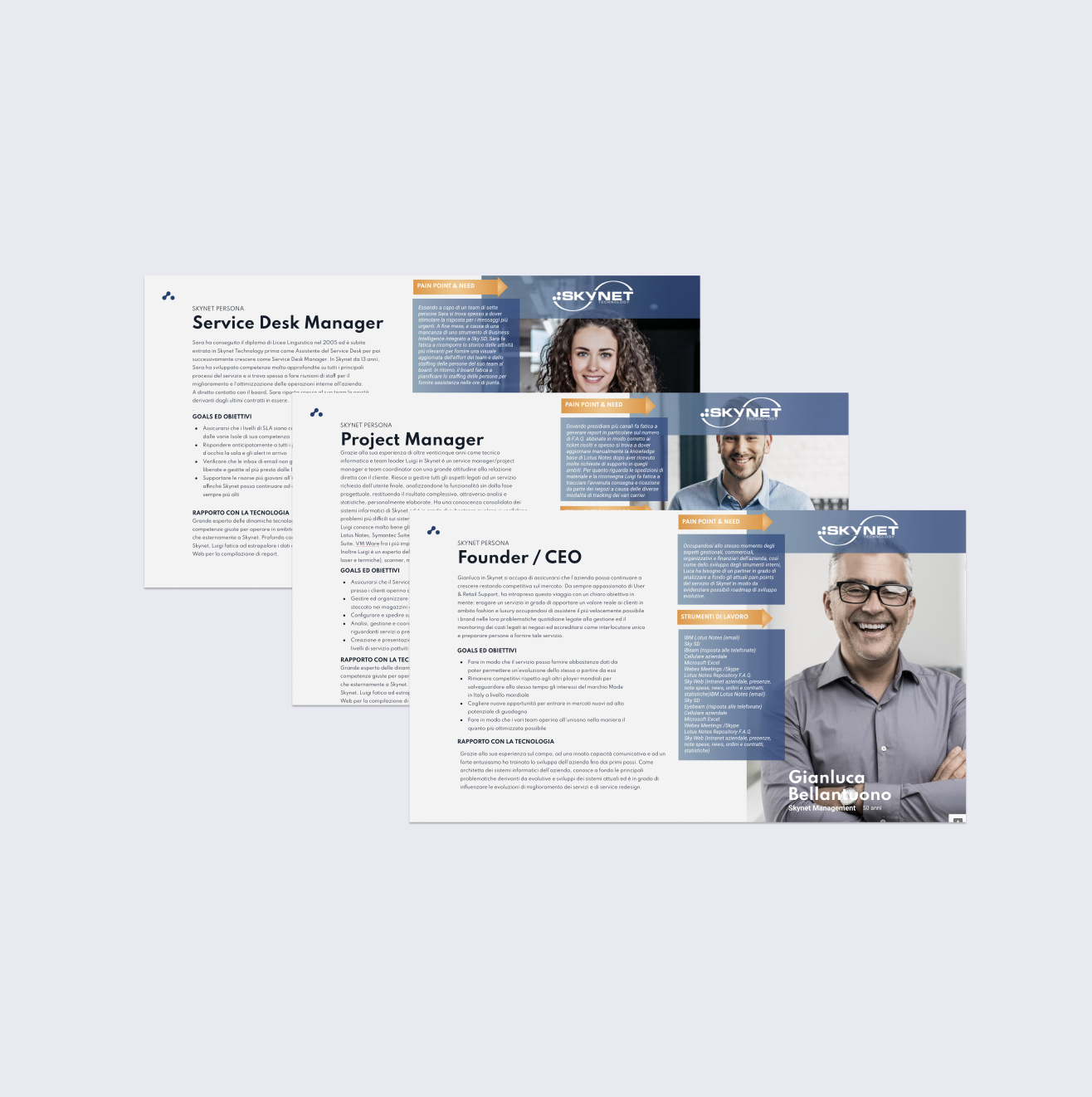 Skynet & Clients proto-personas
In order to empathize with service actors I created their fictional profile, namely "personas".
I designed them starting from a LinkedIn research focused on currently and past Skynet and Skynet clients employees. I later validated them with the project team and successfully managed to use them as reference points throughout the whole project.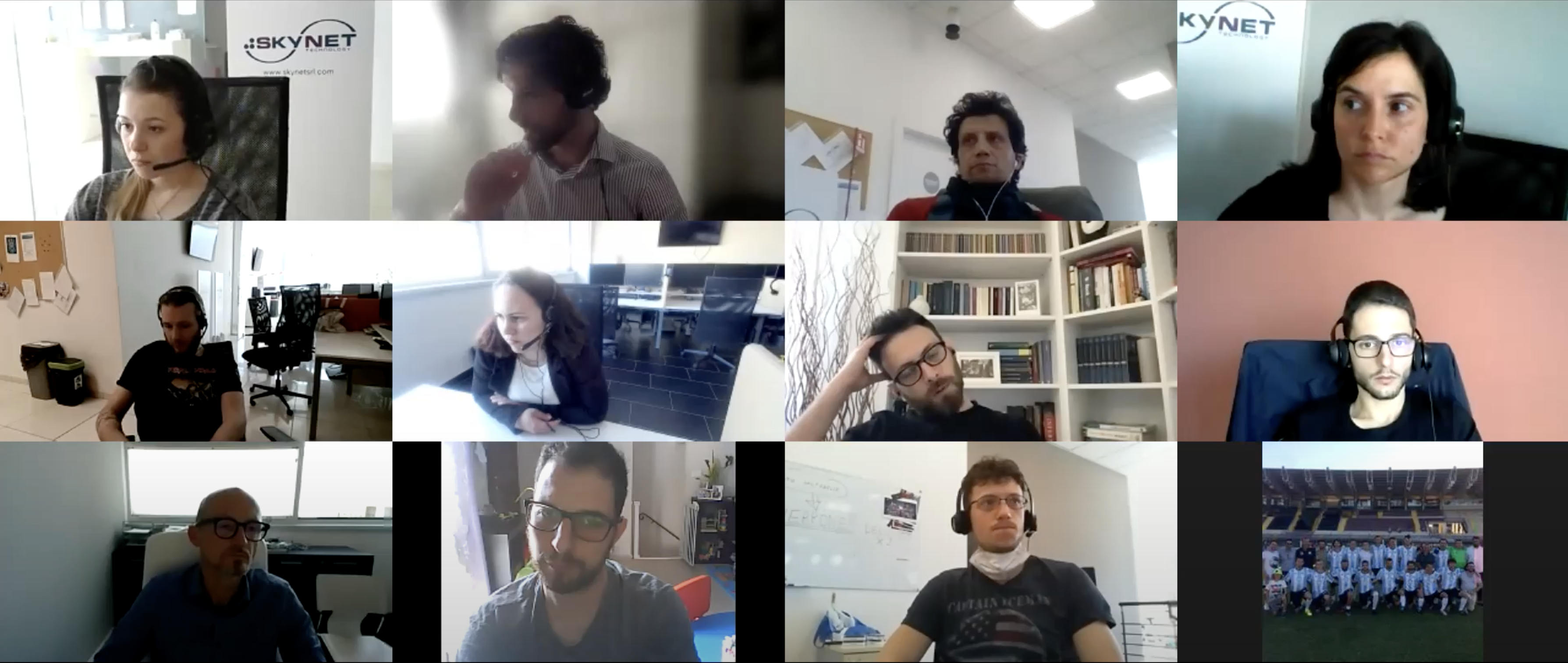 Service Desk, Staging Lab & Delivery Manager Workshops
Once an idea of major software issues was formed in my mind I went on organising a series of workshops where I invited Skynet current employees:

- Service Desk employees
- Service Desk Managers
- Project Managers One-to-one stakeholder interviews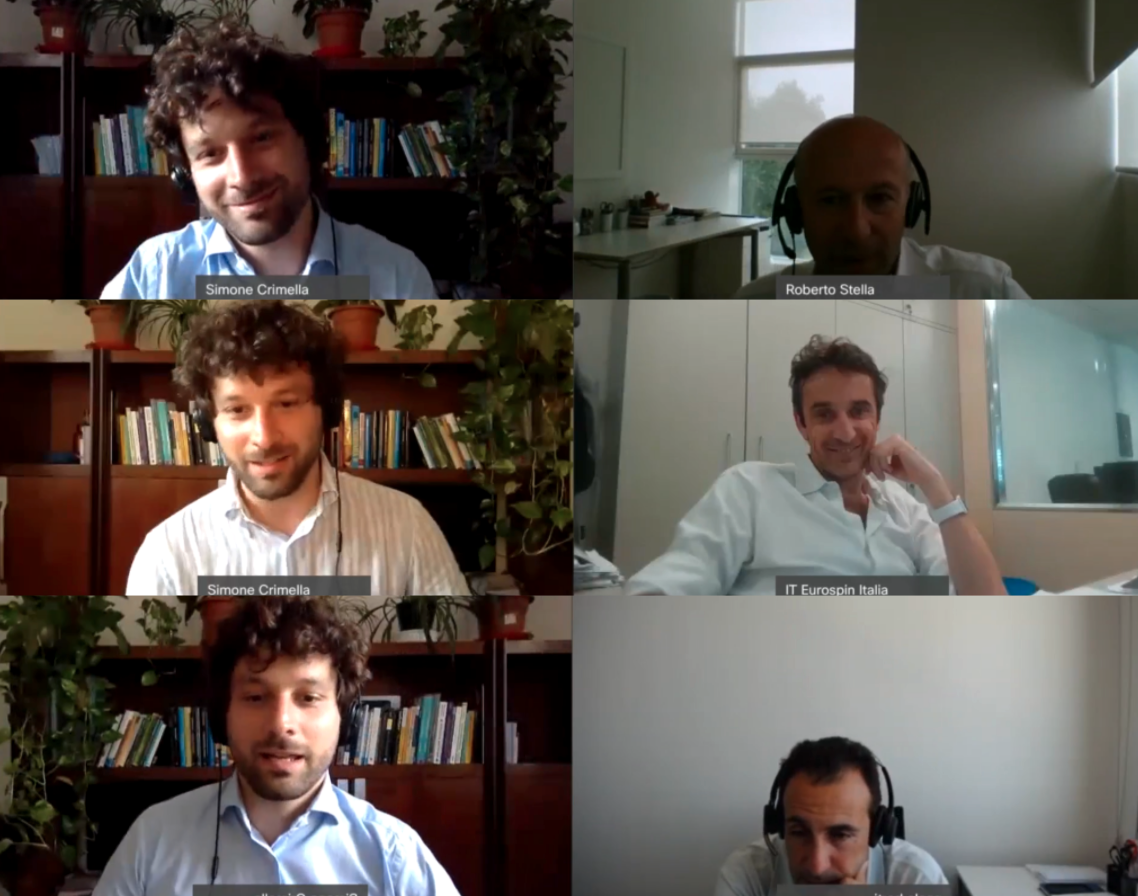 Chief Information Officers Interviews
Interviewing CIO's was particularly interesting considering the current technological arena created by the global pandemic.
CIO's major interest with respect to Skynet services were:
Minimization of the impact of hardware / software blocking on the provision of the service with an impact on the Customer Experience and on the revenue of the store

Real-time detection of outages on VPN and connectivity through automated alerts

Proactively assist operators in solving critical situations on the various software rooms (e.g. cash register lock, scales) to ensure continuity of sales

Disengage store staff from first level support in which 75% of tickets are concentrated on average through remote support of Skynet staff

Improvement of the use of F.A.Q. by the cashier staff through an intelligent self-ticketing portal

Viewing reports through B.I. dashboard supported by Artificial Intelligence

Focus the internal teams more on a more qualitative management of 2nd level tickets improving the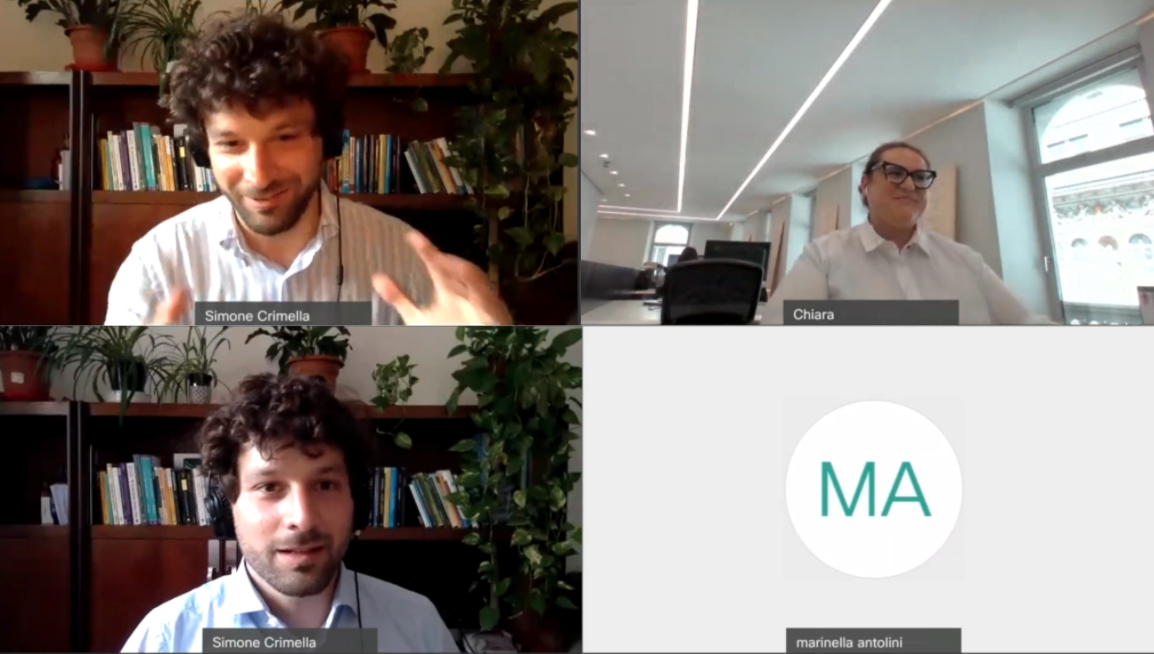 Service Manager Interviews
Service Manager were mostly interested in understanding how to proactively collaborate with Skynet IT department in order to provide all the necessary knowledge base and measure store performance around the world.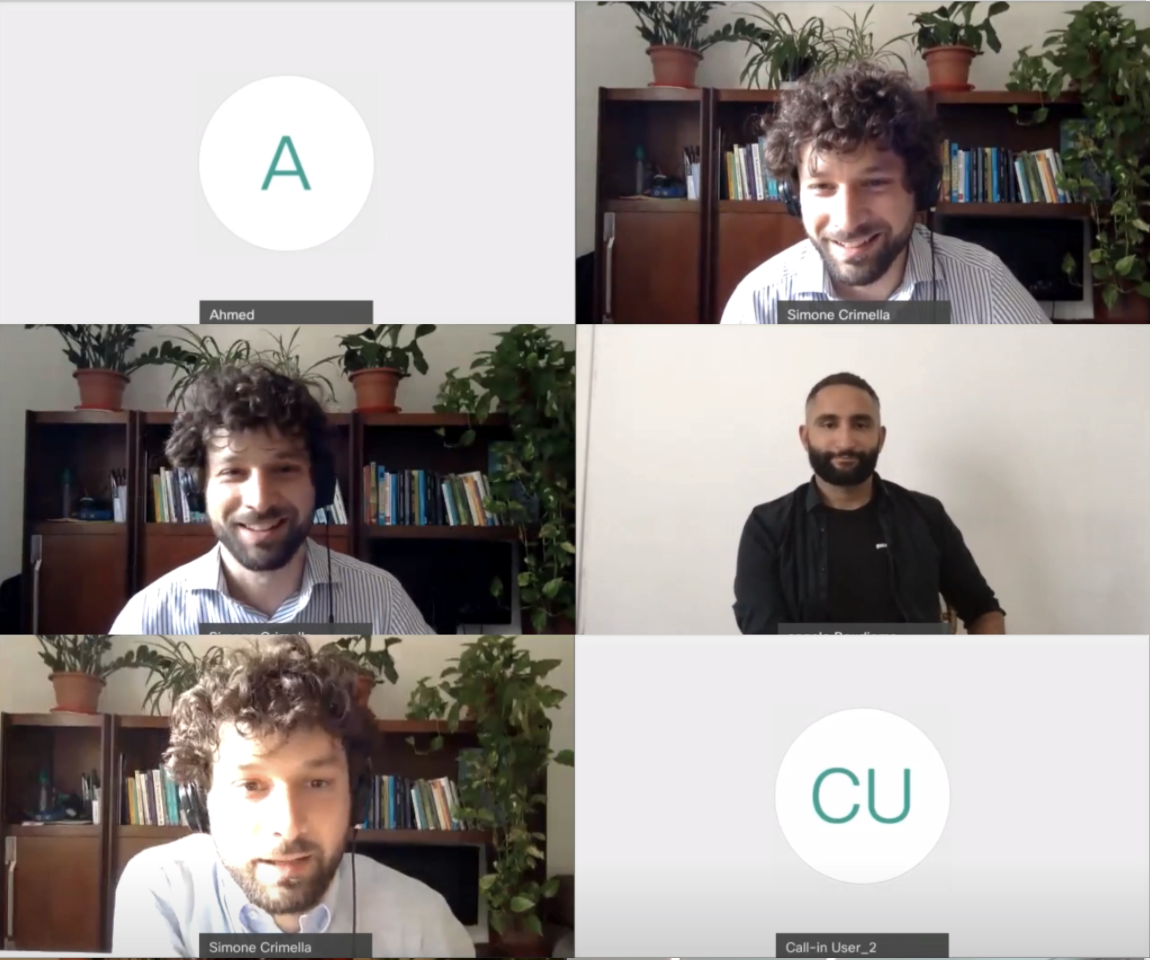 Store Manager Interviews
Store managers in major stores around the world (London, Paris) were mostly interested in finding ways to solve problems easily.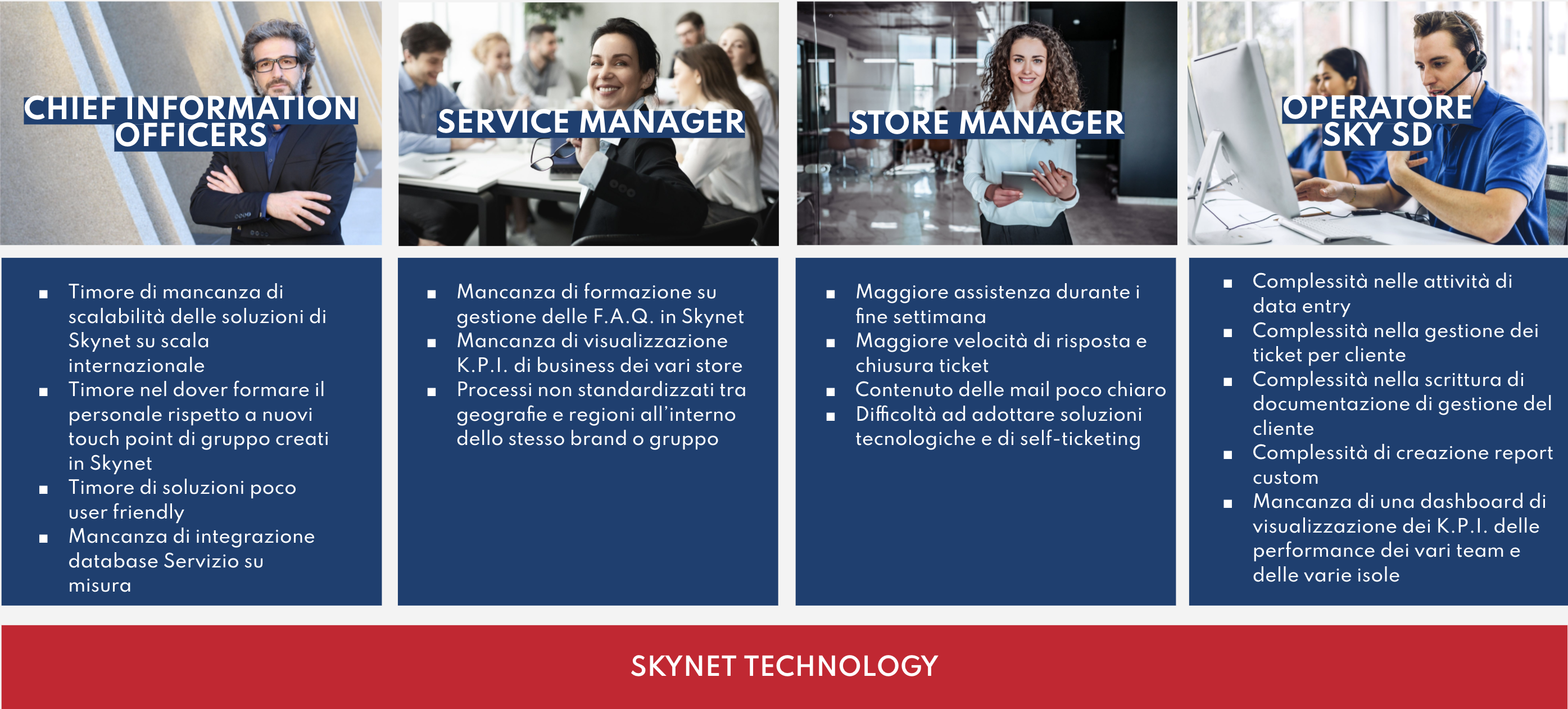 Recurring Pain Points
A set of recurring pain points emerged from my research. Each stakeholder provided their insights on how to let Skynet serve their interests in a better and more efficient way. This matrix was the base upon which I started elaborating evolution scanari and roadmaps.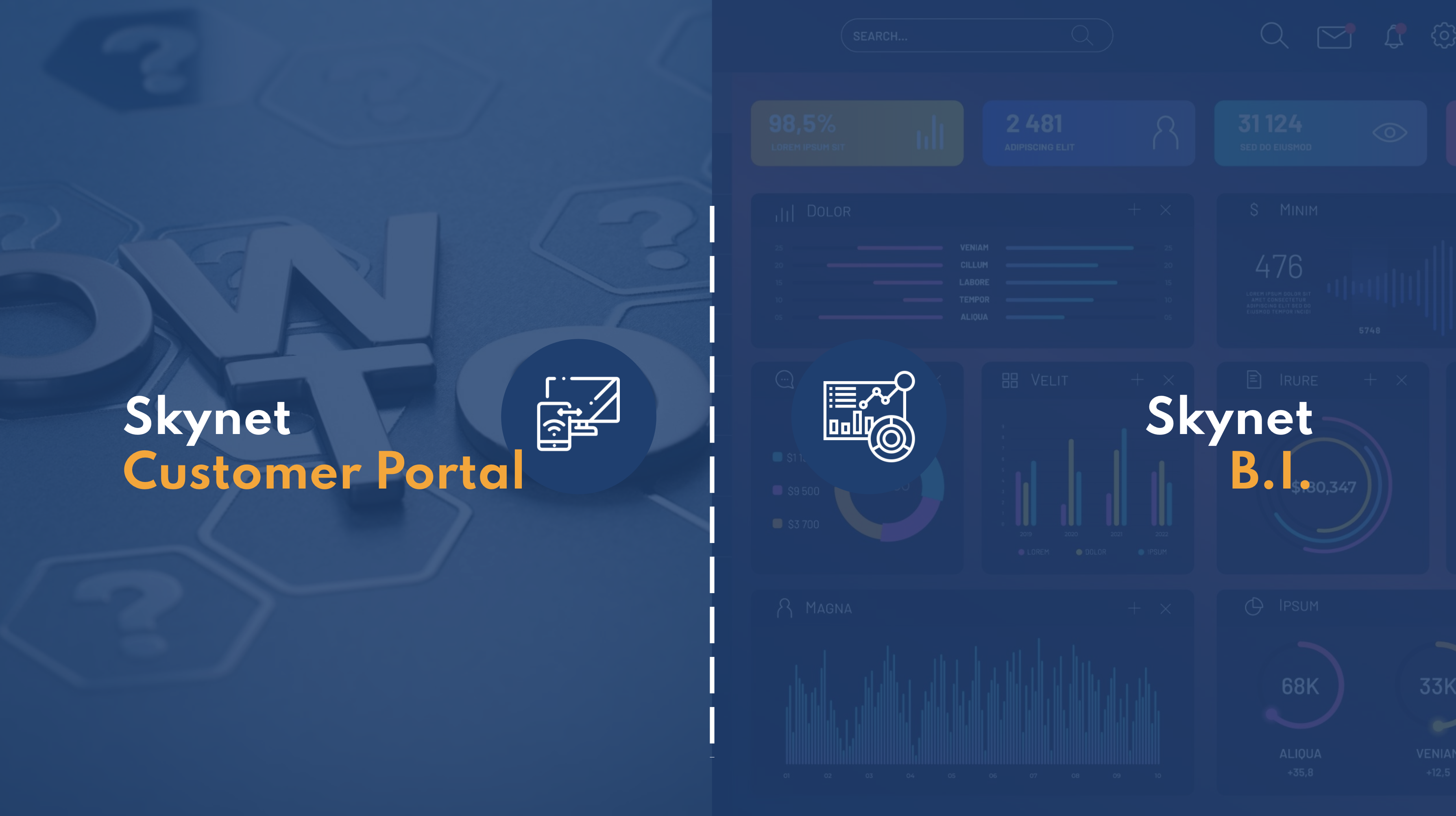 Proposal
Skynet has a consolidated omnichannel digital ecosystem that makes it a leader in Retail & Fashion Luxury support in Italy and in the world.
To limit the impact on company operations, Softec suggests as a first evolutionary phase the introduction of two new digital tools: a Customer Portal capable of making customers increasingly autonomous, and a Business Intelligence tool capable of offering both end customers who give Skynet itself a complete view of their data and advanced analysis possibilities that effectively support them in business decisions.
Furthermore, it will be possible to evaluate the enrichment of these solutions with further functionalities through the creation of an evolutionary roadmap that accompanies Skynet in its growth path.