Simone Crimella
Product Service System Designer
An Insurtech App
Design Thinking for an Insurance Company
The project
This project, commissioned by CreditRas Assicurazioni, a major Italian insurance player born by a joint venture between UniCredit and Allianz, was aimed at bringing a culture of design and innovation to the company managers and a modular insurance app design that would meet their clients latest expectations.
The company didn't have an internal design team and, in order to come up with a new product (a modular app that would allow the users and clients to purchase temporary insurance packages) it asked Accenture to be guided trough the design processes.

I joined the project as user interface consultant. My role, however, turned out to be much closer to a design thinking facilitator rather than my usual user experience/user interface designer.
We started immediately identifying key personas. Together with the marketing department at CreditRas Assicurazioni, we created eight personas that became useful resources for the activities performed at a later stage of the process.

After a brief presentation of other products on the market and a couple of ice-braking activities we guided the teams of managers into the real aim of the design thinking exercises.

In order to understand how the customers interacted with the different product lines, we mapped the journey in a simple customer journey map, that allowed us to keep in mind the business unique service delivery way.
At this point, we started ideating some co-design activities to perform directly with the client. We organized a design thinking day and two design sprints in which we nudged the team towards the realization of app concepts and user interface prototypes.
This process lasted two weeks. During those two weeks we were able to come up with two app concepts
My contribution to the project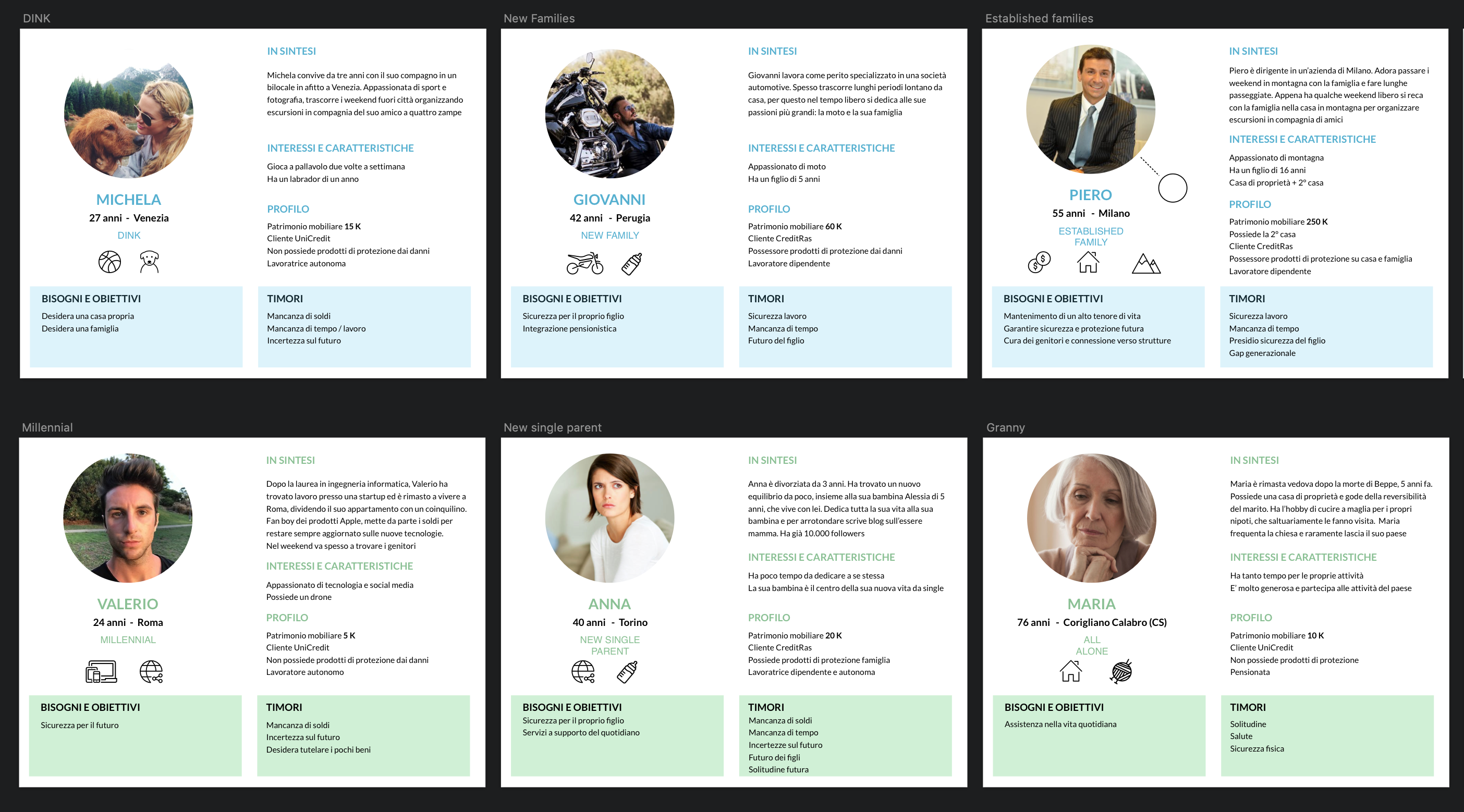 Personas
As a first step into the project we immediately started researching into different types of personas. Together with the marketing department of CreditRas we came up with eight different types of personas in order to start imagining services that would tackle the needs of different people with different lifestyles and purchase power.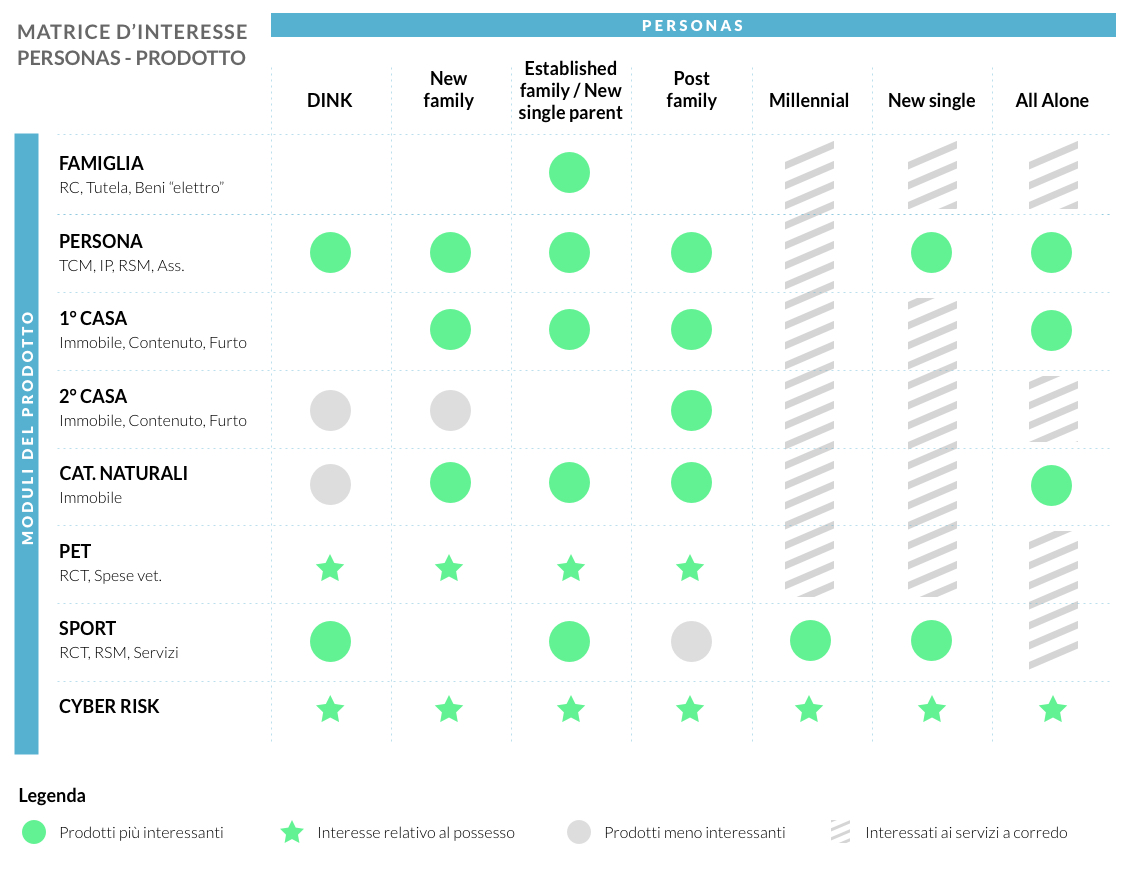 Products/Personas matrix
After having completed the analysis we cross-analyzed the personas in relation to the different products offered by CreditRas Assicurazioni. This helped us to better understand how the different products and services were delivered across the company different touch-points.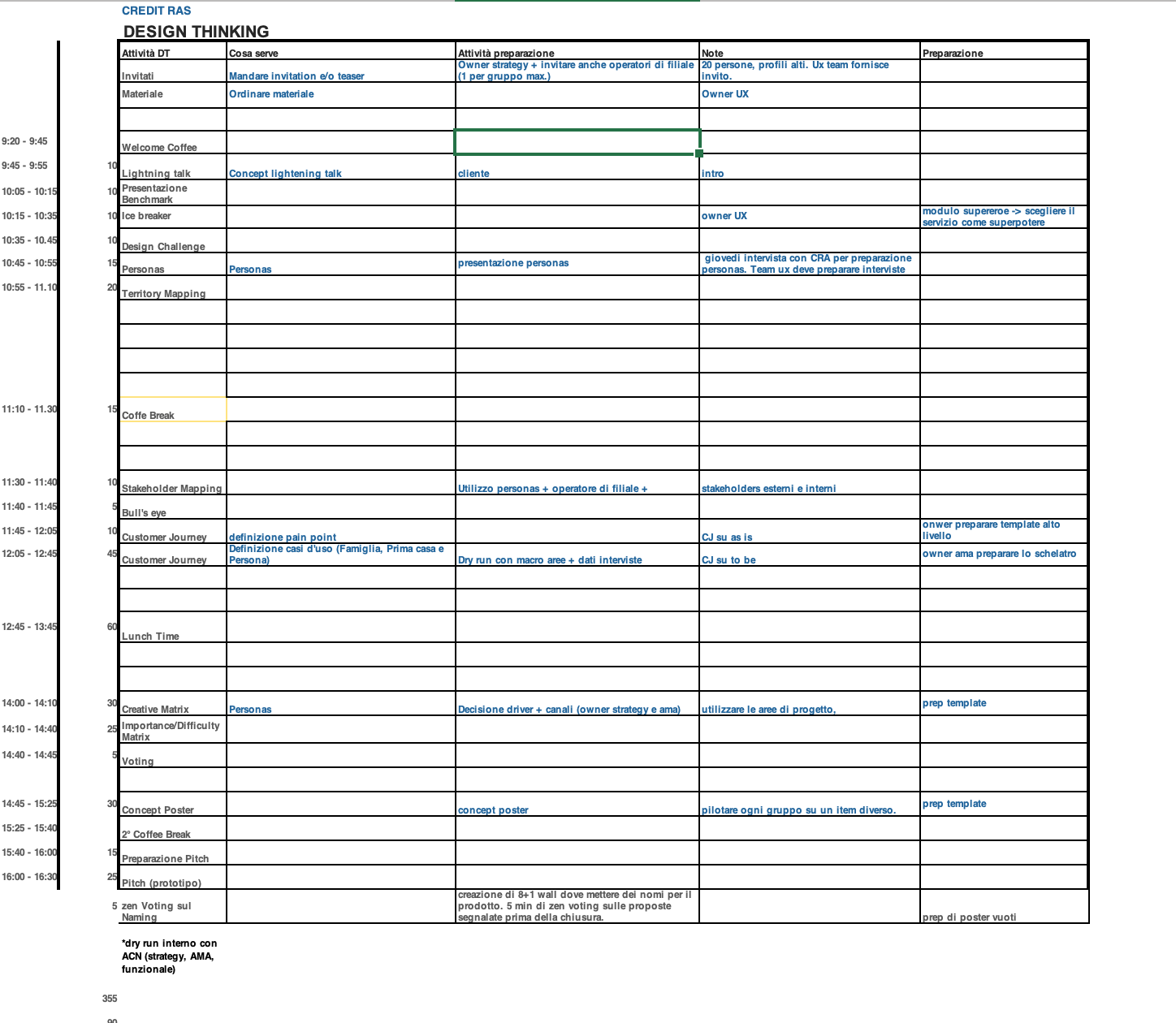 Design Thinking activities

We also sat down and started to organize the activities for the first Design Thinking Day in which we helped the company envision different types of features and services.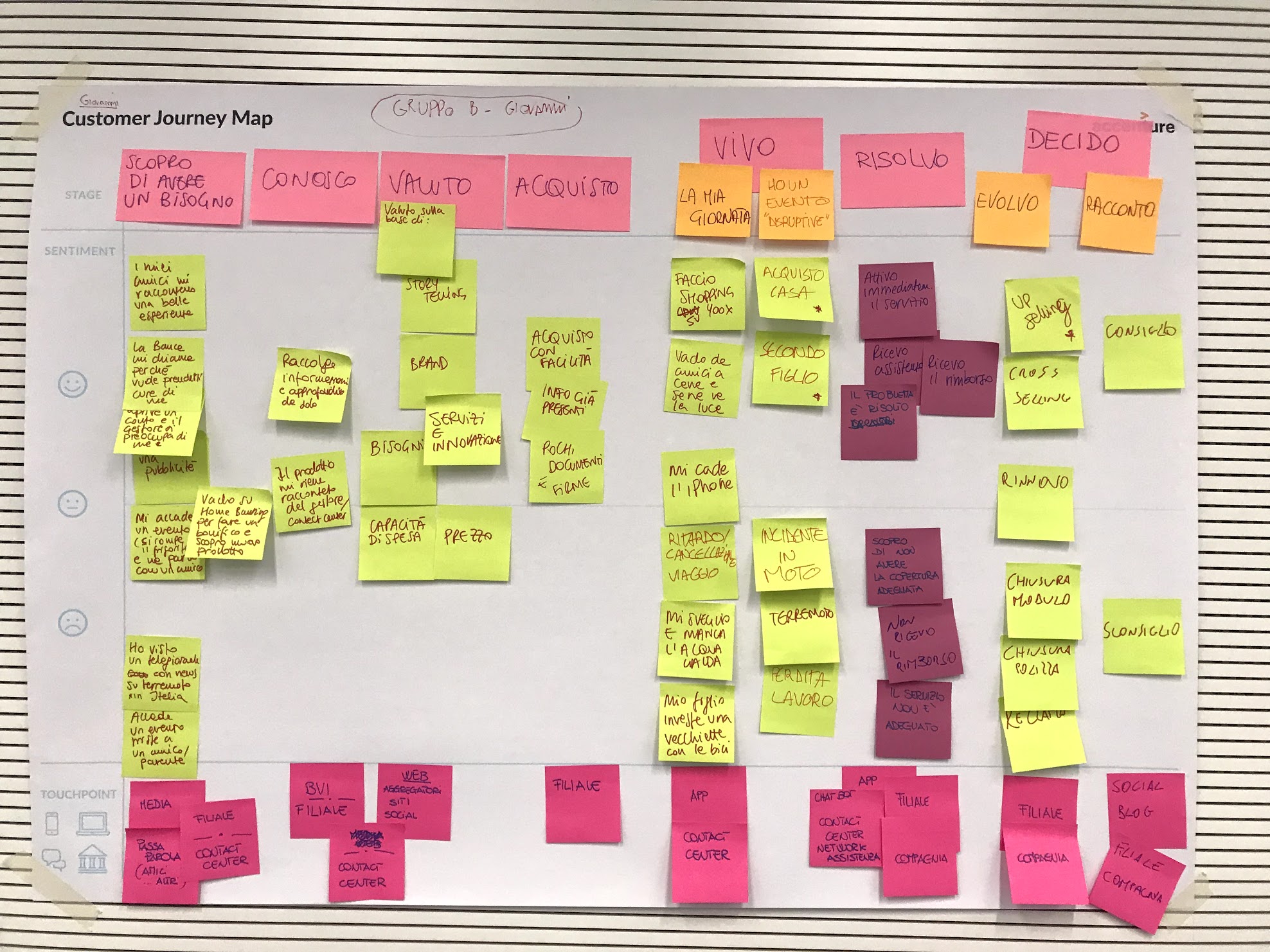 Customer Journey Map (to-be)

During the design thinking activities we ideated an imaginative customer journey for every persona.
This exercise was particularly useful since it forced the teams to imagine users's specific features to be included in the app concept posters.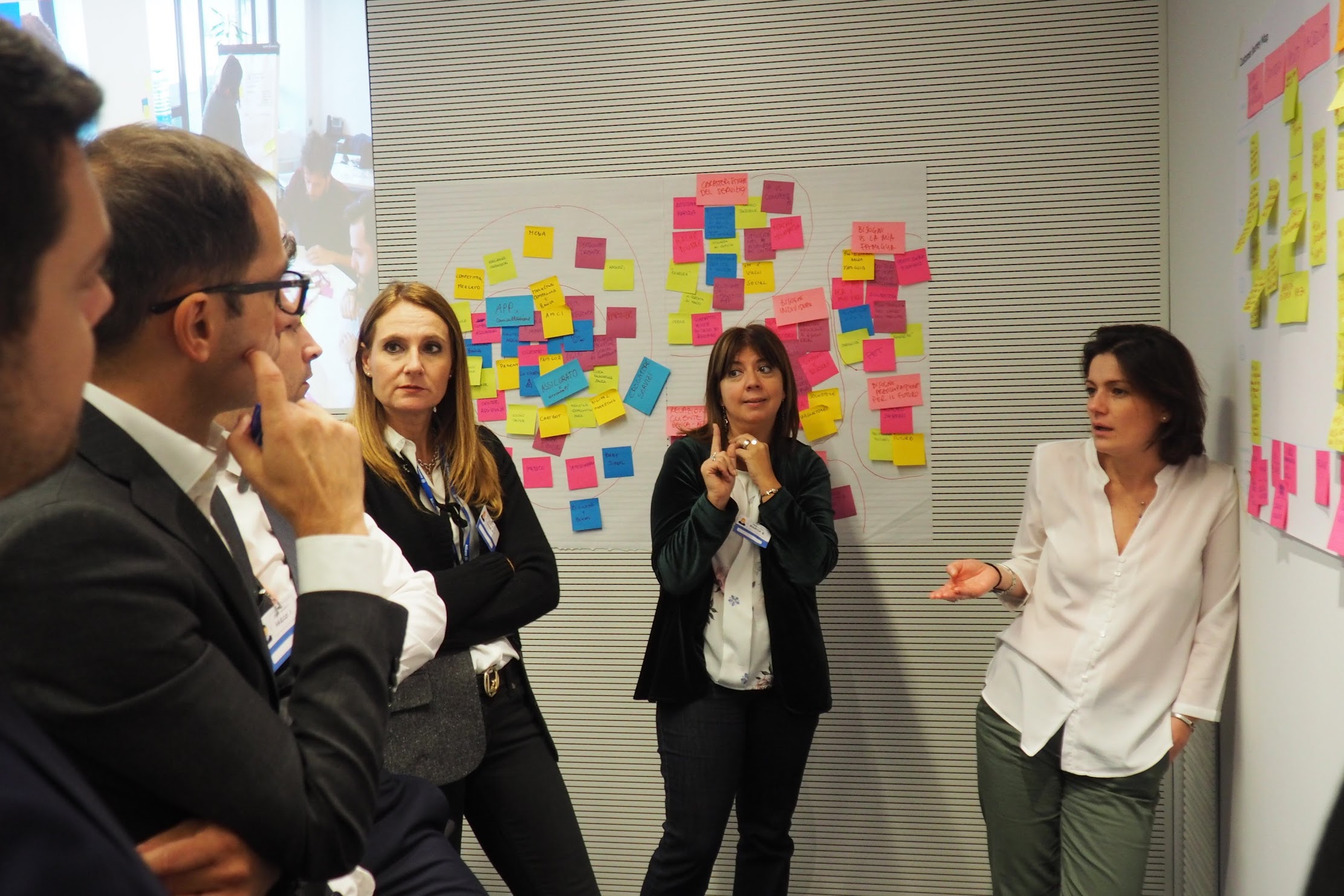 App concept development phase
After having identified the most important features for each persona we helped the teams to develop app concept posters.
This exercise was interesting since the posters contained users' unique features that addressed features related to the specific persona we assigned to the teams.

We collected and organized those results into a list of features that could be prioritized for the app design and development.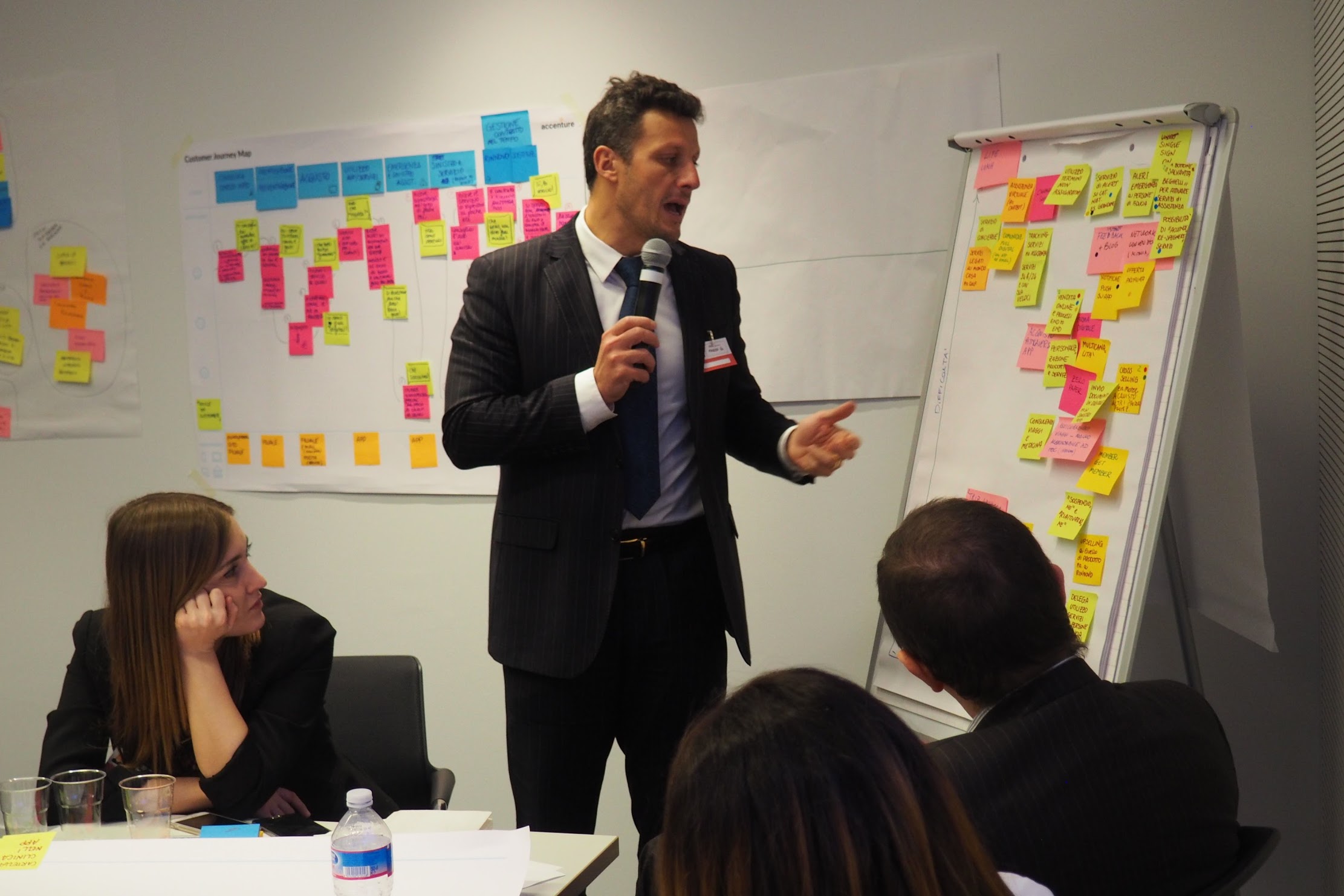 Concepts pitching
Each team then pitched the newly designed features to the other teams. It was particularly interesting to see how people coming from different departments, such as legal, finance and marketing embraced the creative power of design and came up really valuable service offerings.
Activities performed during the Design Thing Day
We followed this plan in order to come up with app concepts that would bring real value to Credit Ras clients:

- Lightning talk
- Project onboarding presentation
- Competitors benchmark
- Ice breaker
- Design challenge
- Personas
- Territory mapping
- Stakeholder mapping
- Bull's eye
- Customer journey (to-be)
- Creative matrix
- Importance/Difficulty matrix
- Voting
- Concept poster
- Concept poster pitch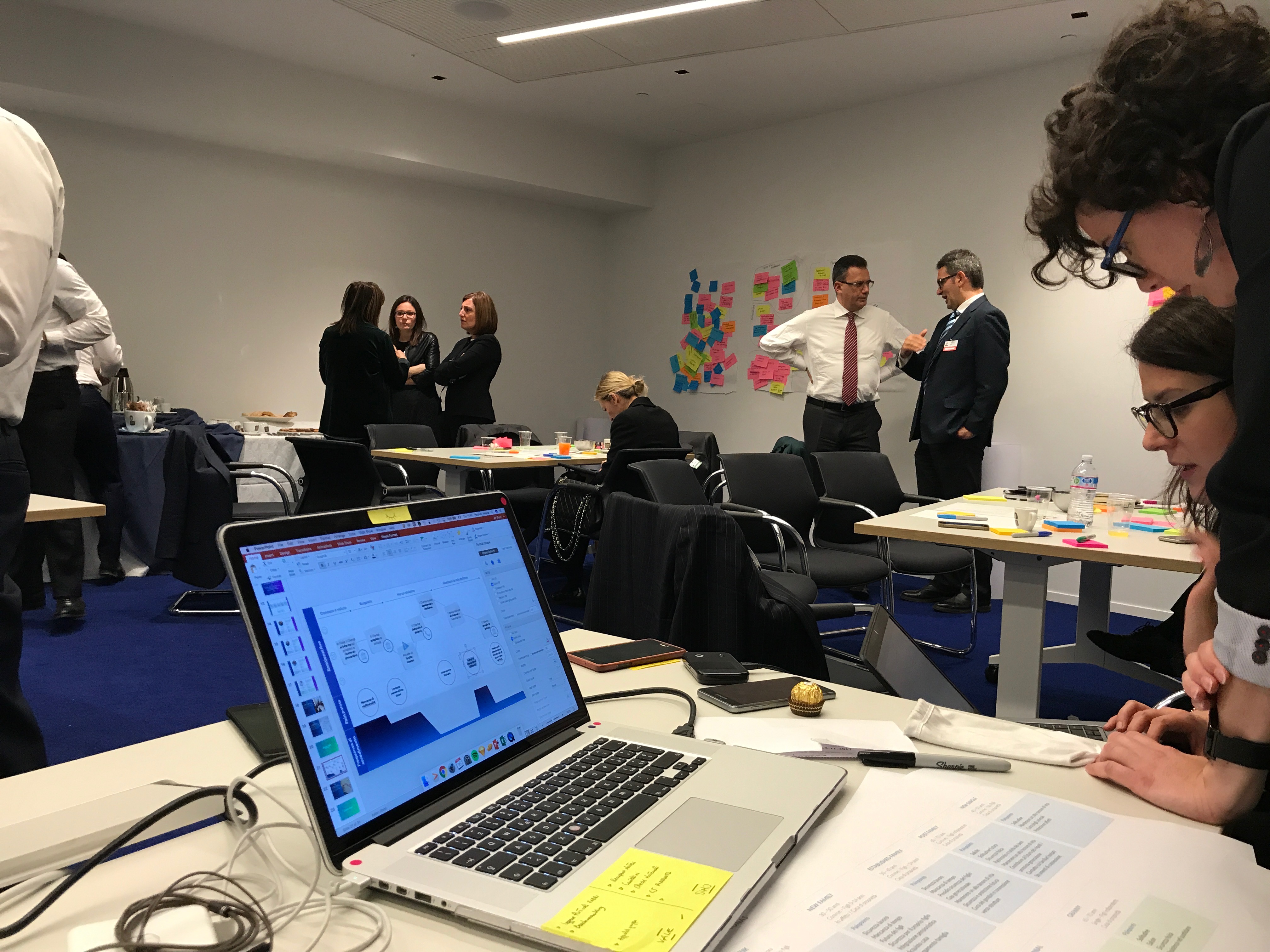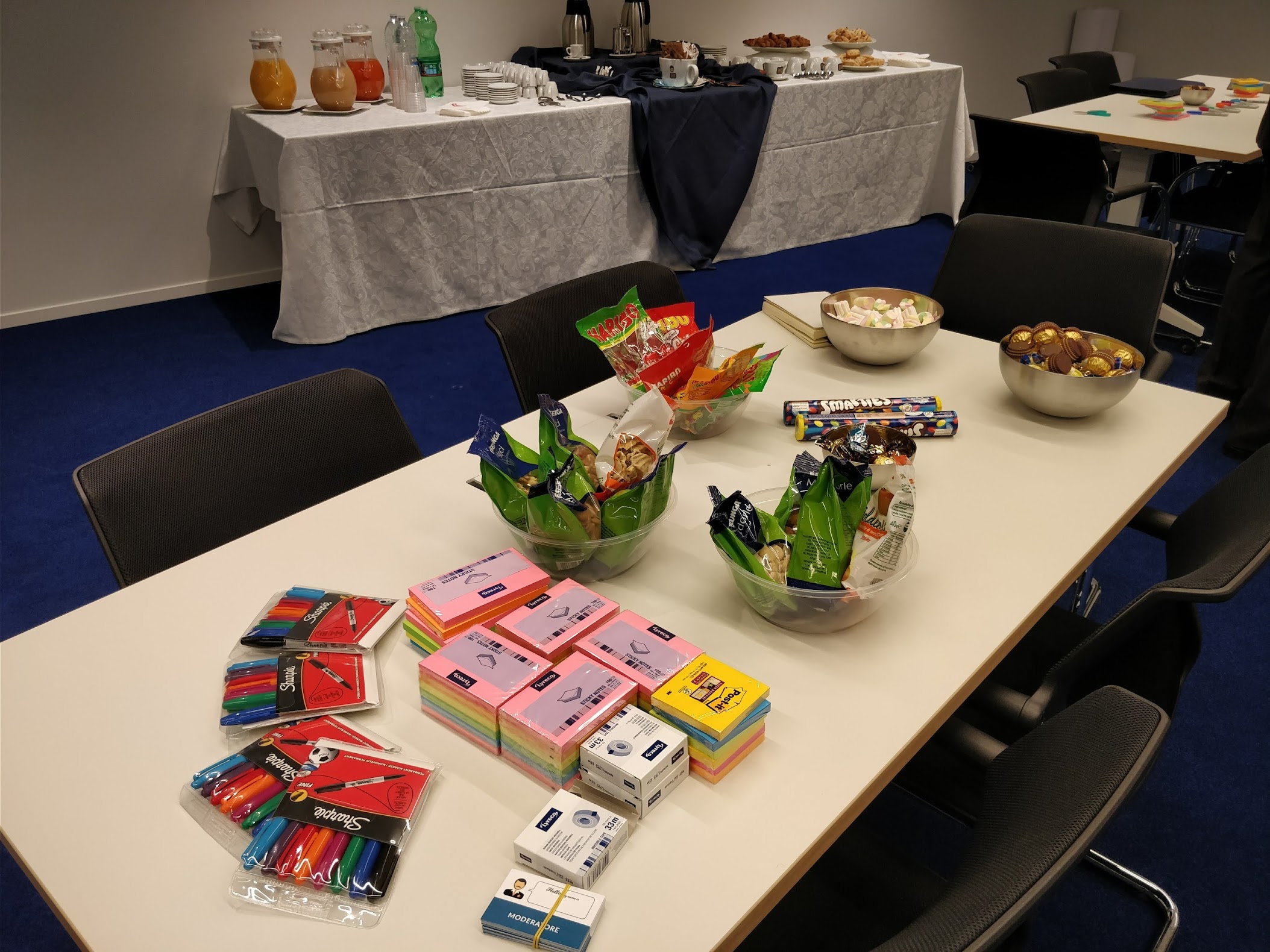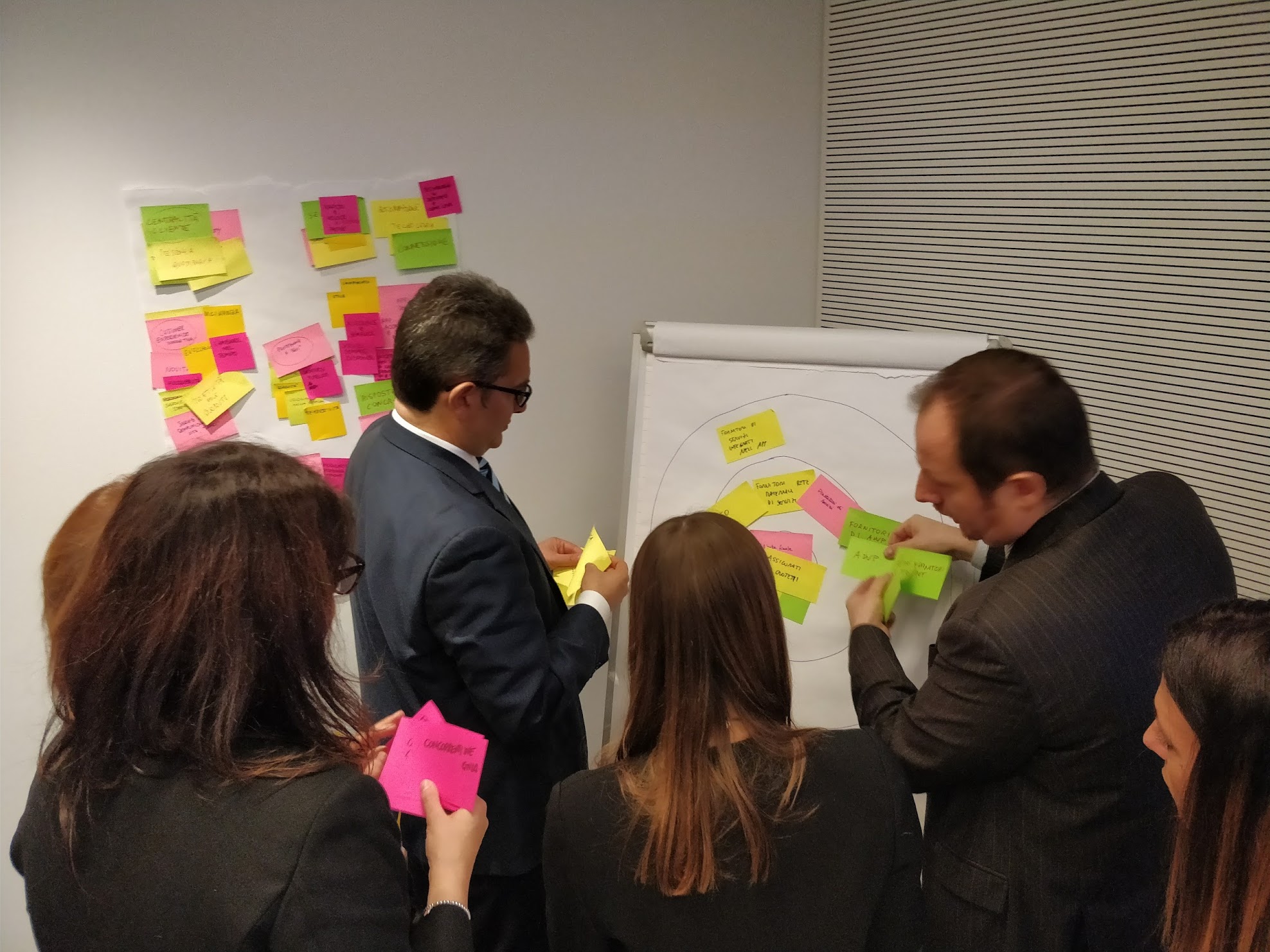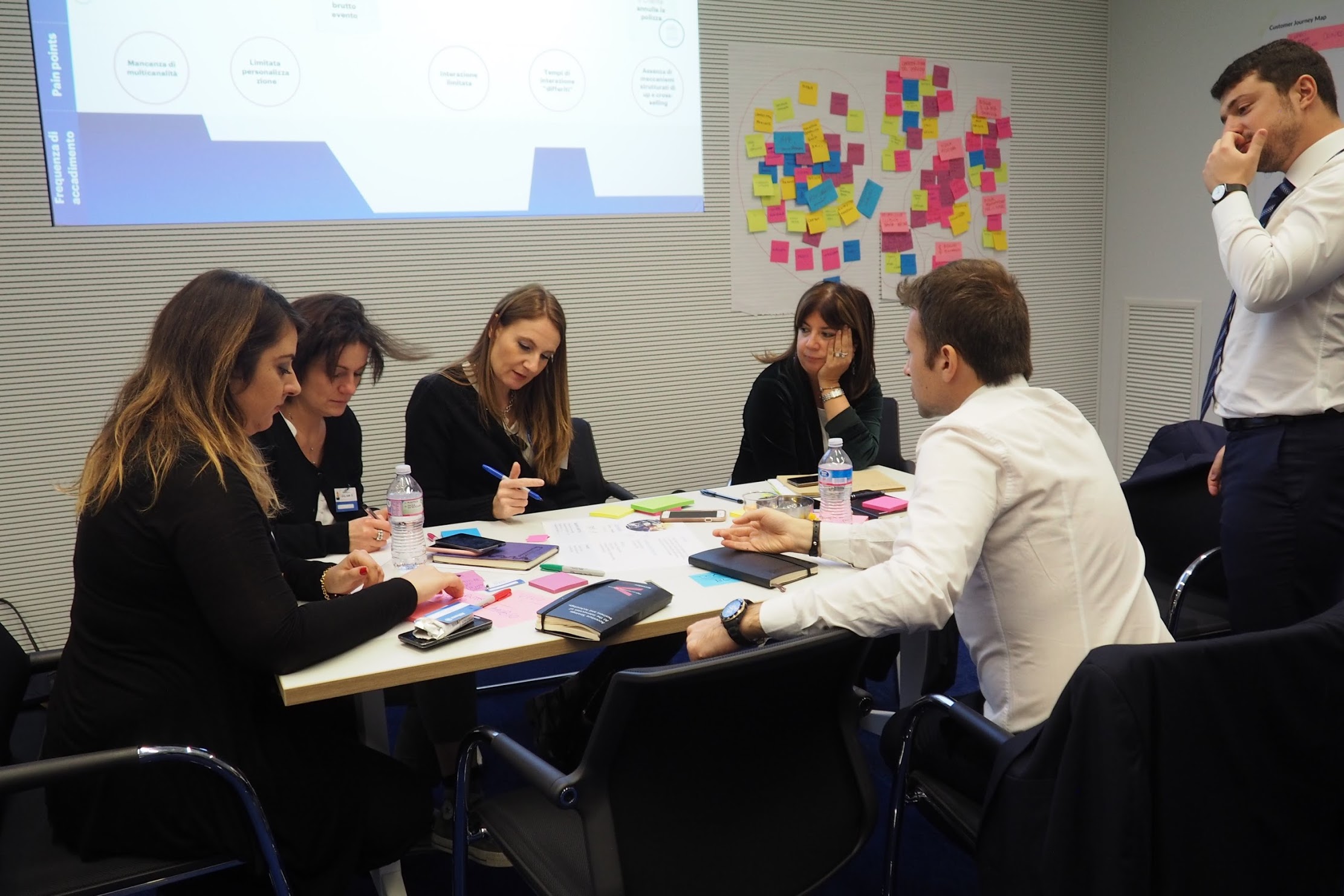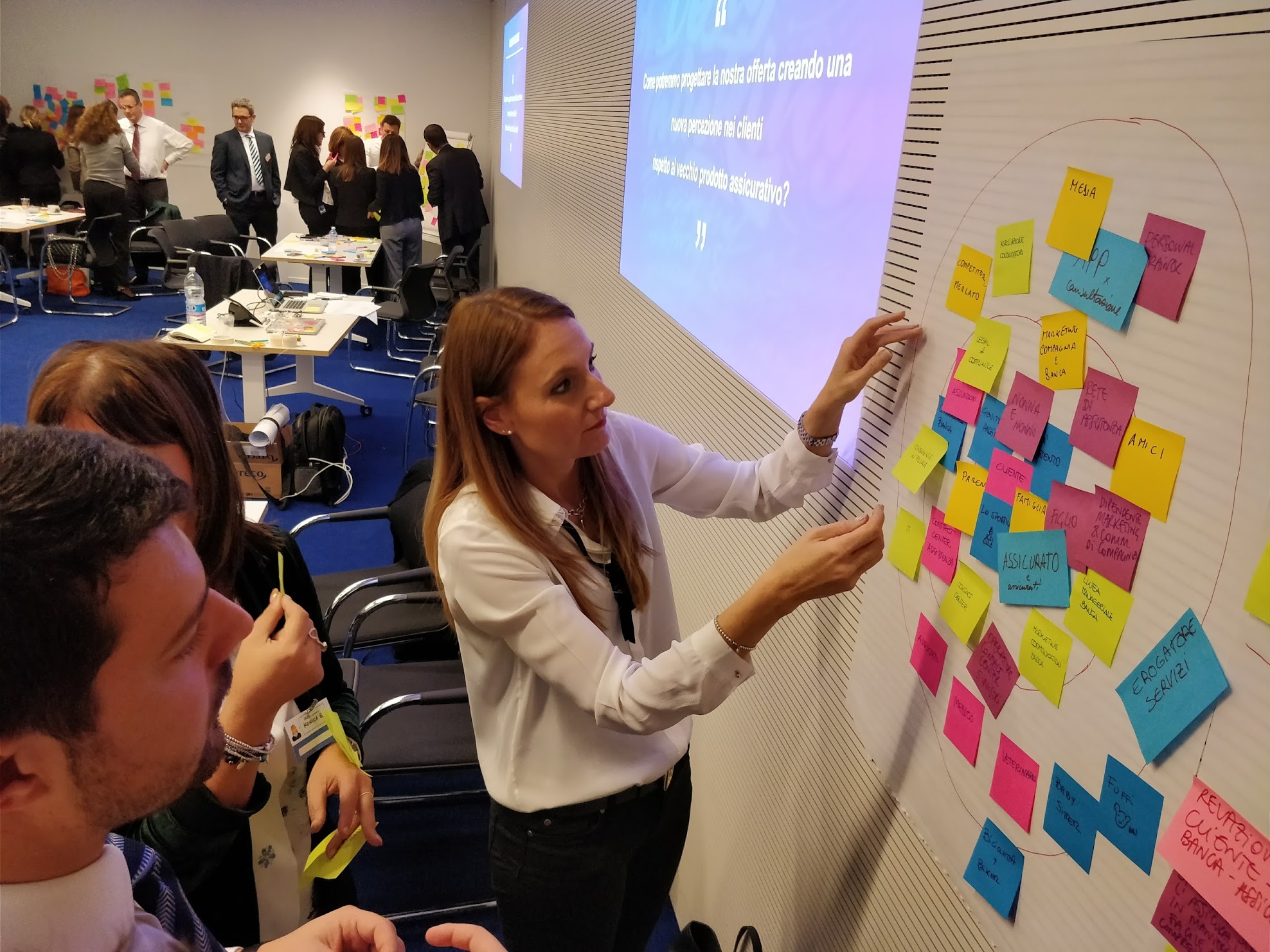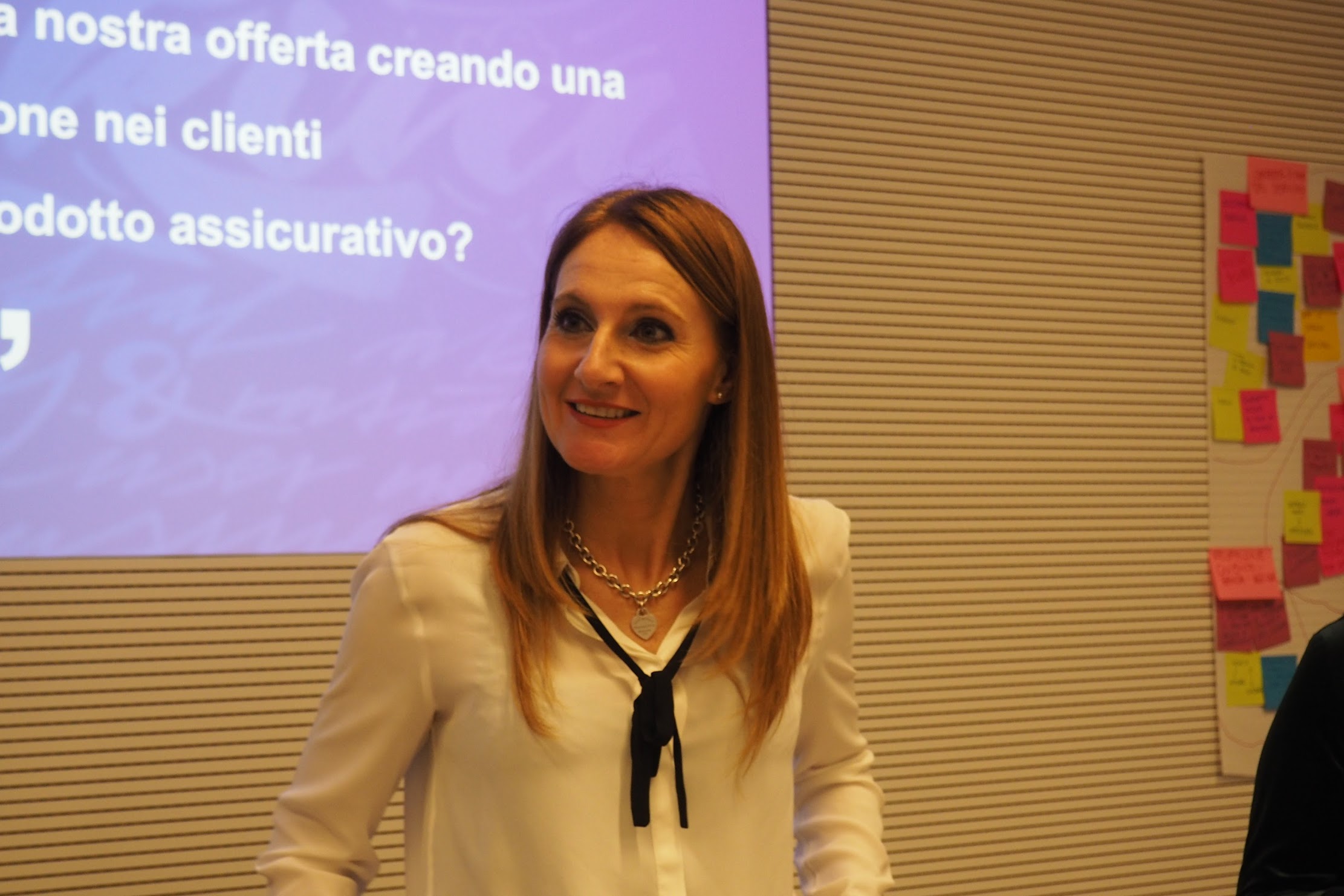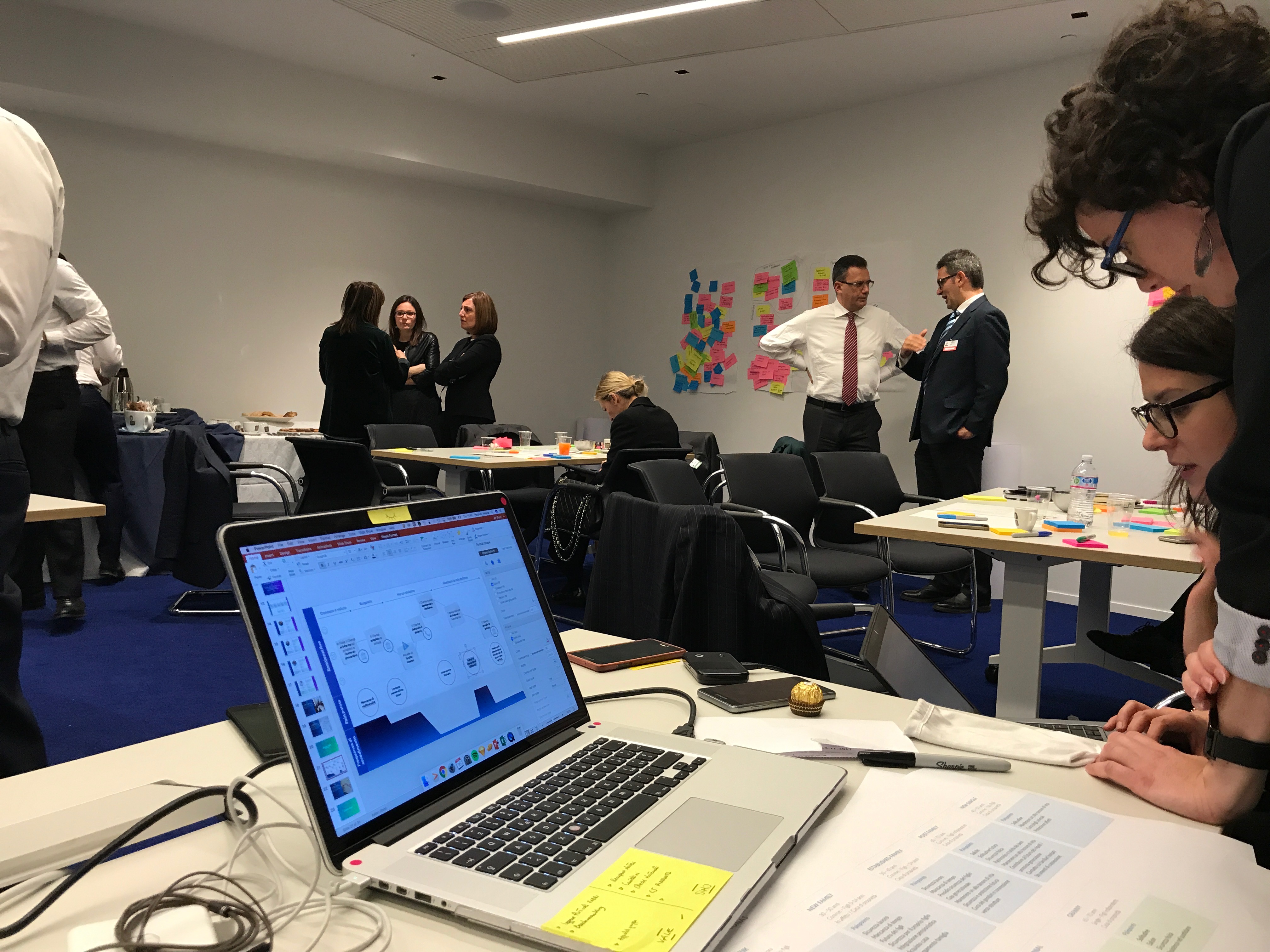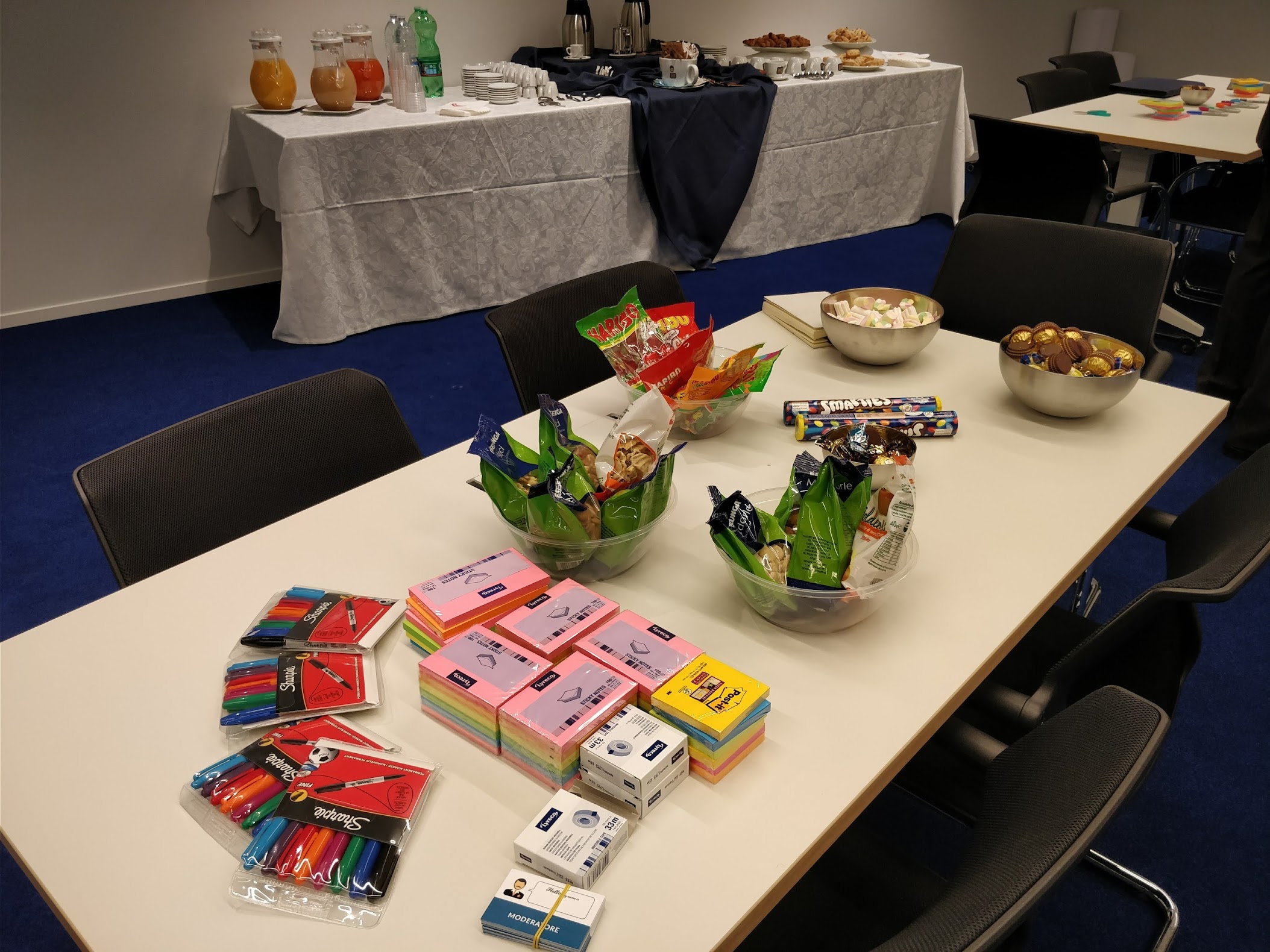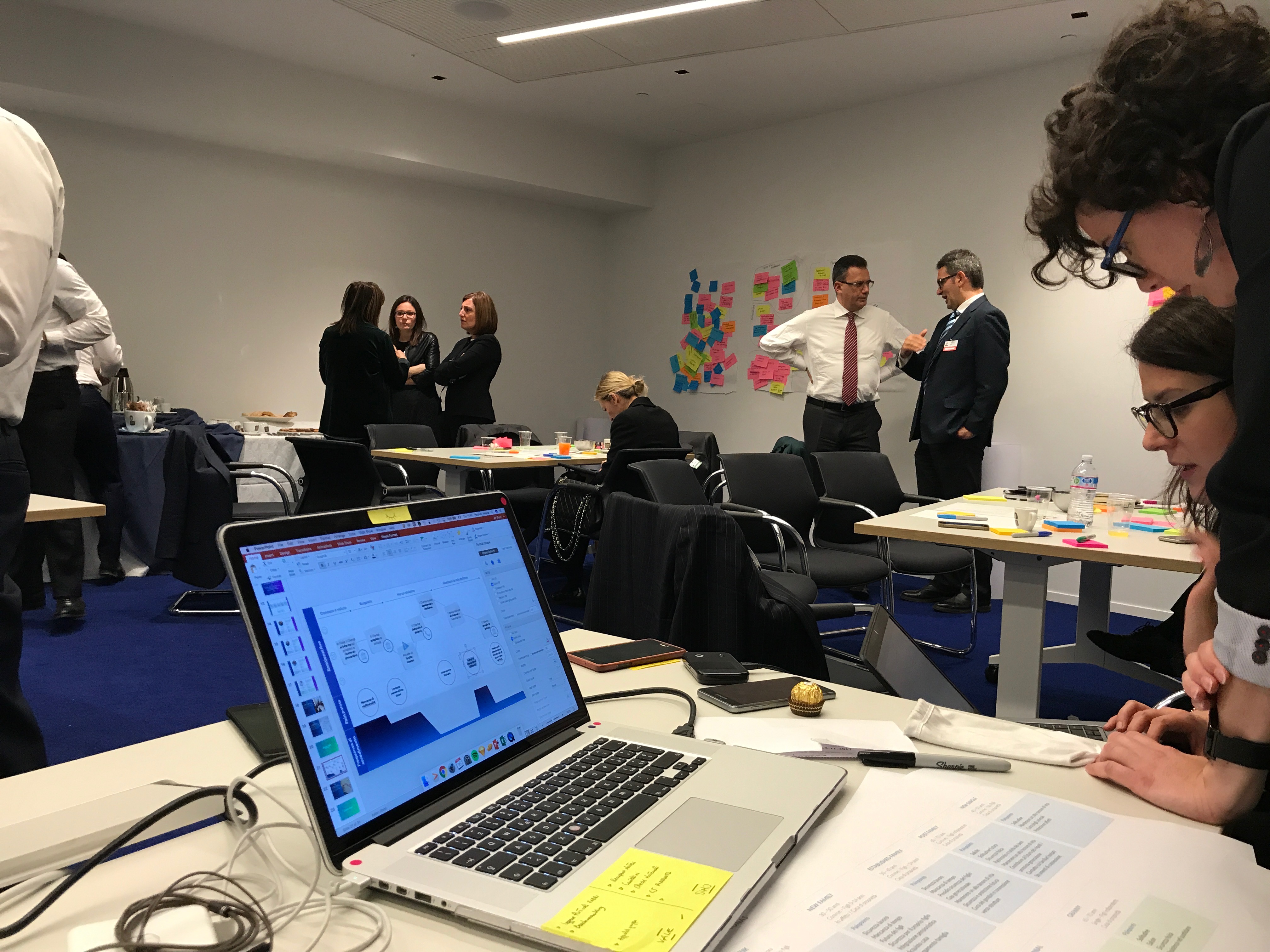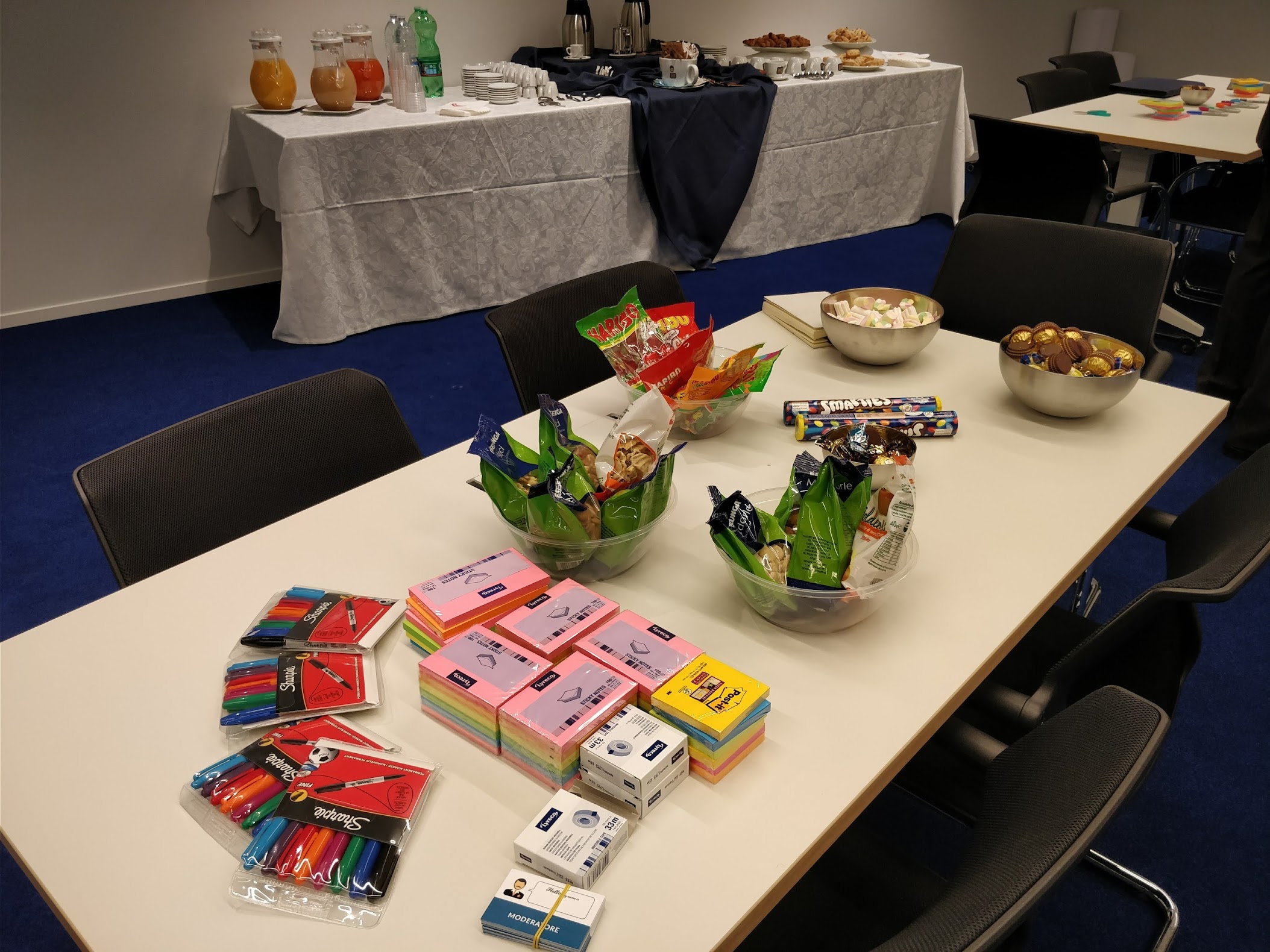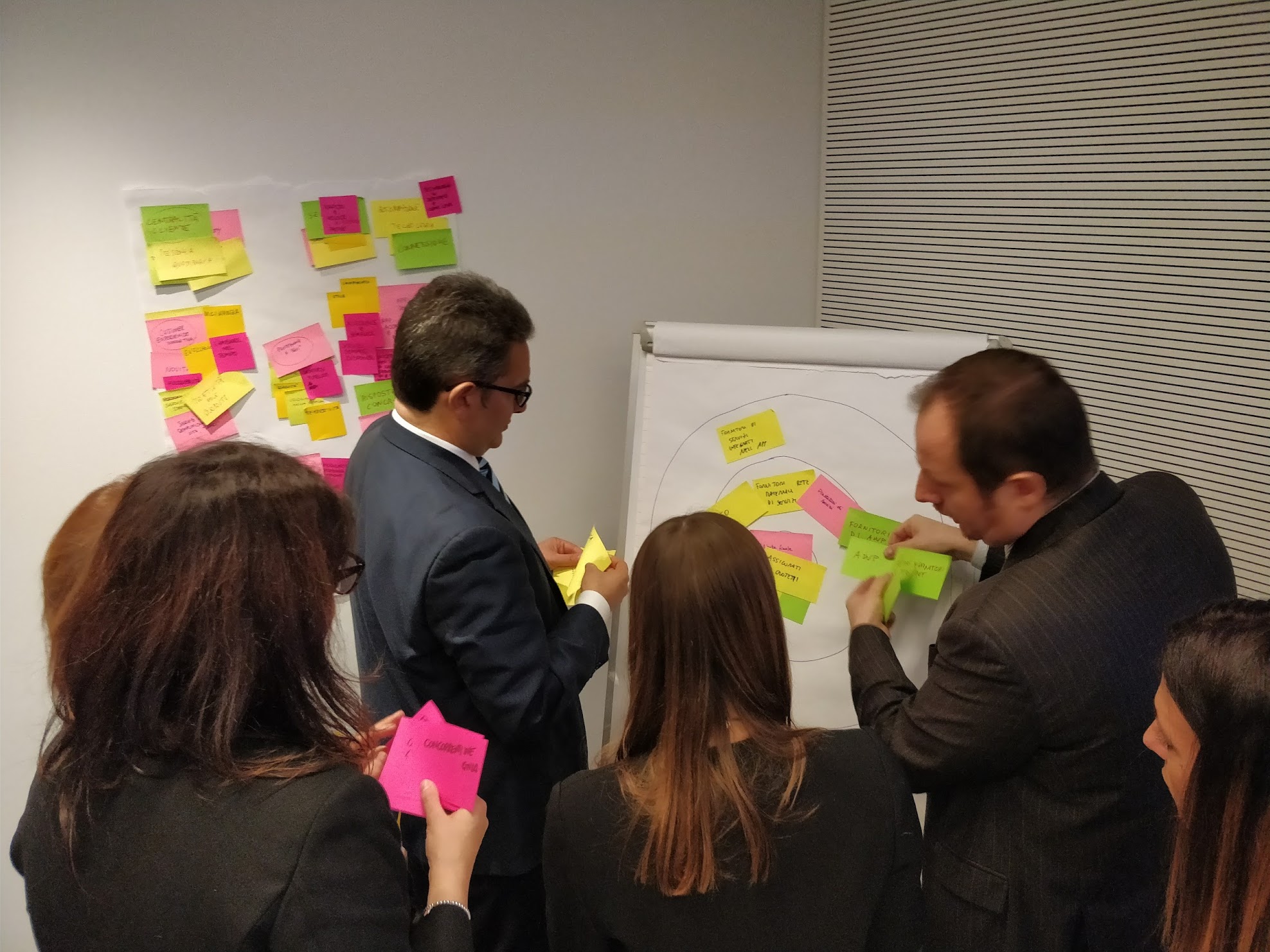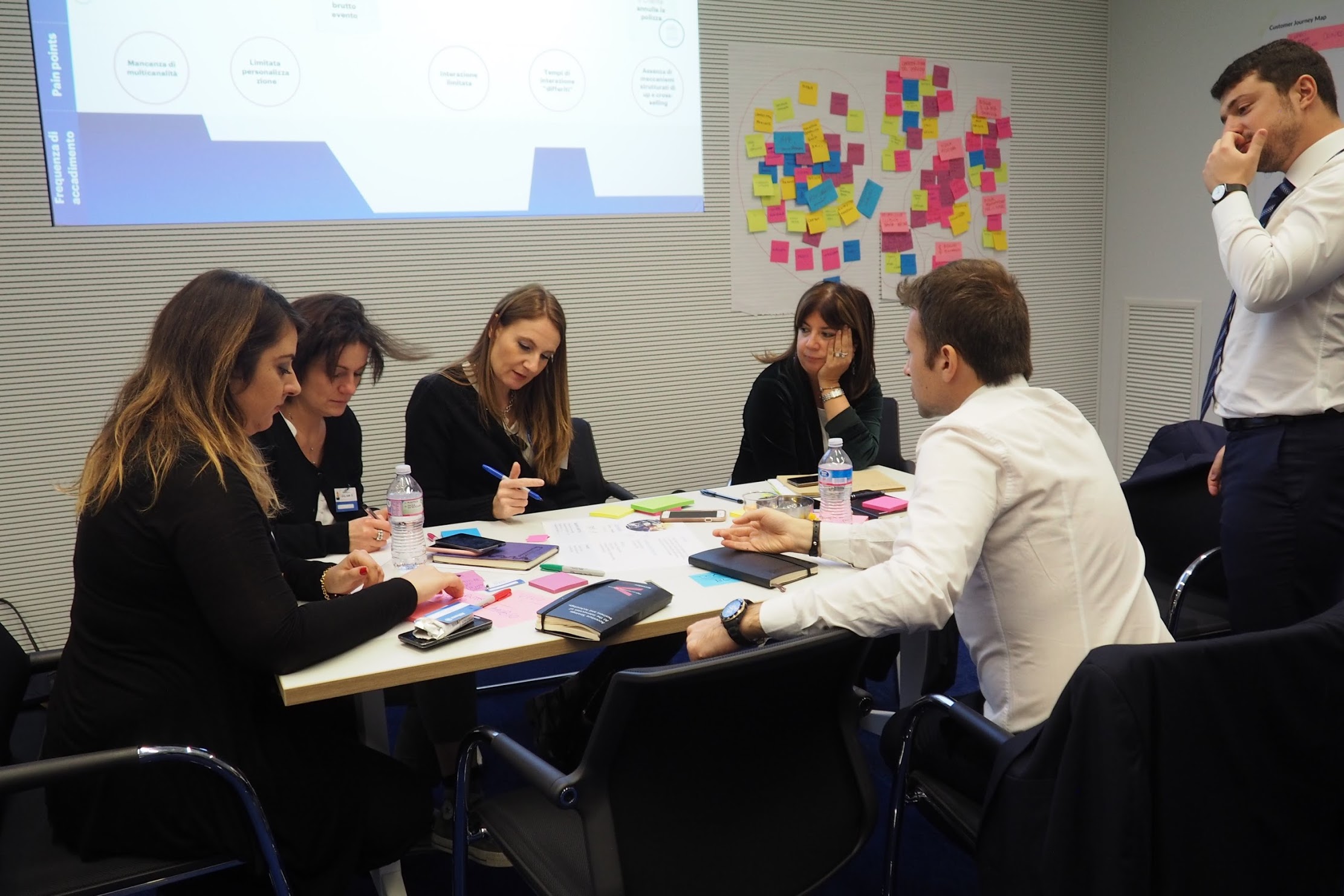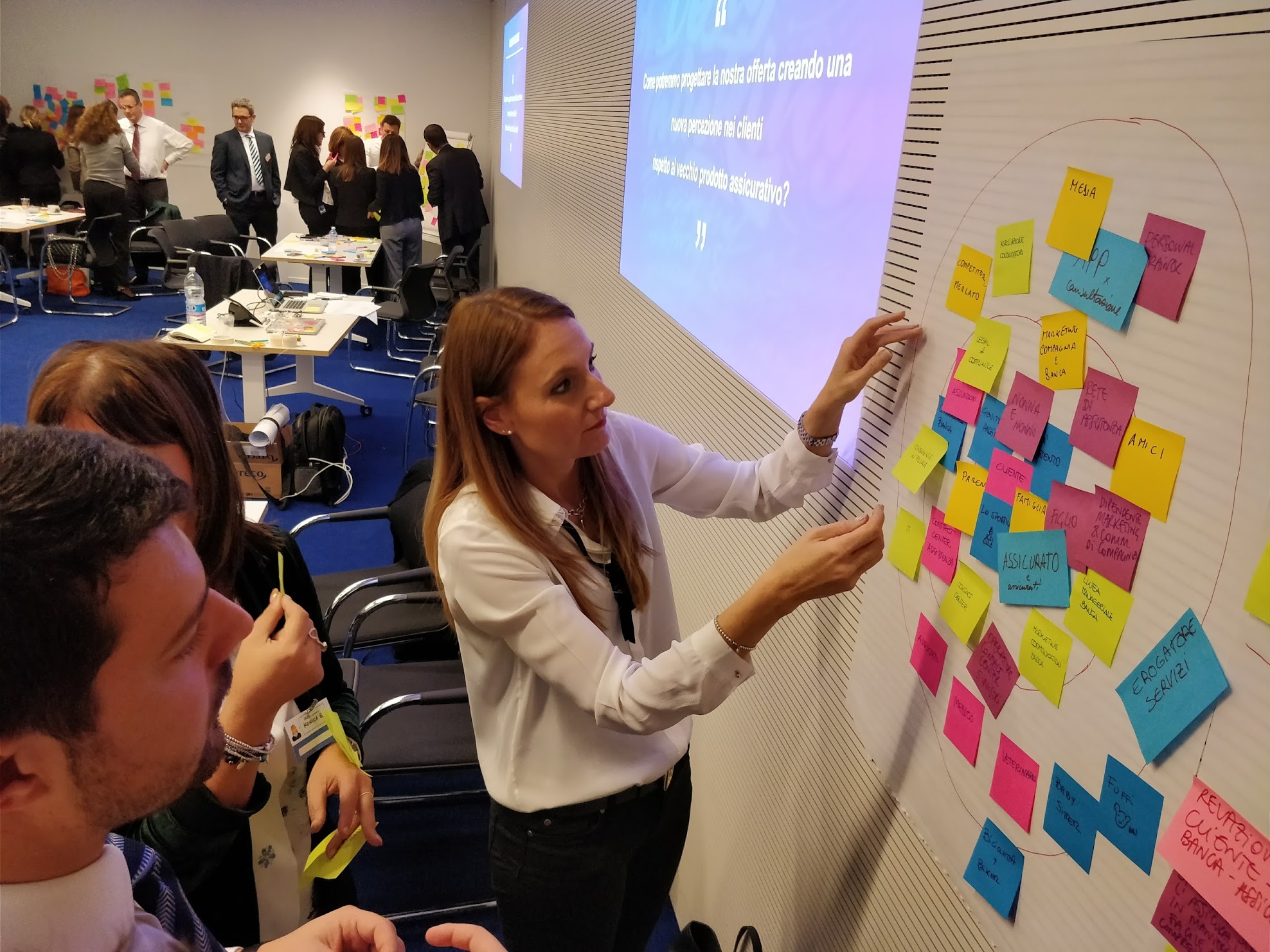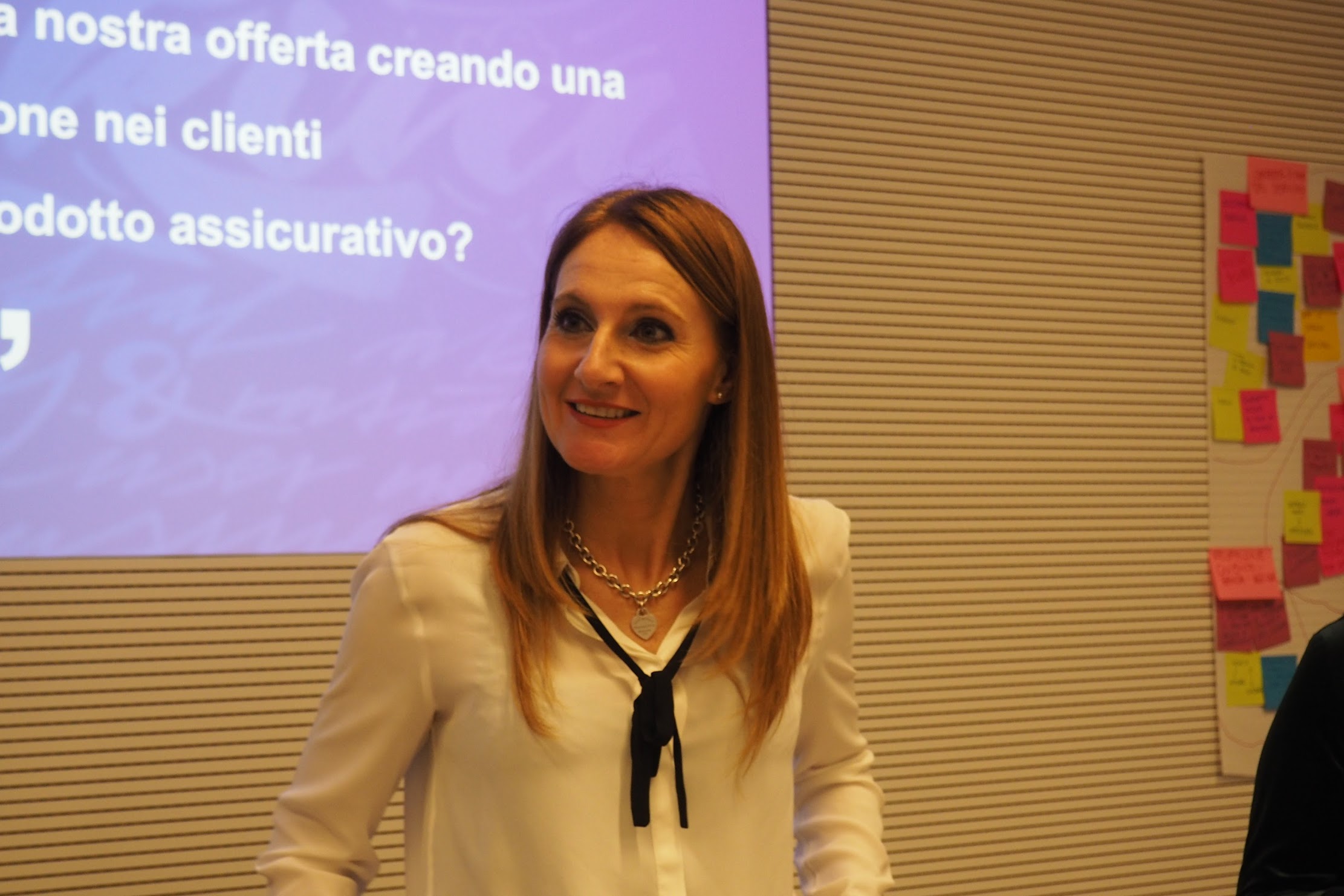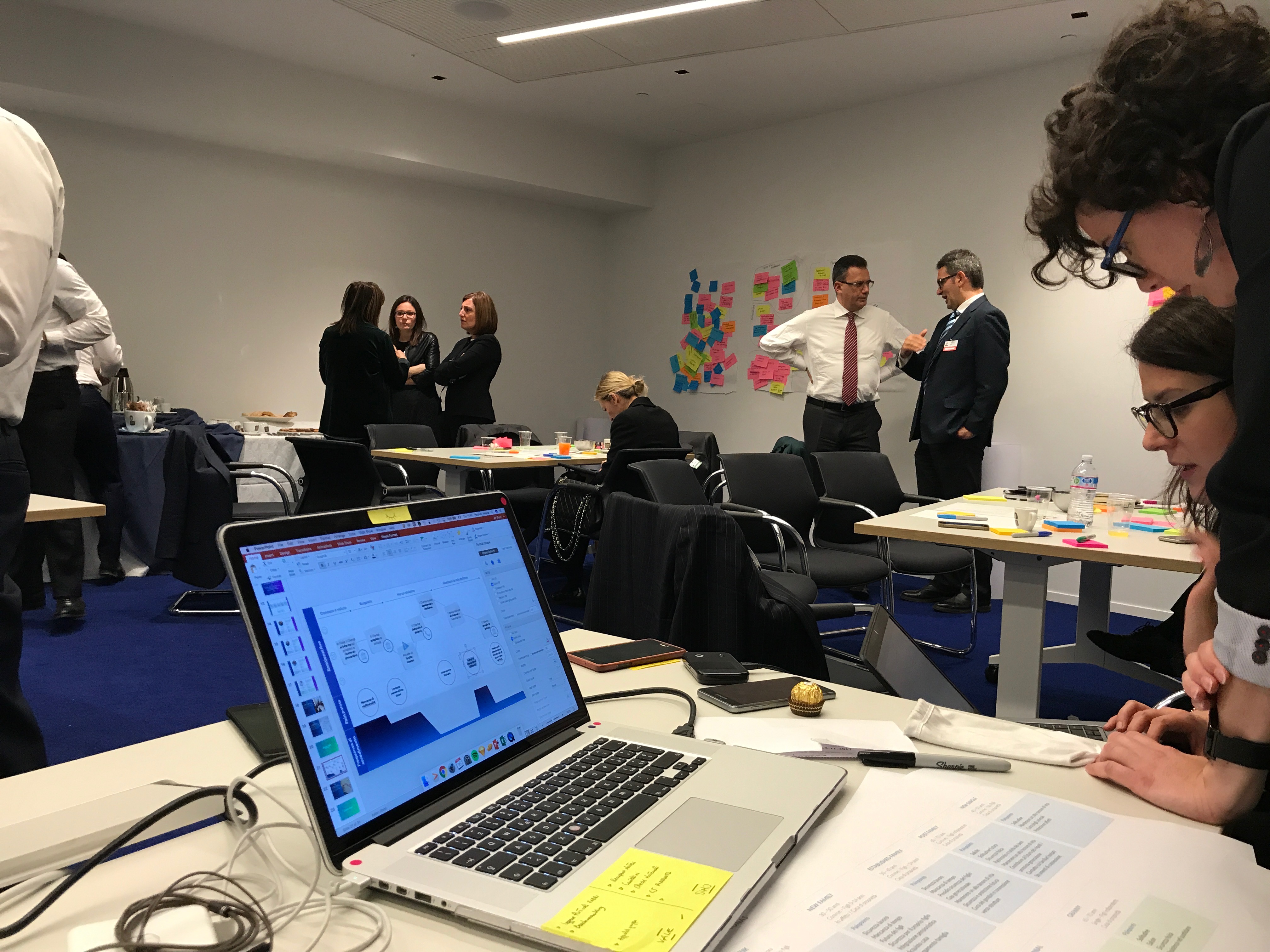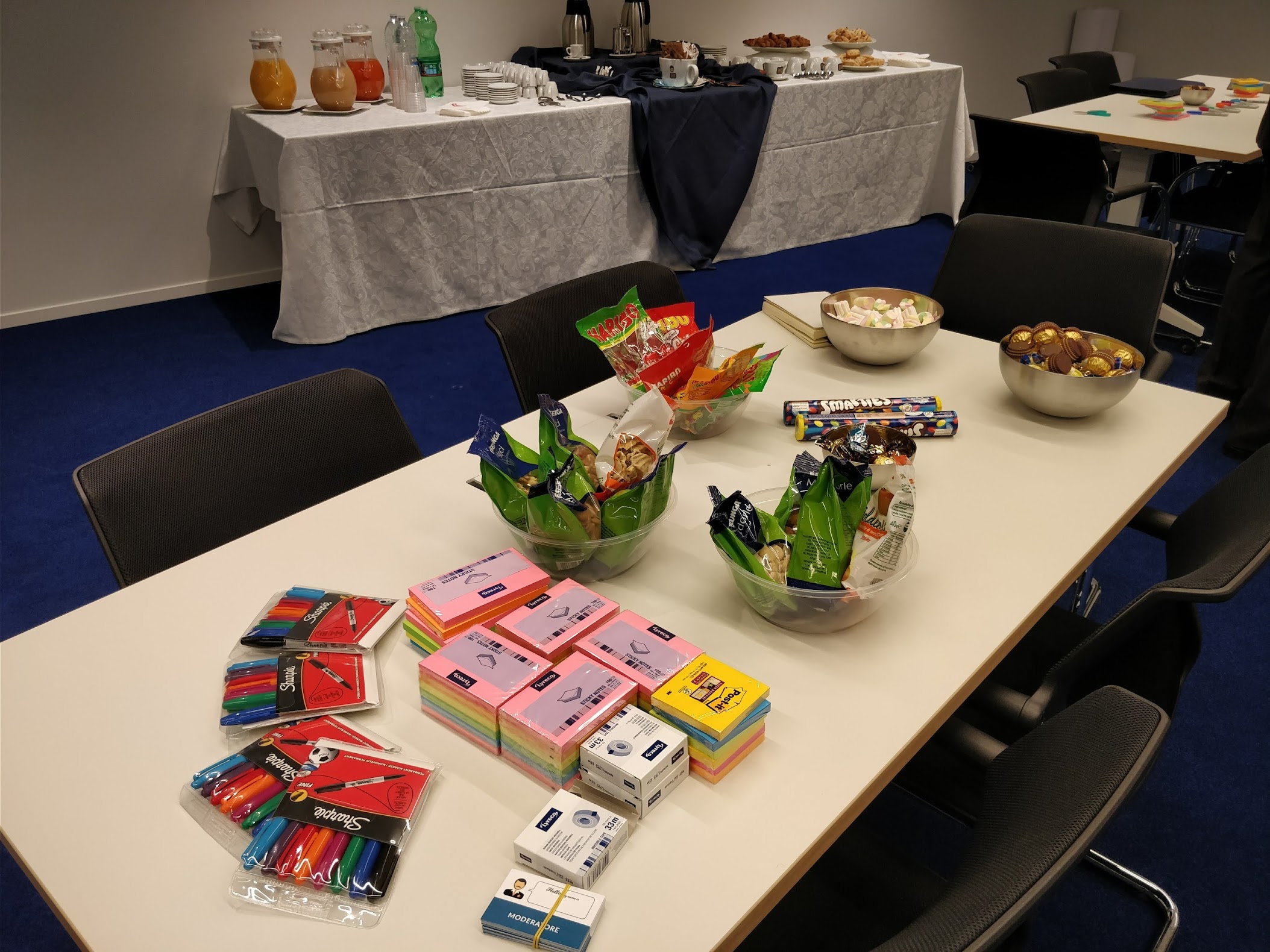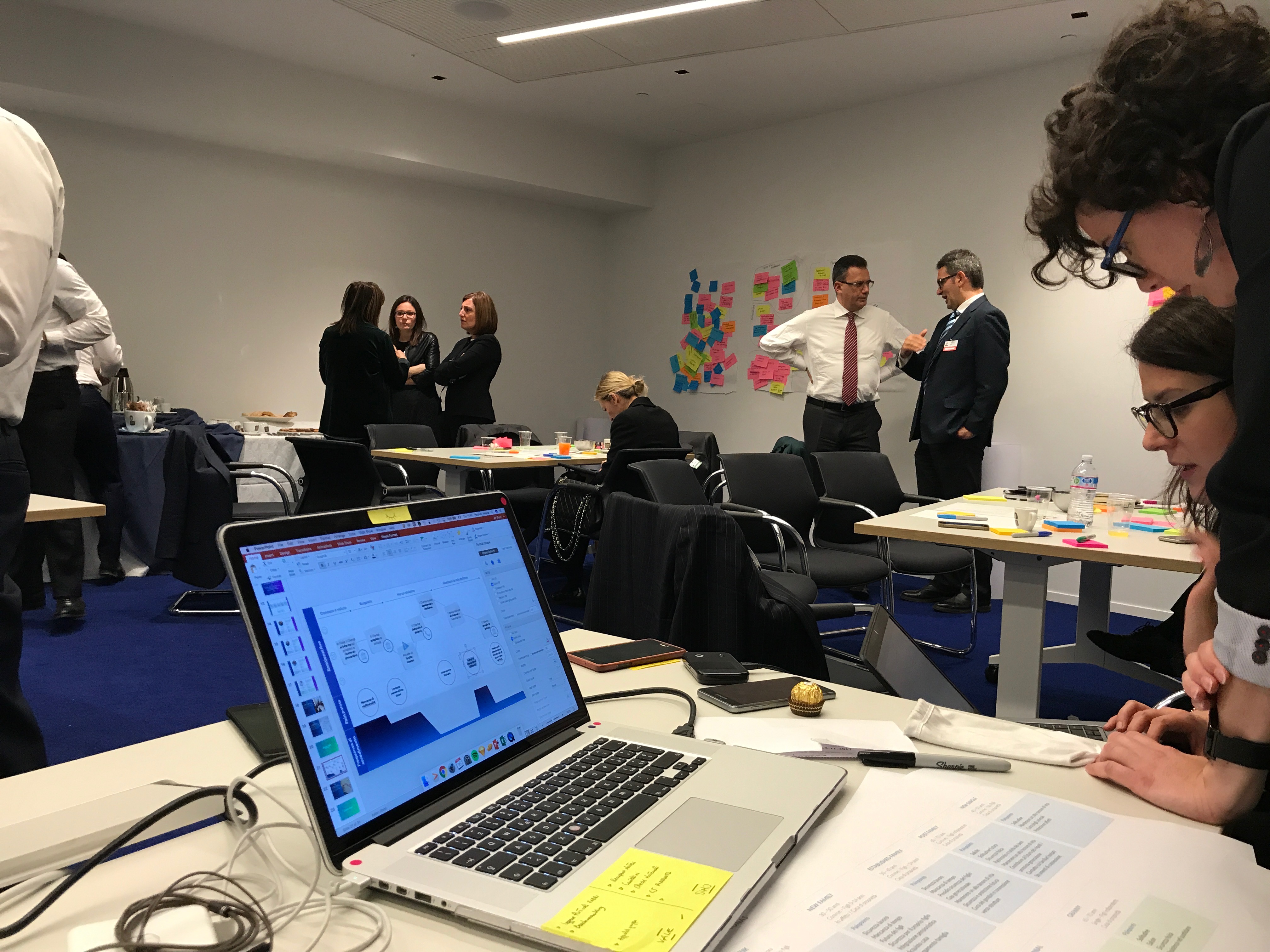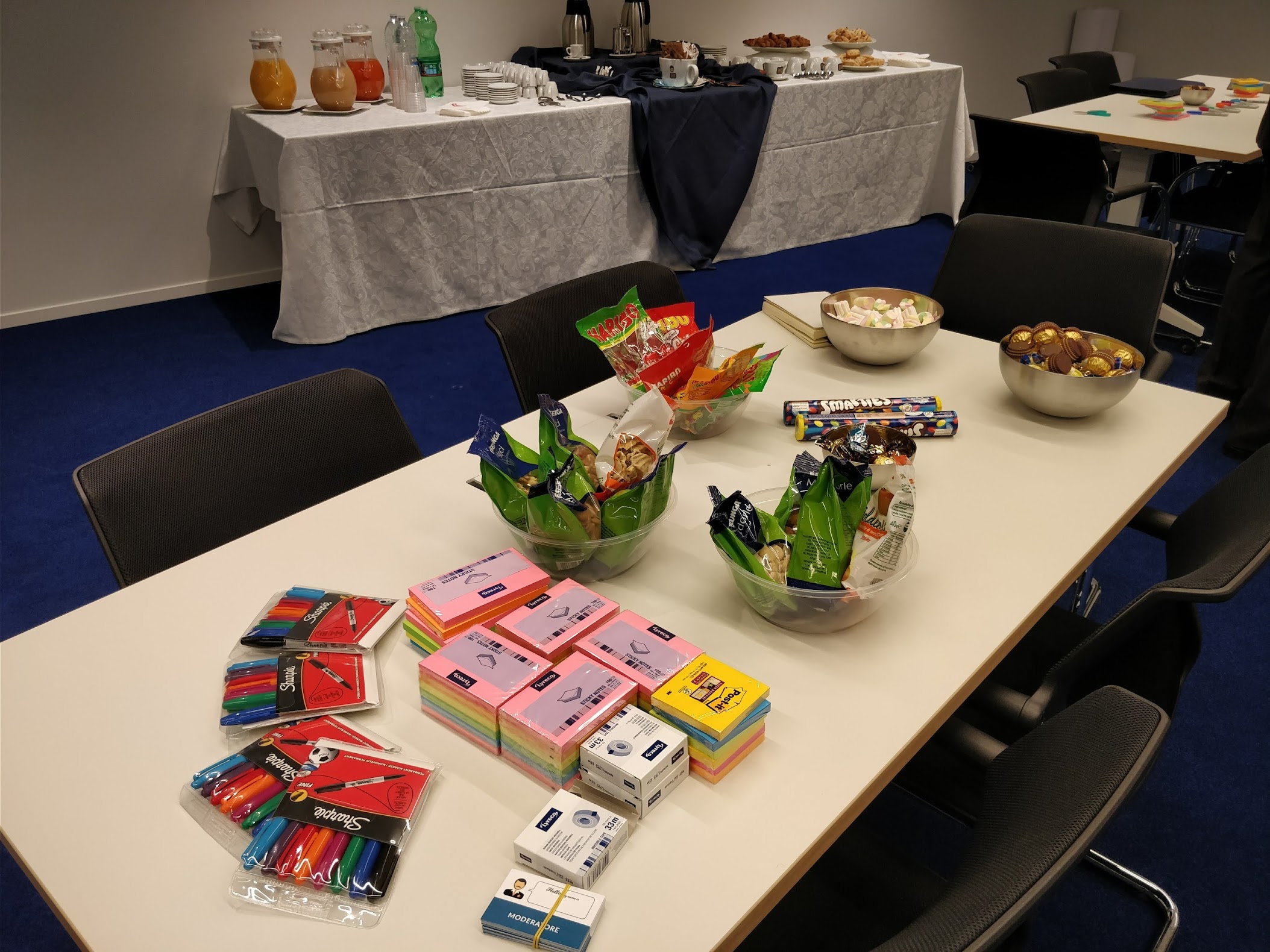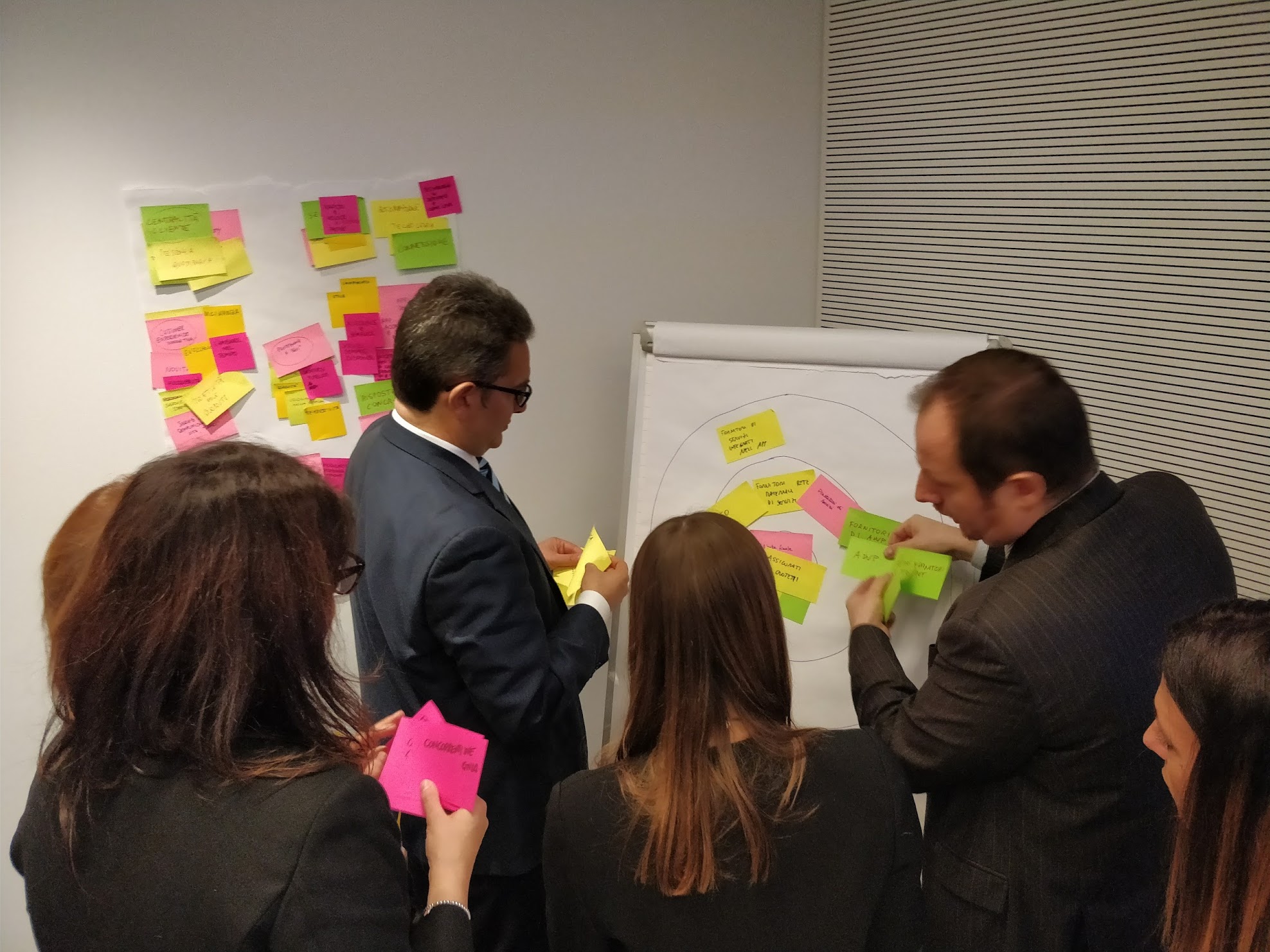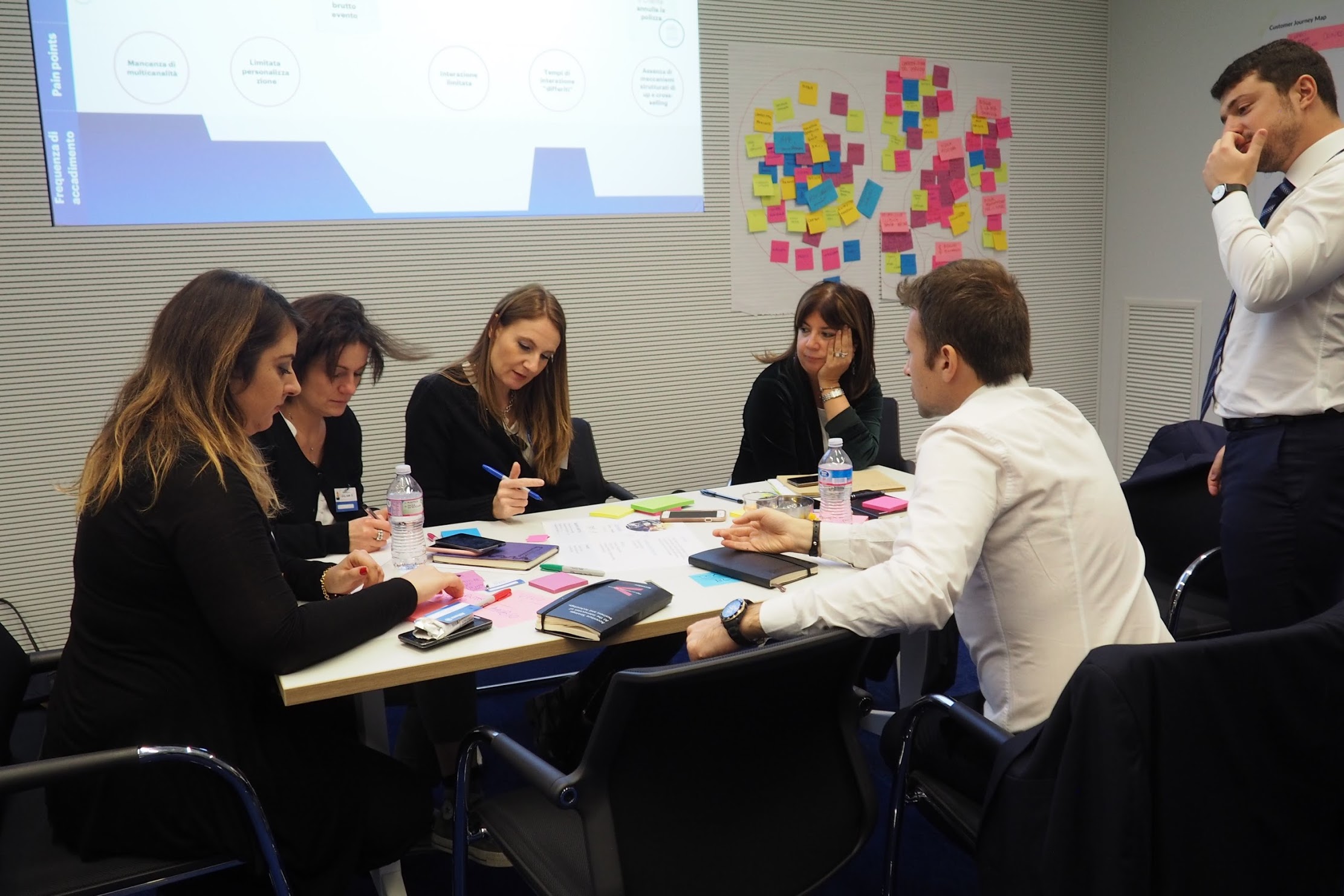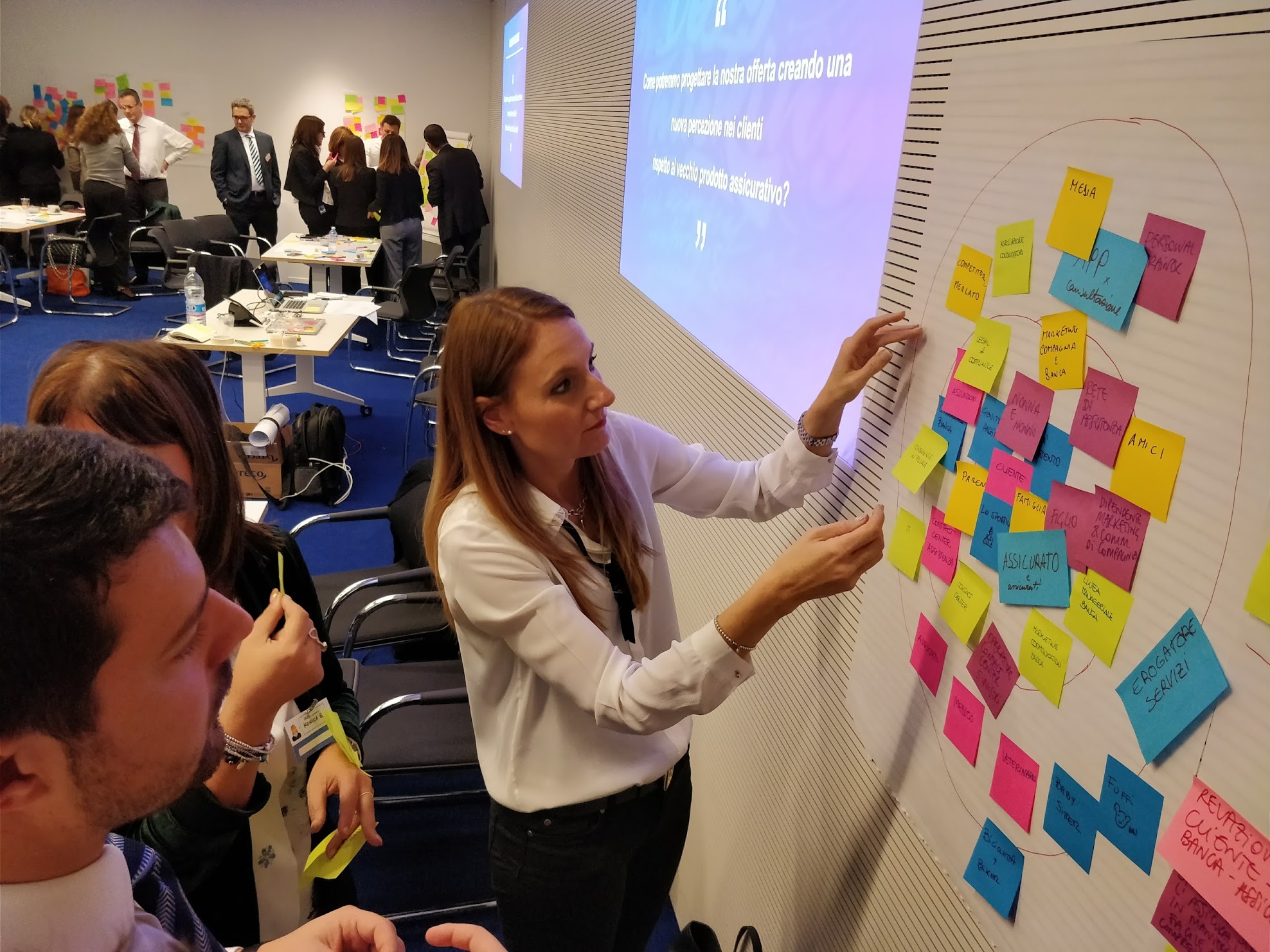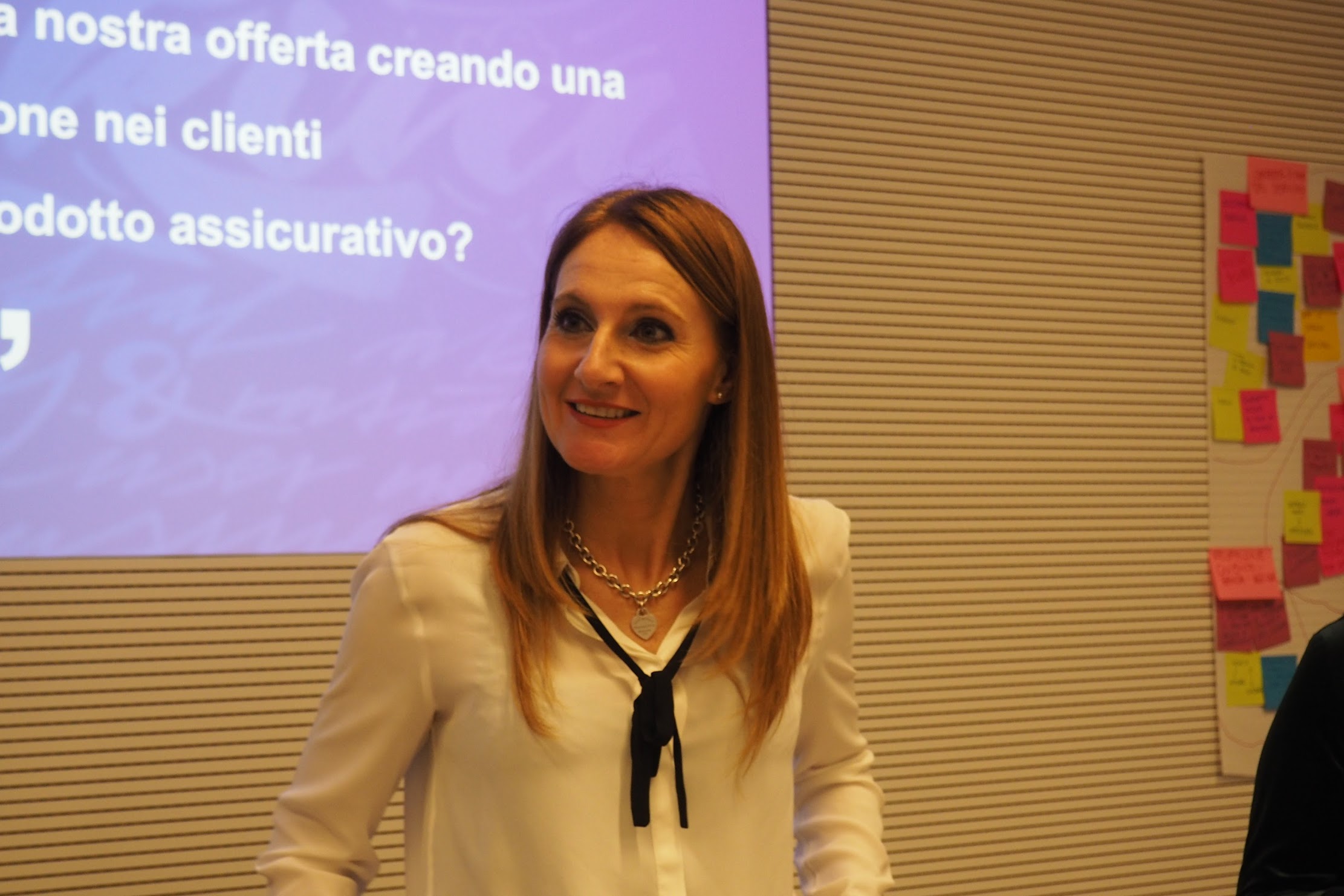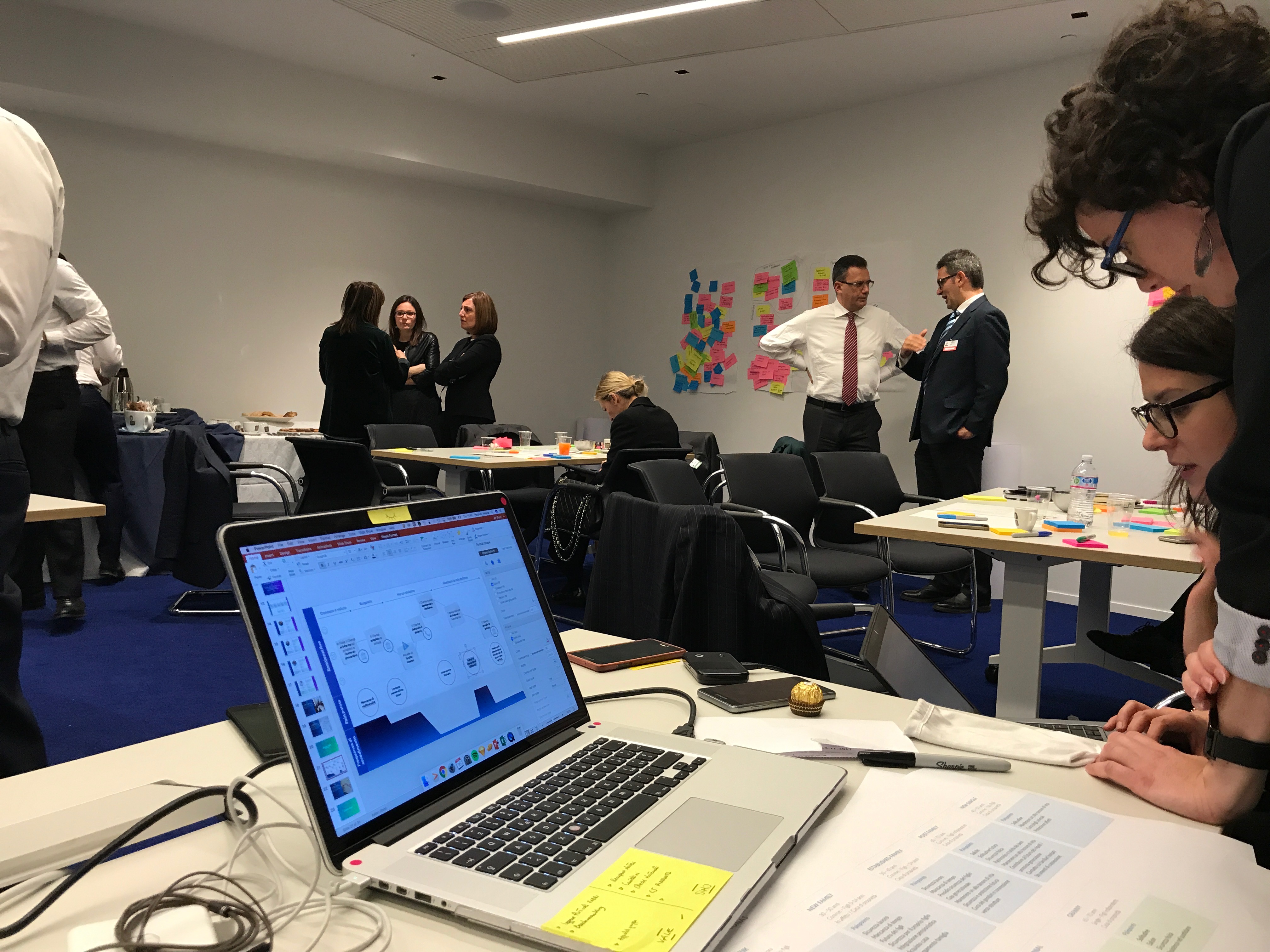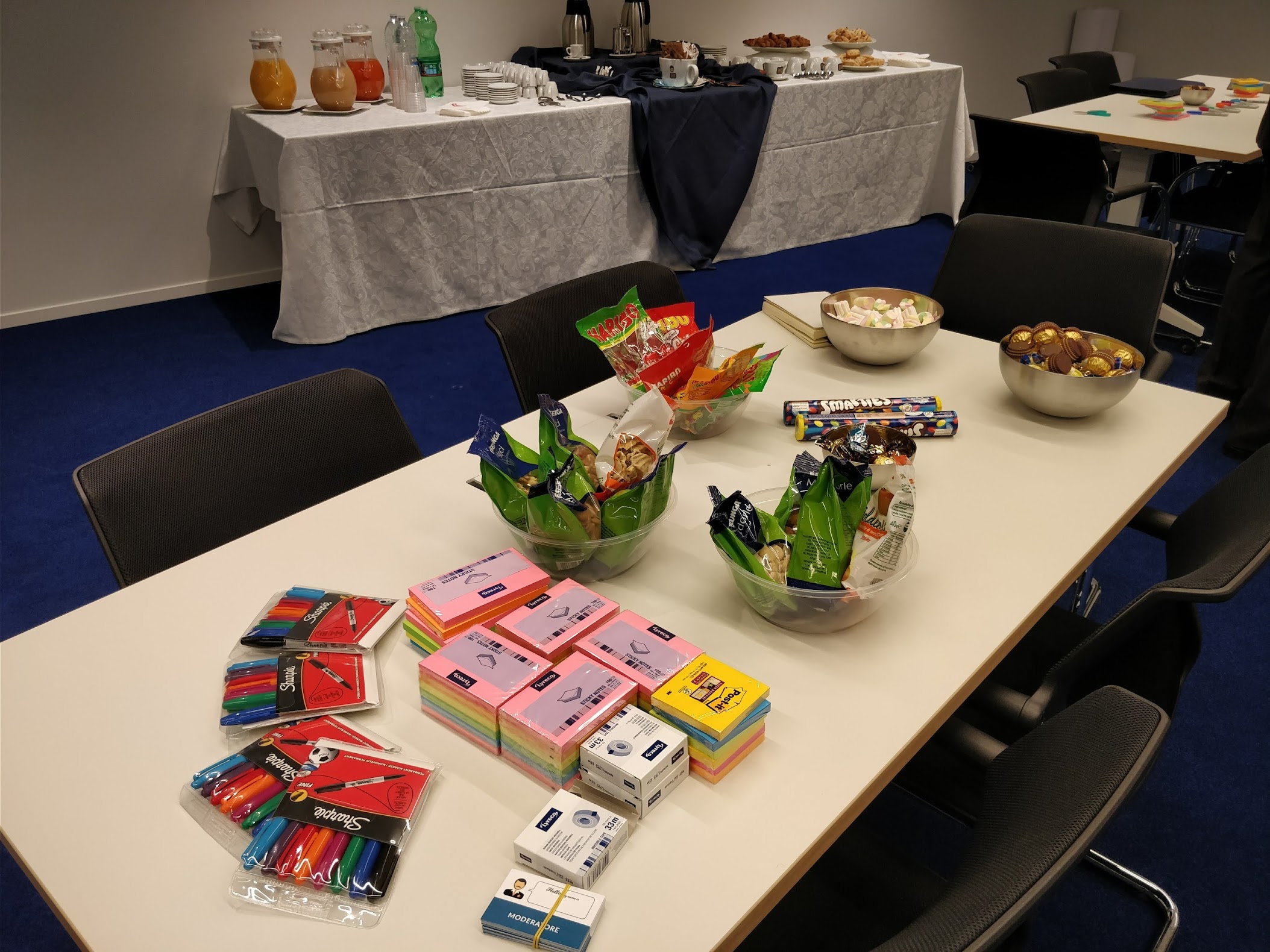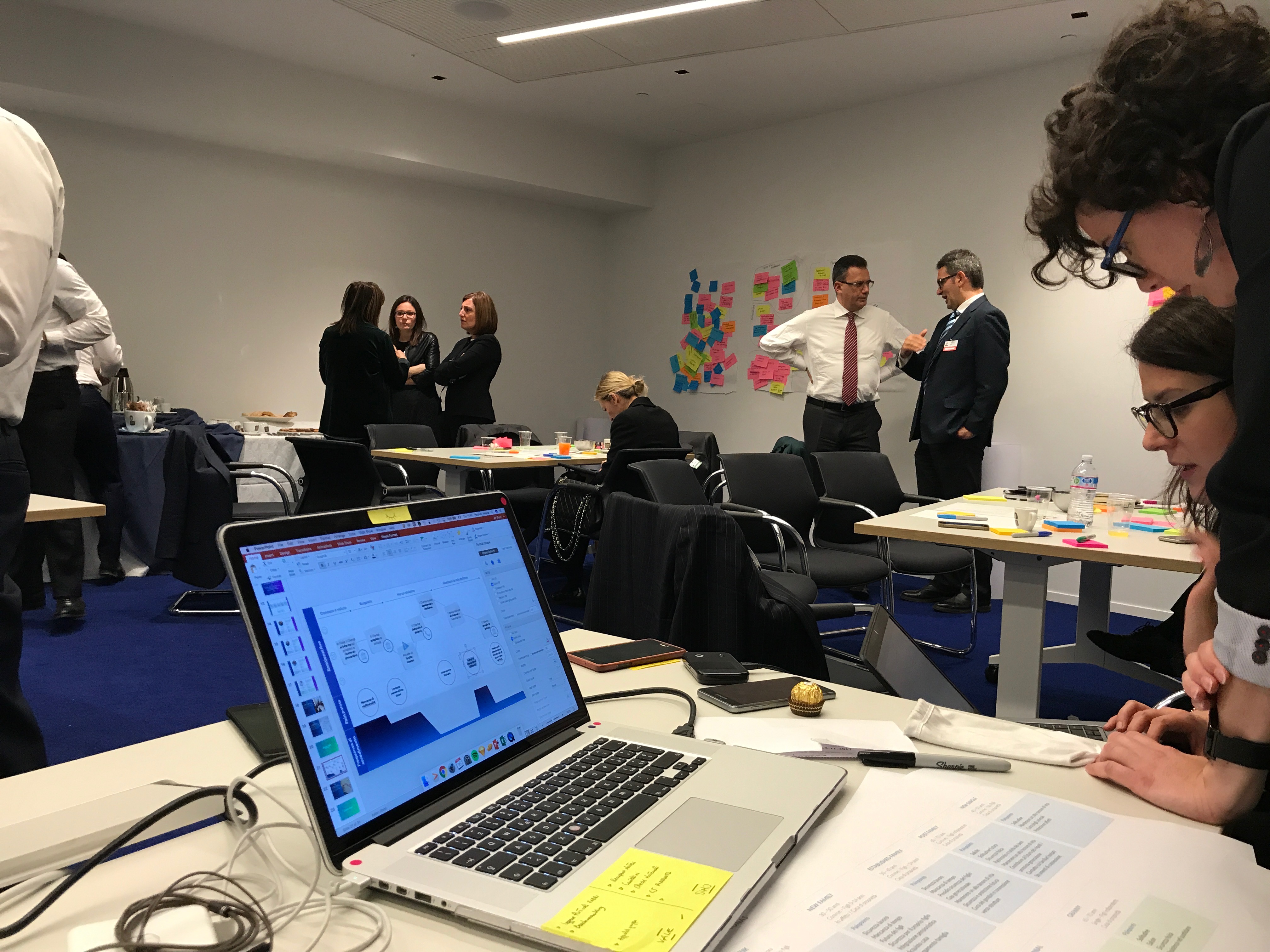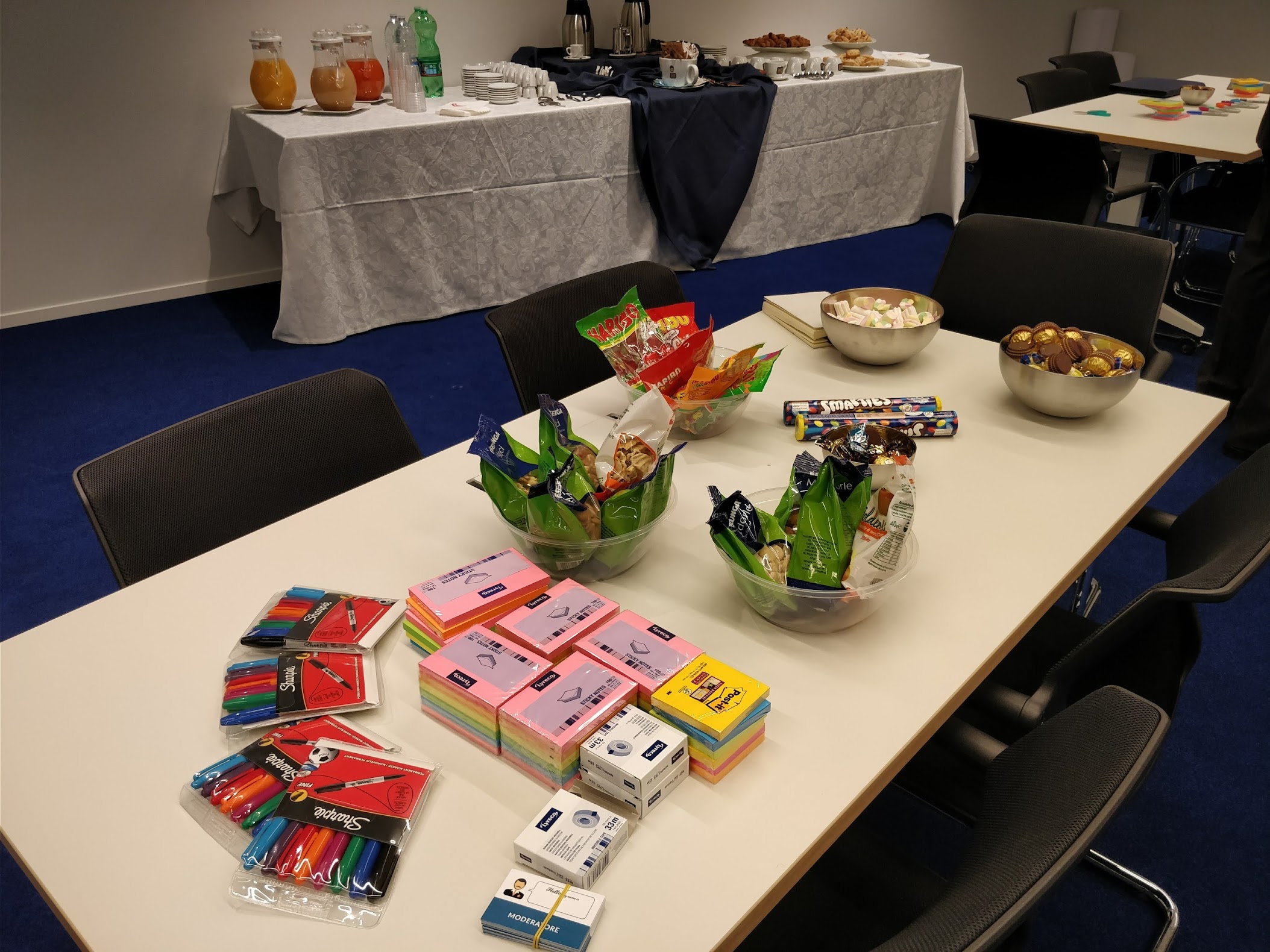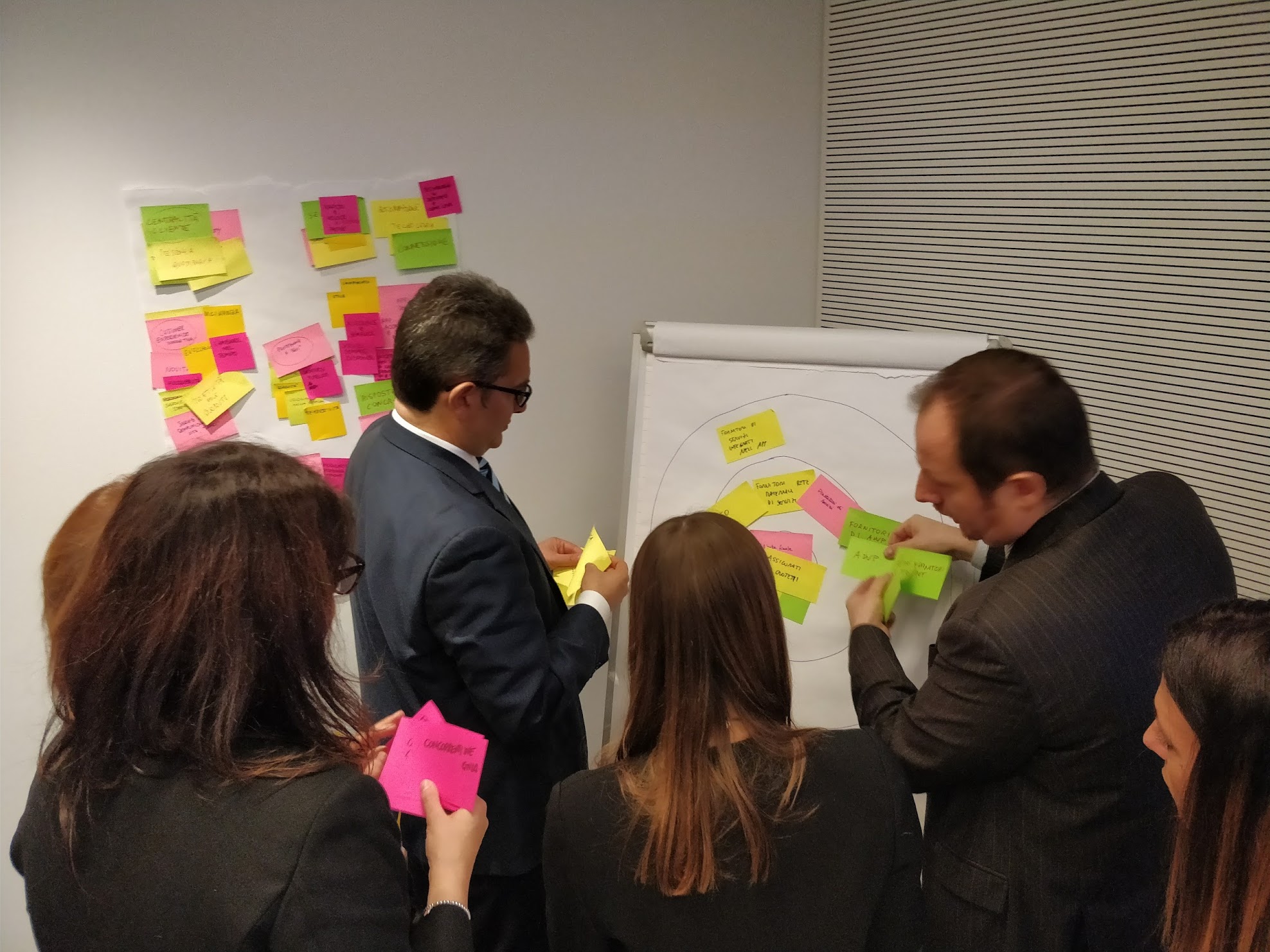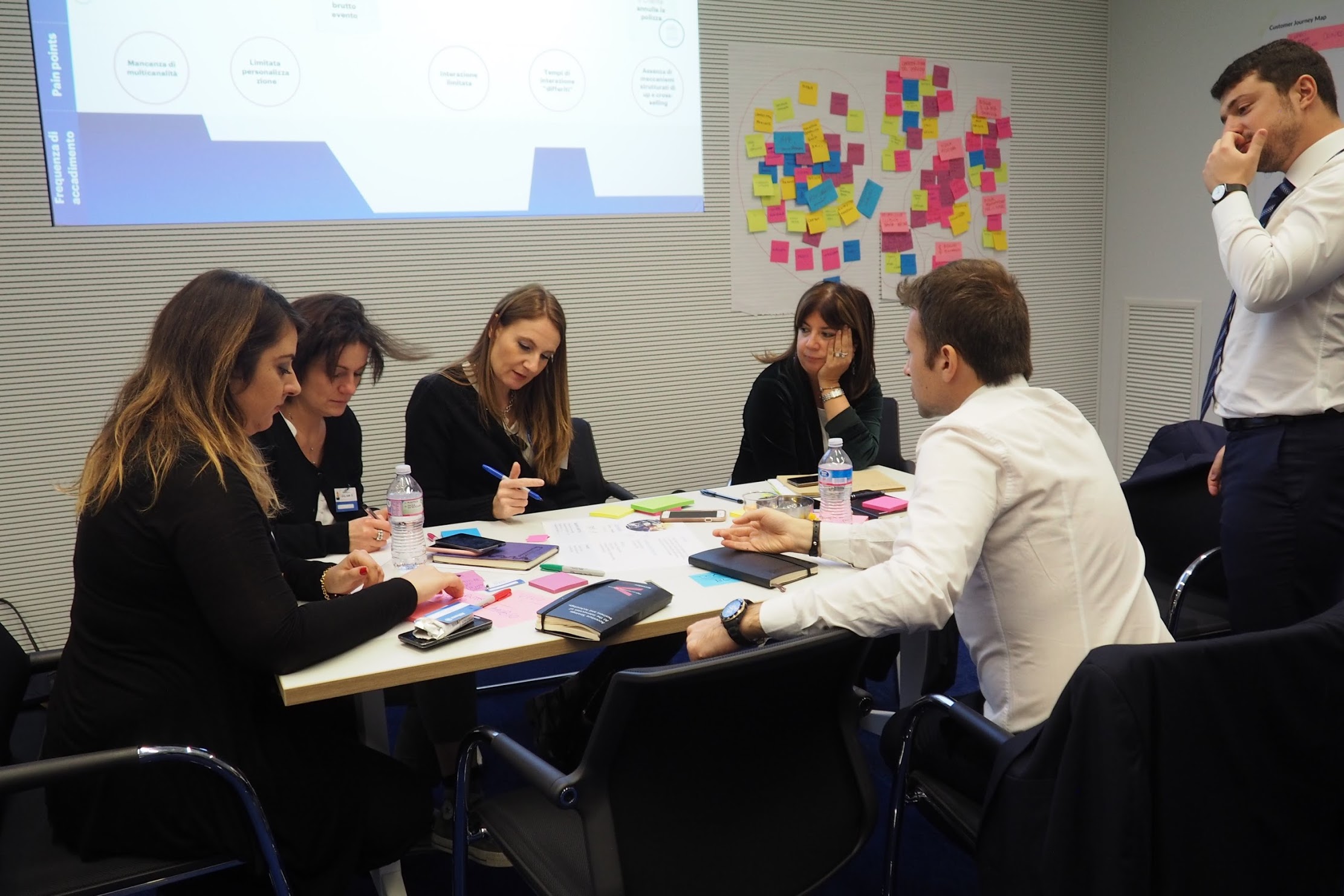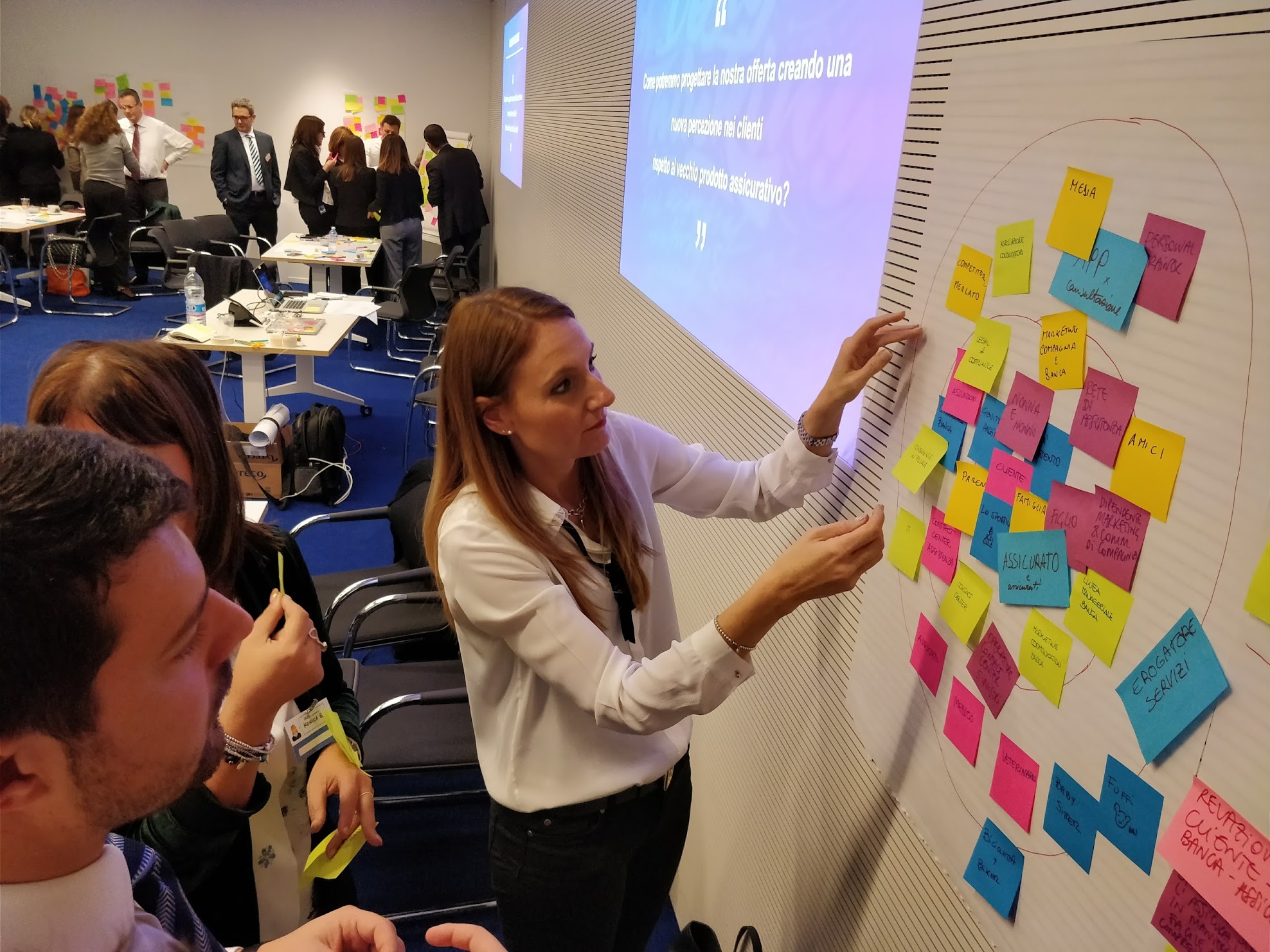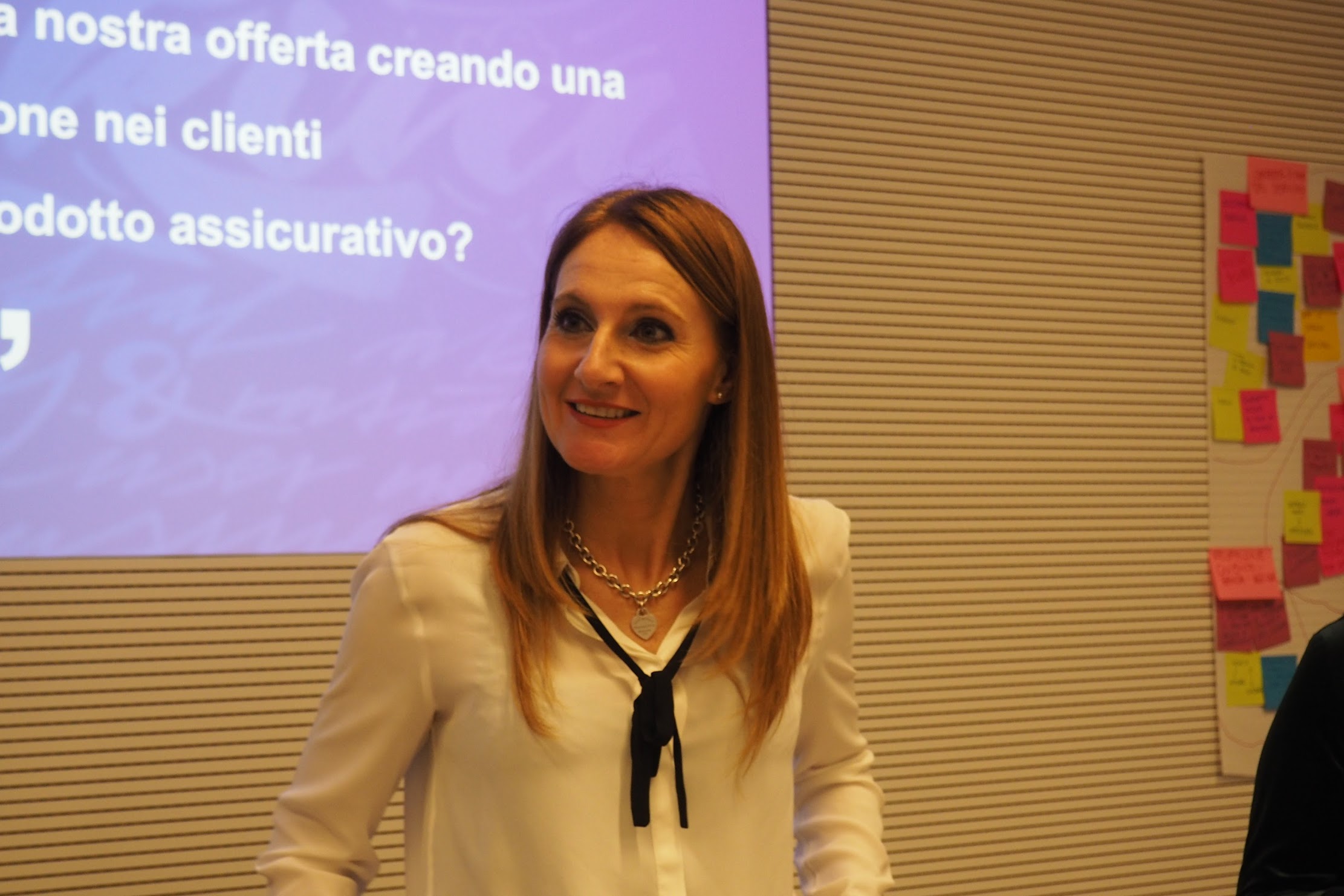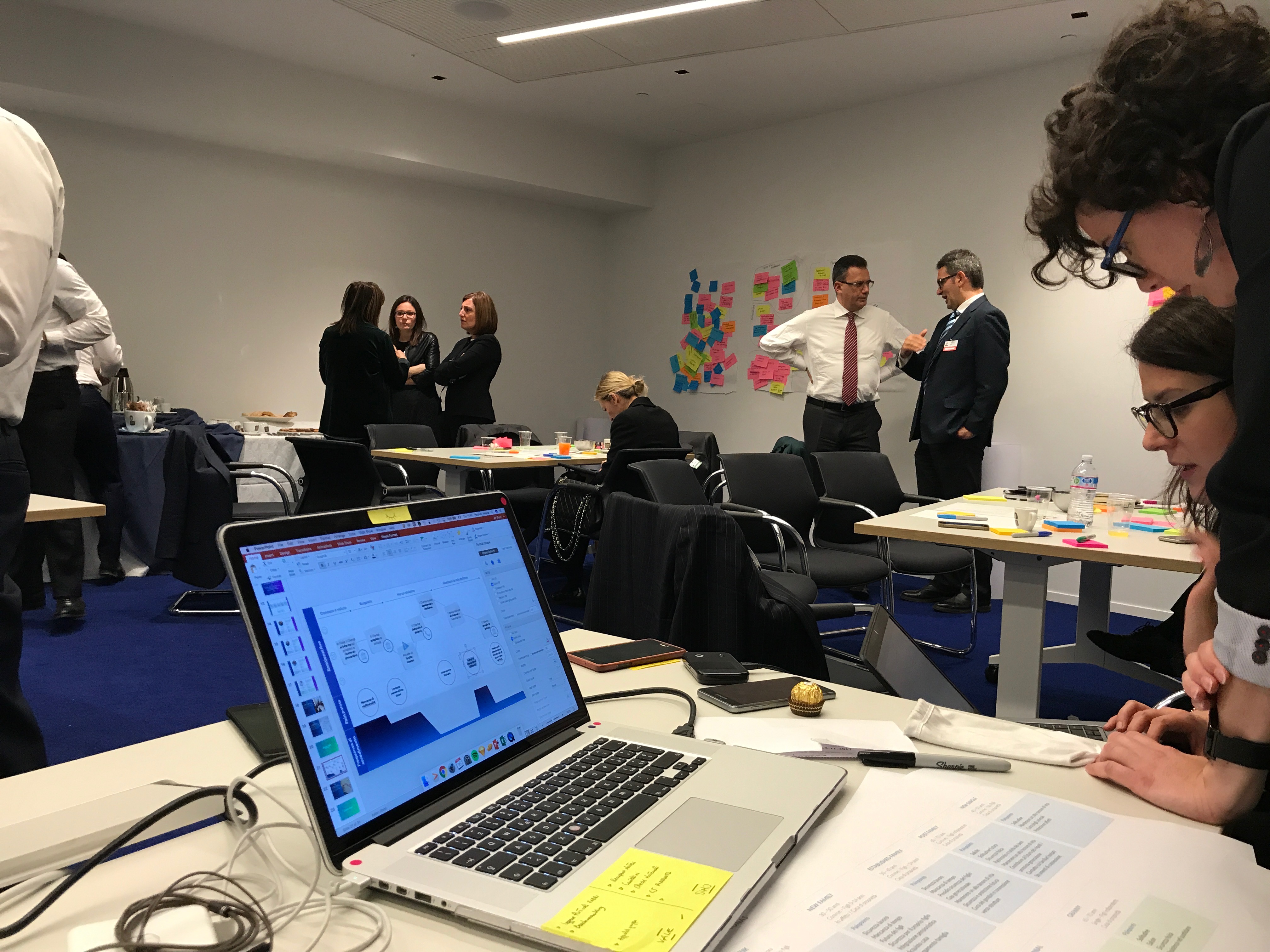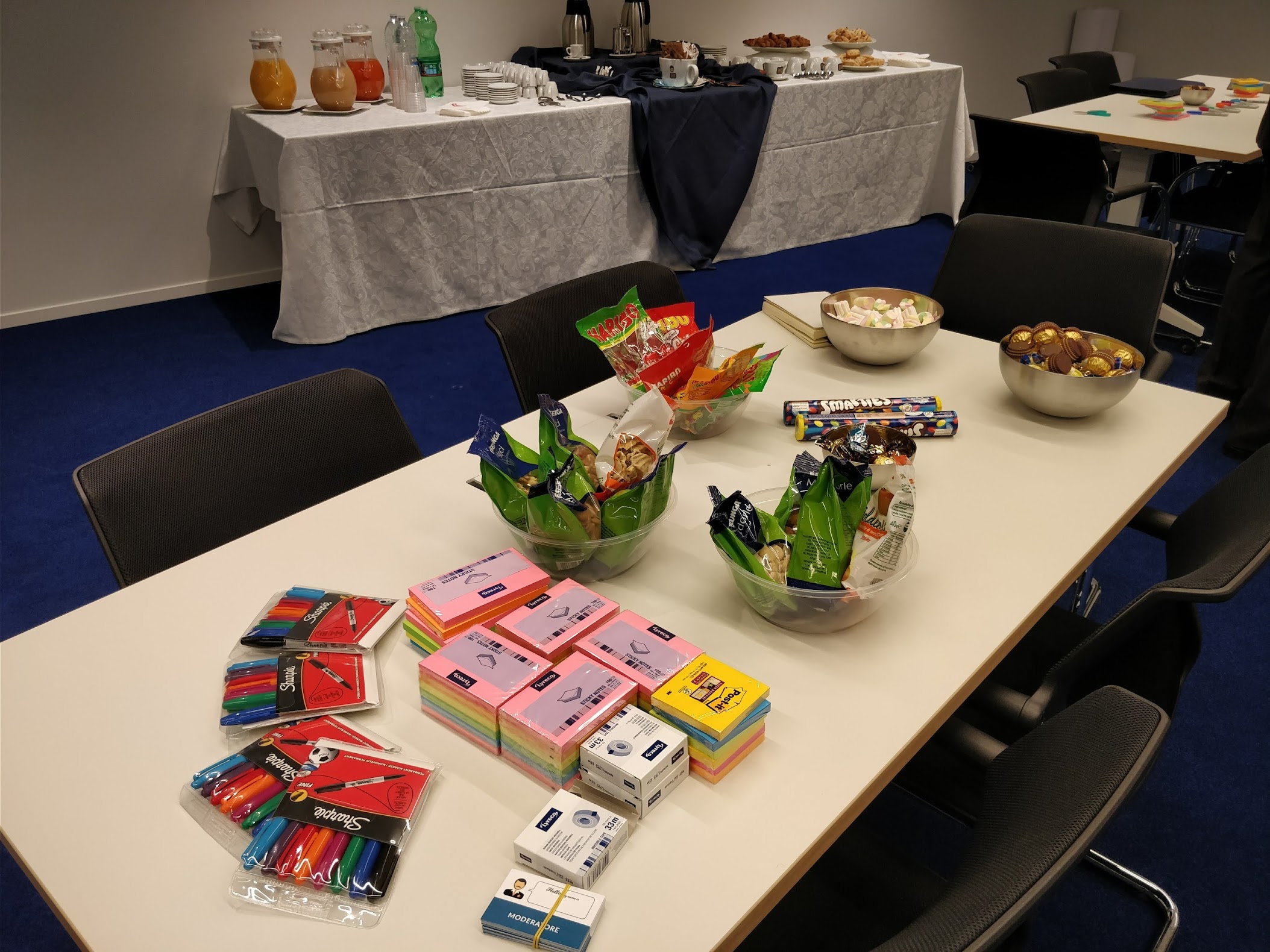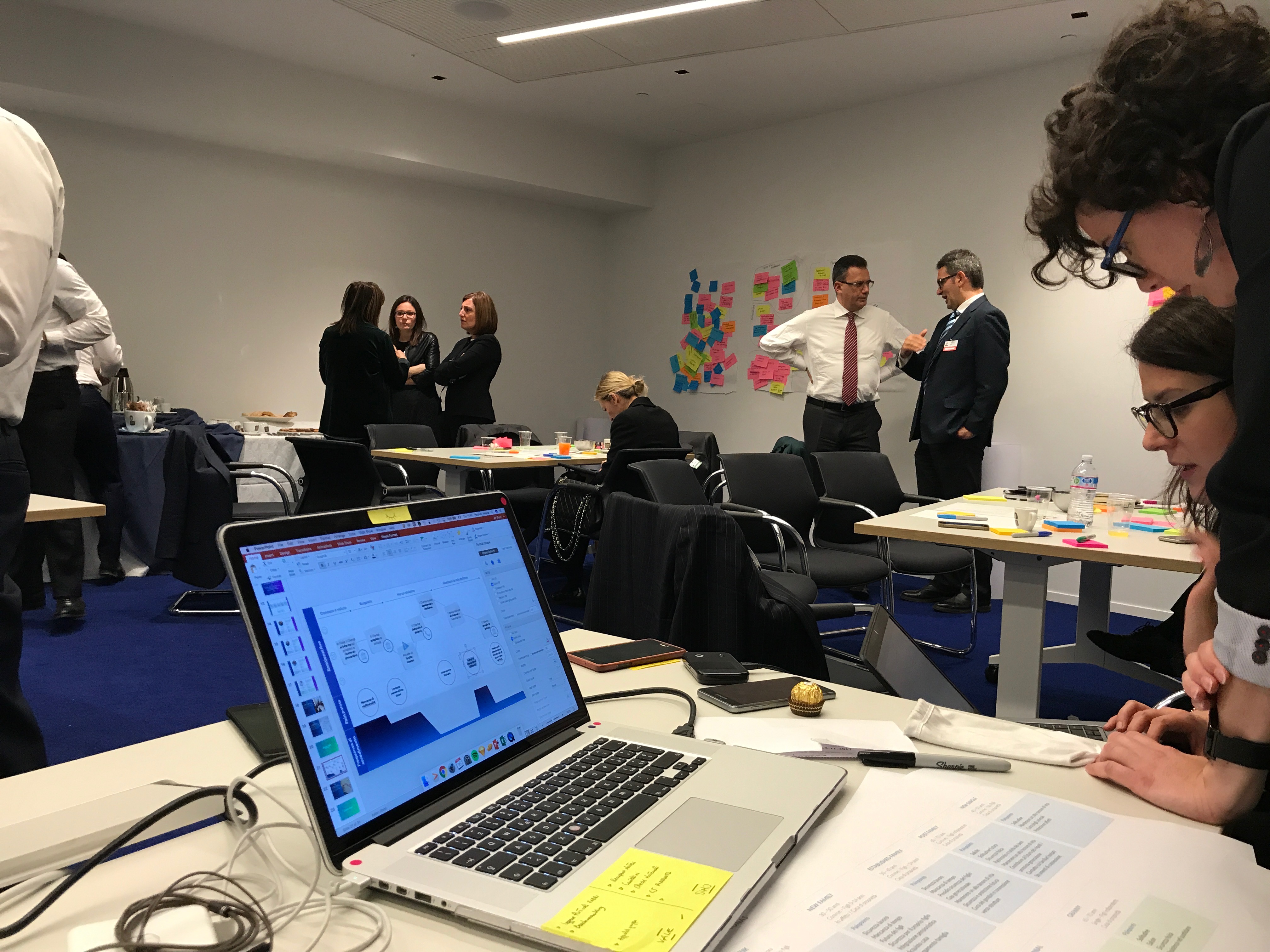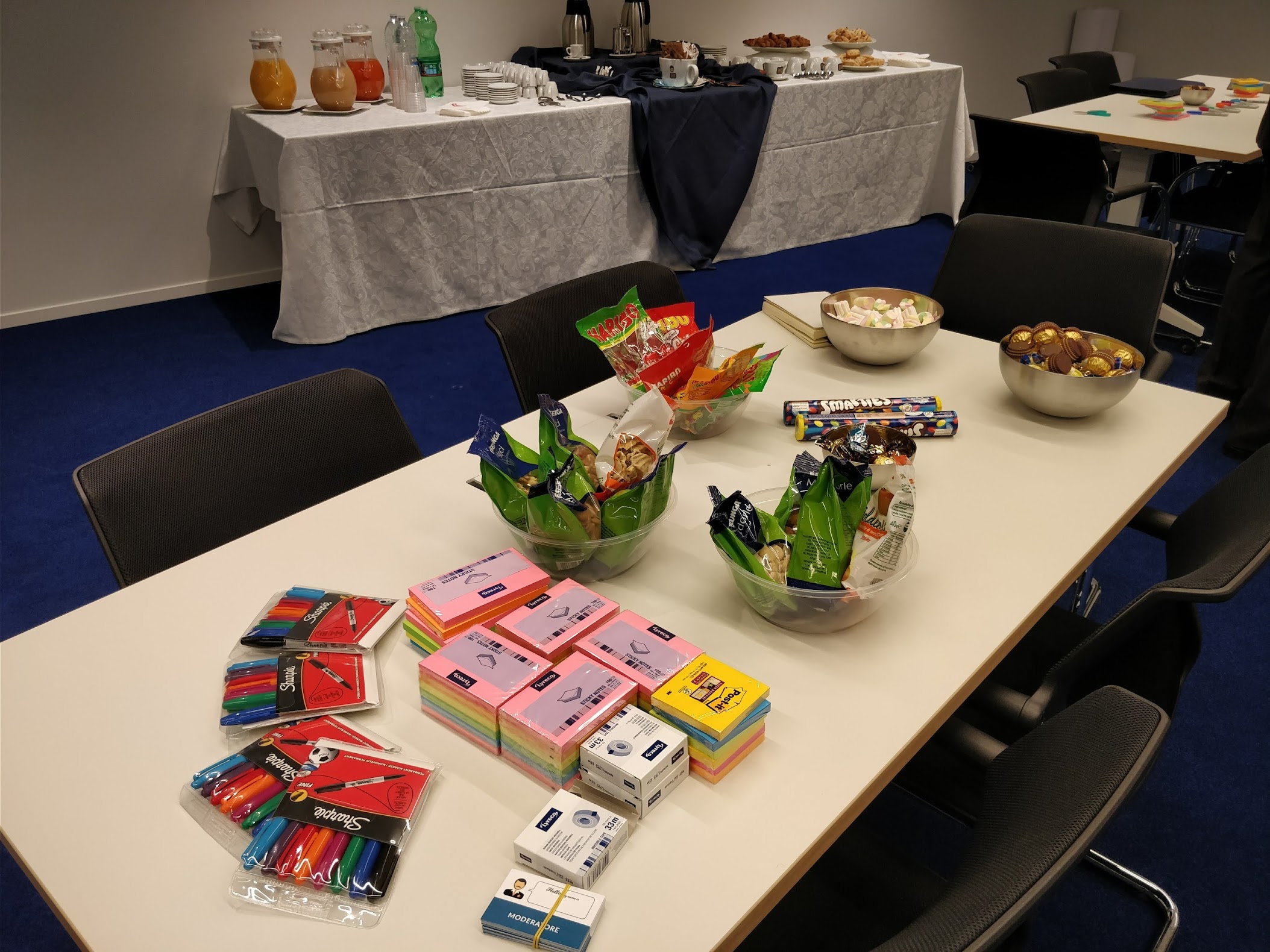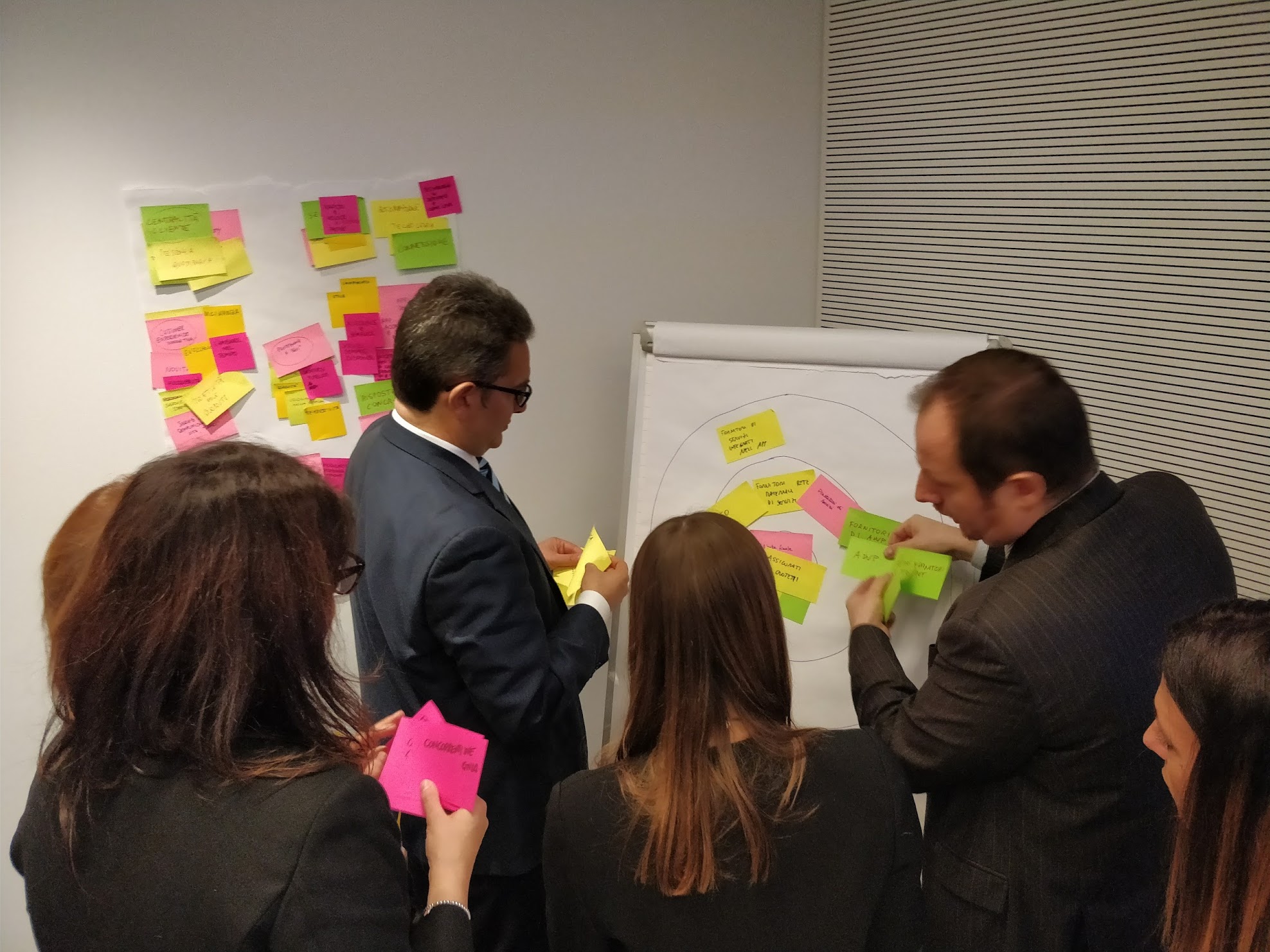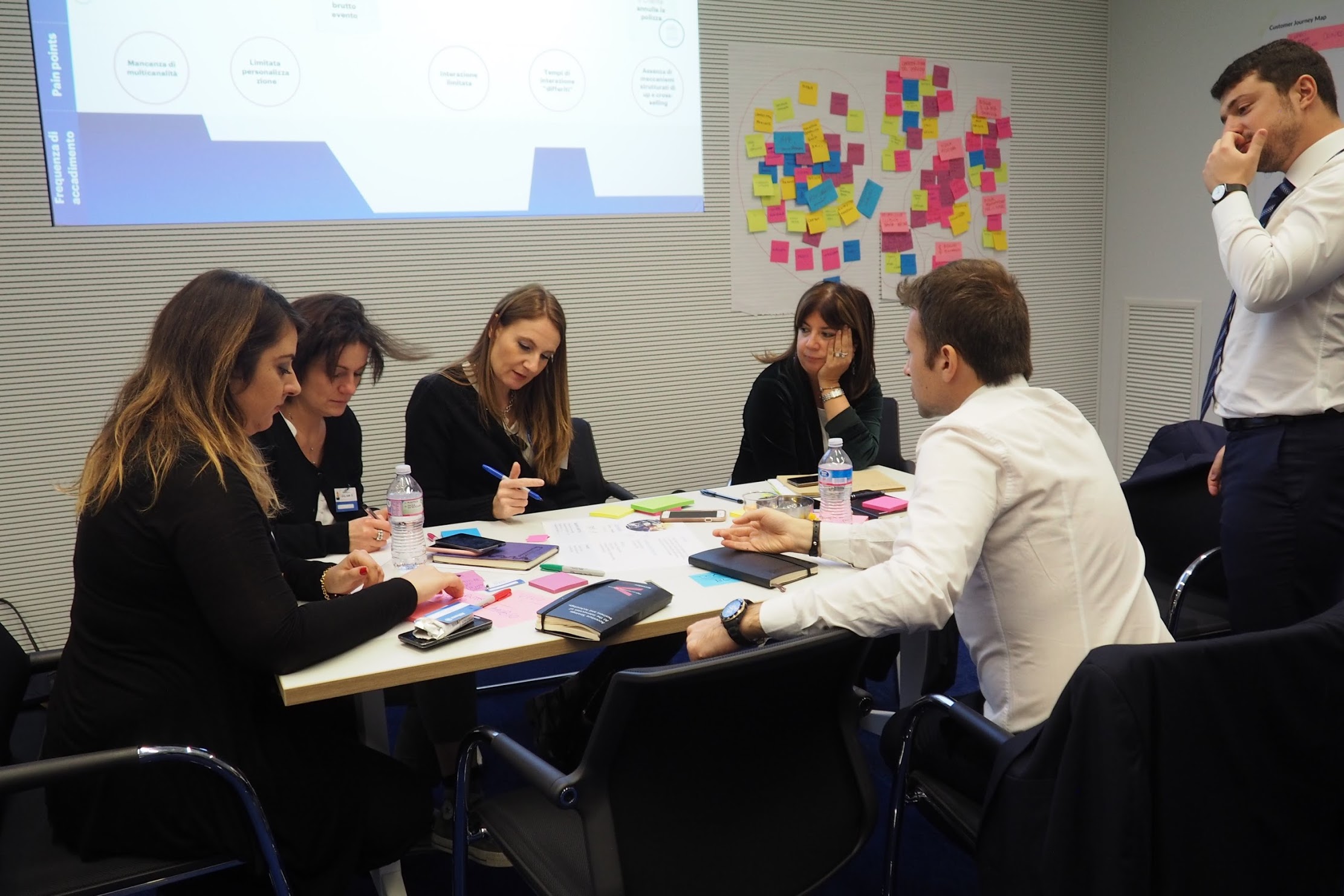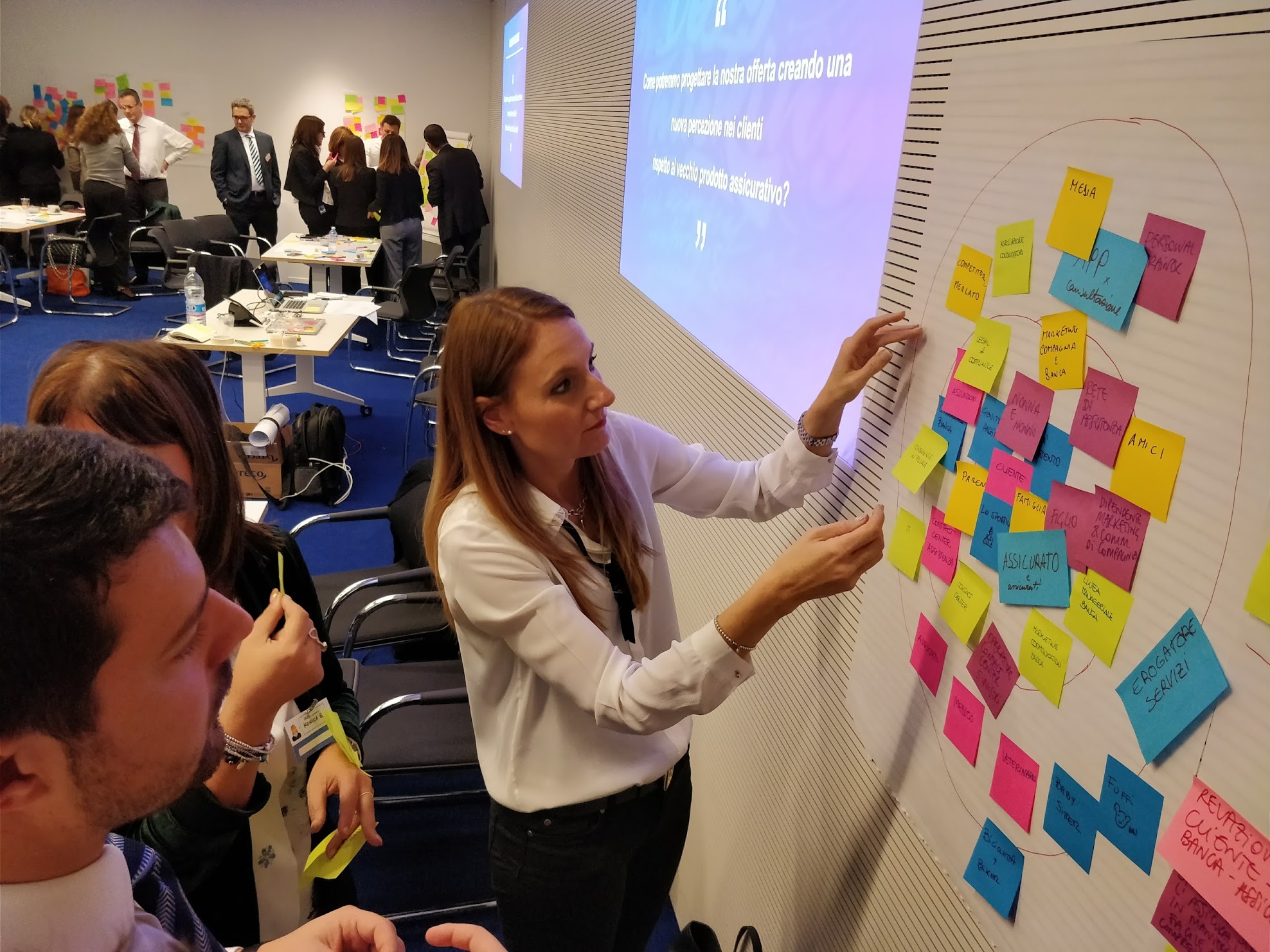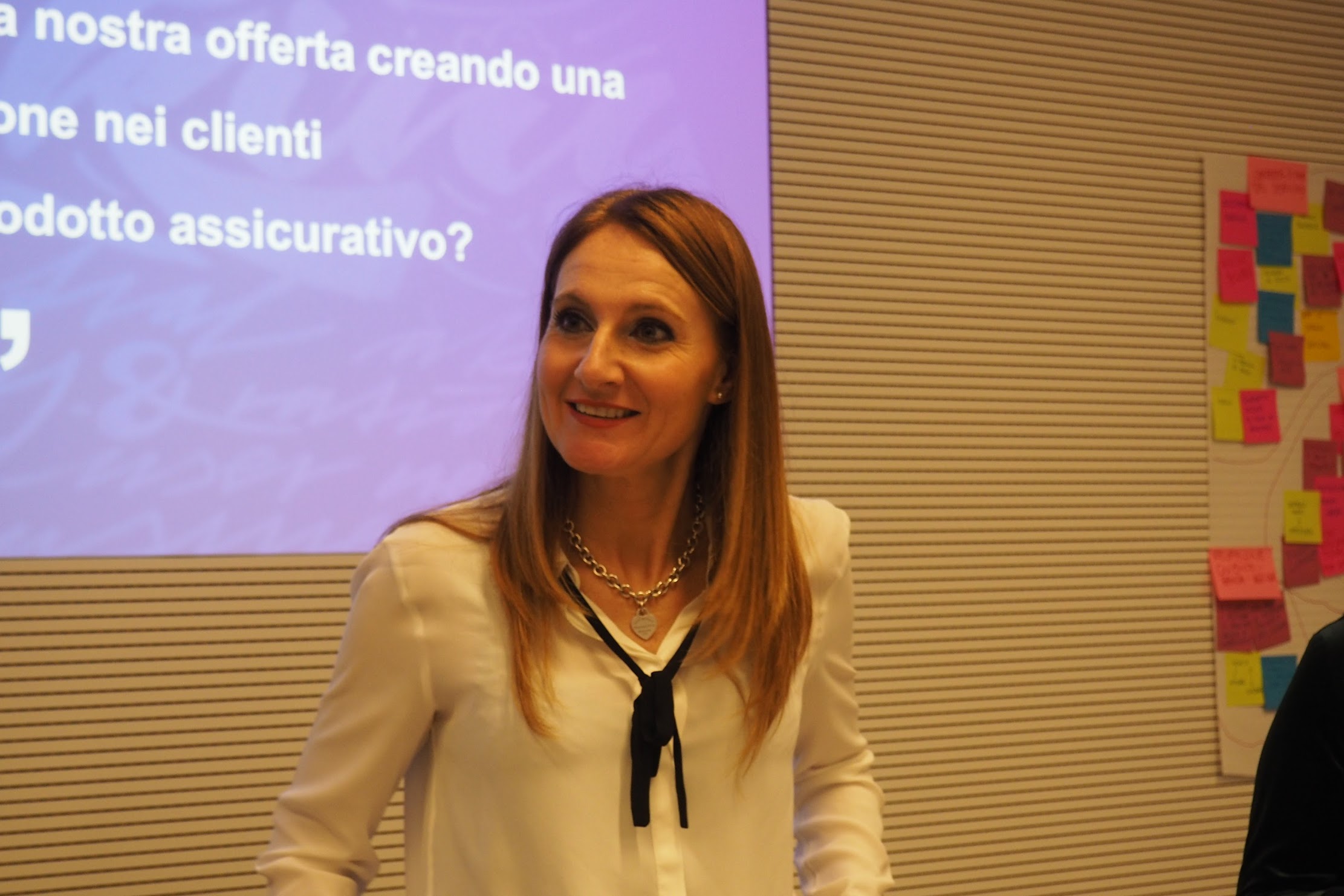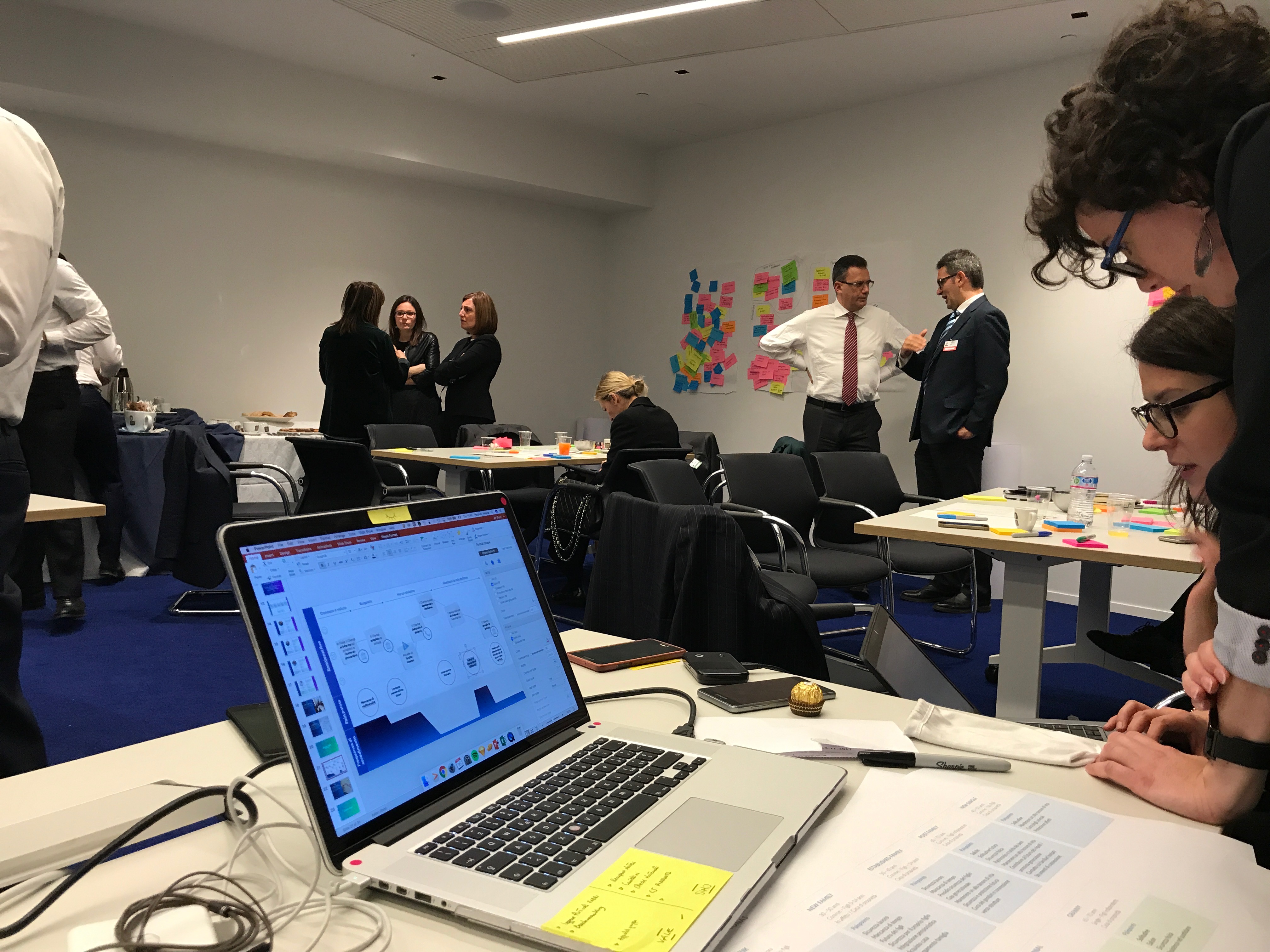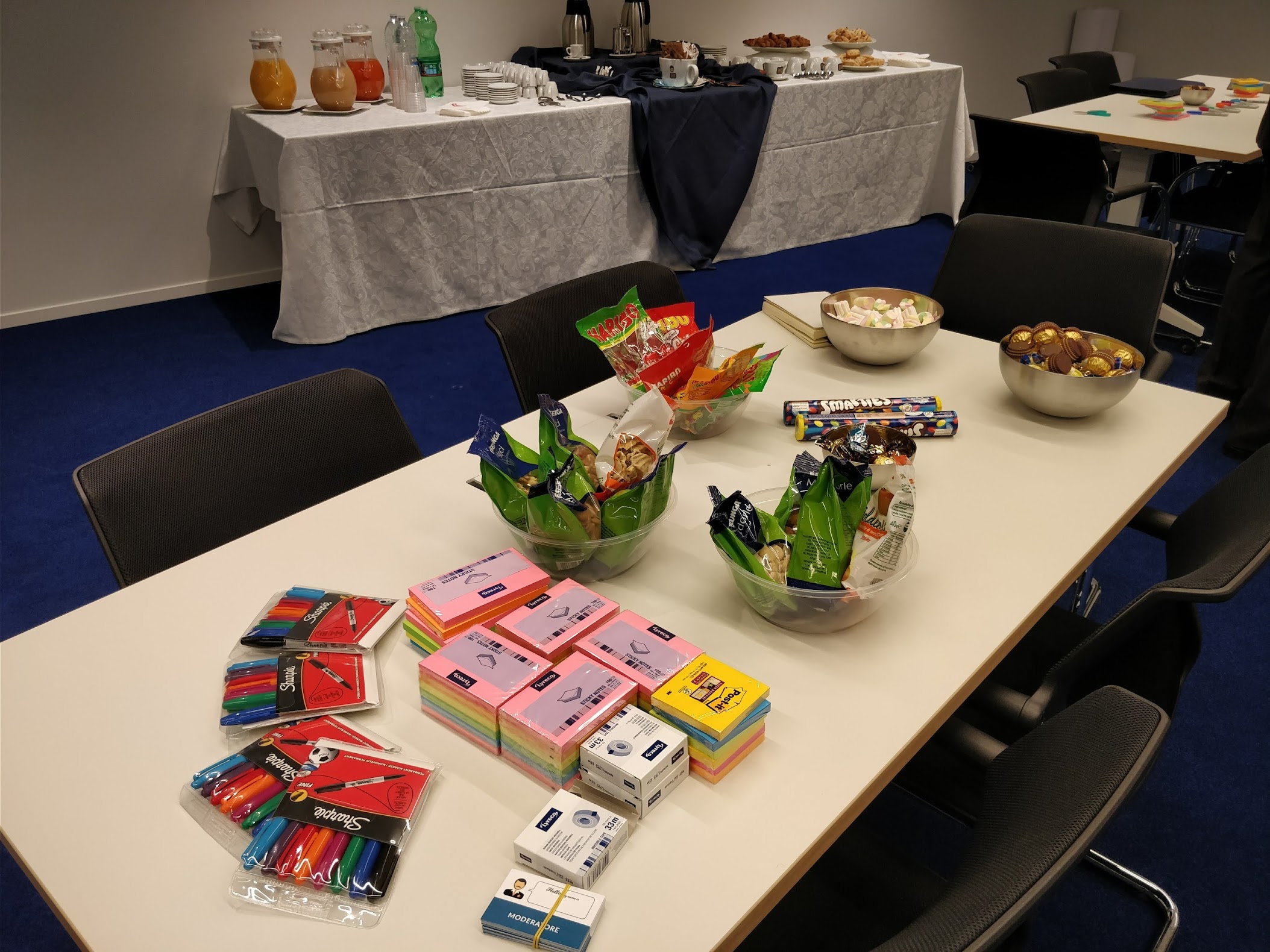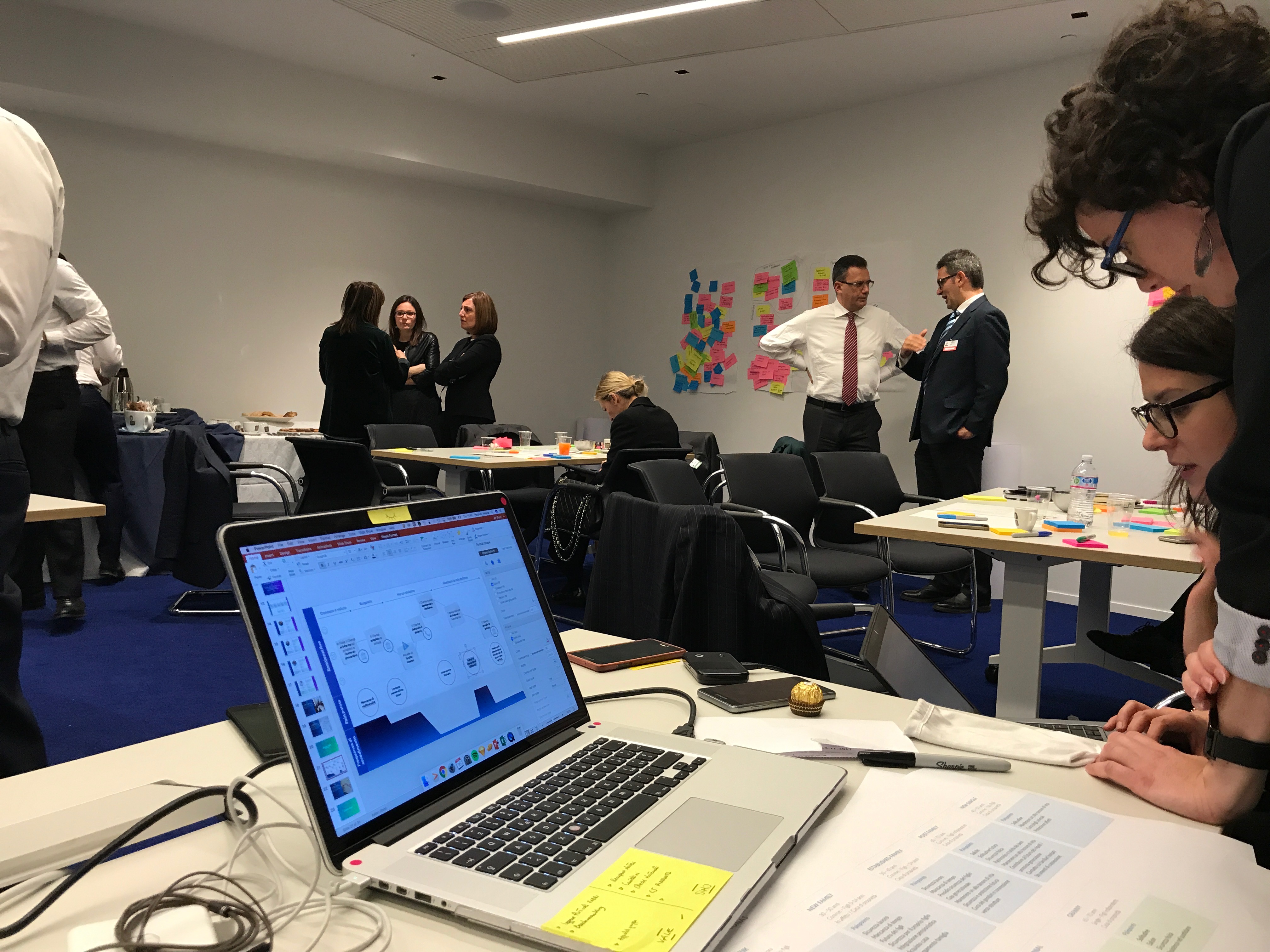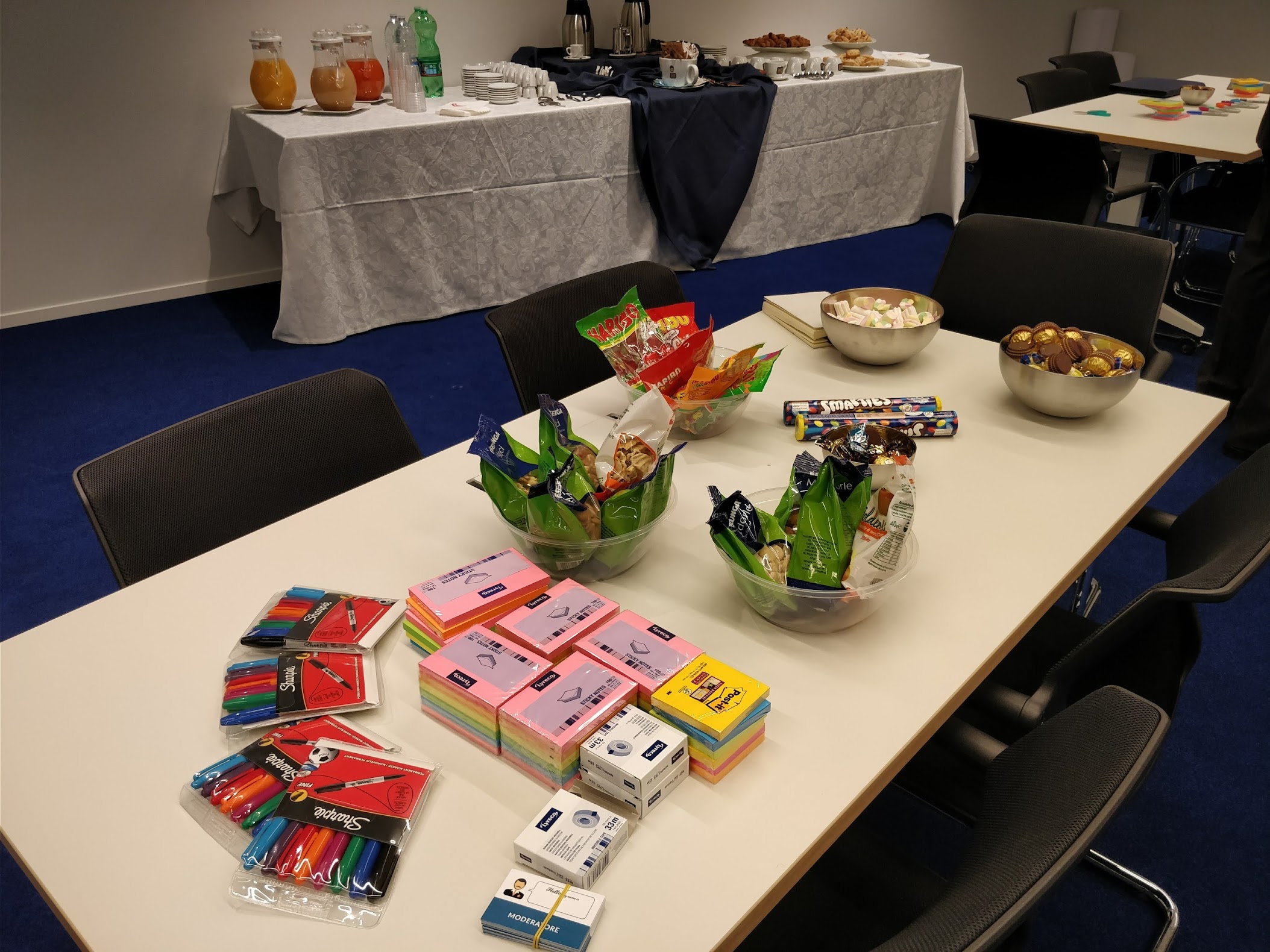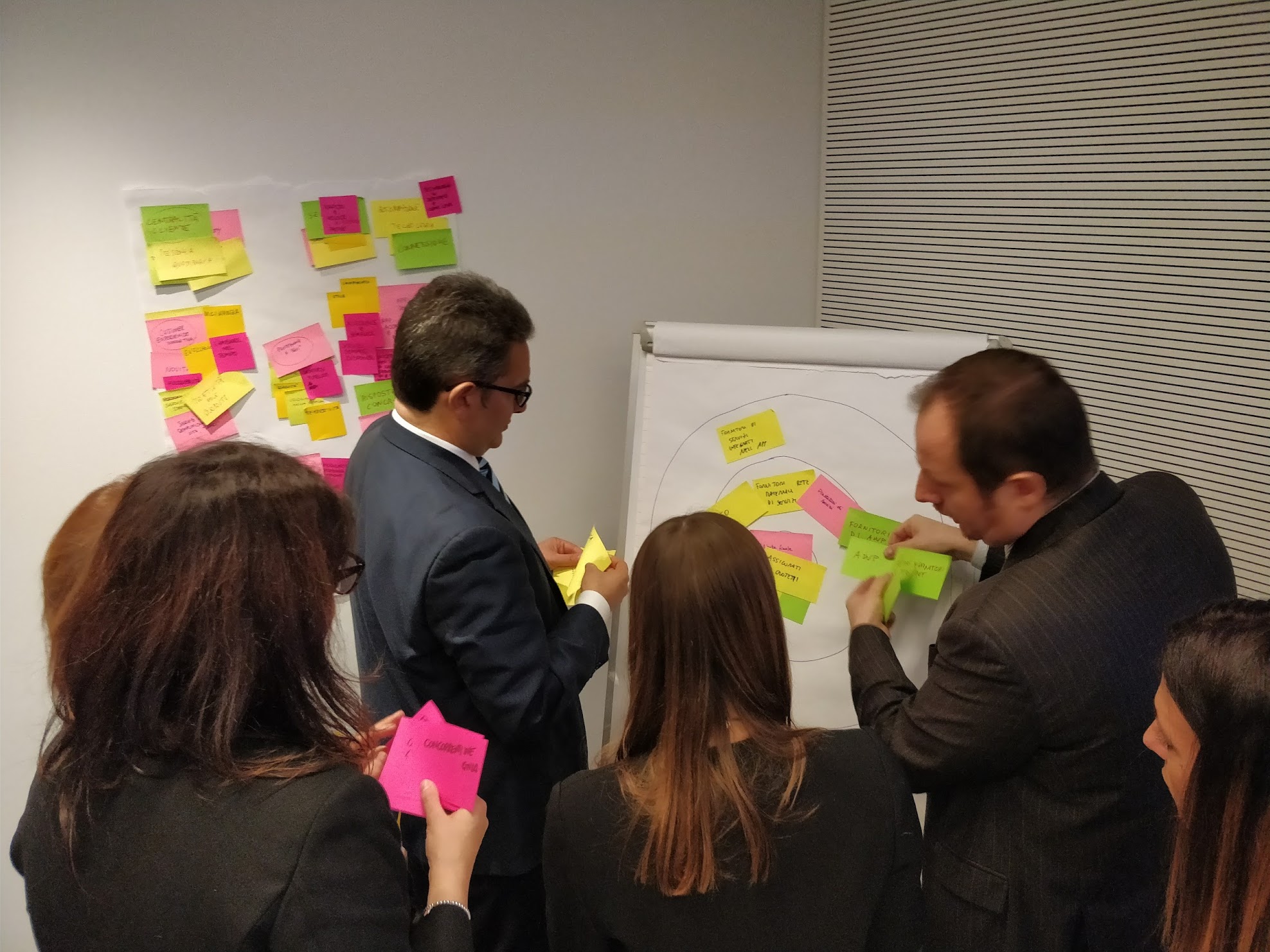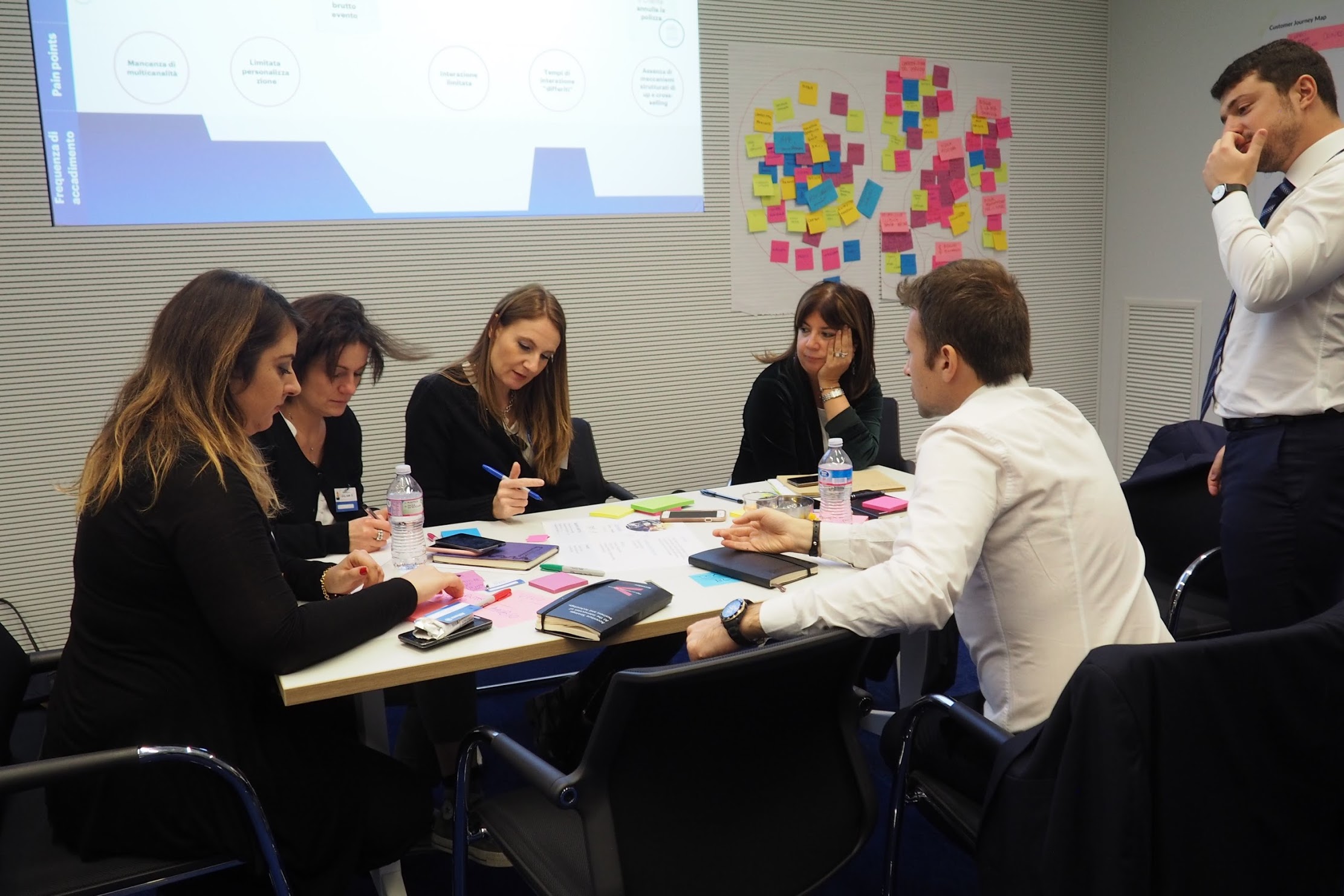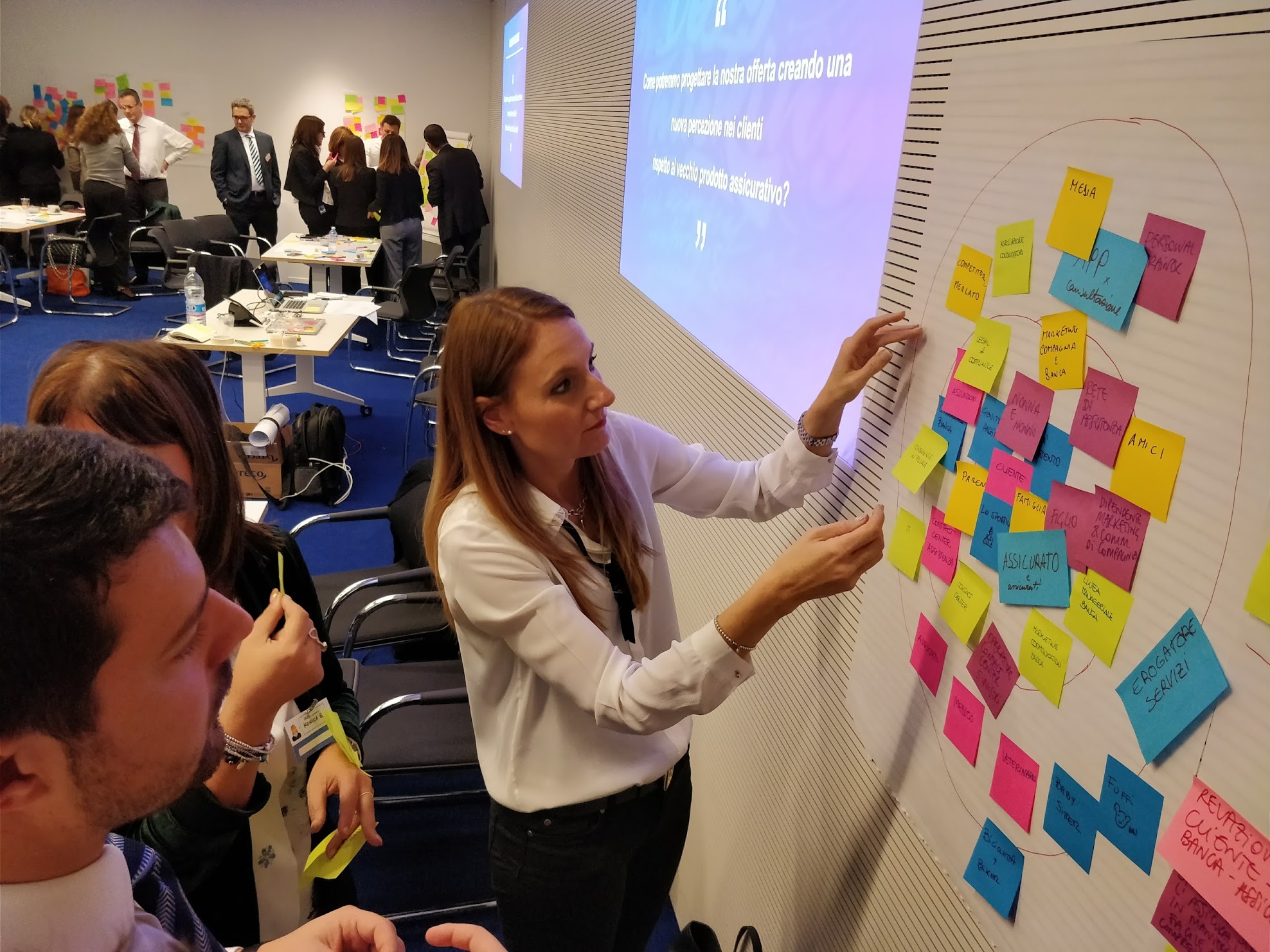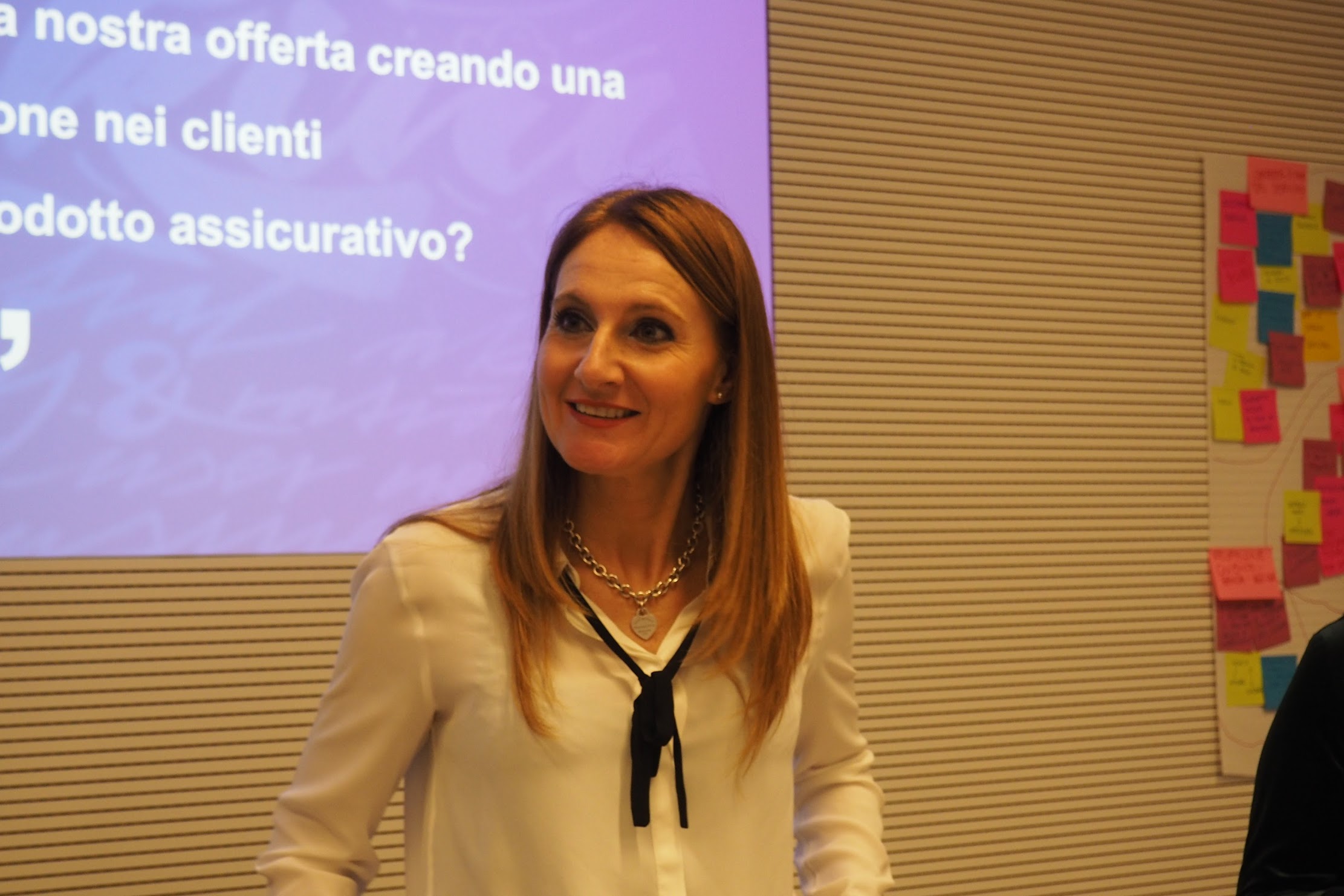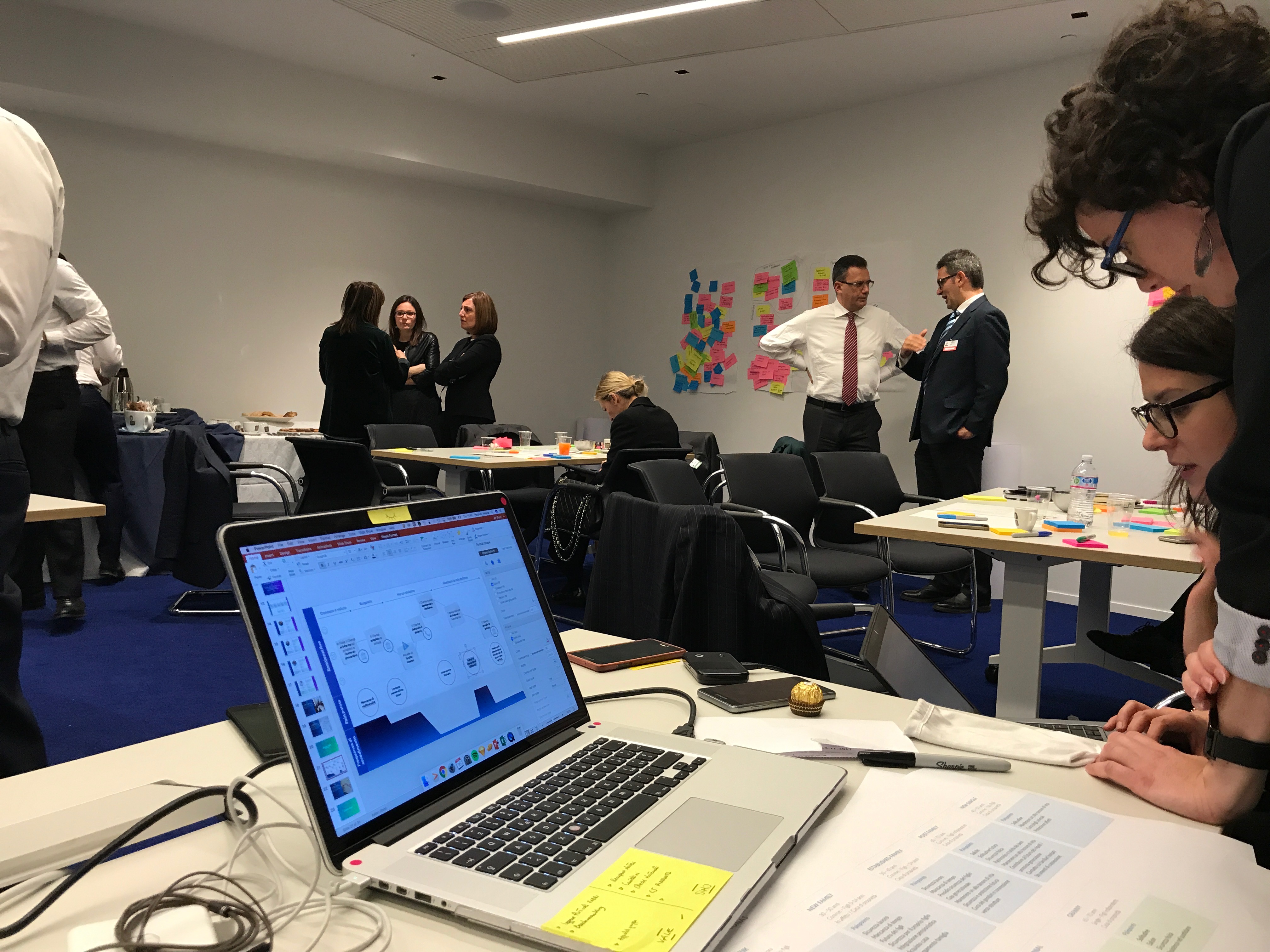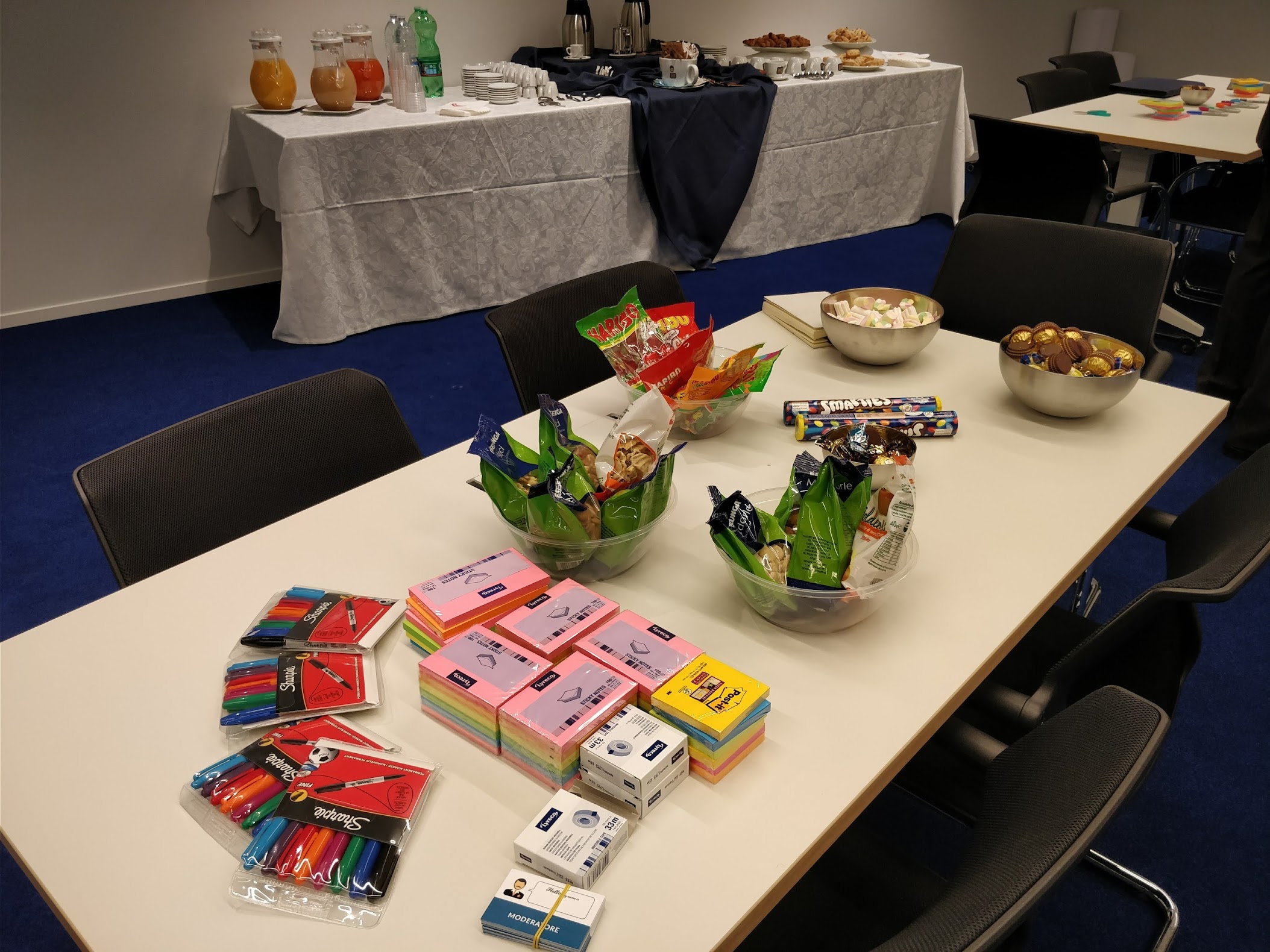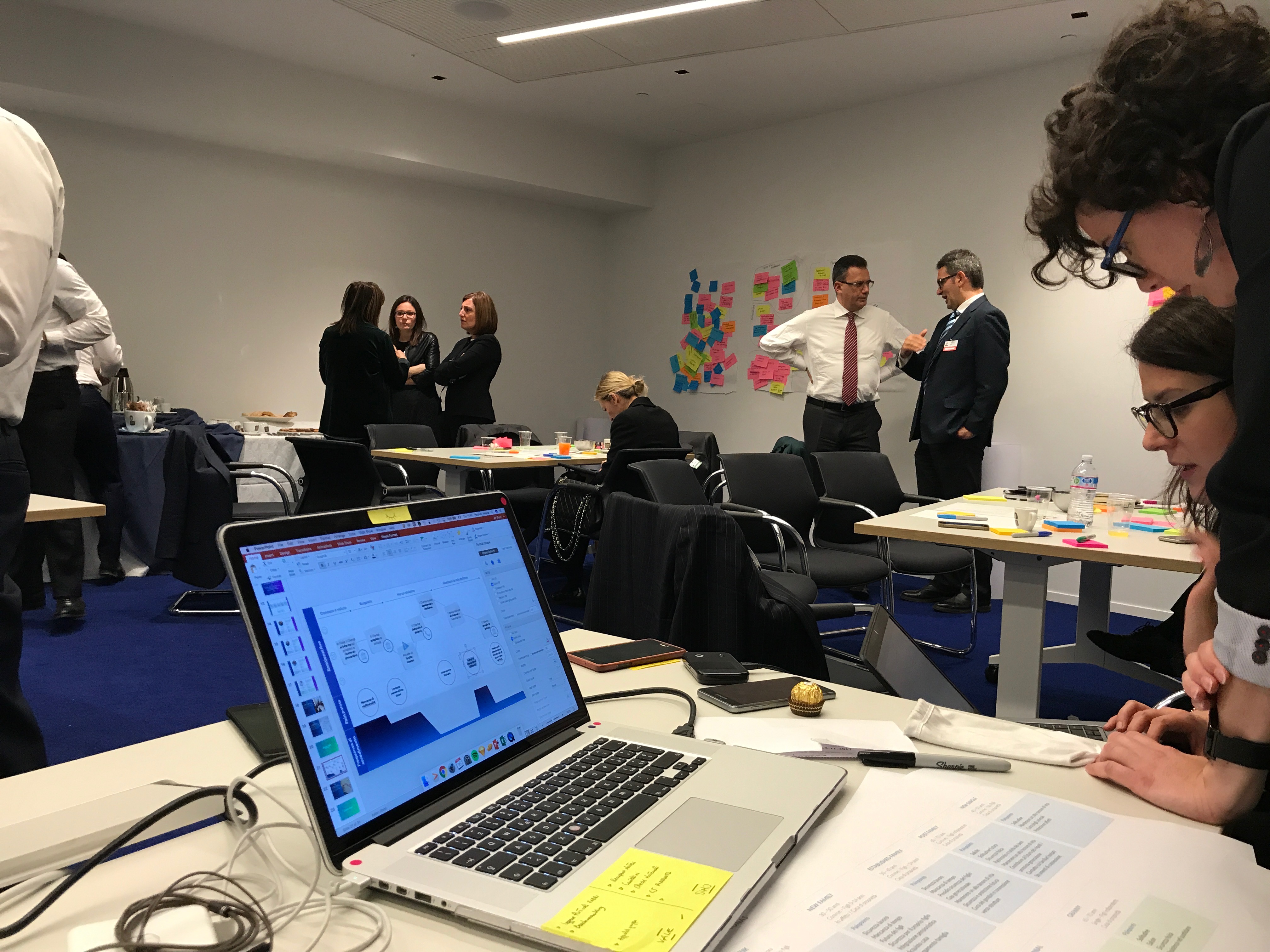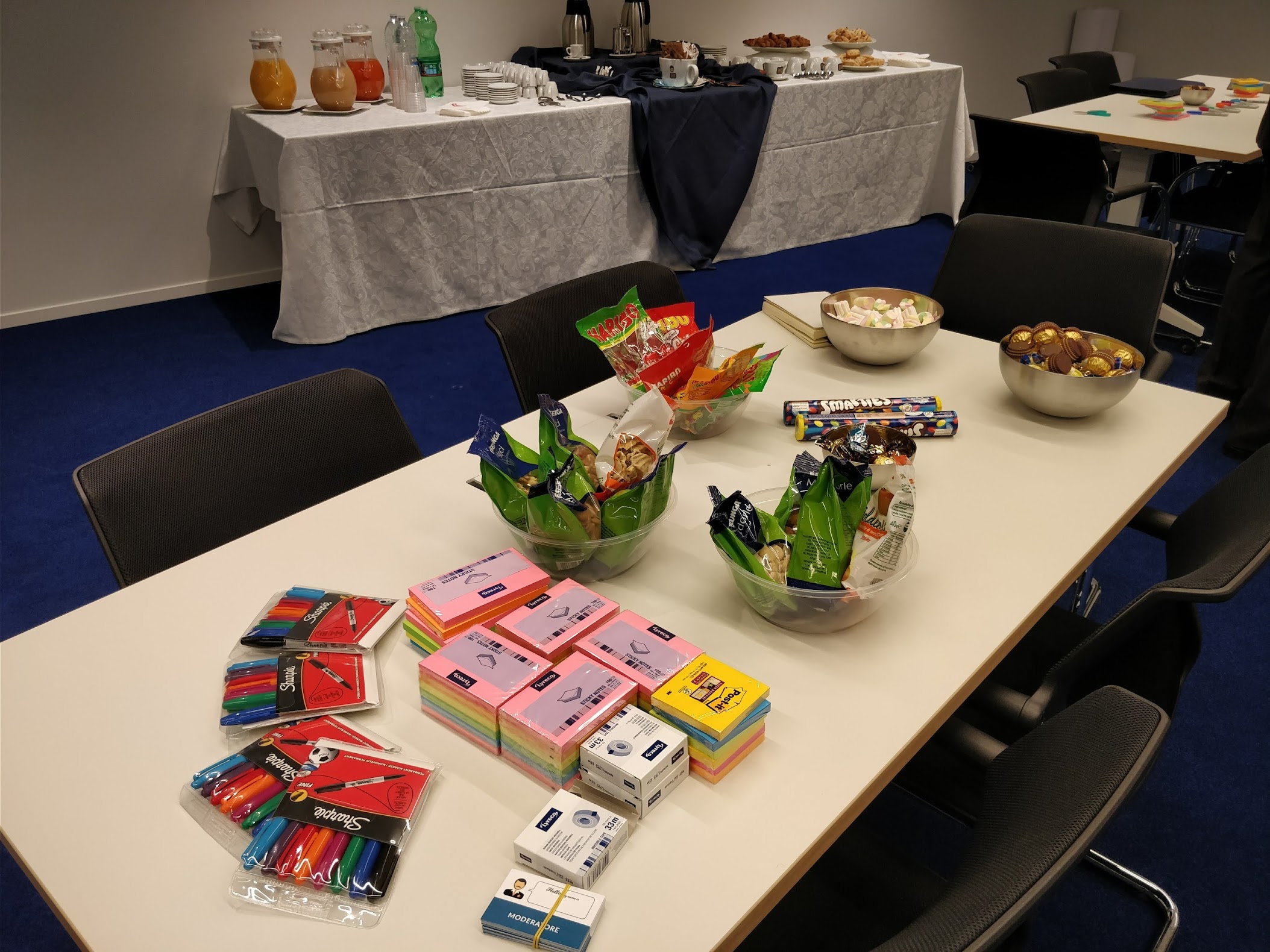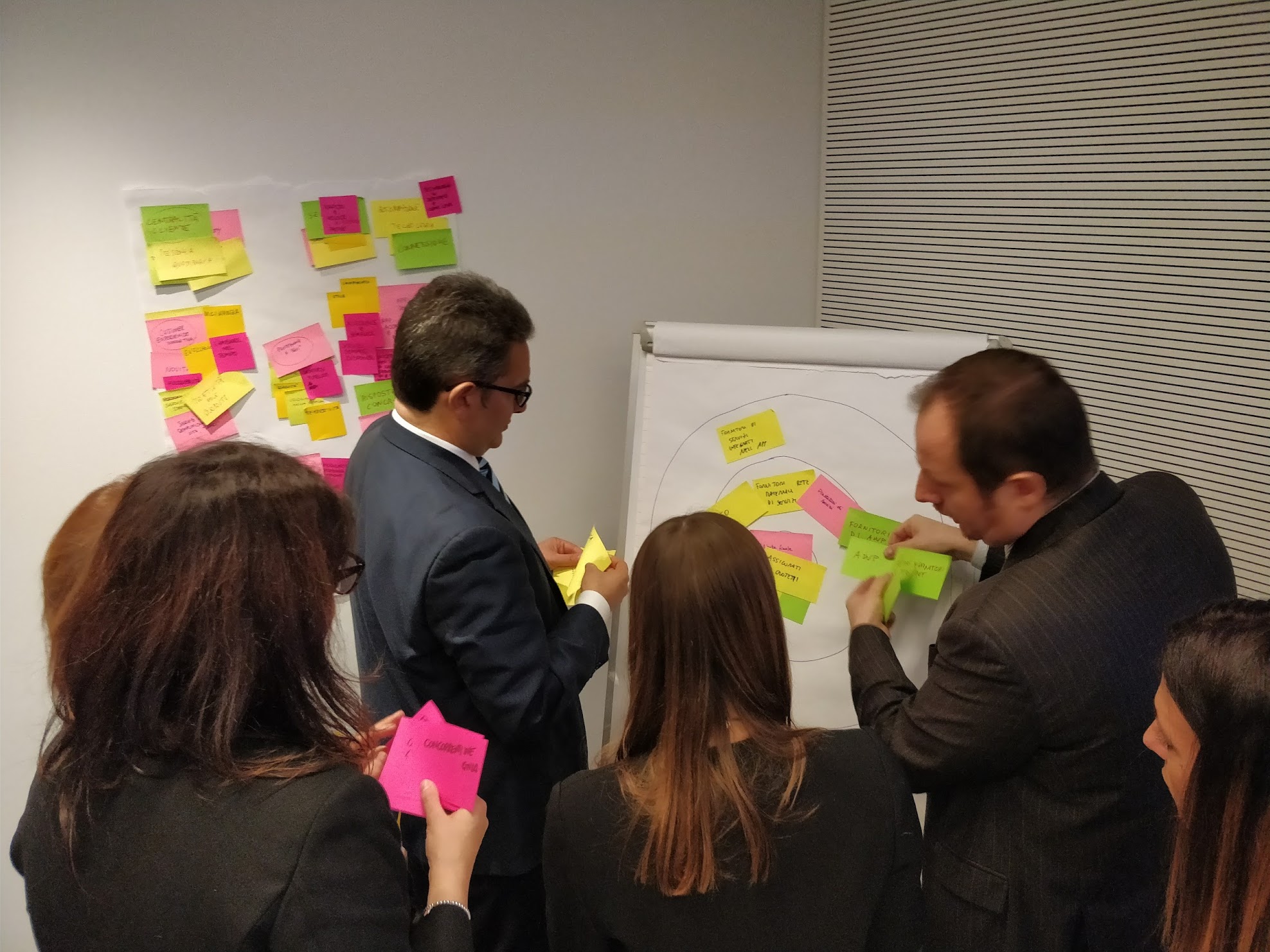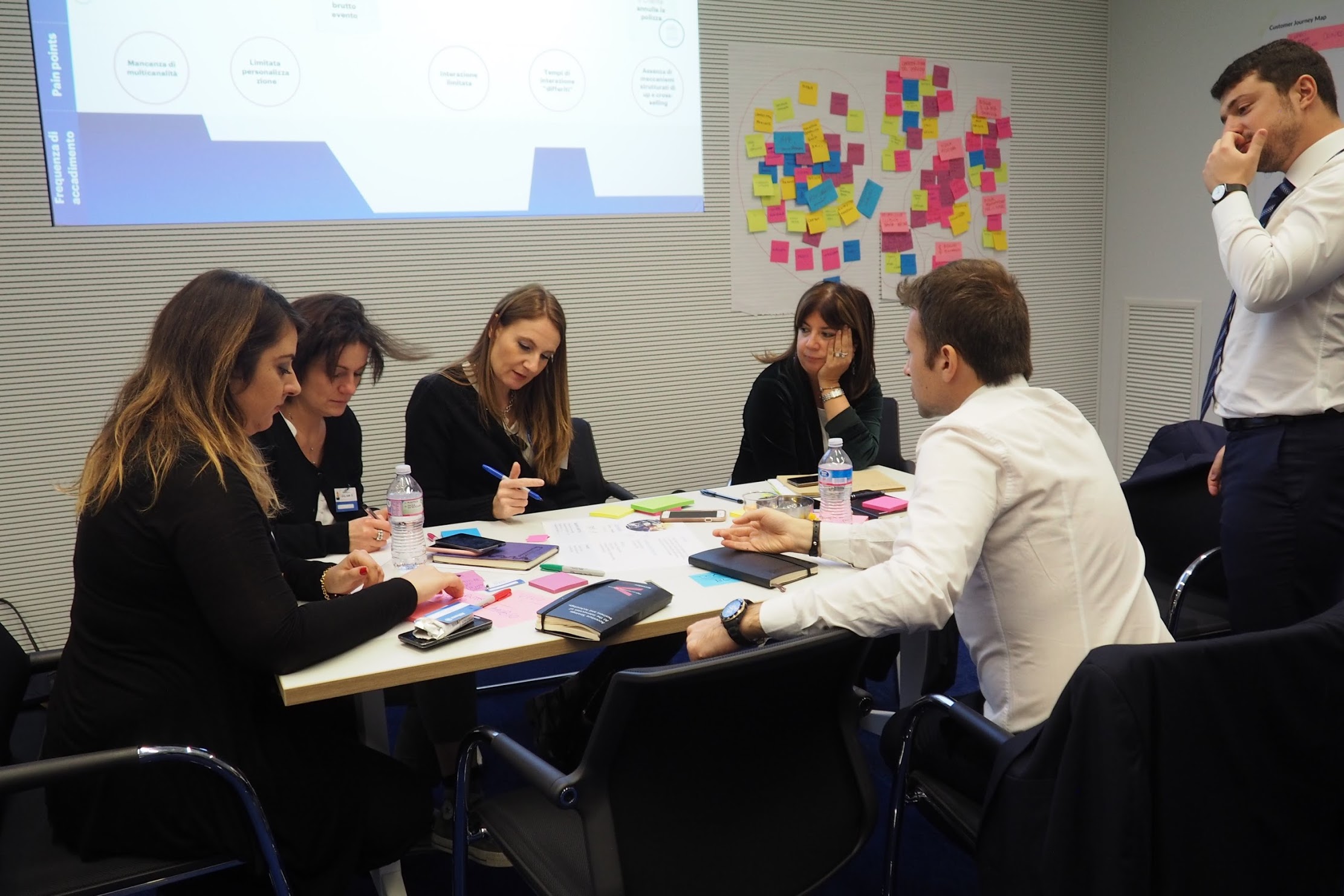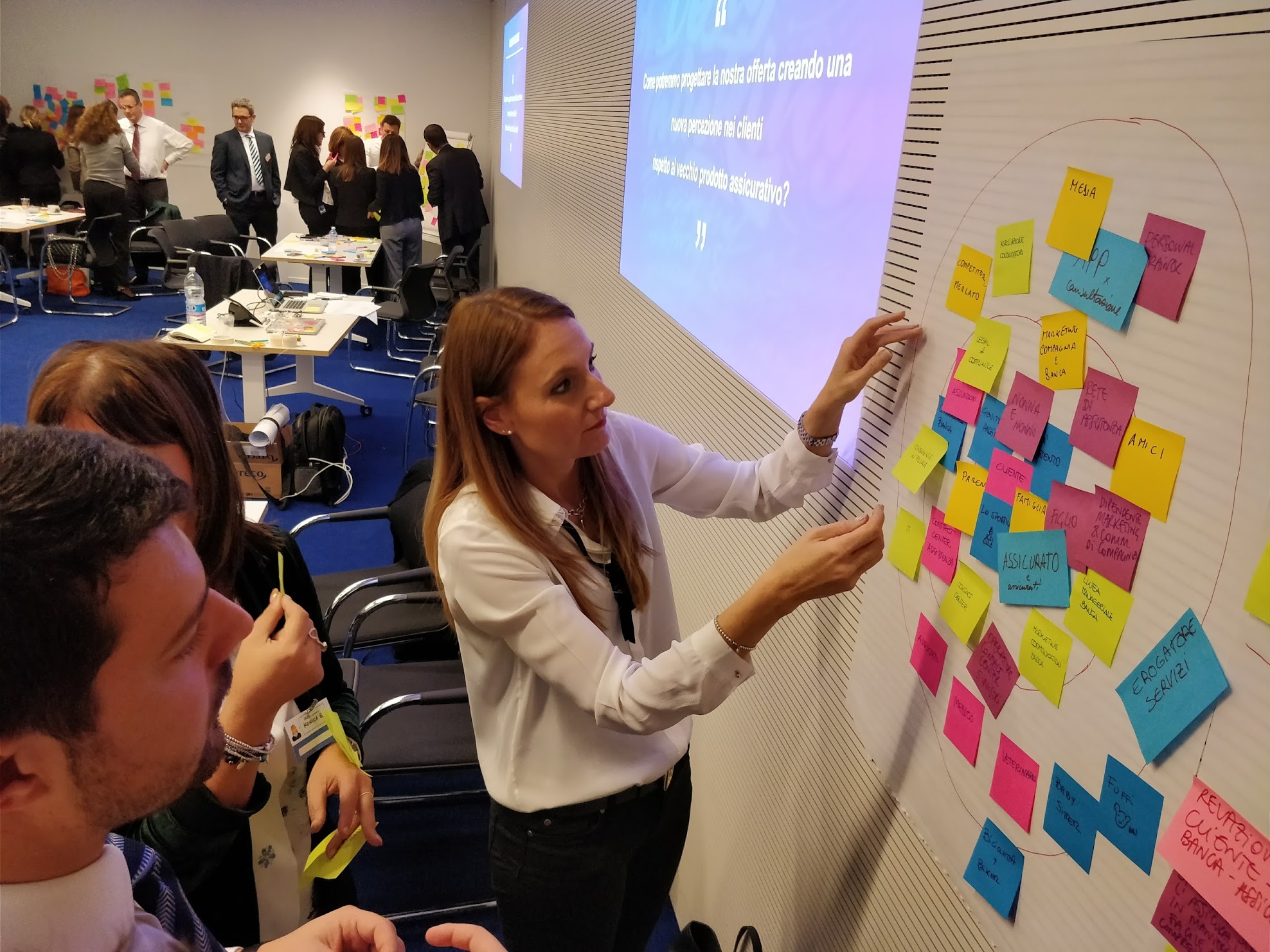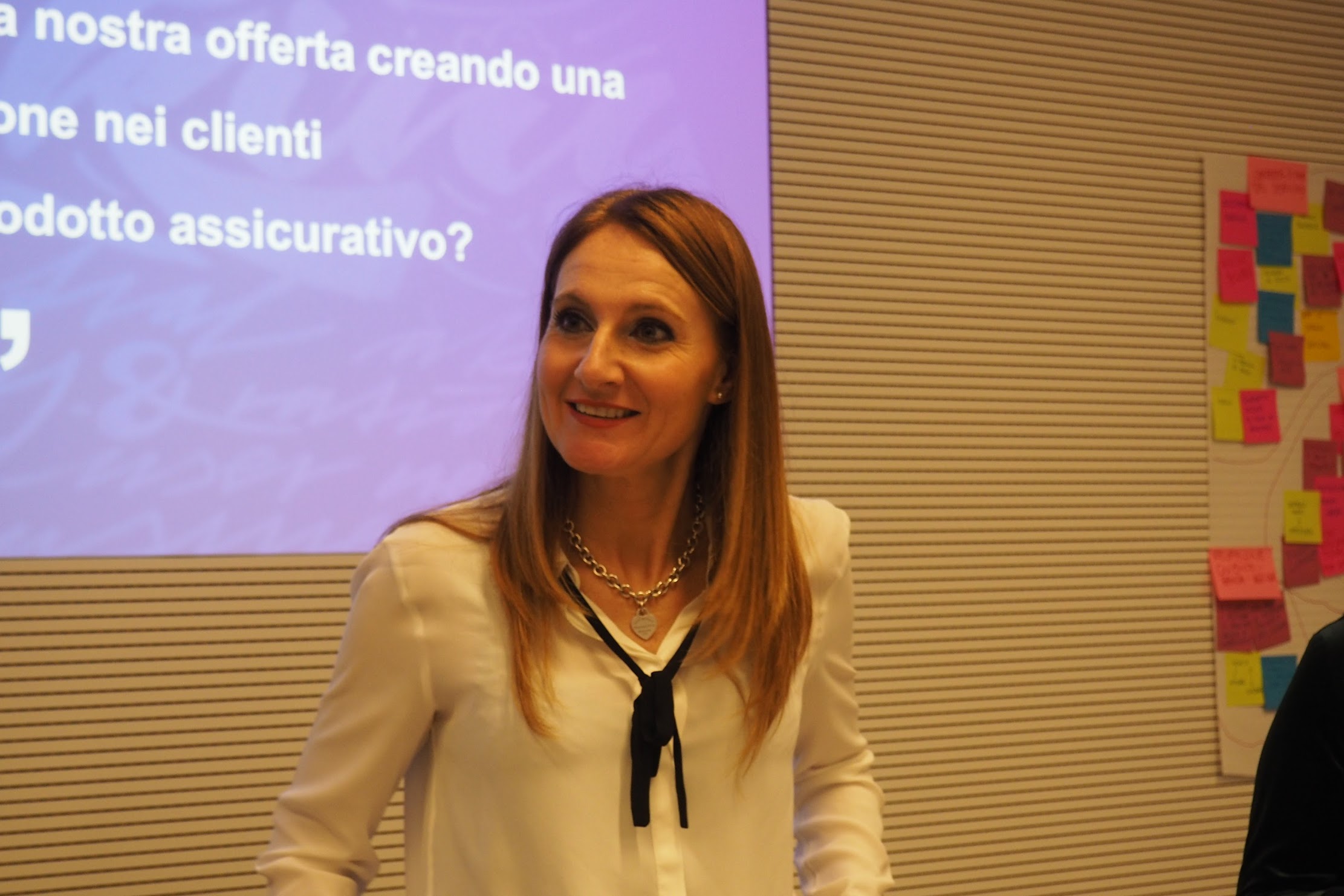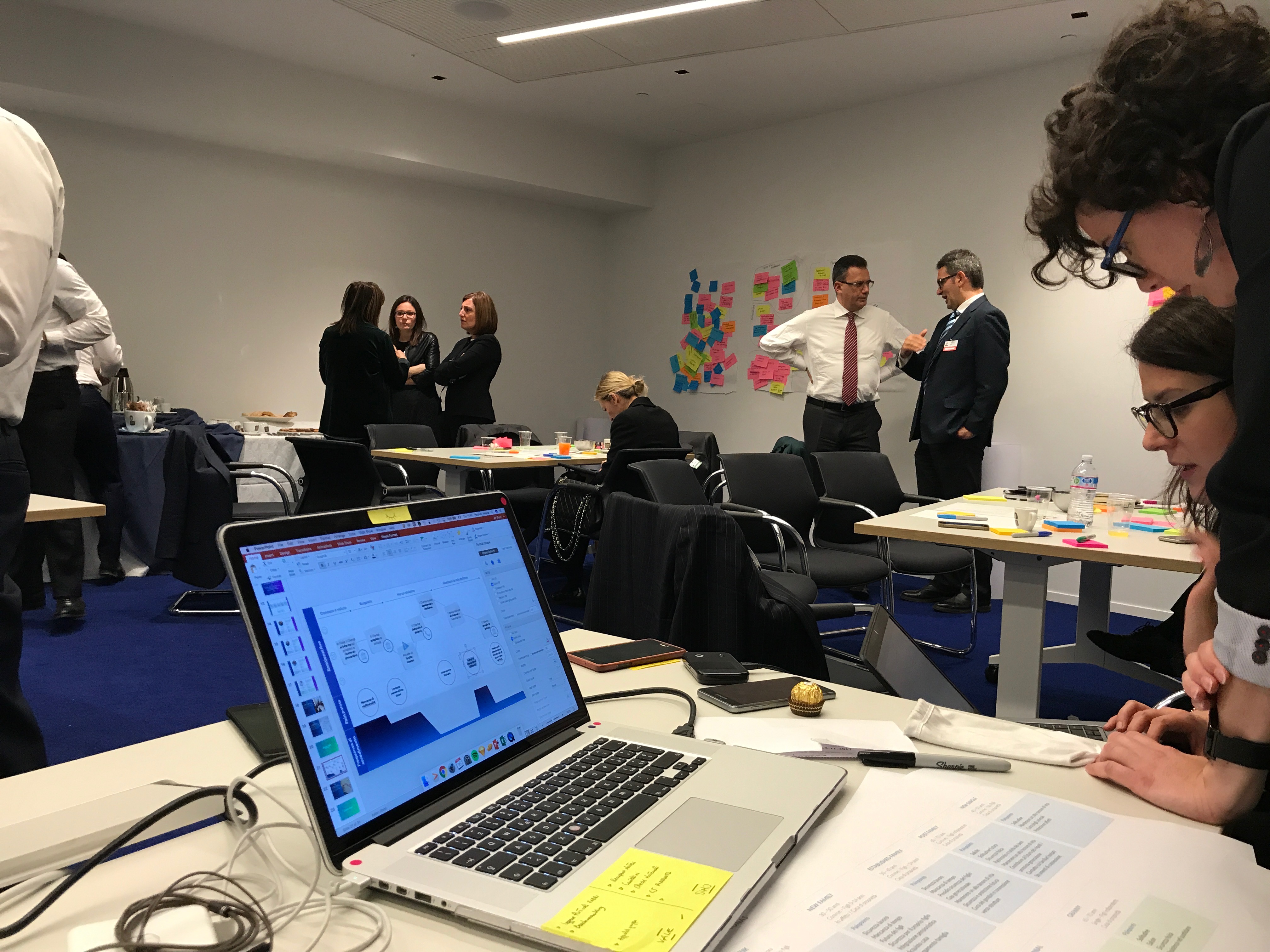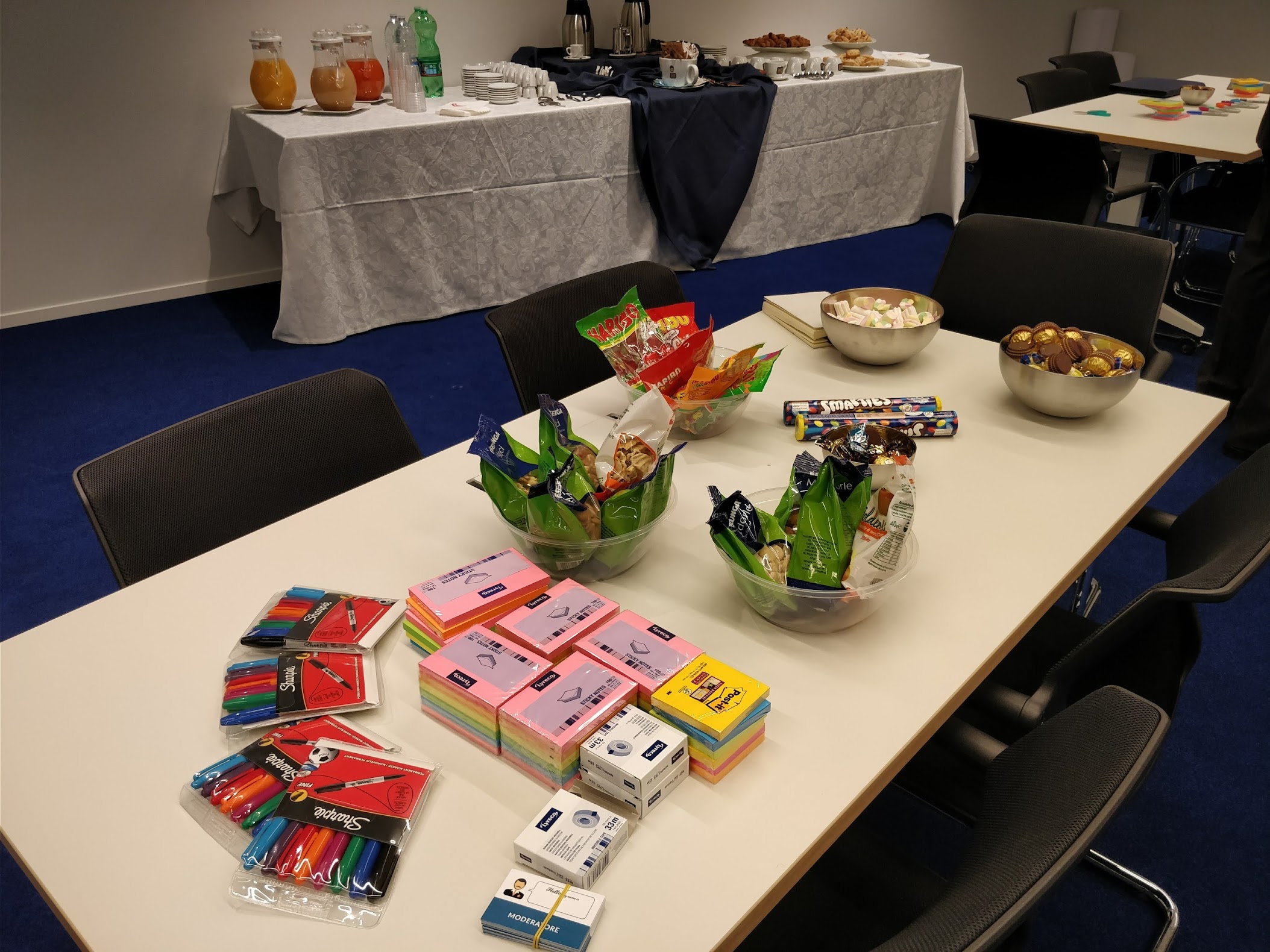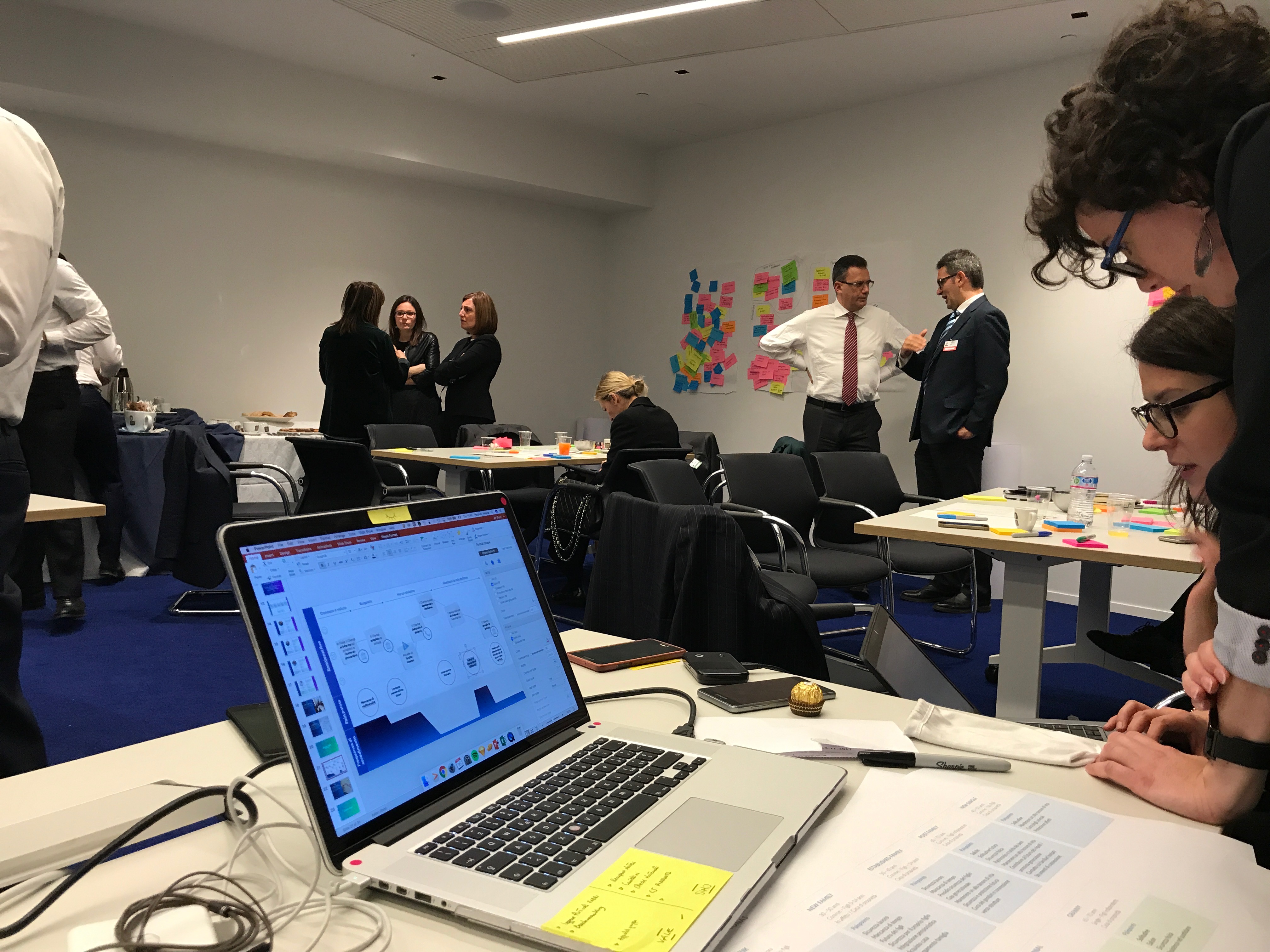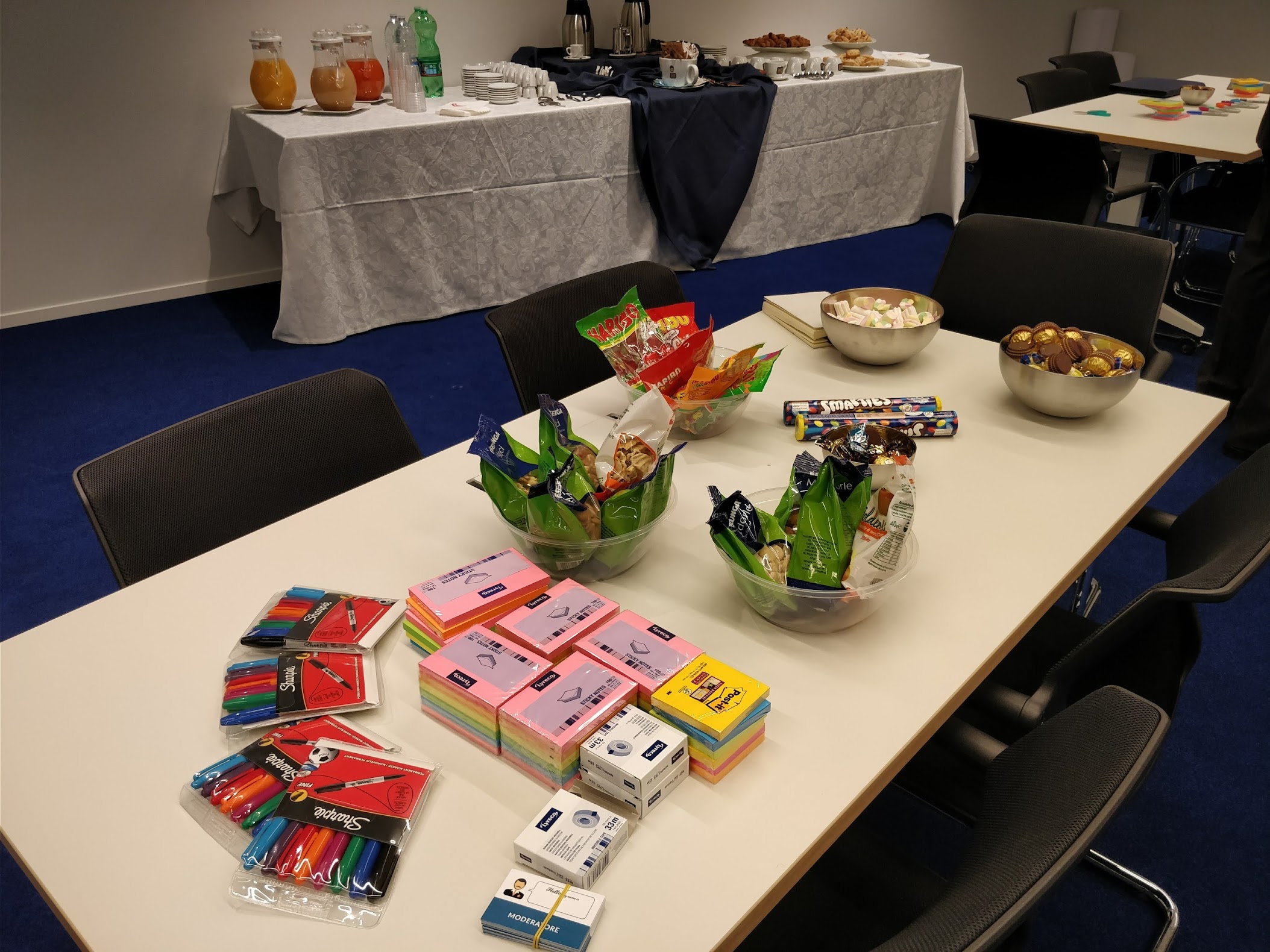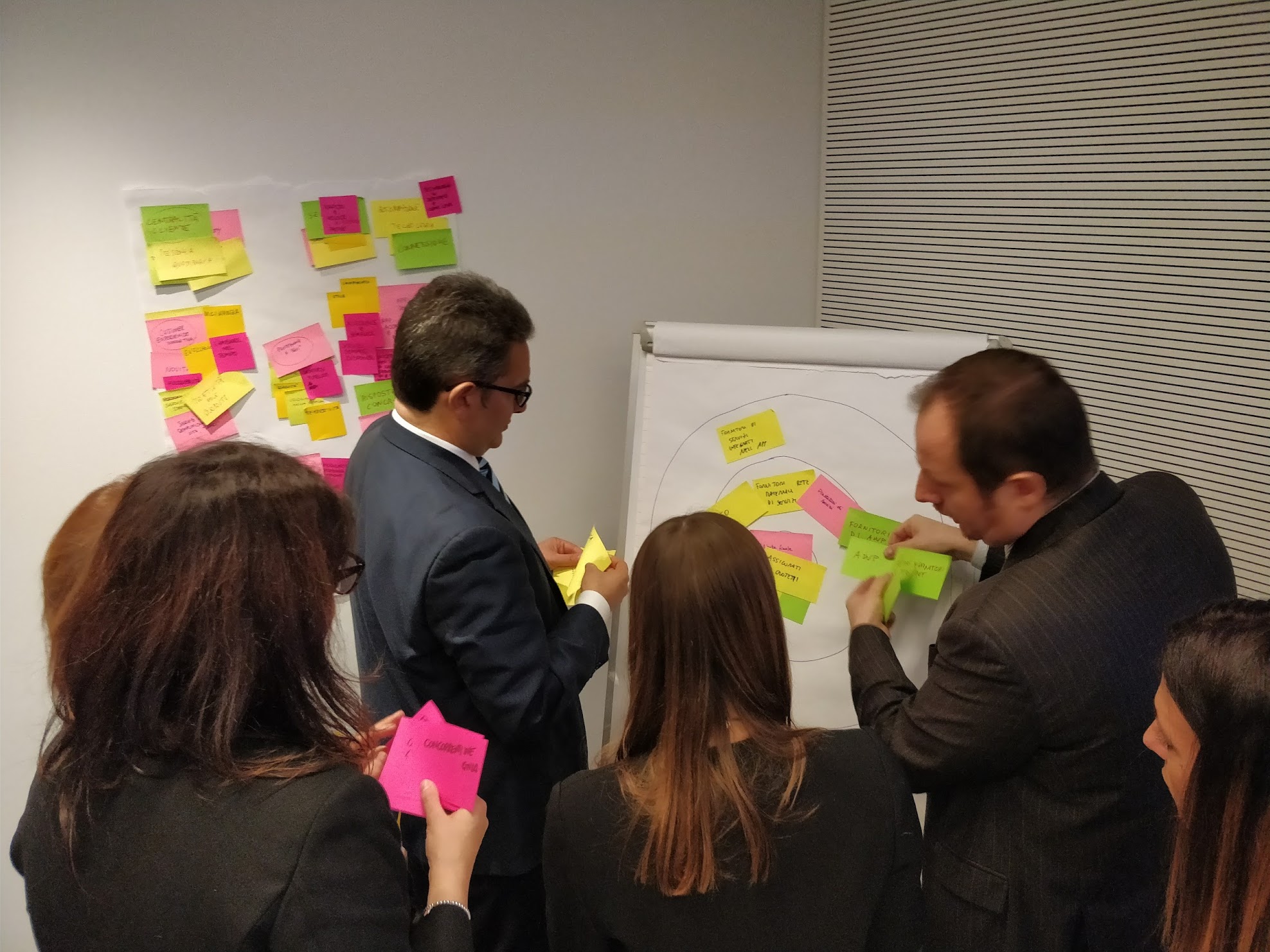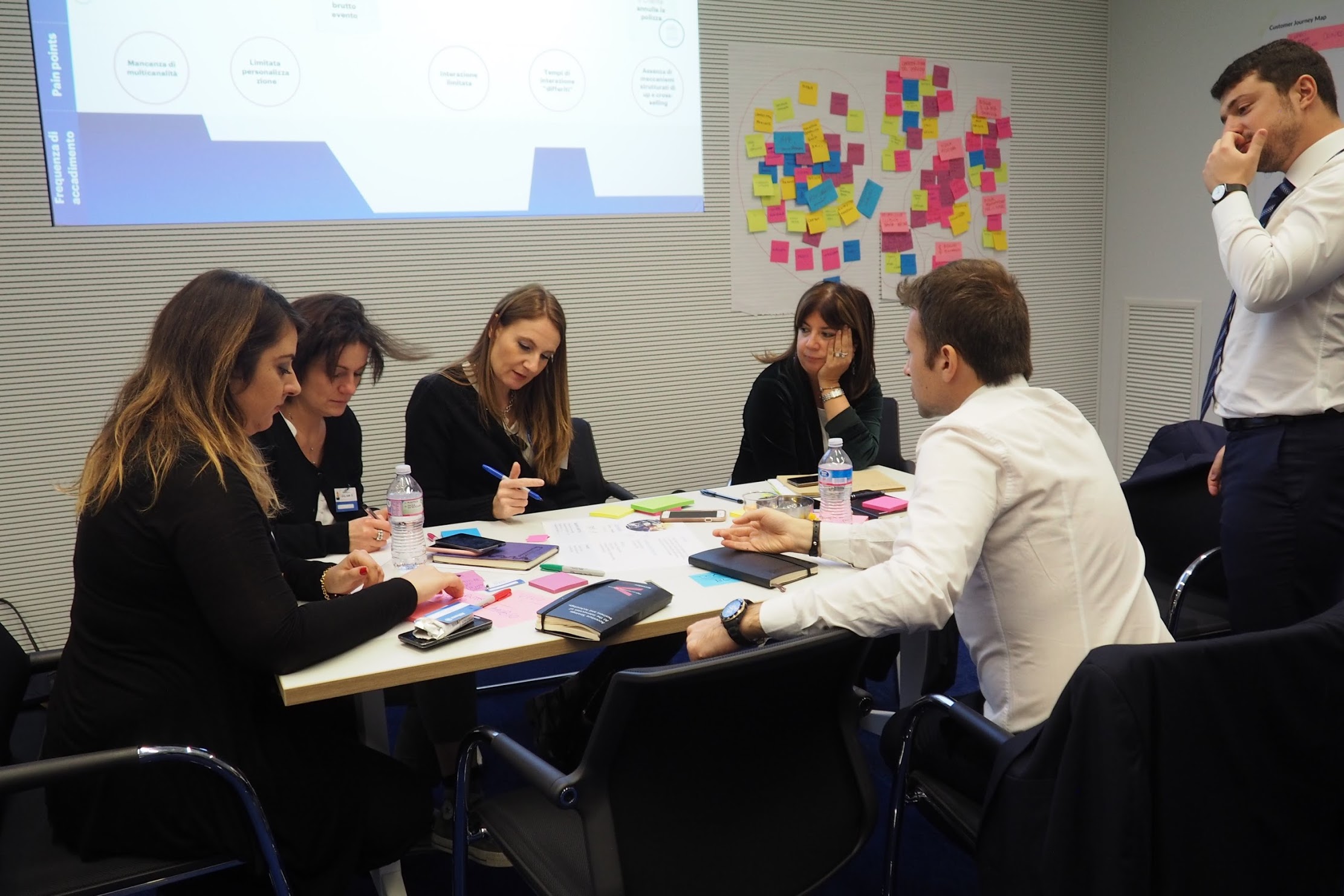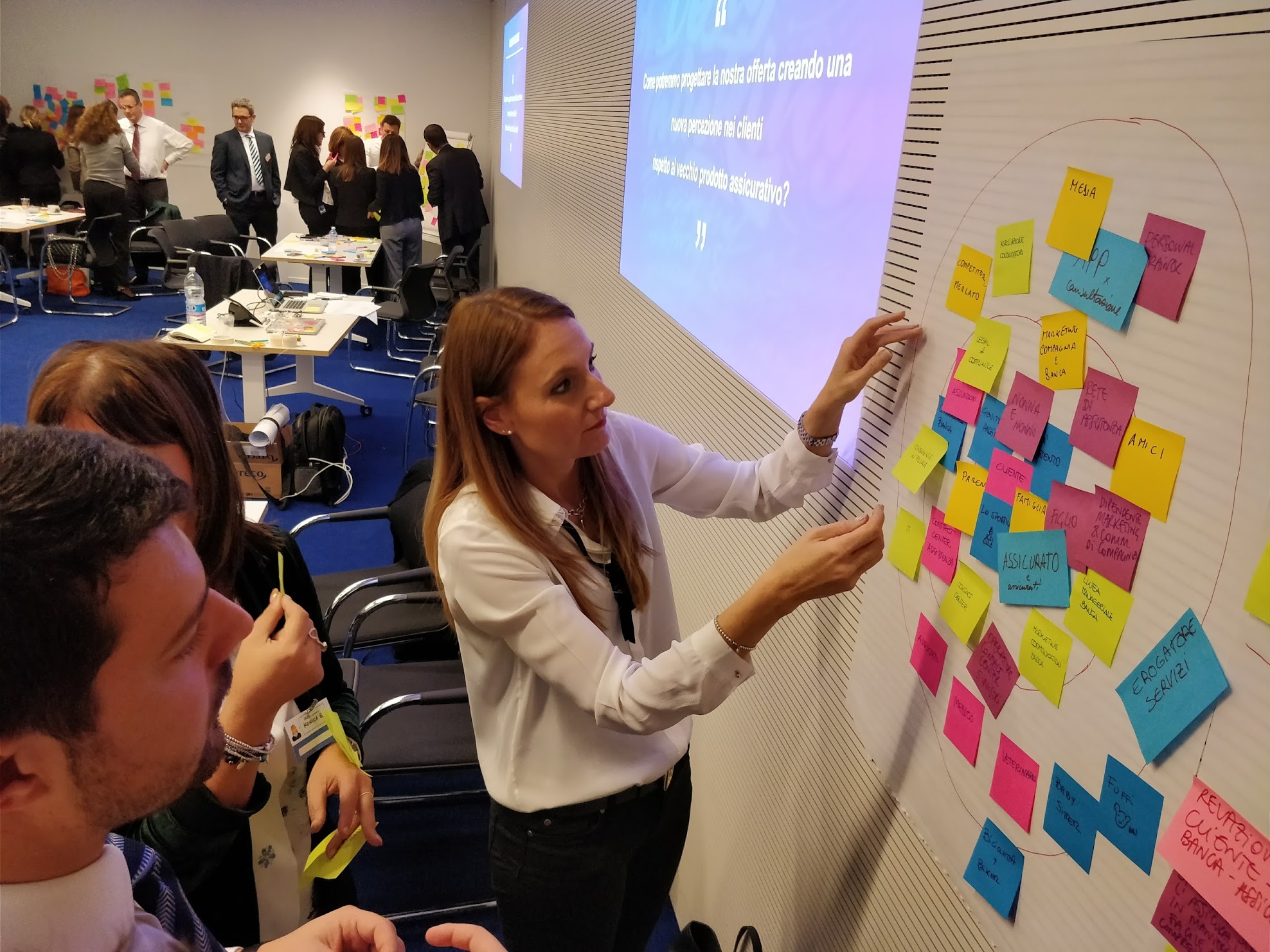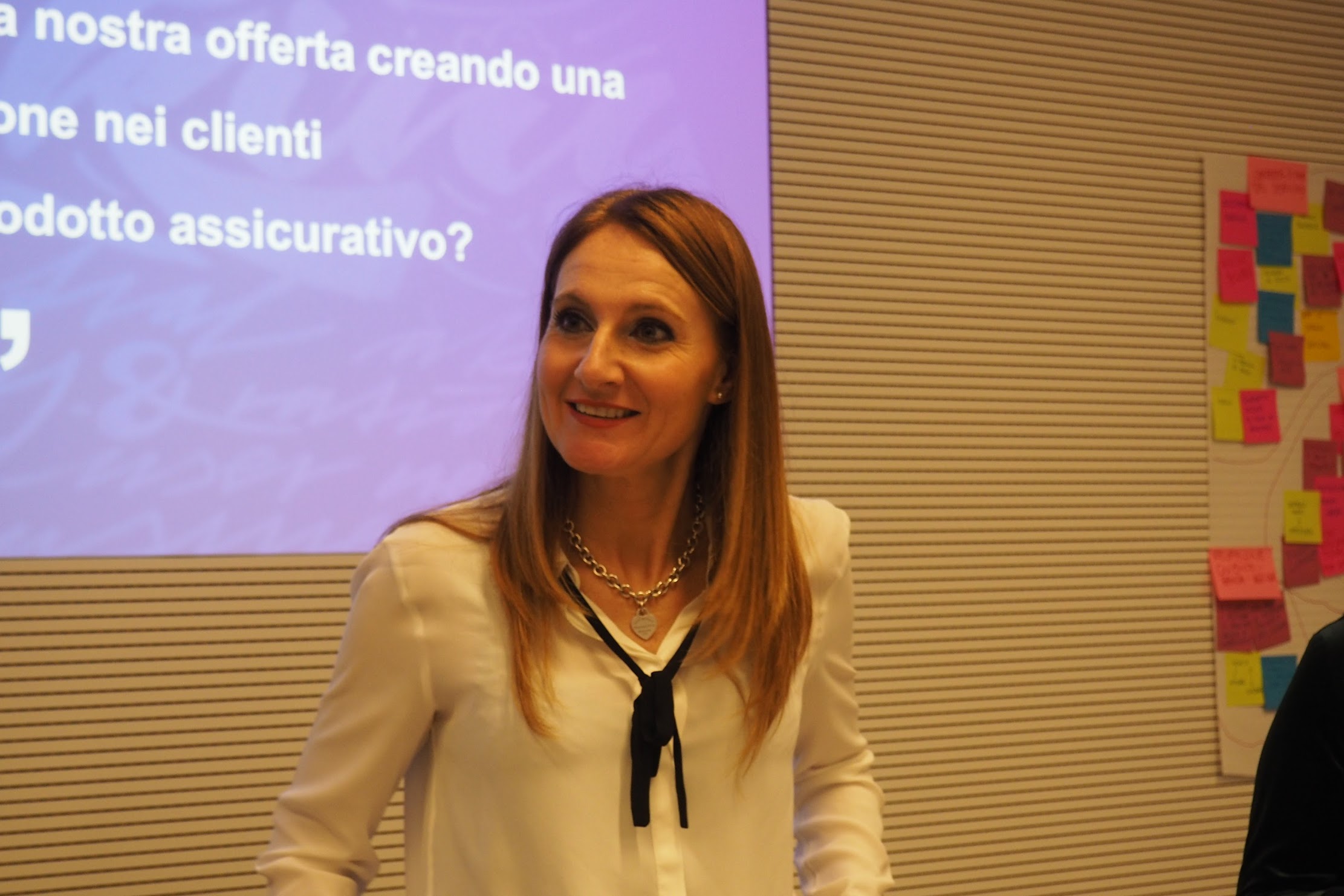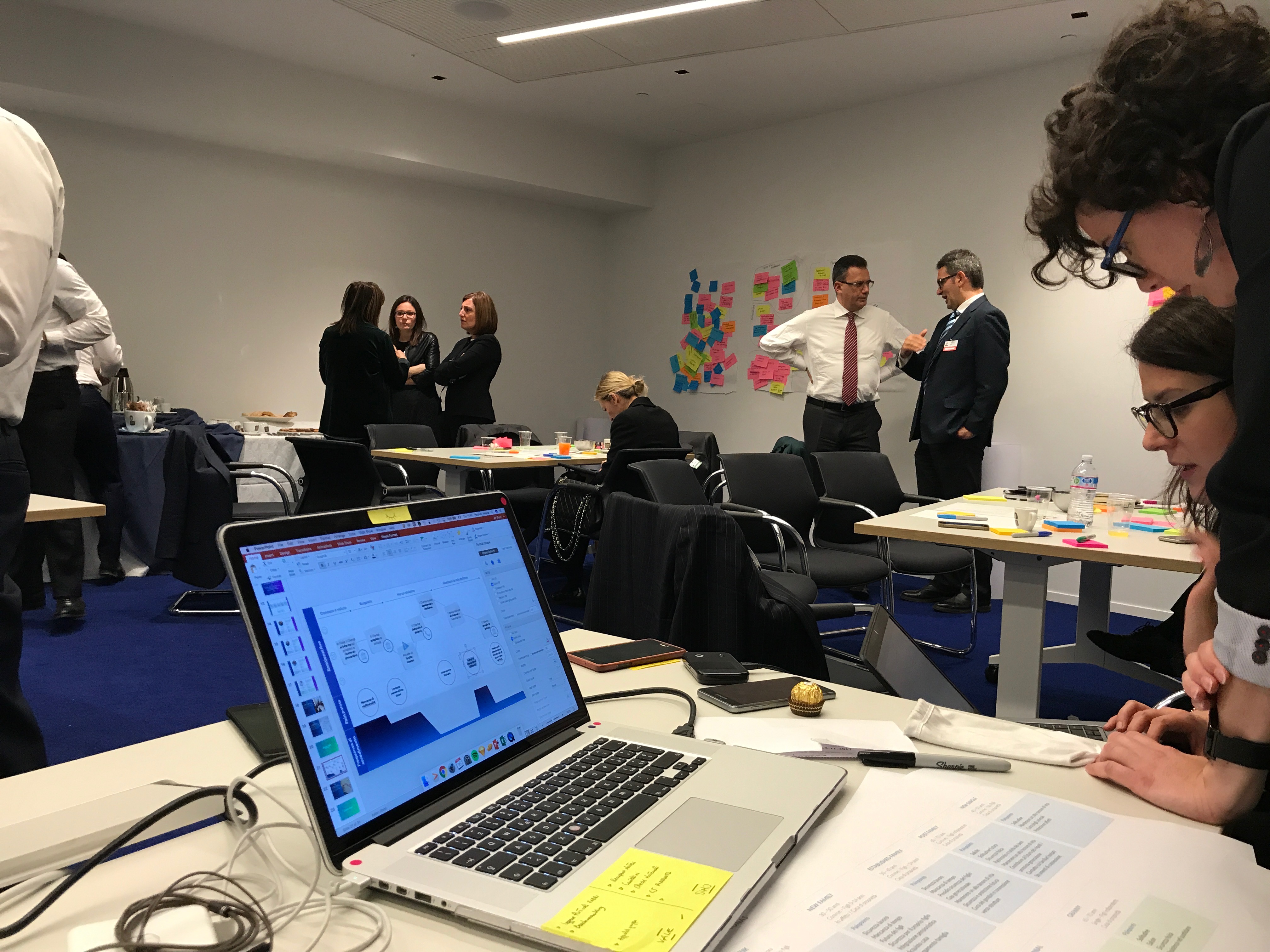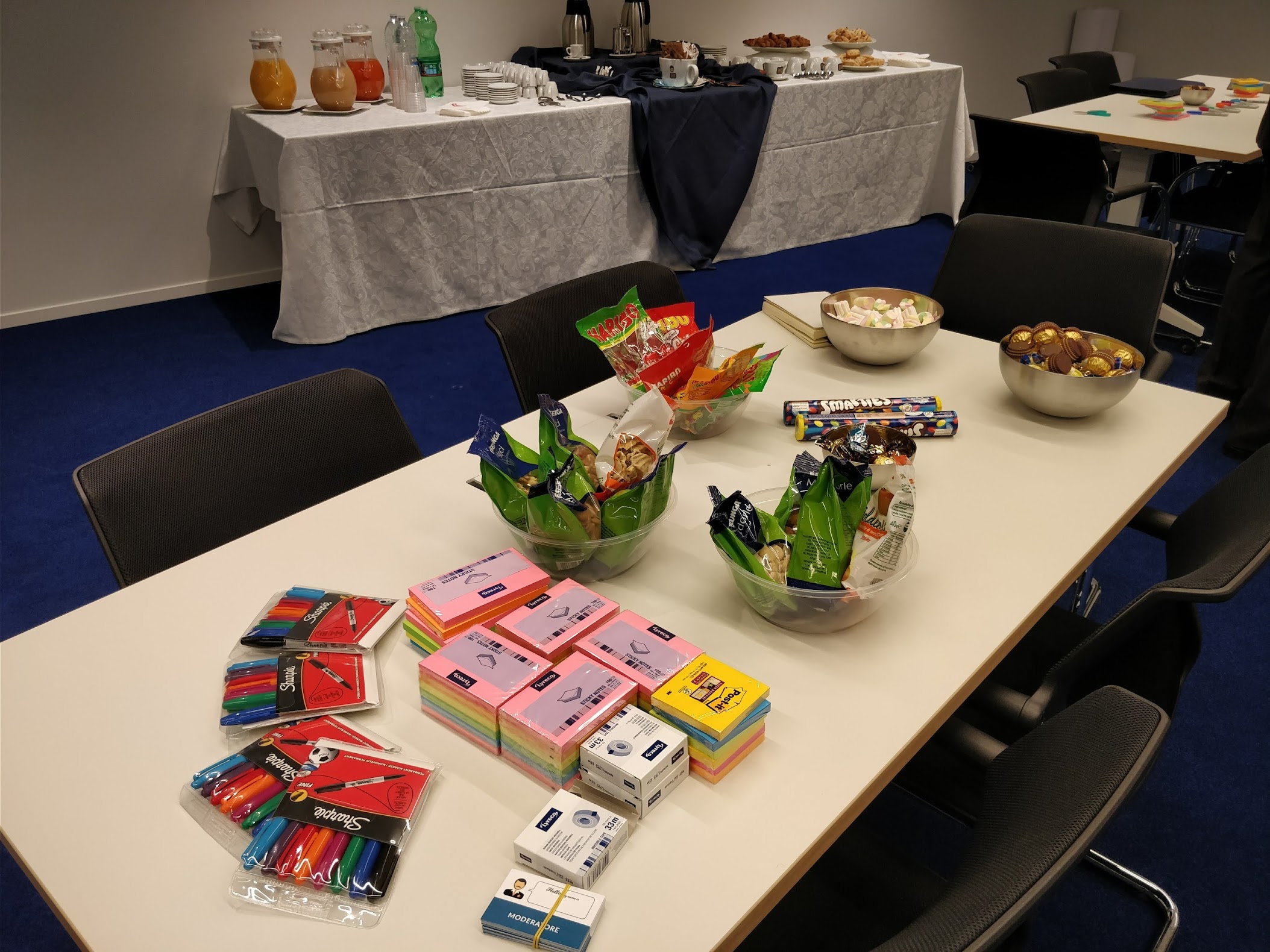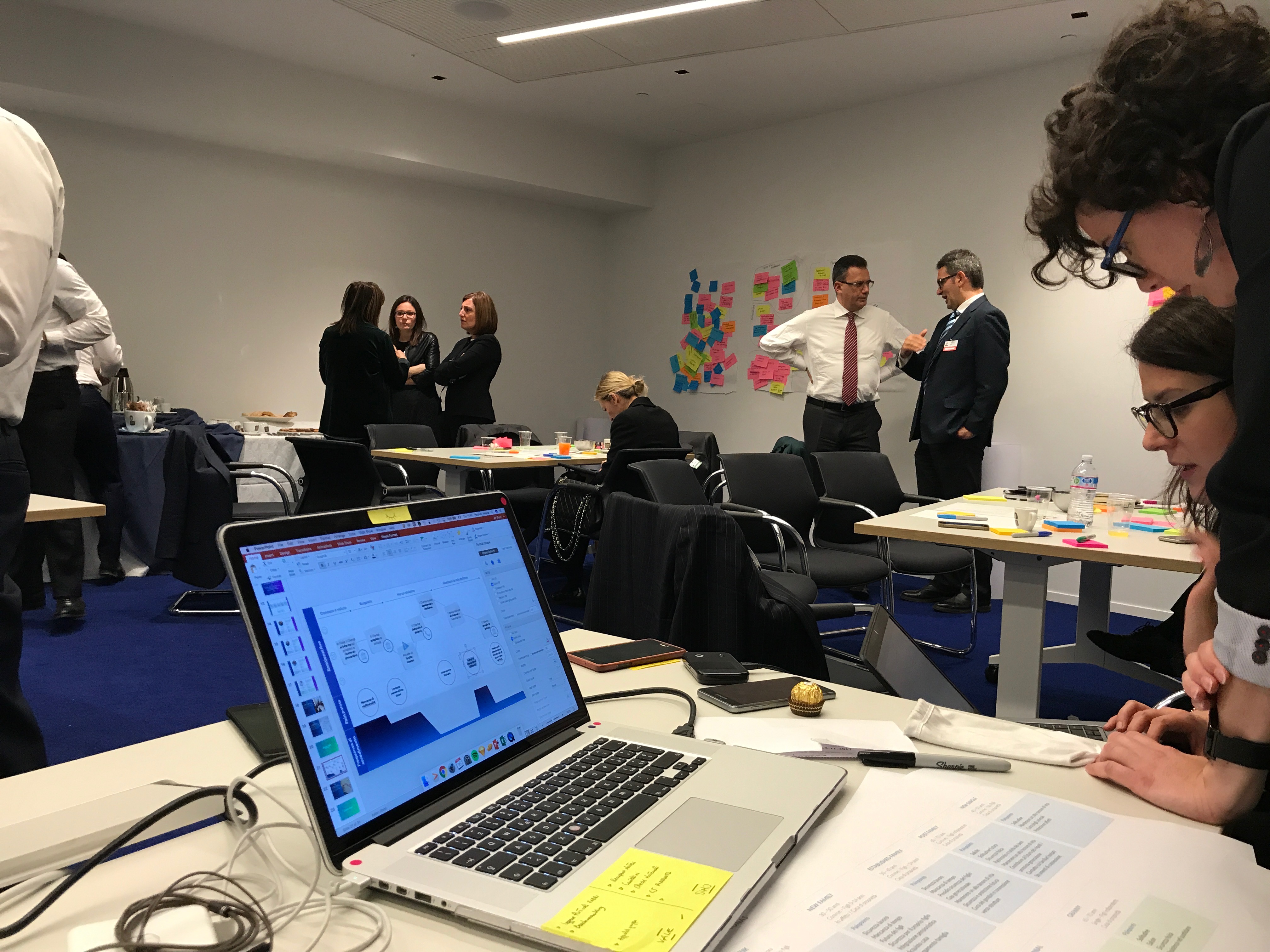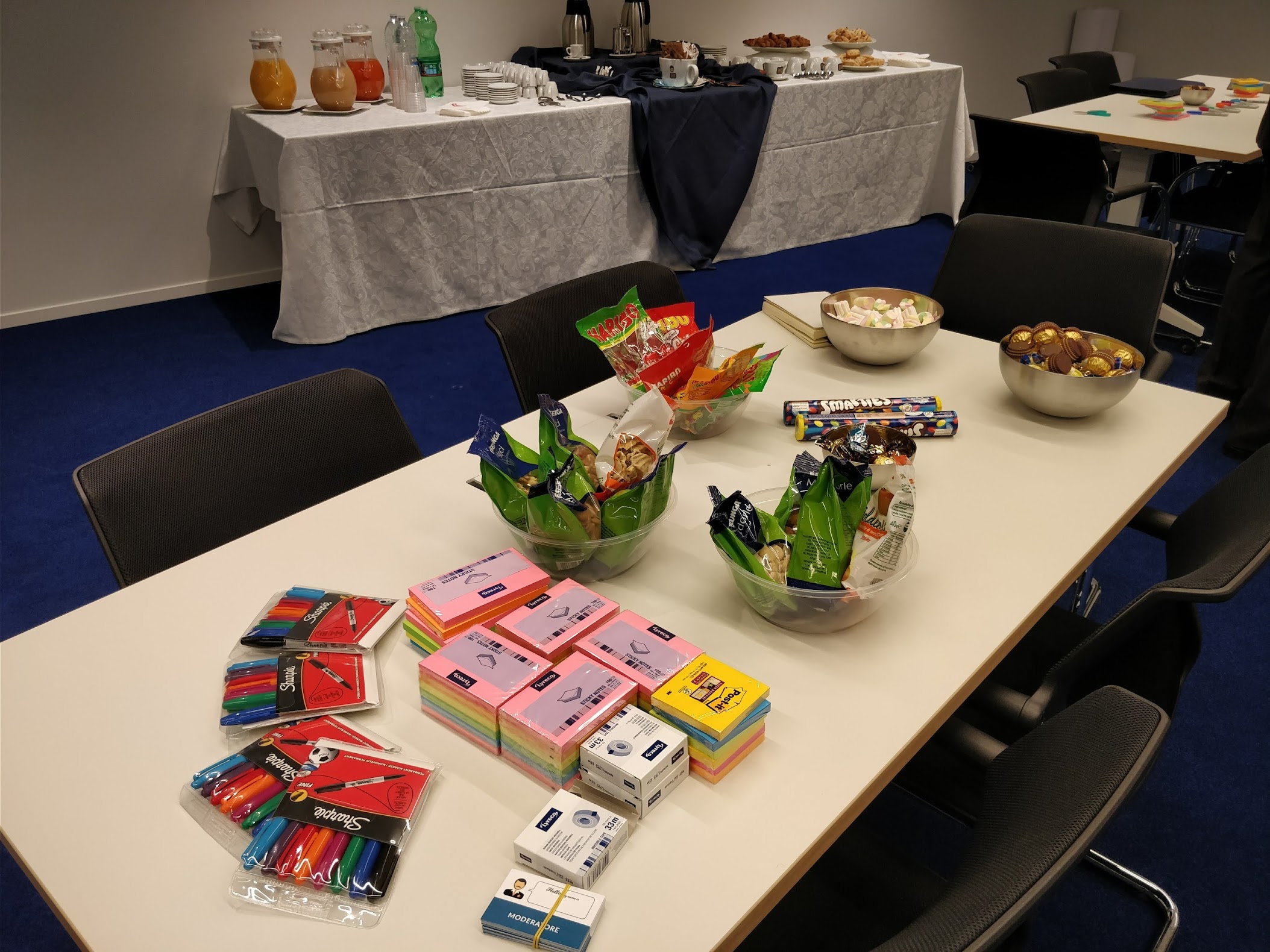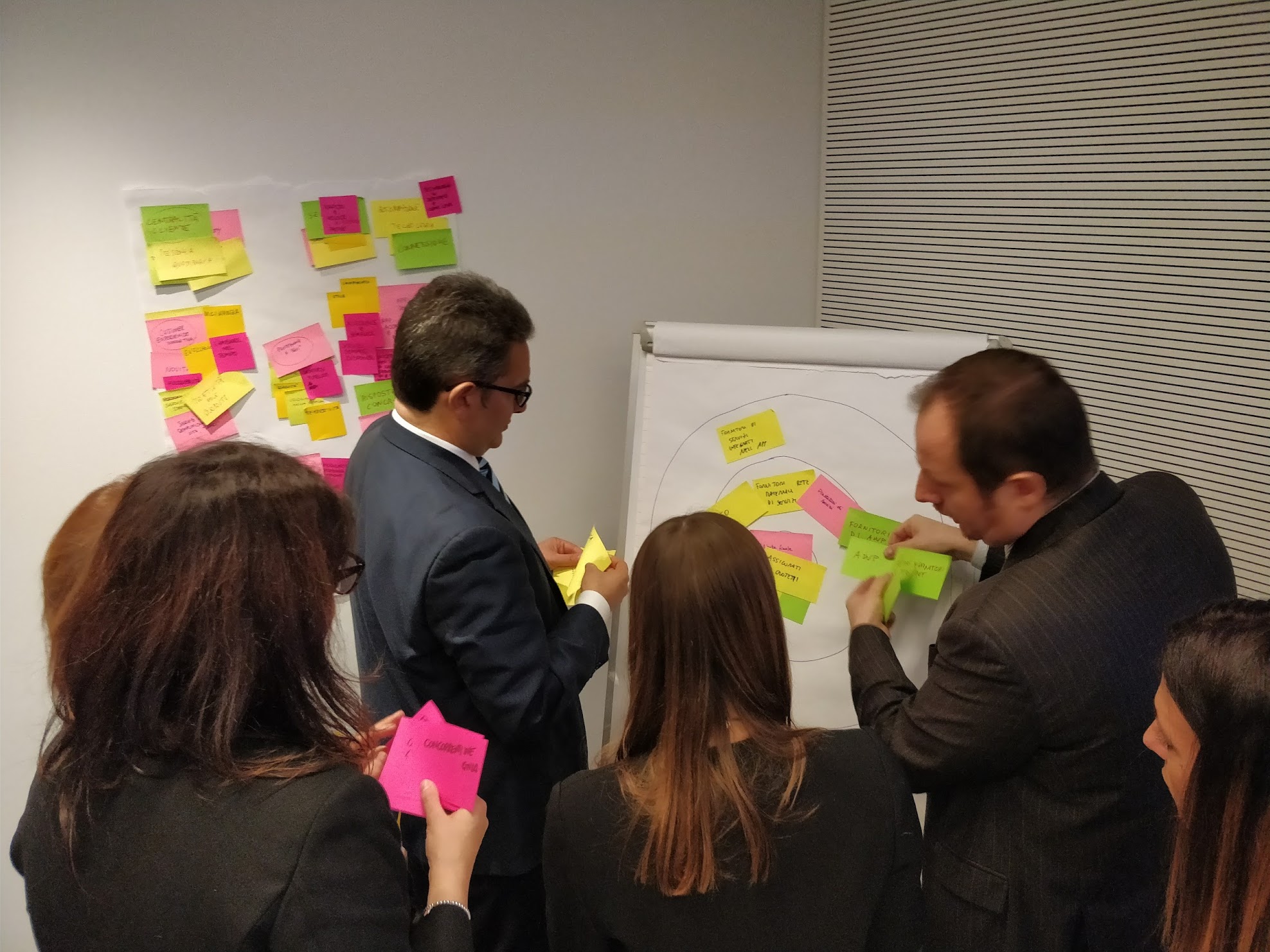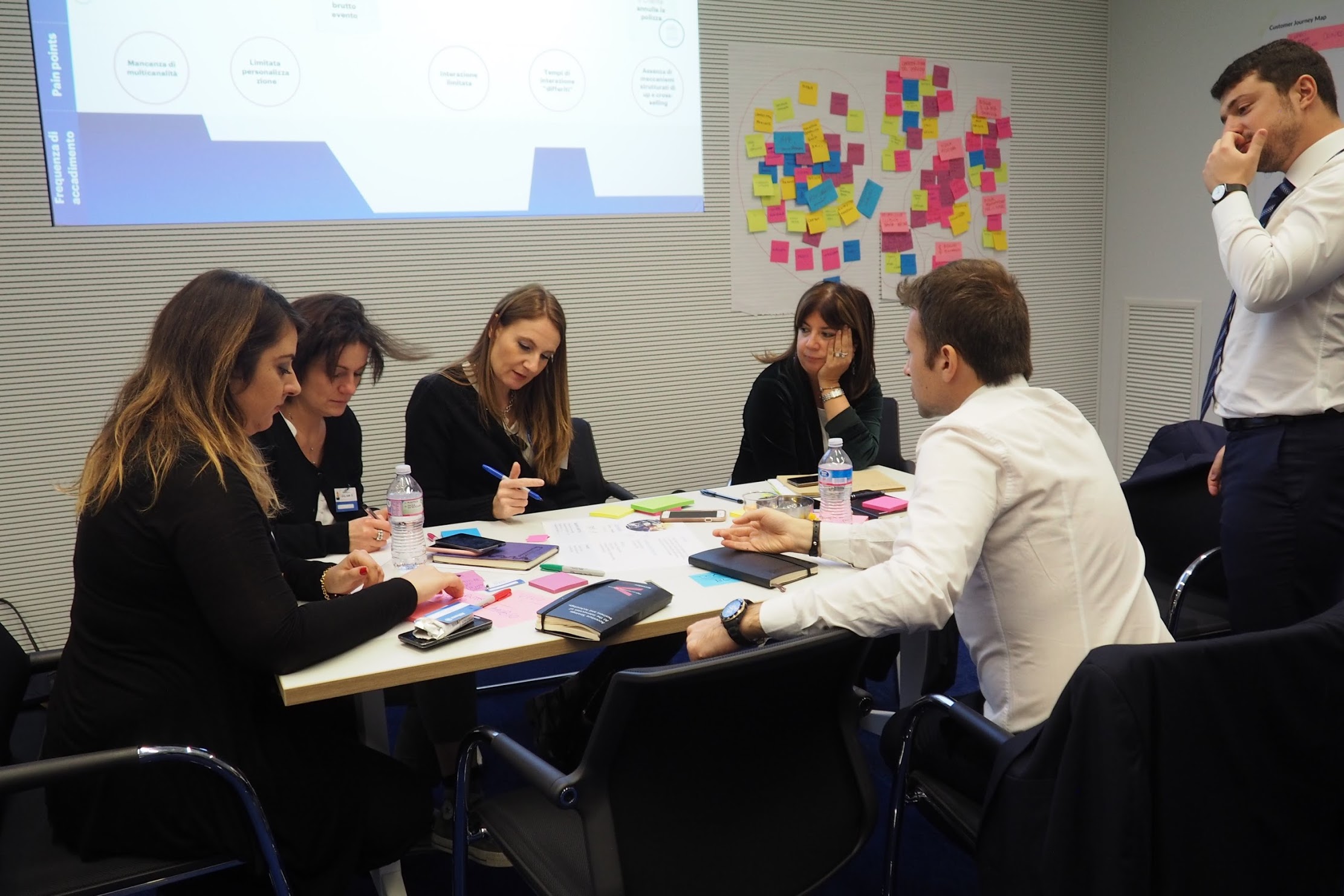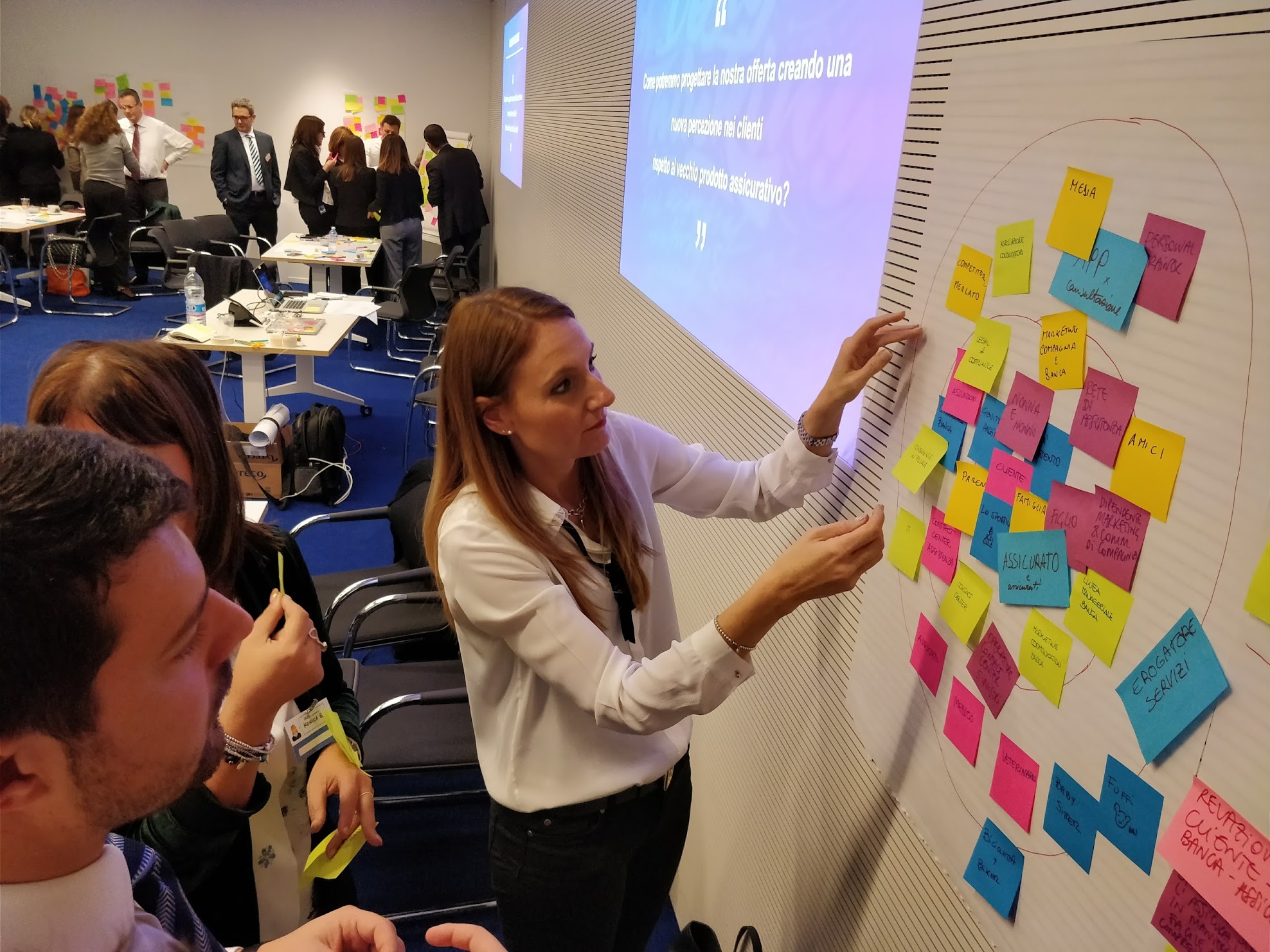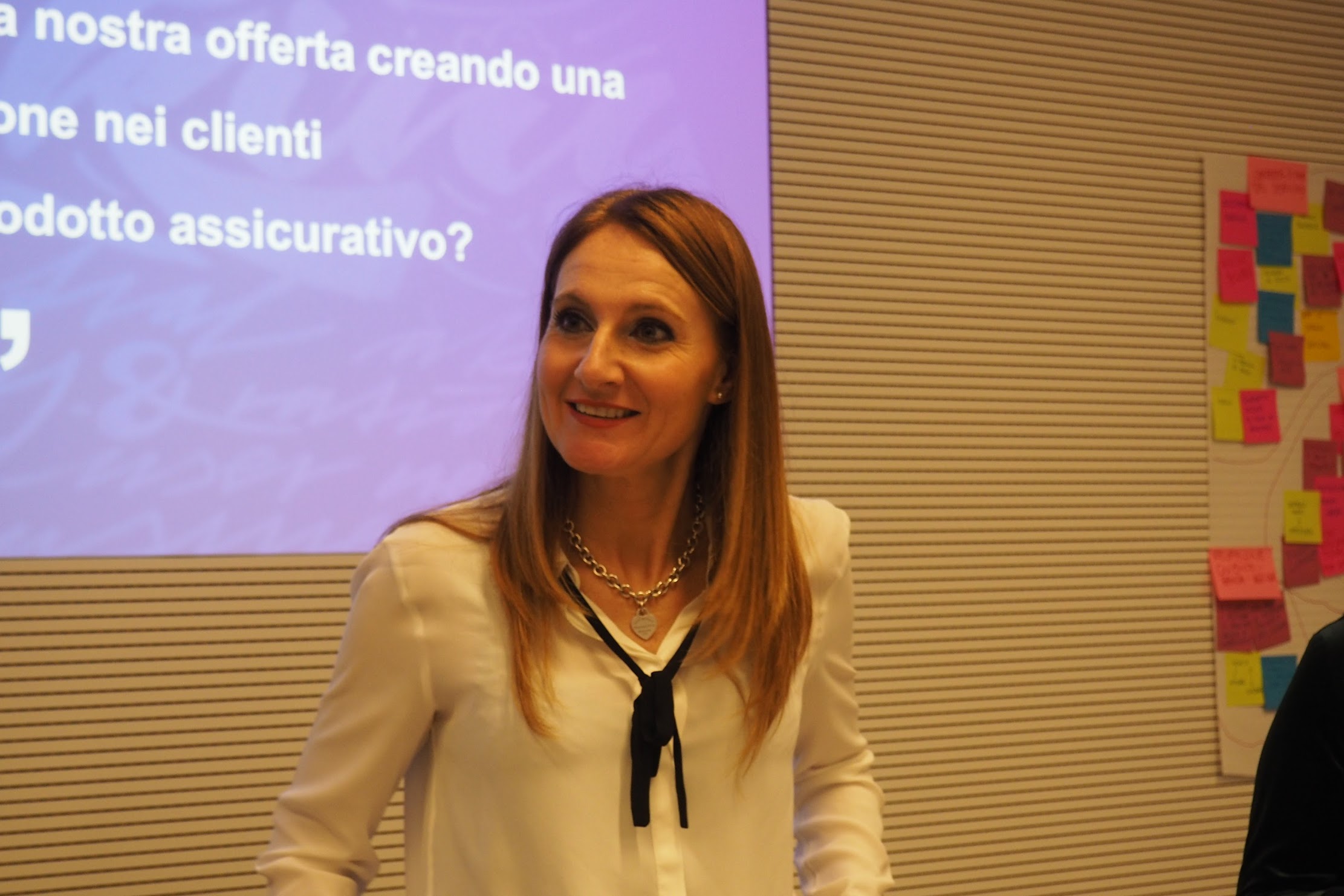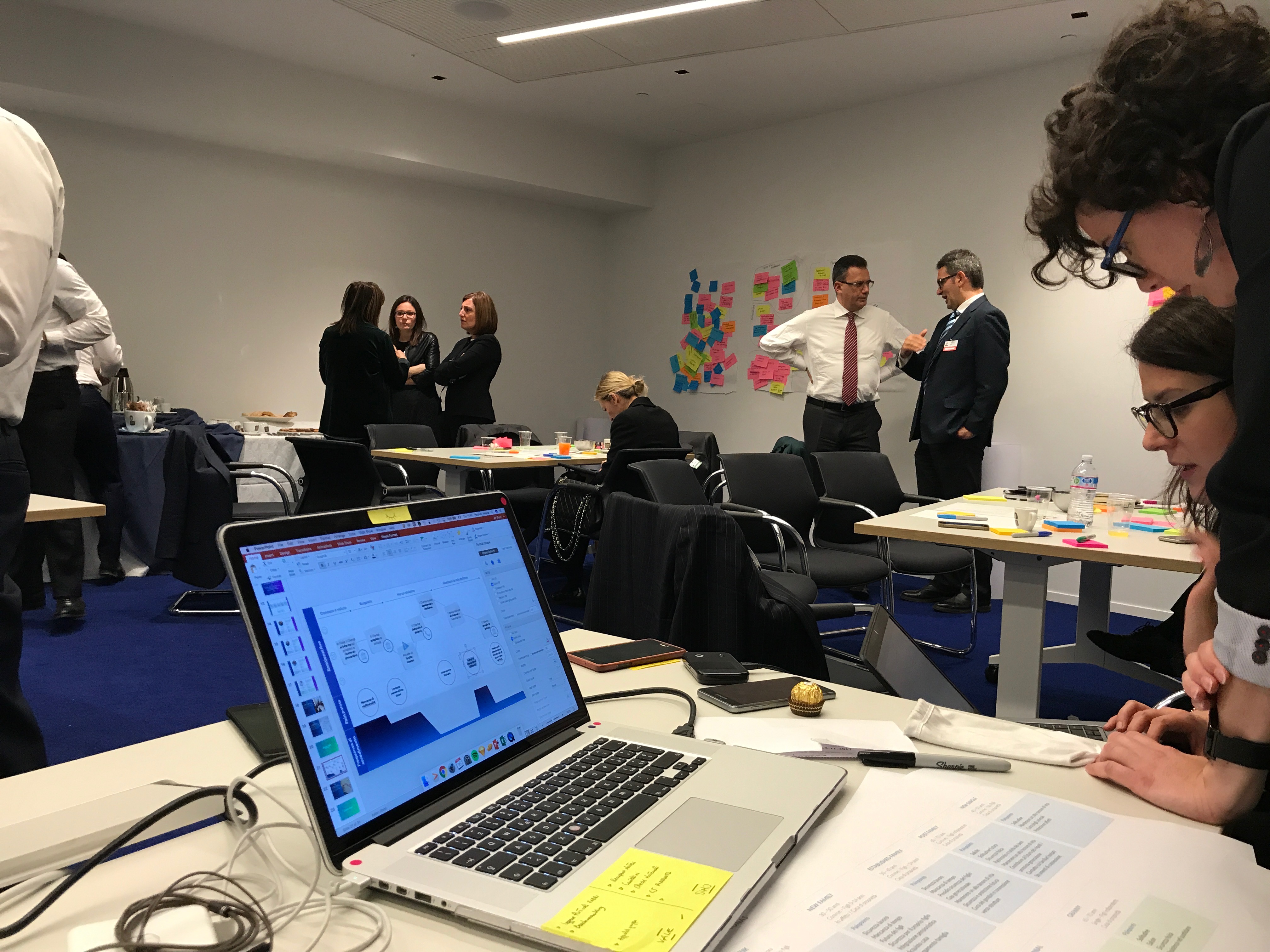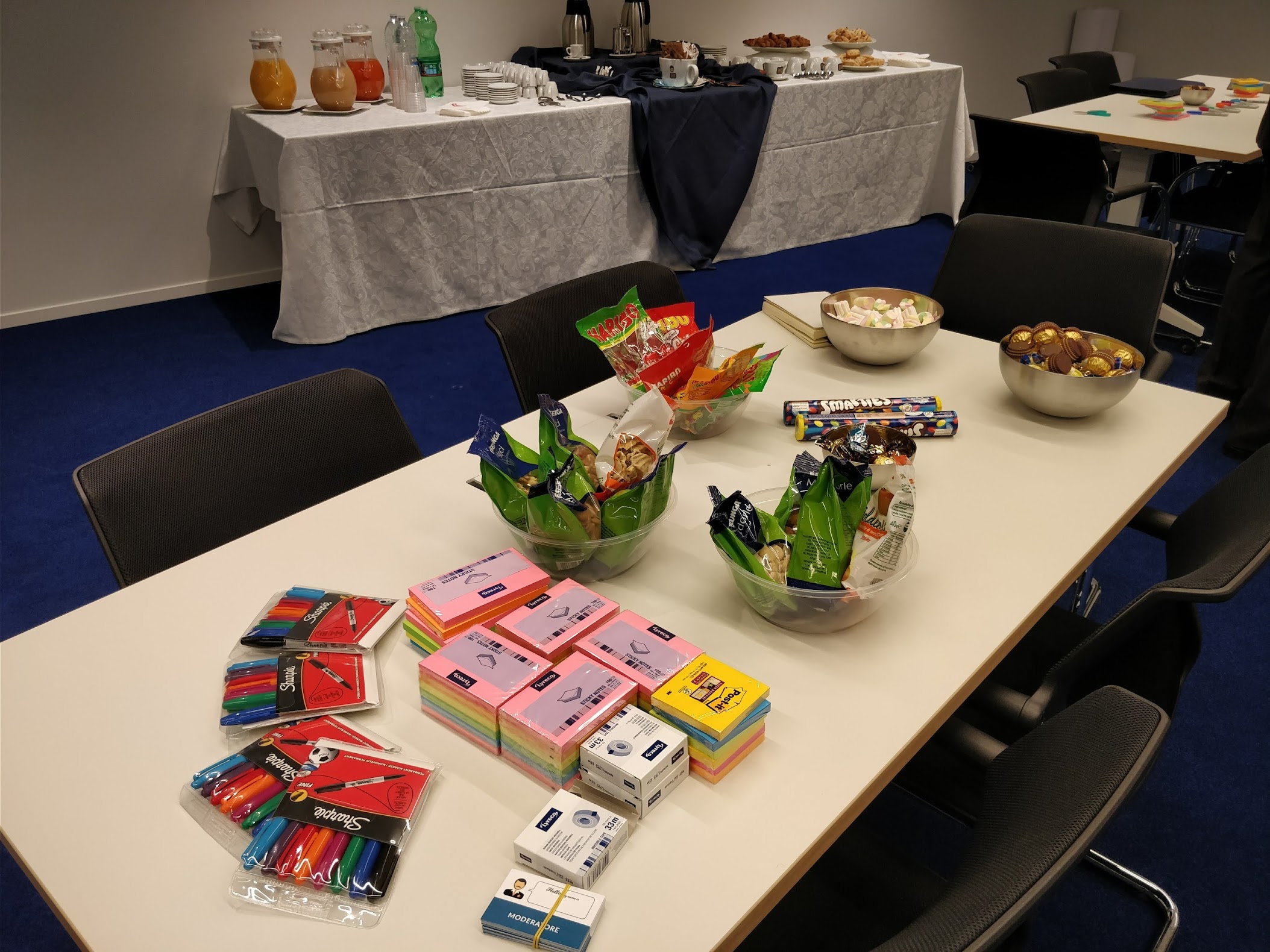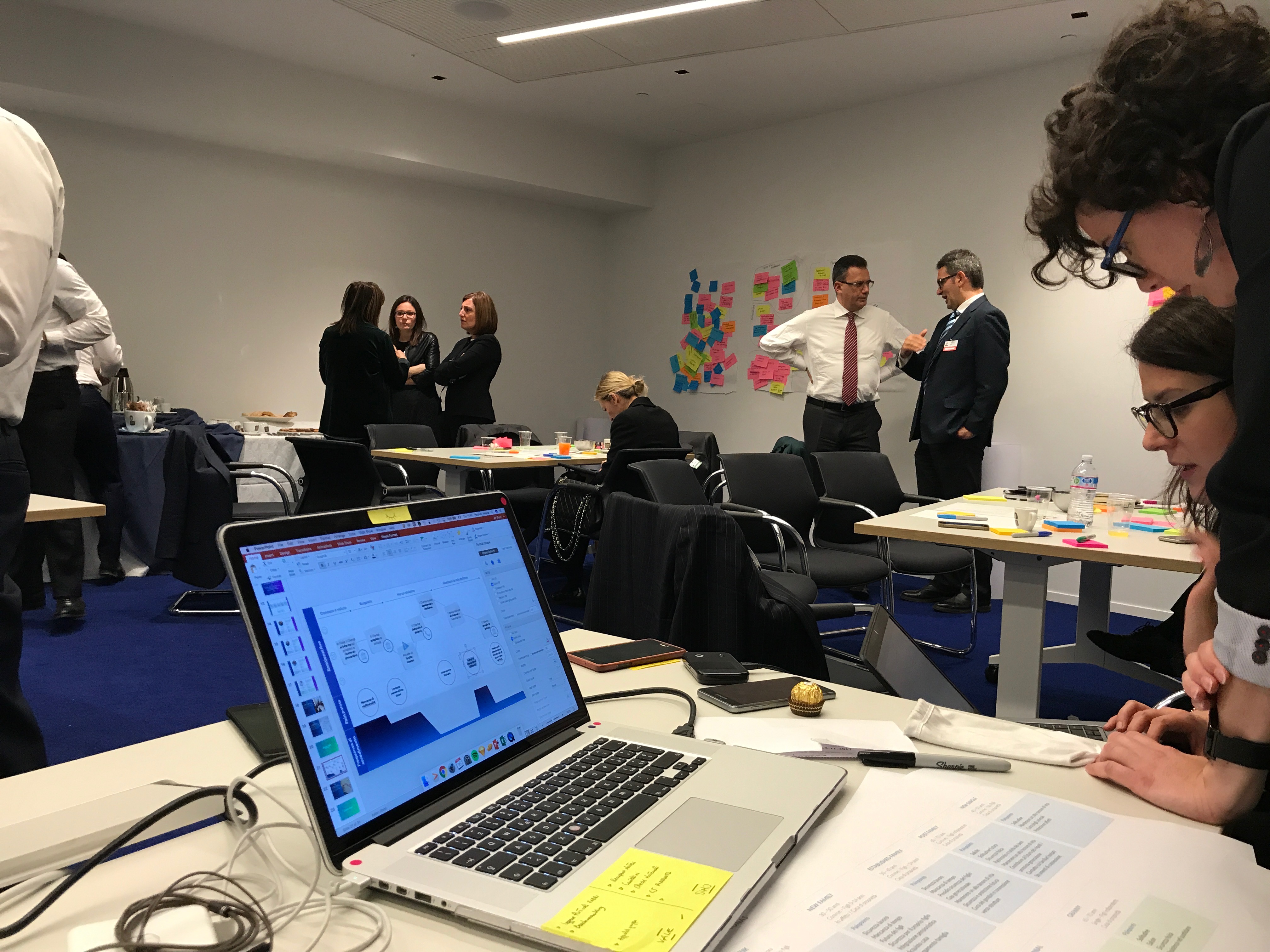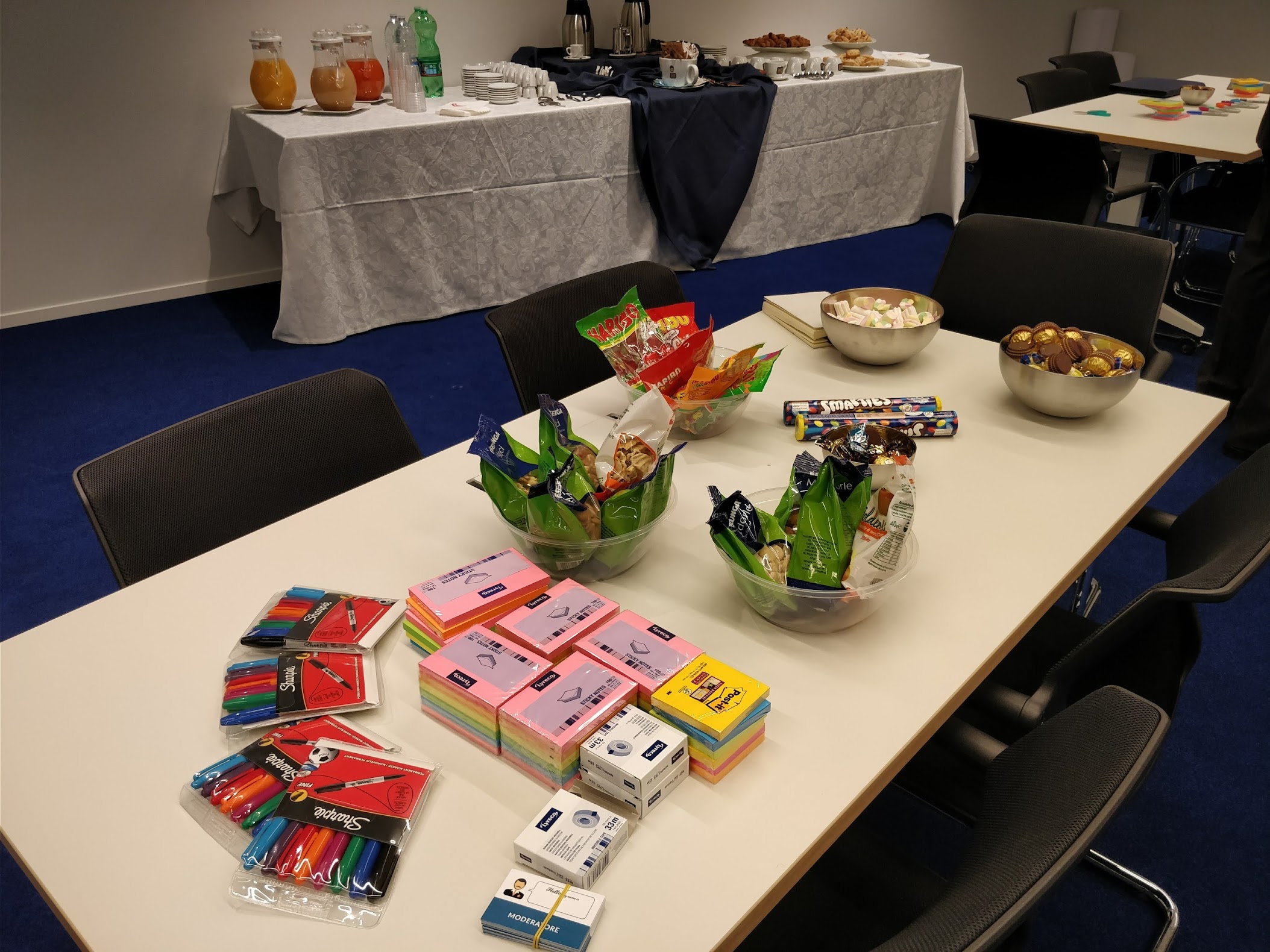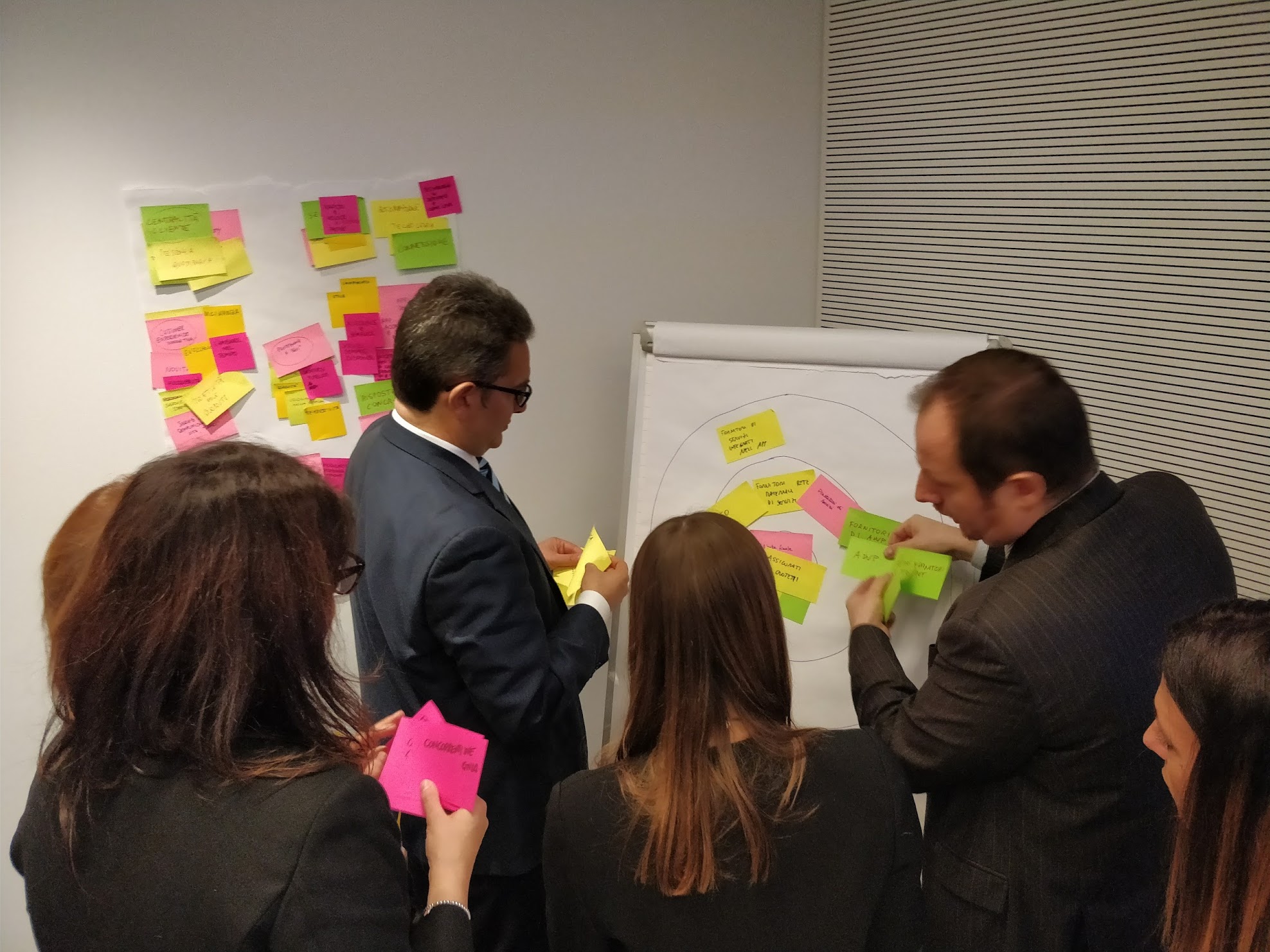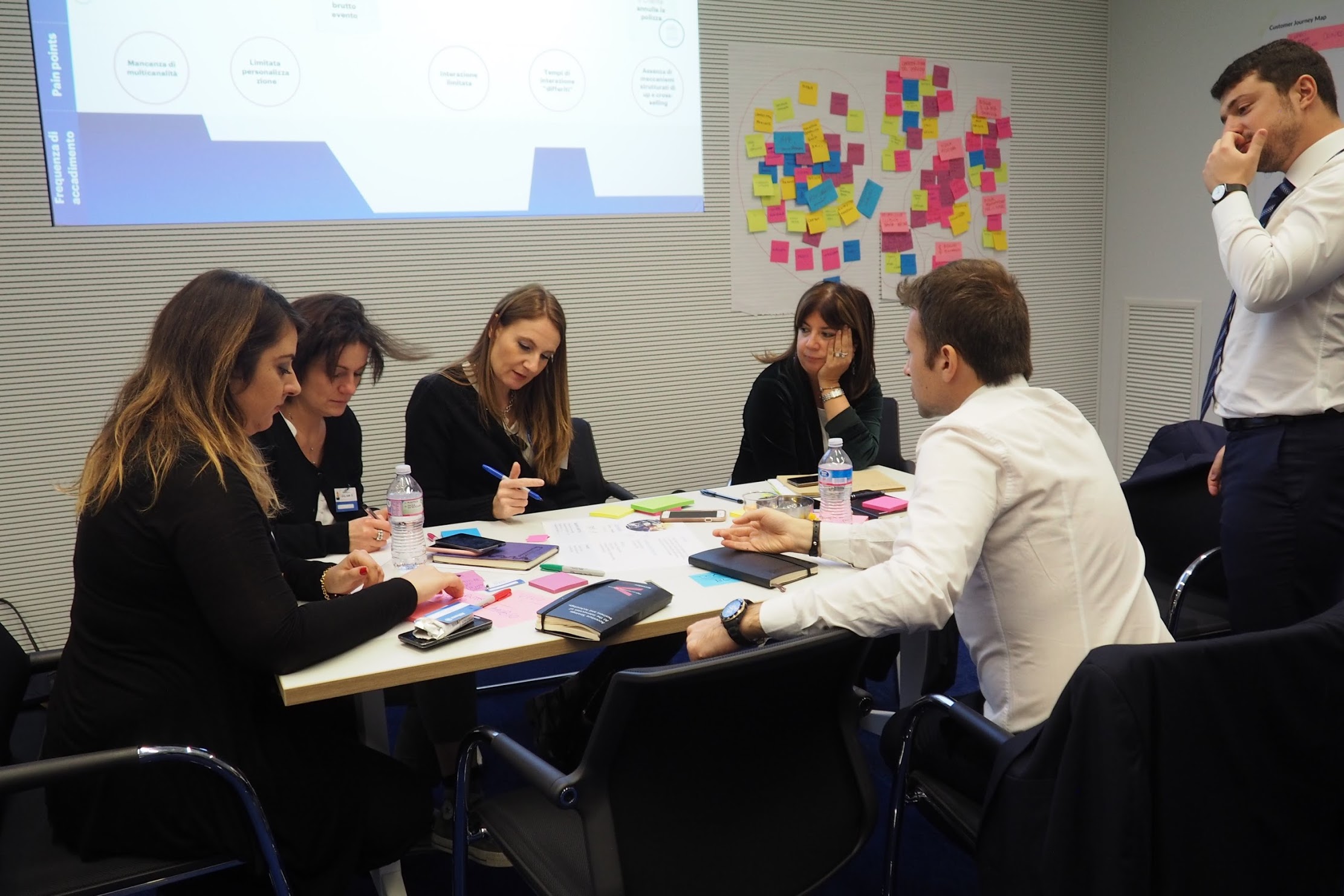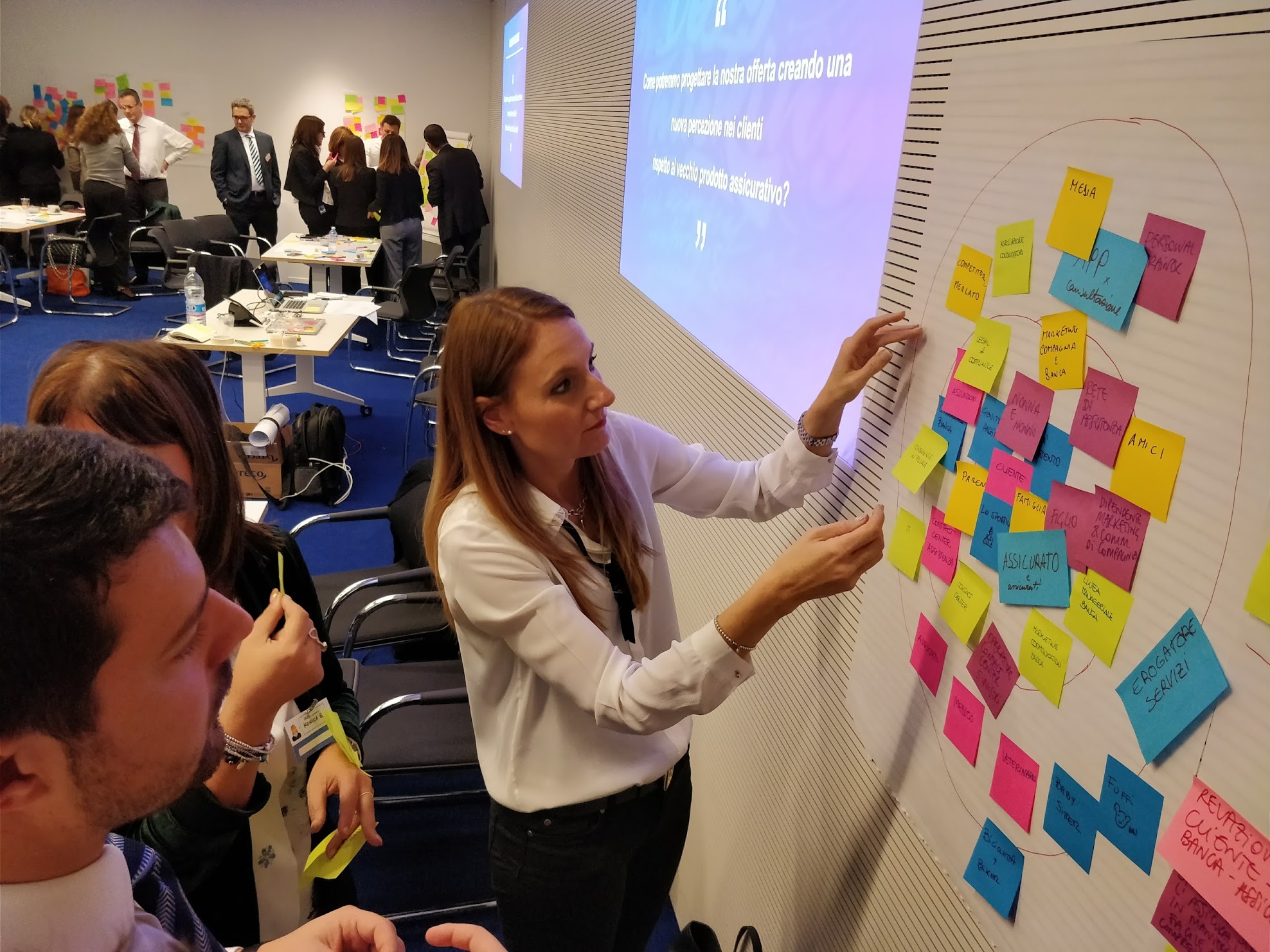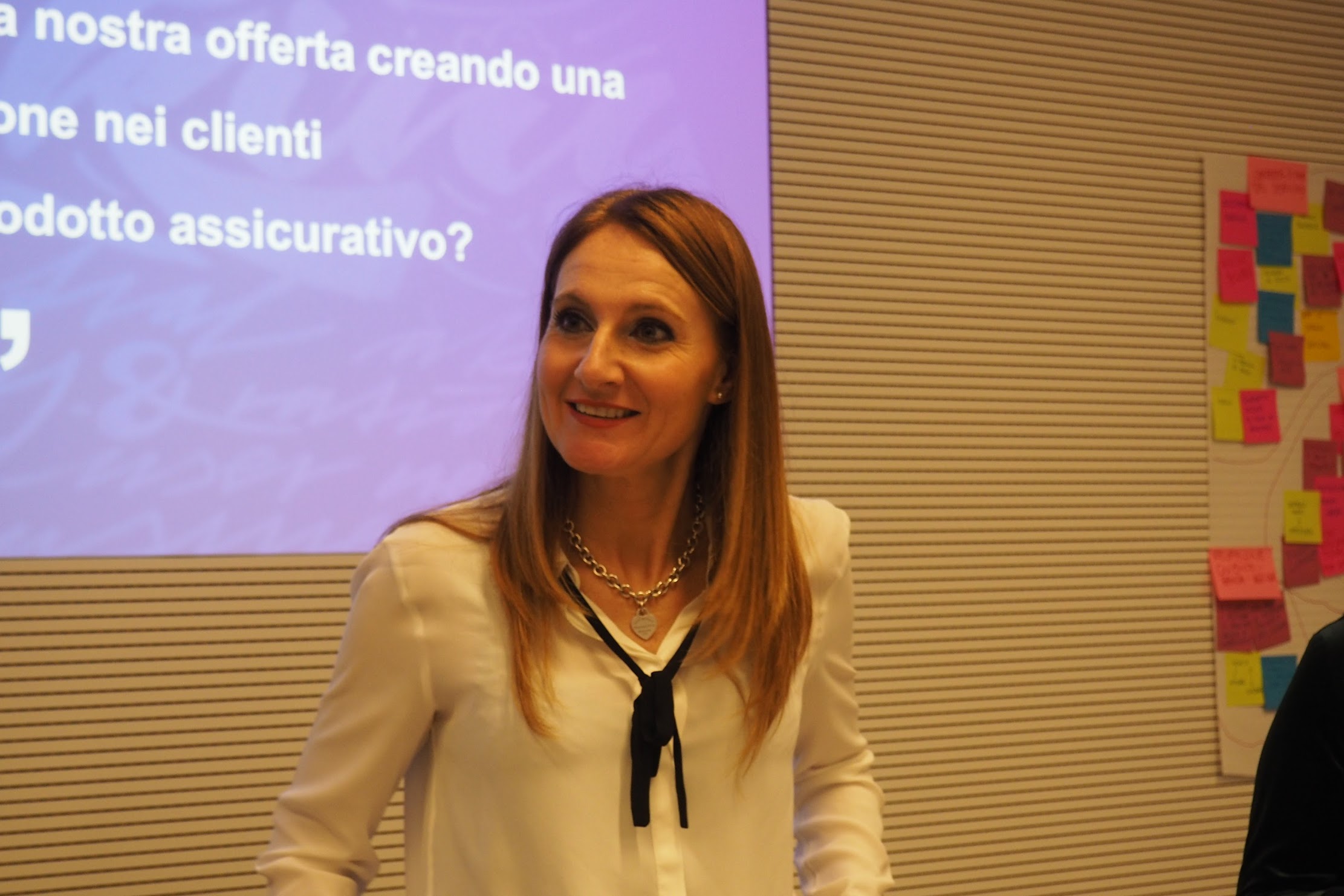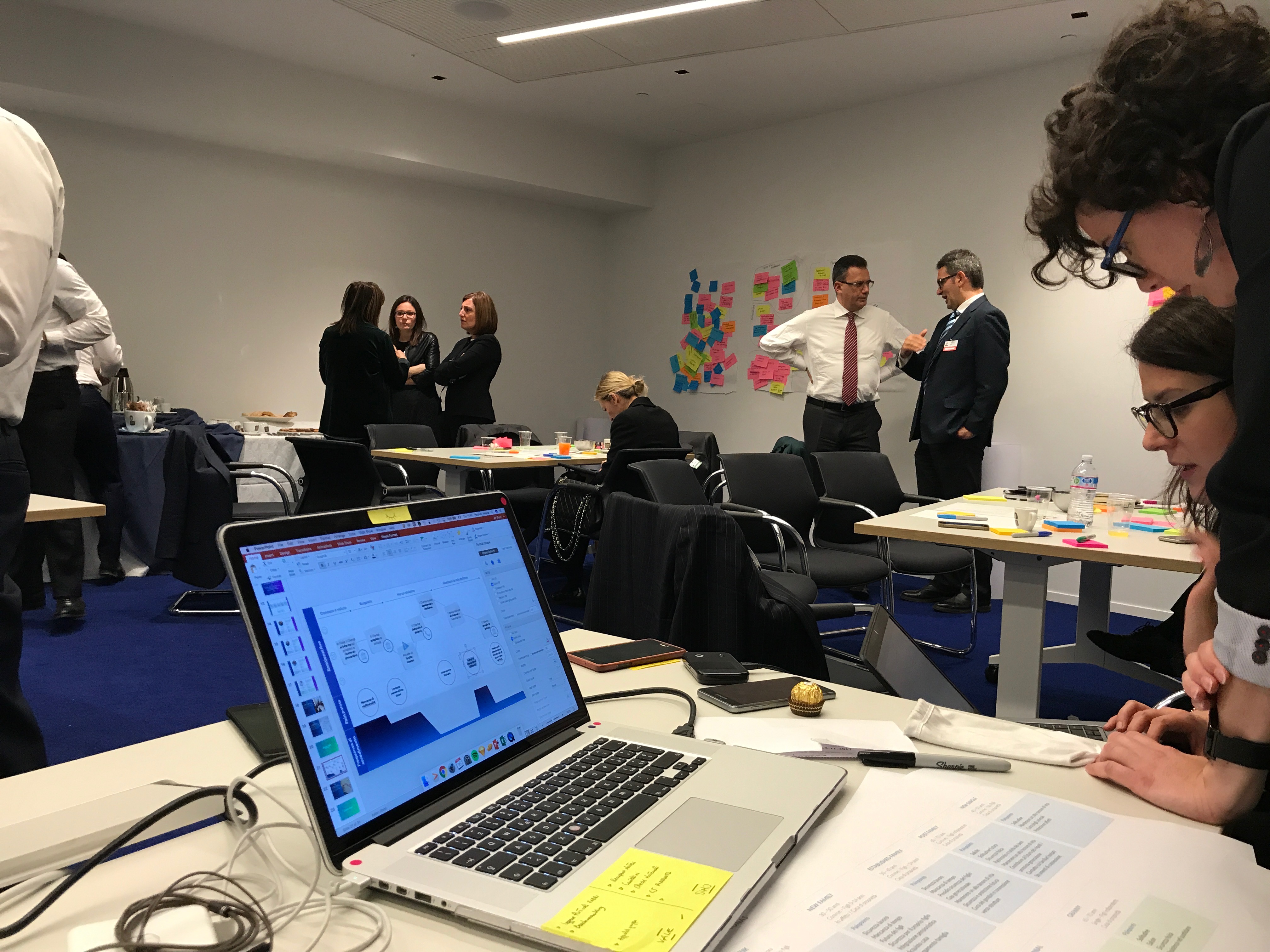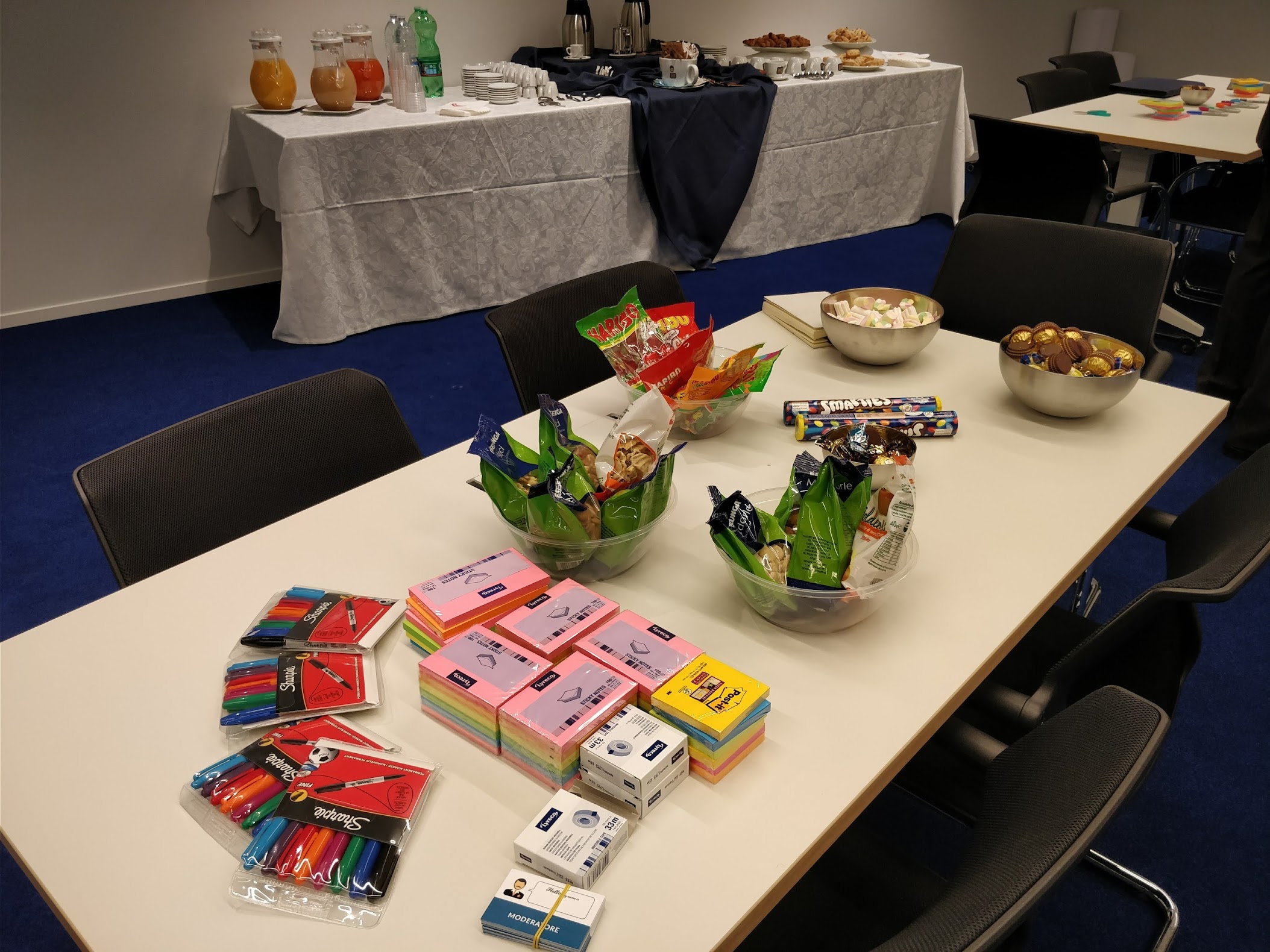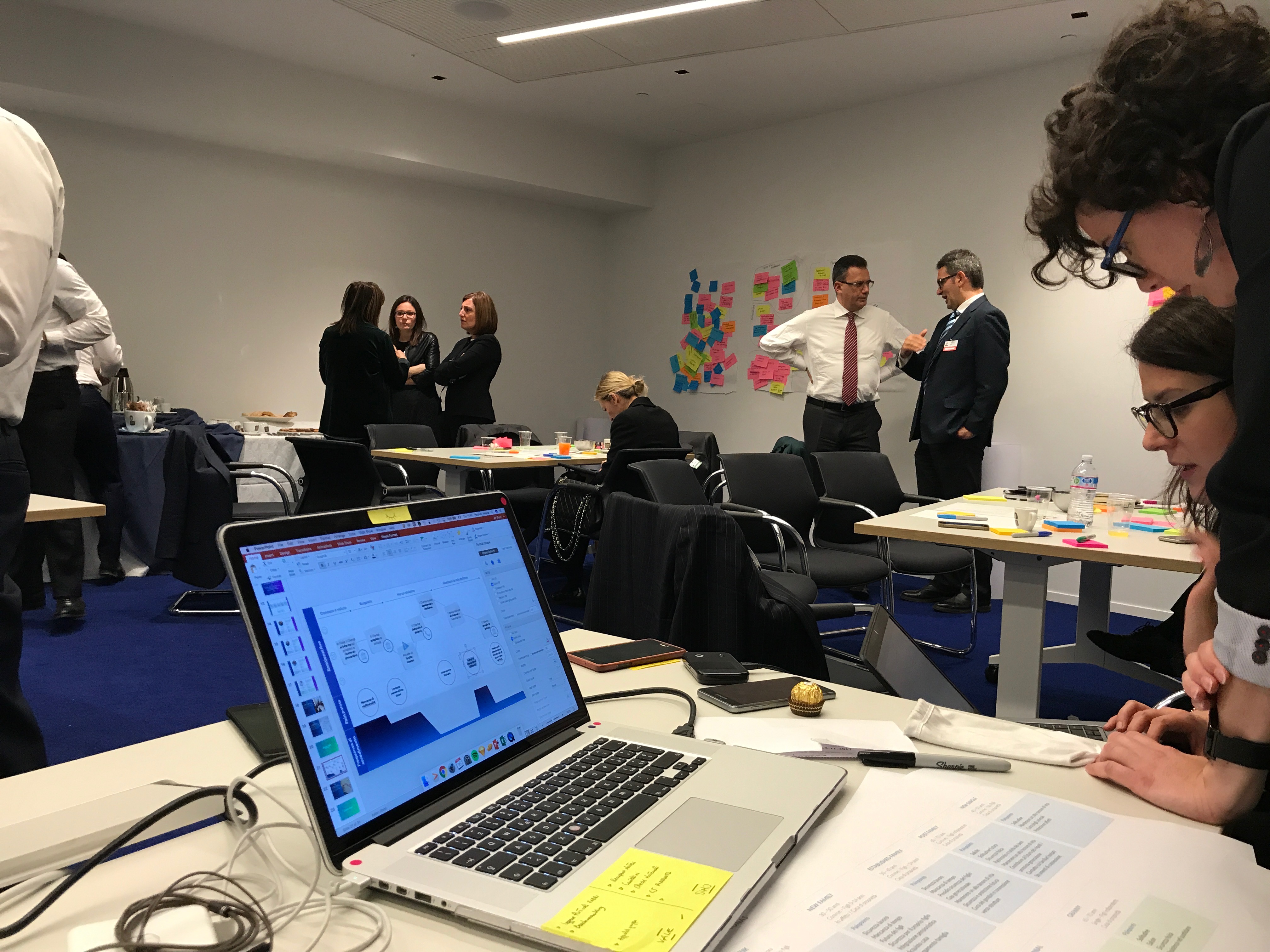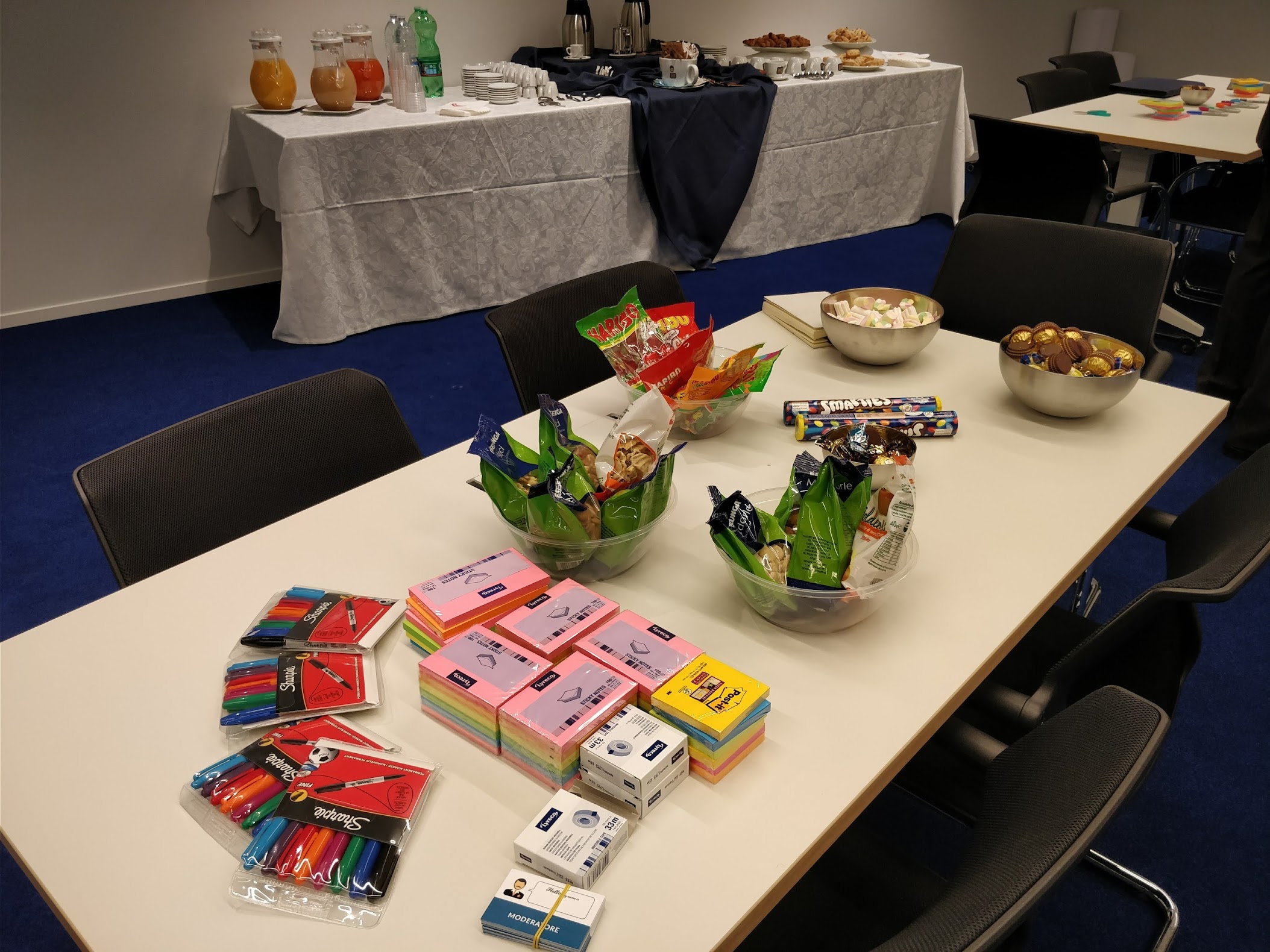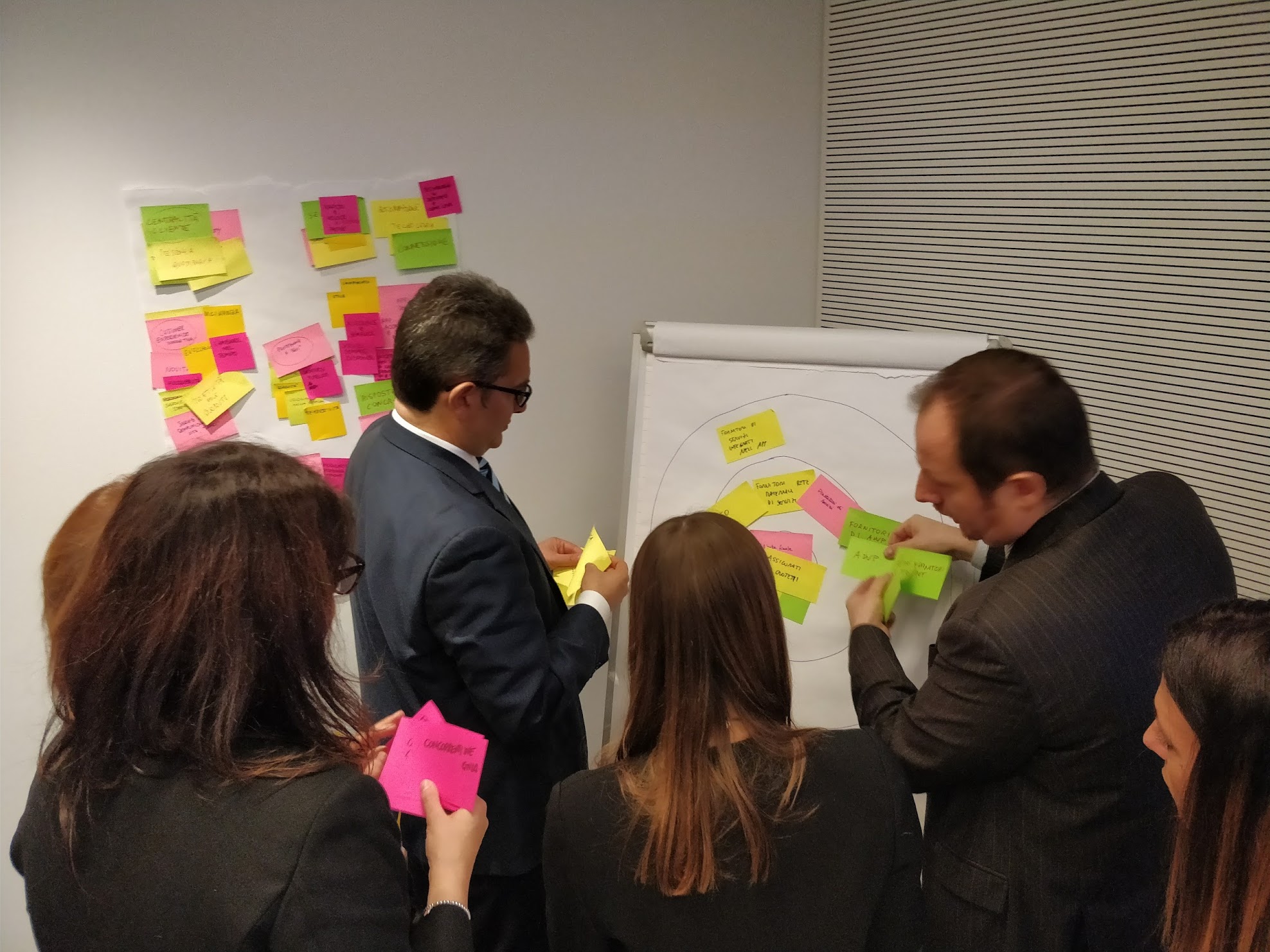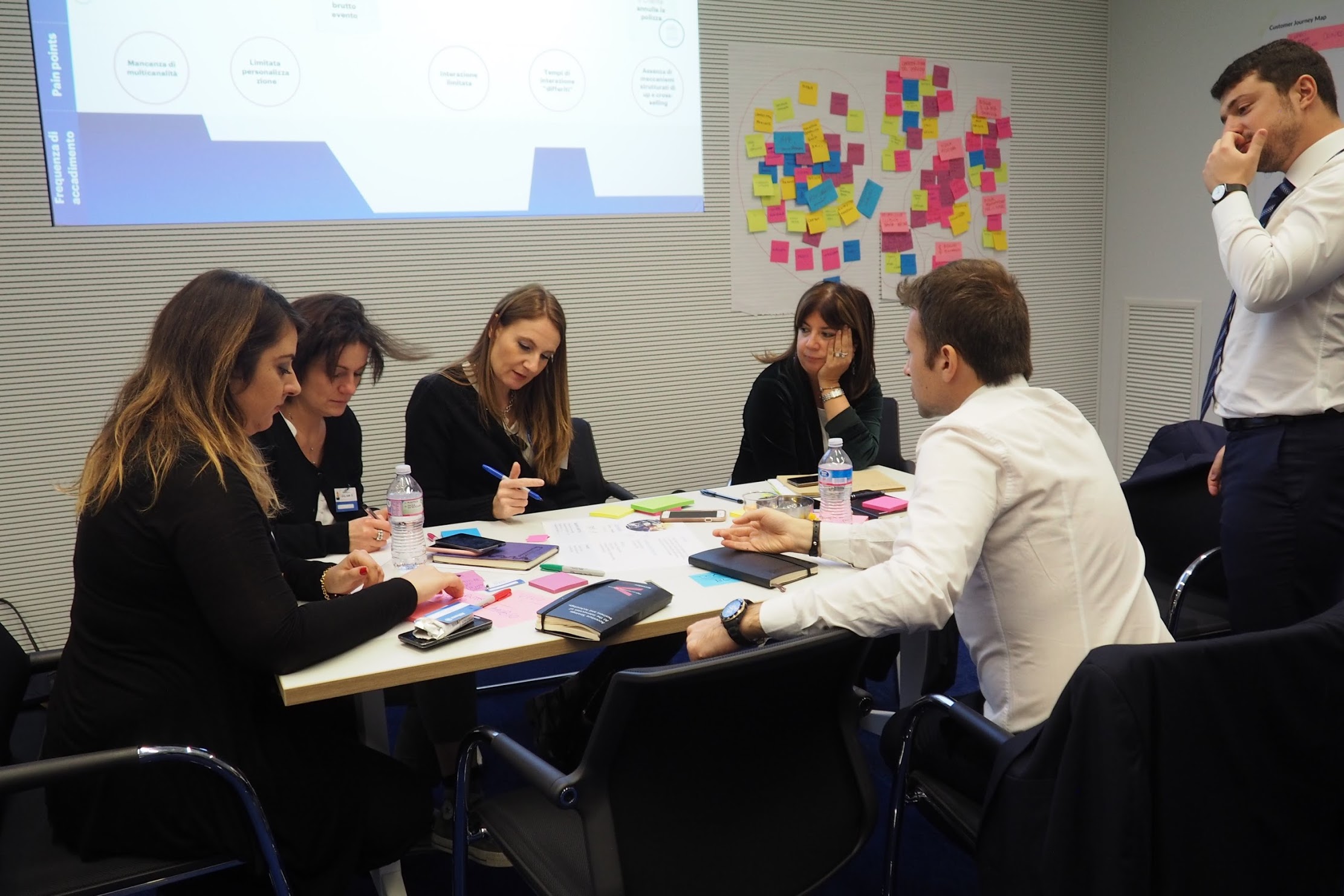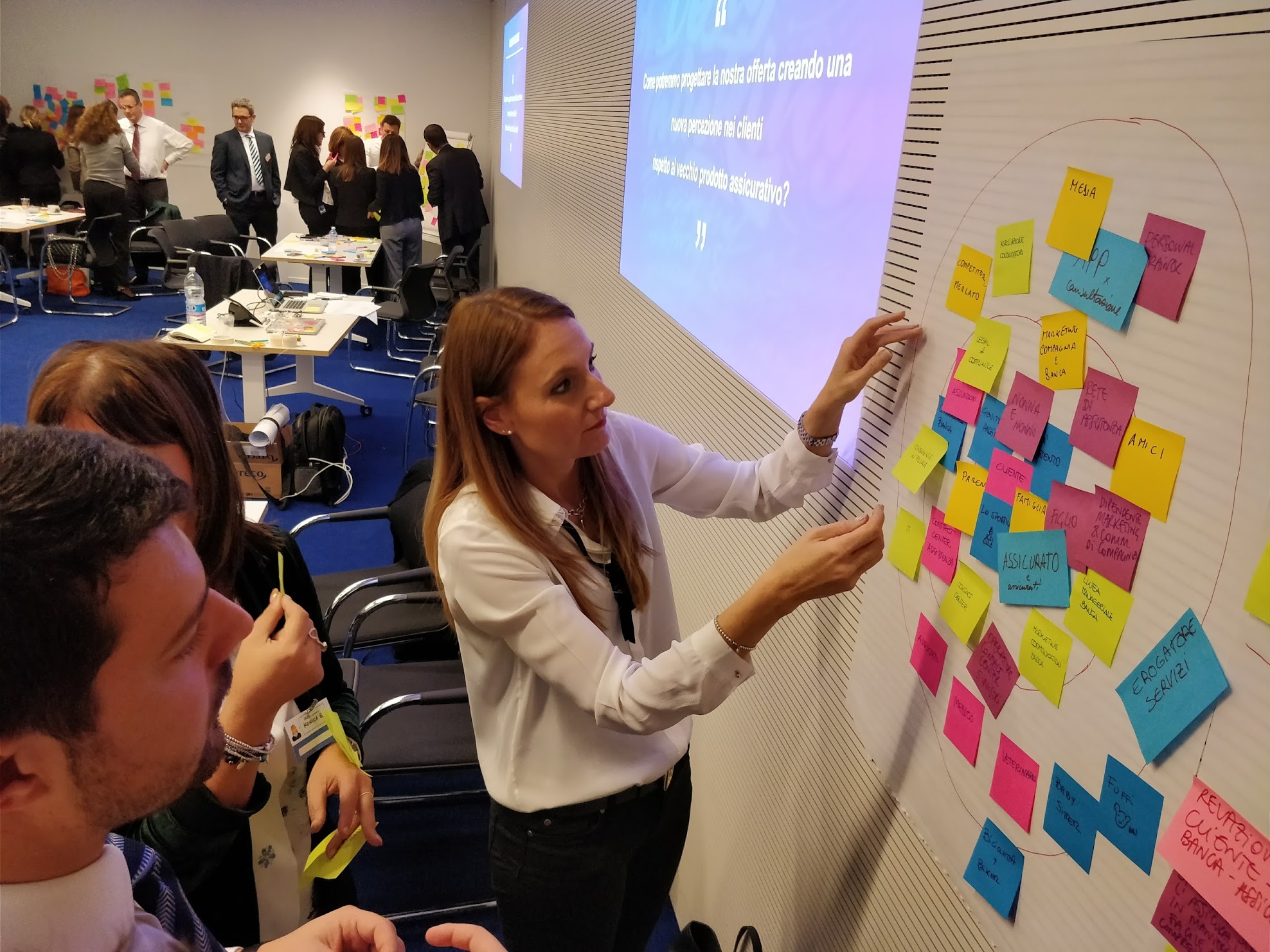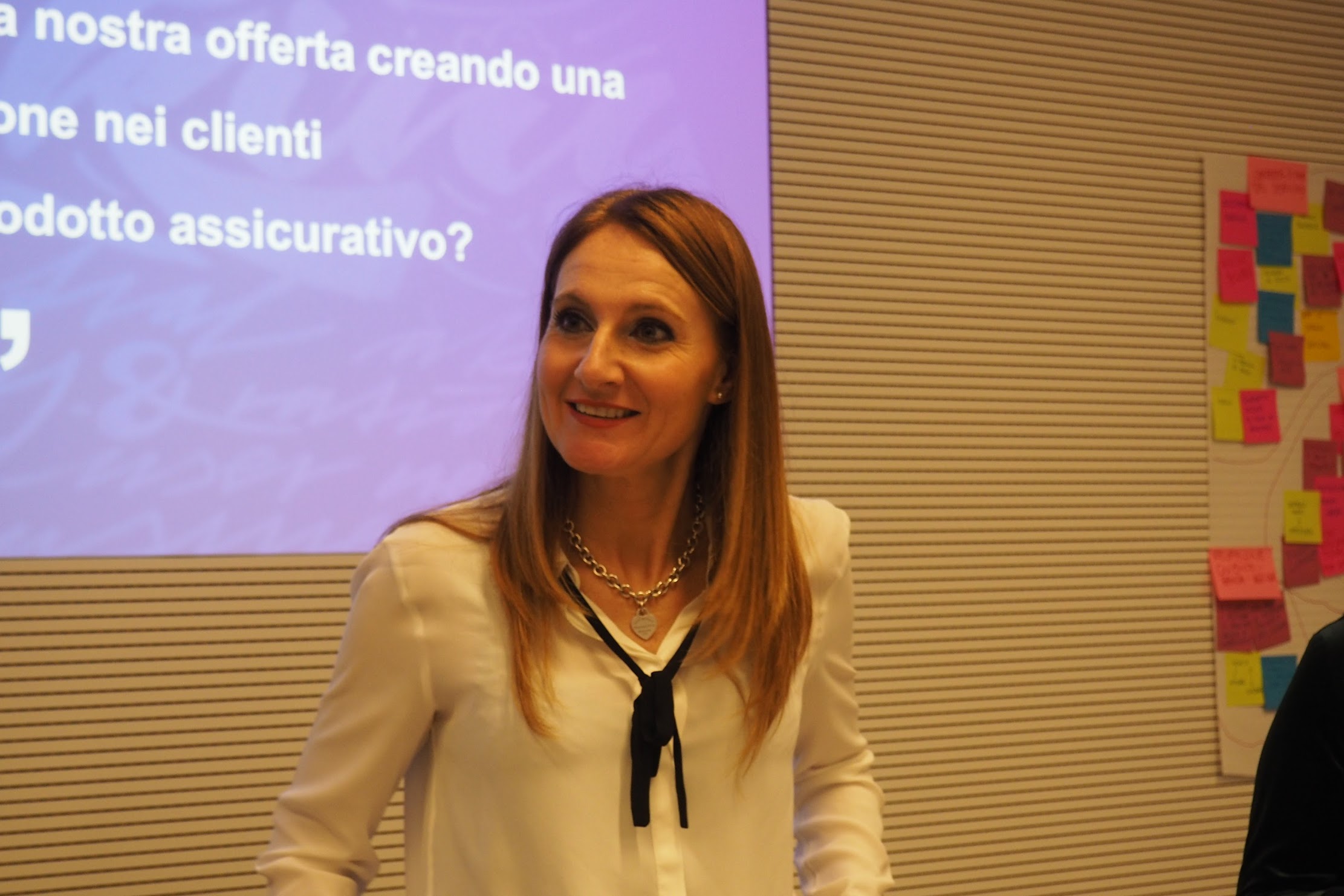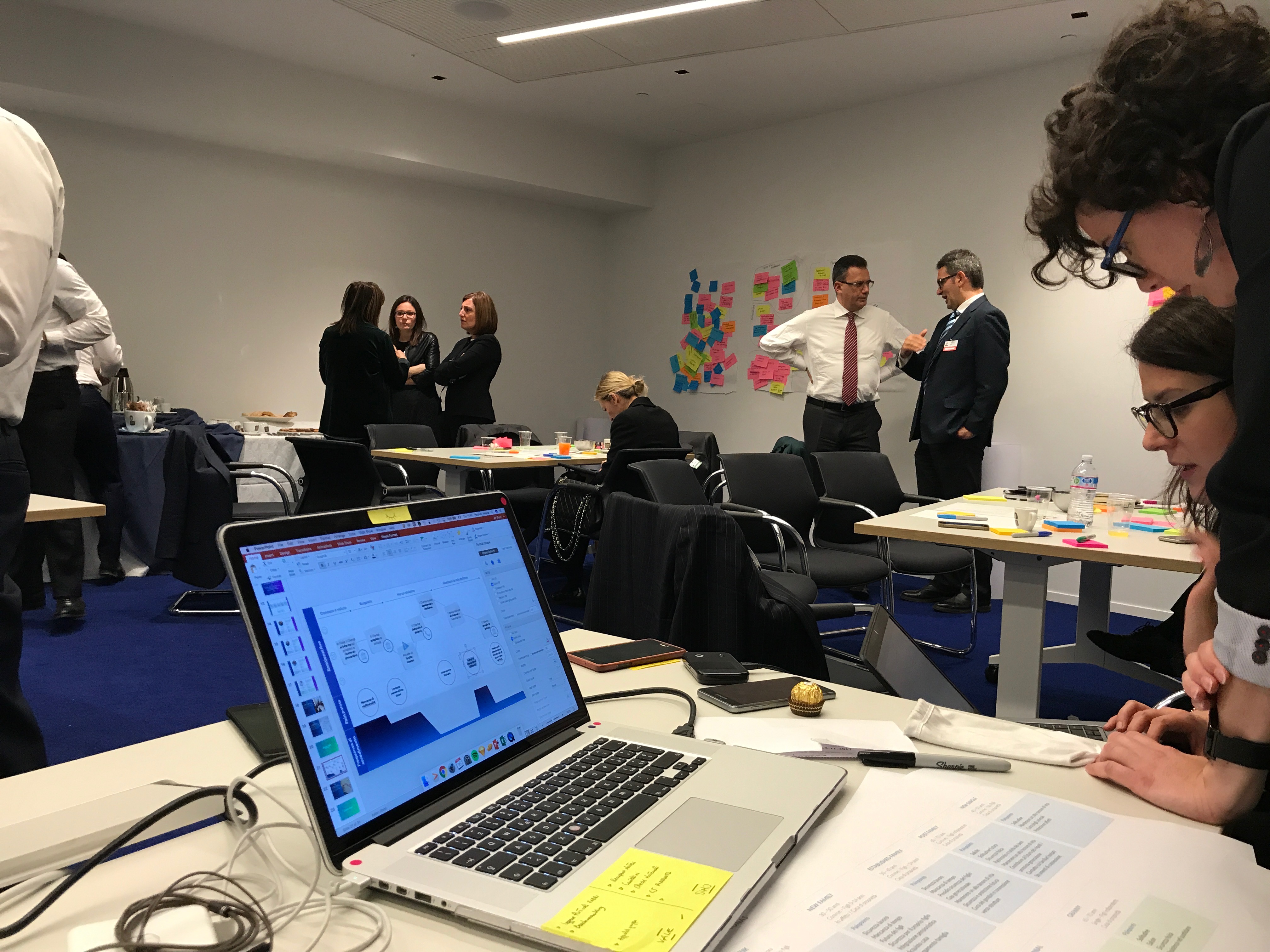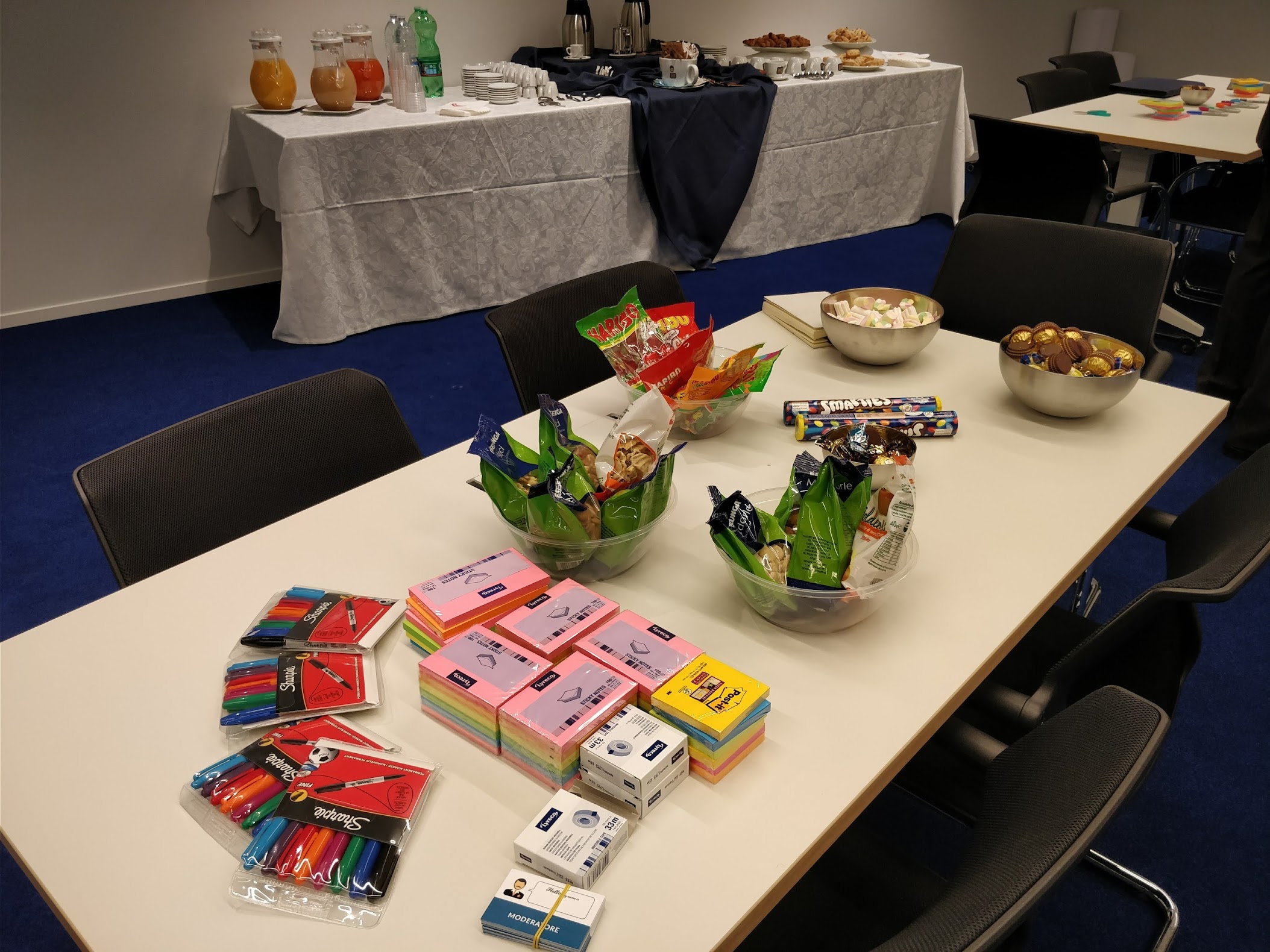 Key take aways
Design has the power to ideate executable product concepts and prototypes. During this exercise we empowered managers of different departments to come up with a list of executable features that would address their clients most pressing needs in terms of insurance and finance.
45
Unique new app features identified