Simone Crimella
Product Service System Designer
Industrial Tech Leader
Freshly made Customer Centric Platform
Why Electric Works by ABB?

The project started in the late 2015 as a way to solve one of ABB's largest issues:
Providing a one-stop platform where all the stakeholders find each other and offer services for the construction of plants and other complex energy set-ups.

Design Group Italia (DGI), an Italian Design and Innovation Consultancy with more than 30 years of proven projects for ABB embarked in a new mission: putting its best service designers, UX designers and PMs to the table in order to make this ambitious project feasible.
The project began as a deep Service Design study.
Interviews were performed in order to acquire key stakeholders insights and needs. Maps and stakeholder profiles were shared with ABB and constituted a base for future iterations.
The first technology meeting was set-up and the team was formed.
Microsoft joined the project right after in order to ensure that everyone in the project would be updated with latest deadlines and project operations.

I joined the team as a User Experience Designer and during the project I continued working also as a Product Manager.

Electric Works by ABB, the platform name which will be released by 2020, aims at becoming the place where all the tools (software), products (materials) and people (i.e.stakeholders= technical leads, engineers, consultants, project commissioners, suppliers and ABB expert) get together to drastically reduce projects complexities and execution times.

As for today, the Platform is organized as follows:

• People: the "LinkedIn" of ABB, where all the Clients, Customers, Consultant, Companies can see each others profiles and projects histories

• Academy: the official ABB Academy for internal and external courses, products resources and educative classes aimed at growing knowledge around products and services.

• Projects: the place where the technical documents are created, stored and shared amongst stakeholders and project's collaborators.
• Plant: the plant repository, where all the devices are registered and controlled remotely

• Market Place: a unique e-commerce access point to ABB's softwares and solutions
My contribution to the project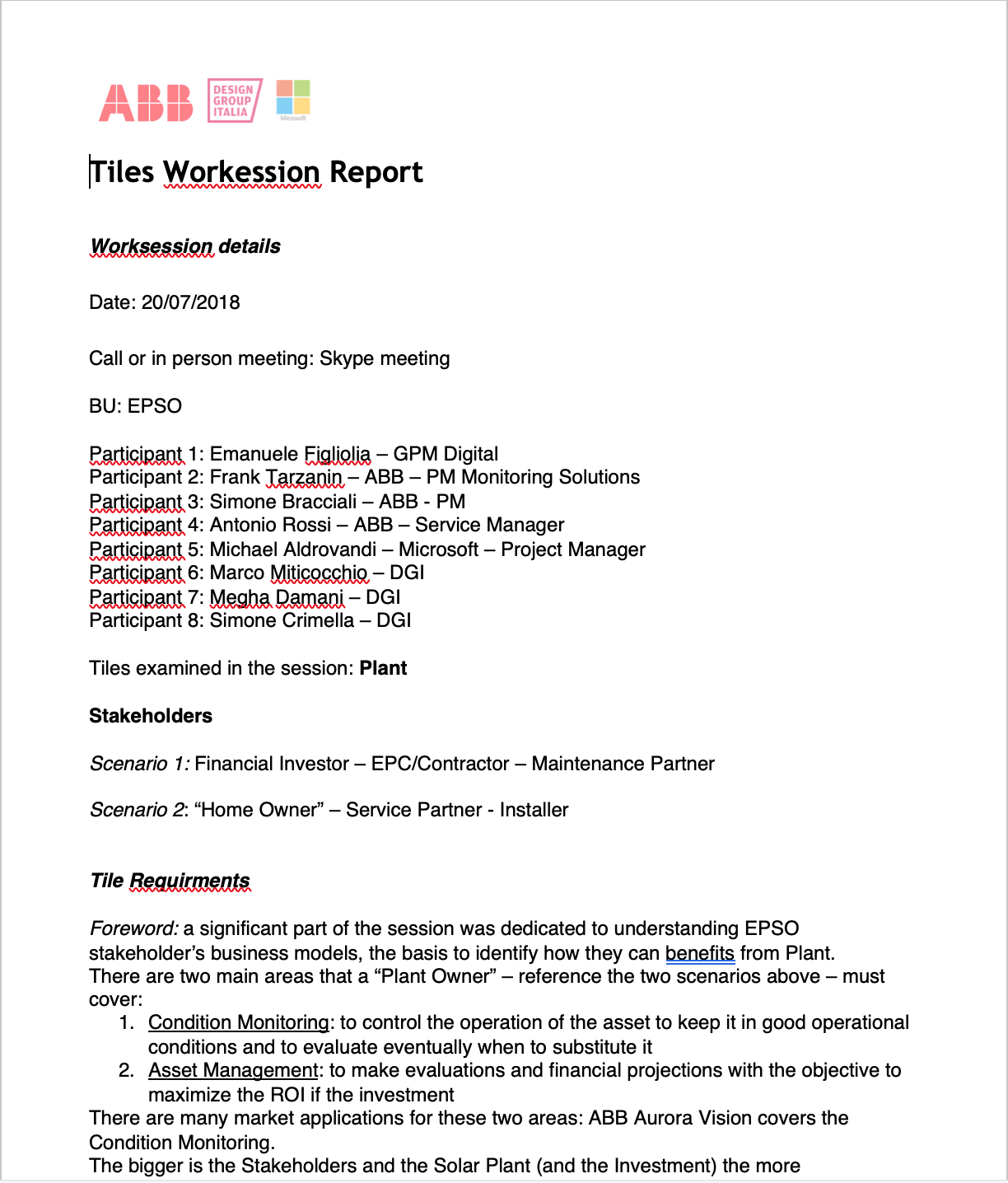 Business requirements calls
Comprehensive meetings with the BU around the world
Being ABB a Company with >180.000 employees and 4 distinct Business Units around the world (Solar, Electric Products, Distribution Systems, and Plastic Products) we had to make sure that the solutions proposed would satisfy all our stakeholders and BUs.
Every iteration we interviewed the BUs in order to get them onboard with the project and ask their support concerning the collection of strategic features we had to consider in the software platform design.
This process, which is still ongoing, generated more than:
20 strategic features to be included in the roadmap
120 User Stories for development
50 Sketch app artboards
10 InVision prototypes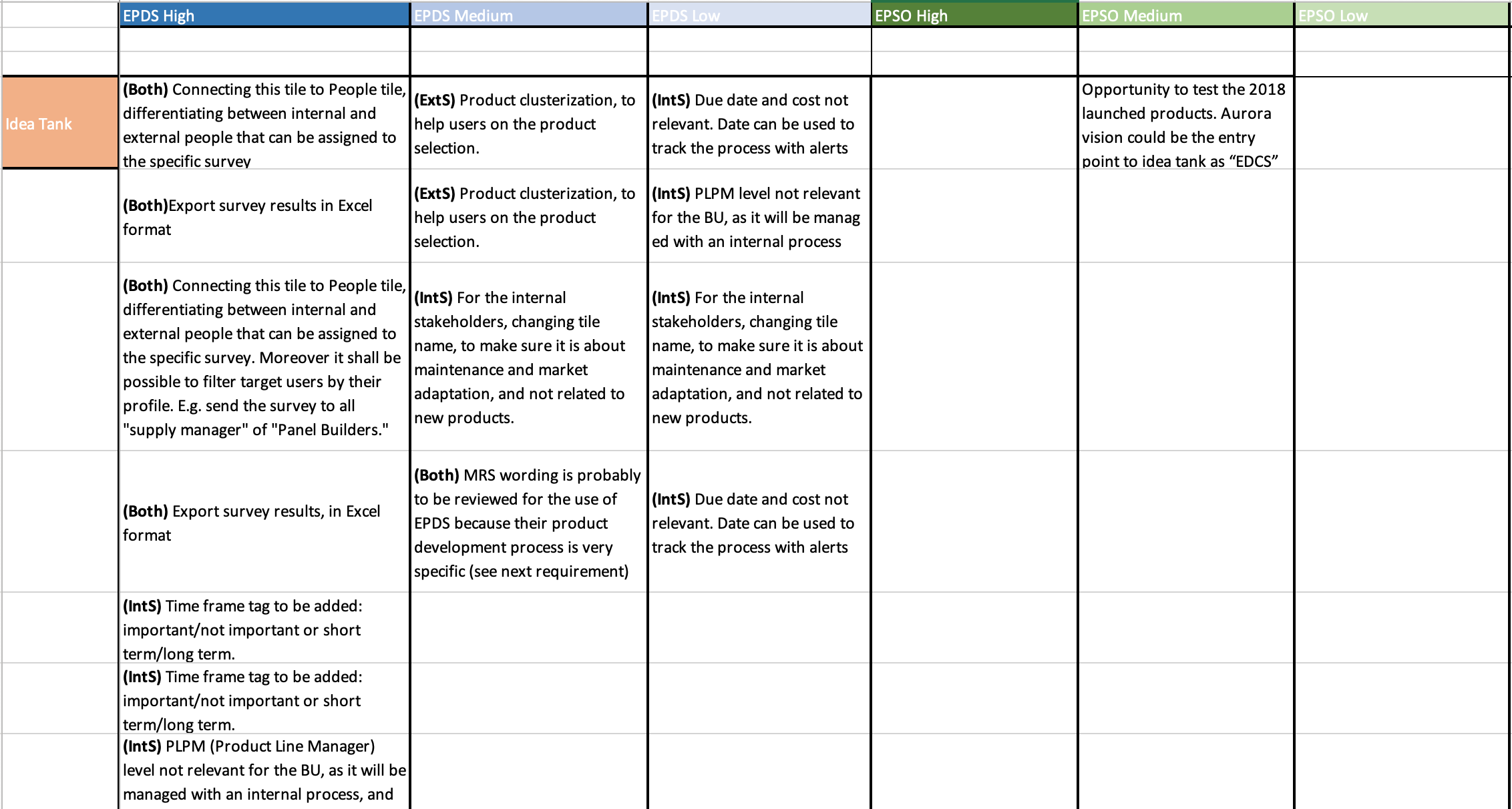 User Stories for Development
After having collected the BU's features to be included in the UI design I had to organize and discuss them with the Tile's Product Owner and Project Manger. This process allowed us to prioritize the most important ones and come up with reasonable Tiles development roadmaps.
The consulting team at Microsoft helped us with the practical aspects of Project Management and Systems Architecture.
Me and my team at Design Group Italia curated the relationship with the ABB Global Industries and Services in Bangalore (India), responsible for both Back-End and Front-End platform development.
In total we collected the User Stories for:
- Projects Tile
- Plant Tile
- Academy Tile
- People Tile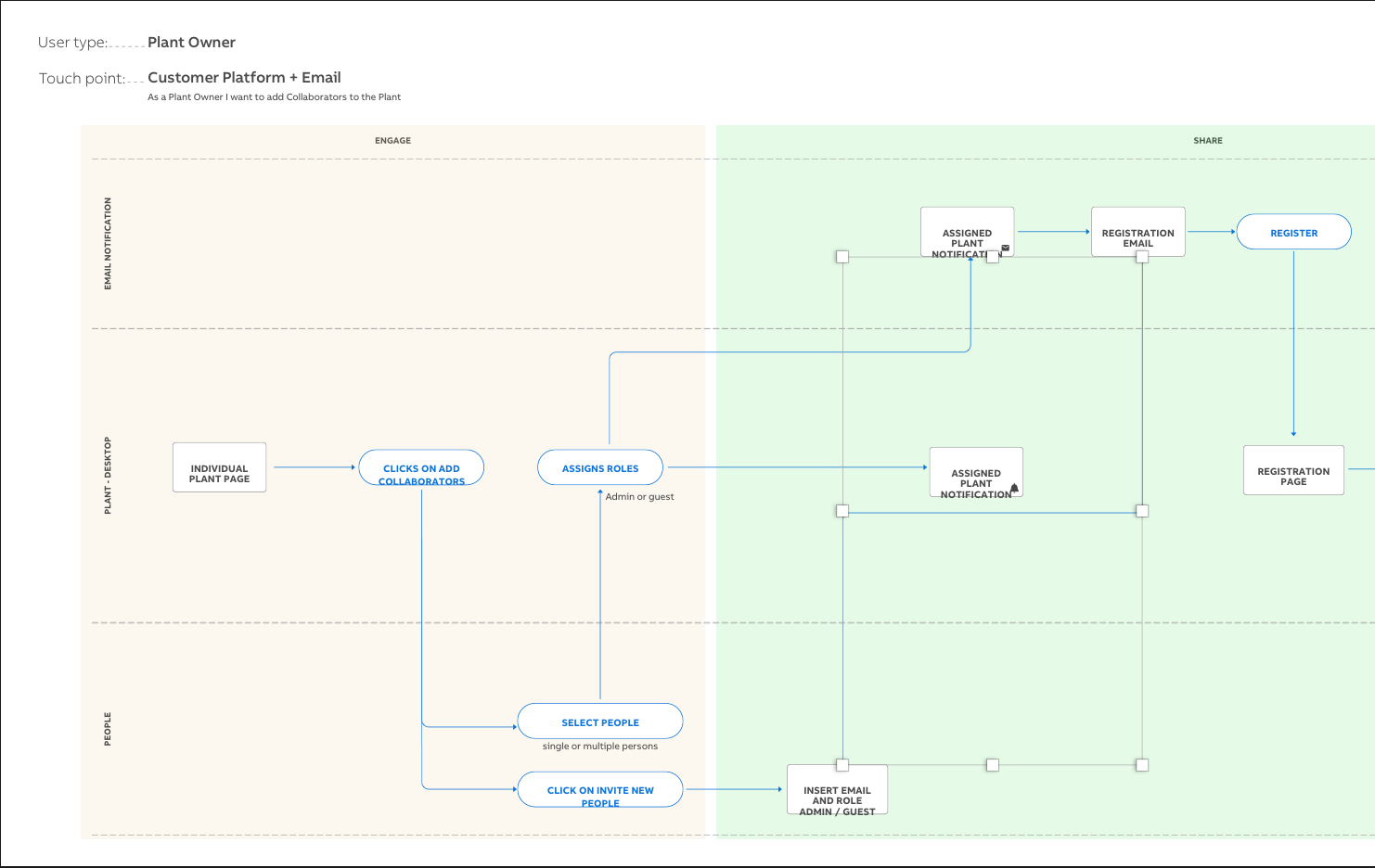 User Flows
ABB possesses a series of software products that needed to be linked trough the Electric Works platform in order to speed up projects design times and devices management.
We analyzed these products and came up with a series of maps able to explain the API flow to our ABB Global Industries and Services partner in India, responsible for coding the platform.
These calls helped us produce:

-User Flows
-Tech Maps
-Systems Reports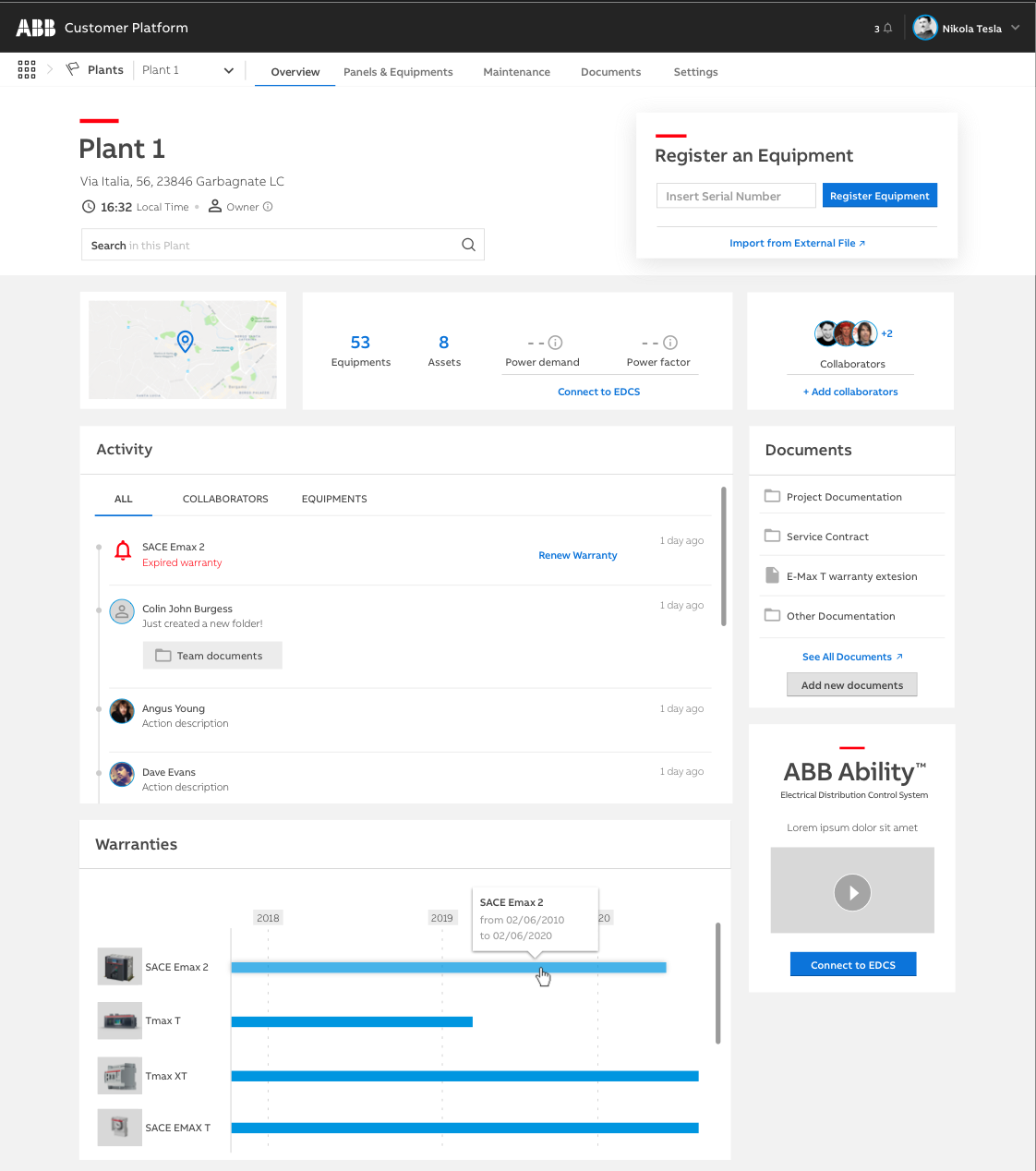 InVision prototypes
Every screen was duly designed in order to reach specific Project Roadmap Milestones.
We achieved this using a combination of Sketch App mockups & InVision prototypes.
Leveraging the Global Software, UX, and Branding ABB guidelines we achieved:
6 Tiles designs
1 IoT app
1 Updated UI Design System
1 Official ABB Chatbot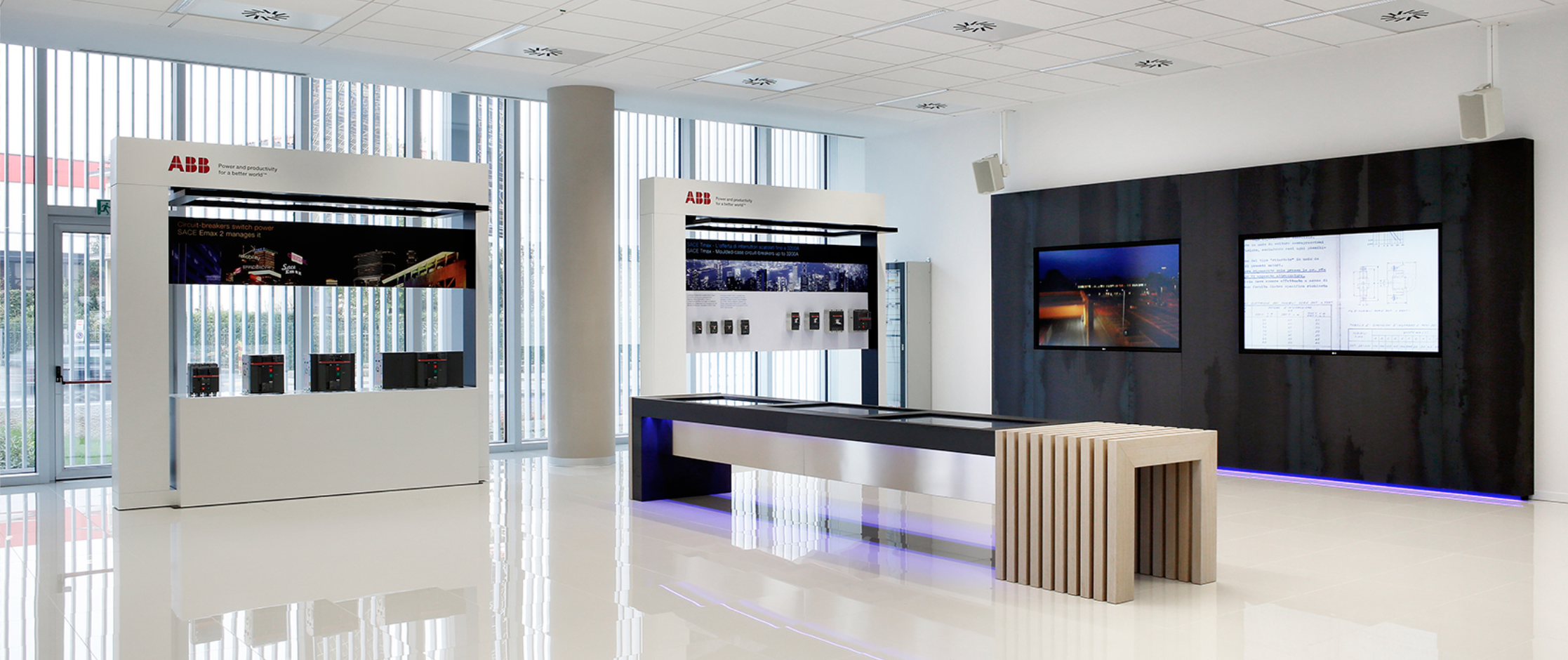 Role in the project
My role during this project shifted constantly between one of a Product Manager and User Experience Designer.

I interacted daily with Product Teams in ABB, Software Developers in India, Engineering Consultants at Microsoft and my colleagues at Design Group Italia.
During this project three teams of 10 people worked towards the realization of this unique product that will officially be released in 2020.

>10
Stakeholders interviews
15
Business Calls interviews